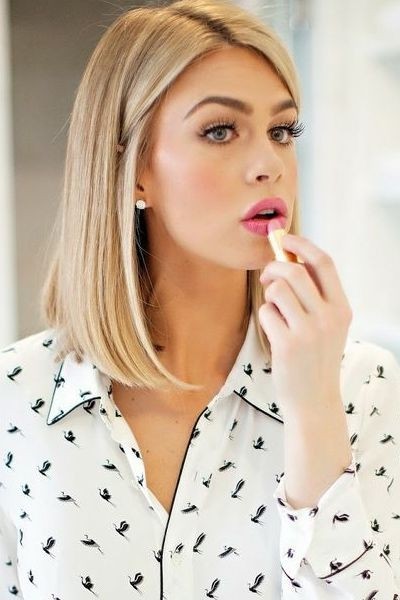 25 Cute Girls' Haircuts for 2024: Winter & Spring Hair Styles Preview
Cute hairstyles for girls are the fastest changing sector of hair-fashion, so if you haven't checked what's new for a while catch-up with the best cute girls' hairstyles for this year here!
Cute Short Hairstyle with Side Swept Bangs /Via
Best cute girls' hairstyles – party looks
The half-up style is one that is perfect for teens who want to look special for a party, without looking formal. For teens, the best cute girl's hairstyles will include plenty of authentic 1960's half-up styles.
This means adding a little bouffant height around the crown with some light back-combing and a quick spray with hair-fixing product to stop the crown going flat during the evening!
Cute Bob Hairstyles /Via
Loose curls
Curls are going to be big in the best cute girls' hairstyles, but these can range from edgy 'broken' spirals, through a tiny touch of windswept wave right up to a profusion of girlish curls spread around the shoulders.
So long or medium-length hair in a half-up style can be adjusted to suit the fashion style and image of any teen or younger girl!
Loose Curly Hairstyle for Long Hair /Via
Braids?
Yes, braids are still amongst the best cute girls' hairstyles and the new range is full of casual braid styles we've never seen before – as you'll see in ourInspiration Gallery below. Braids are looser and more individual, so you can copy one of the trendy braids below or invent your own – if the thought of complicated French braiding gives you a headache!
Braid details are also featured in lots of the best cute girls' hairstyles, so girls with bob cuts or medium length hair can add a trendy braided section, to make everyday styles into something special!
Loose French Braid with Twists /Via
Pompadour quiff ponytails
Ponytails are, of course, included in the fashionable and best cute girls' hairstyles ! The 'bubble' ponytail is one of the looks favoured by stylish women this season, so it's a great look for girls with very long hair. Add a super-trendy pompadour quiff at the front to be totally contemporary!
French Braid with High Ponytail /Via
Basket-weave sections and buns
Buns and hair-knots are also one of the best cute girls' hairstyle, especially if there's a lattice-woven section (also known as basket-weave) included in the hair above a low-bun or just on one side of a high chignon.
Easy Updos for Pretty color /Via
Short and curly contemporary cuts
Curly hair is taking over in the pixie and short bob styles, so all sorts of short curly cuts are contemporary and cute. Fringes are deeper and horizontal for 2017, so asymmetric side-swept fringes are on the way out!
Why not get up-to-date with the freshest and best cute girl's hairstylesright now and find your favourite fashion forward looks in our Pophaircuts.com new Inspiration Gallery today!
Little Braids with High Ponytail /Pinterest
French Braid Hairstyles /Via
Taylor Swift's Long Hair Style with Short Bangs /Via
Cute Long Hairstyles /Pinterest
Ponytail Hair Style with Braid /Via
Stylish Waves /Via
Perfect Ponytail /Via
Pretty Wavy Hairstyle for Thick Hair /Via
Straight Long Bob Hair Cut /Via
Perfect Waves Hairstyle for Shoulder Length Hair /Via
Kristin  Cavallari Medium Hair style /Via
Inverted Long Bob Haircut /Via
Short Hairstyle for Fine Hair /Via
Easy Pixie Haircut for Straight Hair /Via
Layered Short Haircut /Via
Shaved Haircut for Short Hair /Via
Shaved Pixie Haircut for Fine Hair /Via
Trendy Short Hairstyles for Spring /Via
Cute Girls Hairstyles /Via