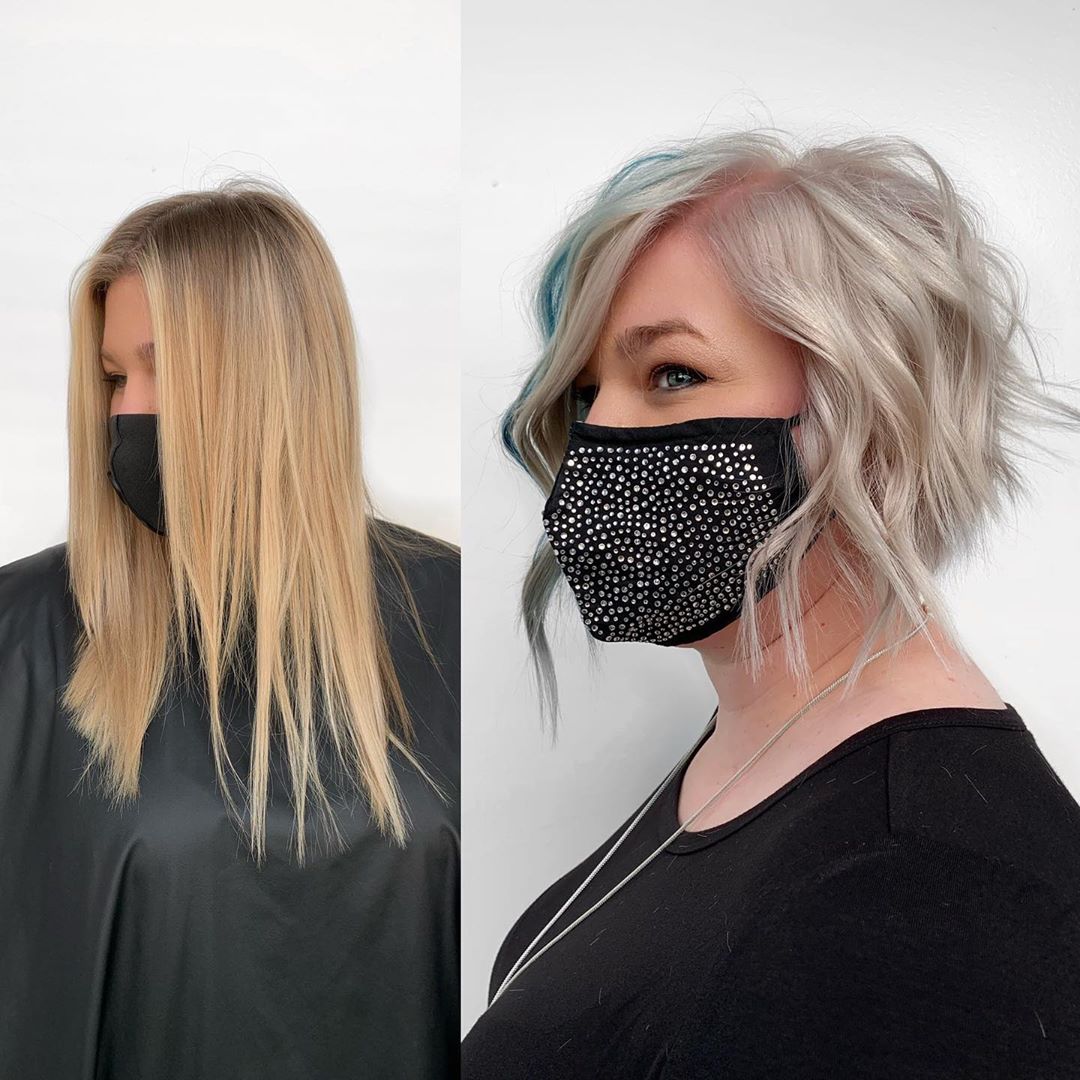 10 Female Everyday Hairstyles for Short Hair Makeovers
Everyday hairstyles for short hair are how you present yourself to the world, so it's important that you choose a style that's fashionable, face-flattering and easy-care. These new short hairstyles show how much better you could look with a cut and color makeover to a trendier, simpler look!
1. Radical cut & color makeover on female everyday hairstyles for short hair
Your hair is a vital part of your identity and if it's not reflecting the image you wish to project, then you're selling yourself short. The model has probably been wearing her lovely golden blonde hair long and straight for a few years. But now she has realized it's time for a change to something more trendy and modern. And she looks far more fashionable with an ash-blonde twisty bob and a turquoise 'flash' highlight to bring out the pretty blue of her eyes!
2. White-blonde pixie-cut with fringe – female everyday hairstyles for short hair
This cute pixie hairstyle is perfectly shaped to flatter the model's face. It's an asymmetric short cut with a side part and a full, side-swept fringe that finishes at eye-lash level. It's a great style for medium texture hair or to add 'body' to fine hair, as the more levels you lighten your hair, the thicker each strand becomes owing to the action of the bleach. The ears are lightly covered at the tops, but bare enough to allow for the latest fashion of various mismatched earrings!
3. Textured gray pixie – female everyday hairstyles for short hair
This gray style means you'll never be fretting about finding your first gray hair! It's a youthful, pixie haircut with an asymmetrical side parting, and short side-swept parting graduated down to the longer side. It's a great style for a round or heart-shaped face, as it breaks the symmetry of a round face and covers the edges of a wide forehead, so the face appears more oval.
4. Long slanted fringe on gray female everyday hairstyles for short hair
Deep side-partings create face-flattering asymmetry on many different face shapes and a good stylist will be able to show you where to place your parting for your best look. And a short bob hairstyle with a strong diagonal line across the forehead and down to below the chin, is a great way to balance out a long or a round face. This high fashion, gray bob has several different shades of light and dark gray creating lots of texture in the sliced layers that taper down to the ends and remove any bulk at the tips.
5. Long to short & curly makeover on brunette hair
You can knock years of your age with the right hairstyle makeover. And this is a great example of how long, shapeless hair can be pulling the eye down, which emphasizes any facial lines and makes the chin look wider. However, the short, curly hairstyle brings the focus up to accentuate her nicely rounded forehead, pretty, brown eyes and lips. Tousled, casual curls add flattering volume and relaxed chic. And instead of an outdated dip-dye, cute blonde balayage also draws attention to the face in a flattering way.
6. Asymmetric short bob haircut with blonde streaks over brunette
This classic, blonde-streaked, short bob is a fabulous way to deal with unwanted gray hairs appearing in brunette hair. It definitely adds glamor, covers up the gray and the contrast between dark roots and mid-blonde streaks adds 3-D depth that makes hair appear thicker! The side-part and quiff above the forehead, show-off a well-shaped forehead and the model's nice brown eyes. And it has a relaxed, tousled finish with one side pushed casually behind the ear to emphasize casual asymmetry!
7. Muted beige-copper-brown bob hairstyle
This muted version of popular copper is so fashionable right now, that it seems everytime I turn on the TV, someone on every show is wearing it. It has certainly moved attention away from blonde streaks in brunette hair. And it's such a soft, chic color you can wear simple, beautifully-cut bob hairstyles without needing to add waves or novelties to make them interesting. The haircut suits medium to fine hair types and skin with warm undertones. And the trendy color, asymmetric side part, long fringe and lovely V-shaped nape – all add up to a fashionable, easy-care daily hairstyle!
8. Casual black asymmetric A-line bob
Thick hair needs a strong shape to keep it looking smart and well-proportioned, and a short, geometric bob is always a popular choice. This is a fashionable look in a natural color that will always present an attractive image, without needing lots of attention through the day. The off-centre parting suits lightly rounded face shapes and thick hair creates lots of natural volume in carefully trimmed layers at the back. The sharp slant down from the nape to chin-length gives two flattering profiles and a half-fringe softens the forehead nicely.
9. Blonde to pink & white color makeover on short haircut
This trendy makeover idea shows just how much you can change your image after a visit to your hair-salon! The model's original style is simple and attractive, but it lacks fashion flair. She looks great, but conventional. However, the image projected by the 'after' image presents us with a completely different personality type. The long fringe covering one eyes and with longer layers at the edges is now a more important part of her beauty image. A trendy cut and a high-fashion color design in pink and white balayage has made her look hip and adventurous!
10. Natural blonde glamor waves on chin-length haircut
The glamorous look of this lovely wavy bob is modernized by the addition of four, blonde hairgrips, instead of an evening hair accessory in rhinestones. And that makes it suitable for everyday wear, with a cute, feminine twist. The beautiful, neutral-beige blonde color looks fabulous against the model's blue eyes and red lip-color. And light-brown roots keep the look soft and alluring. With twisty waves and choppy tips, this is a super haircut for fine hair that needs a little extra volume added.