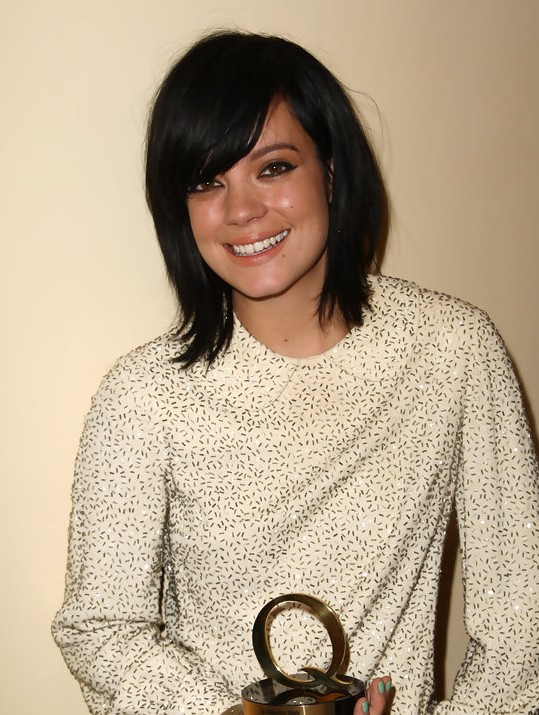 Here's Lily with a causal young look which is a long bob with layers and lots of shaggy shaping at the ends.
The length is just below the chin and has an asymmetric side-swept fringe just skimming one eye to accentuate her face.
Lily Allen Long Hair
Did I just mention individual style? Well, Lily has developed lots of that – as we can see in this amazing, ultra-modern hair design. The long layers have been cut with very spiky ends to create highly tapered tips and the styling is strongly tousled. Her hair is subtly highlighted for a contemporary look that accentuates the interesting texture and movement in this fabulous high fashion look!
Lily Allen Short Hair: Black Curls
This is a more sophisticated look for Lily with a touch of retro-1950's in her look. The hair is cut in a bob with an asymmetric side parting and a side-swept fringe that's kept shorter for a retro-look. The lovely waves and pin curls frame Lily's face and create more individual style than some of her other haircuts at this red-carpet event.
Lily Allen Hair Style: Updo Hairstyles with Bangs
At a formal event, Lily is wearing an up-style with a casual finish. Her lovely dark-brown hair has a side parting creating a trendy side-swept long fringe which both reveals and conceals the forehead. The side strands are pulled down to soften the line and create a relaxed, tousled finish.