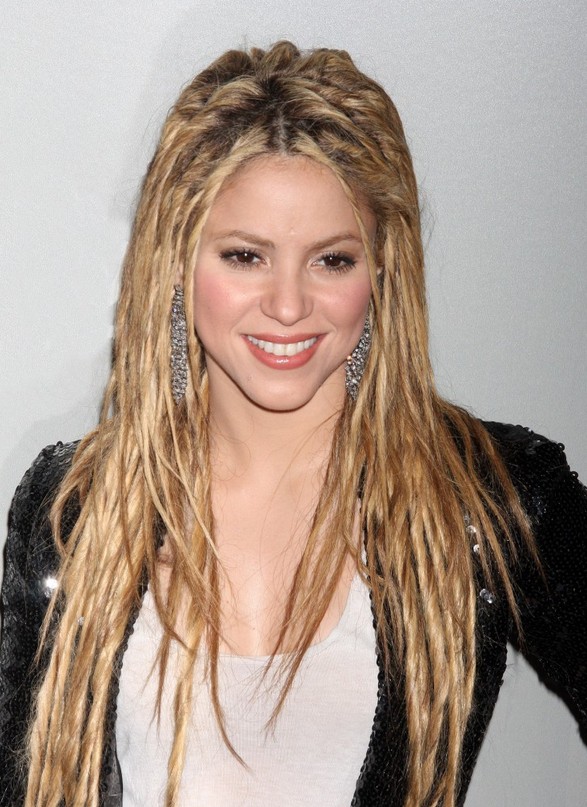 4 Stylish Shakira Hairstyles
Shakira wears some fantastic and imaginative hairstyles and this is one of the most dramatic.
Her long hair is mostly the same length, with a number of shorter layers at the sides breaking the line. The ends are heavily textured to produce sharply tapered tips which complement the edgy styling. Then from a trendy centre parting, the hair is arranged in fabulous defined twists resembling dreadlocks, which are beautifully highlighted by the mixture of blonde and caramel shades! It's a stunning look!
Shakira Hairstyle Long Layered Braided Hairstyle
Along with the cyber-punk outfit with an outsize chain, iron metal bracelet and fabulous fringed gown, Shakira needs an ultra-modern hairstyle.
So for a glamorous, futuristic look the hair is braided in two inside-out plaits running along one side of the head.  The look is quirky and asymmetric, with the dark roots creating contrasting bands of colour and texture against the honey-blonde base with subtle highlights.
Shakira Short Hairstyles: Straight Bob Cut
Here's a very contemporary style that uses choppy layers and spiky textured tips to create a totally new twist on the medium bob cut.
The hair is cut in long layers with shaping at the ends to create a curved in shape at the tips.  The side parting is crooked emphasising the casual image and the hair is simply styled for a glamorous golden-blonde look with an edgy finish.
Shakira Long Wavy Cut: Blonde Hair
Here's Shakira with a simpler look which has long layers with loose, tousled waves for a very casual style.  The roots are tinted a darker, but in a warm brown that is softer than the black roots look of the past.
The parting is just off-centre and this opens up into shorter layers around the face with a casual side-swept fringe falling over one eye. The blend of blonde, medium blonde and a subtle pink sombre lower down add up to a carefree modern look!