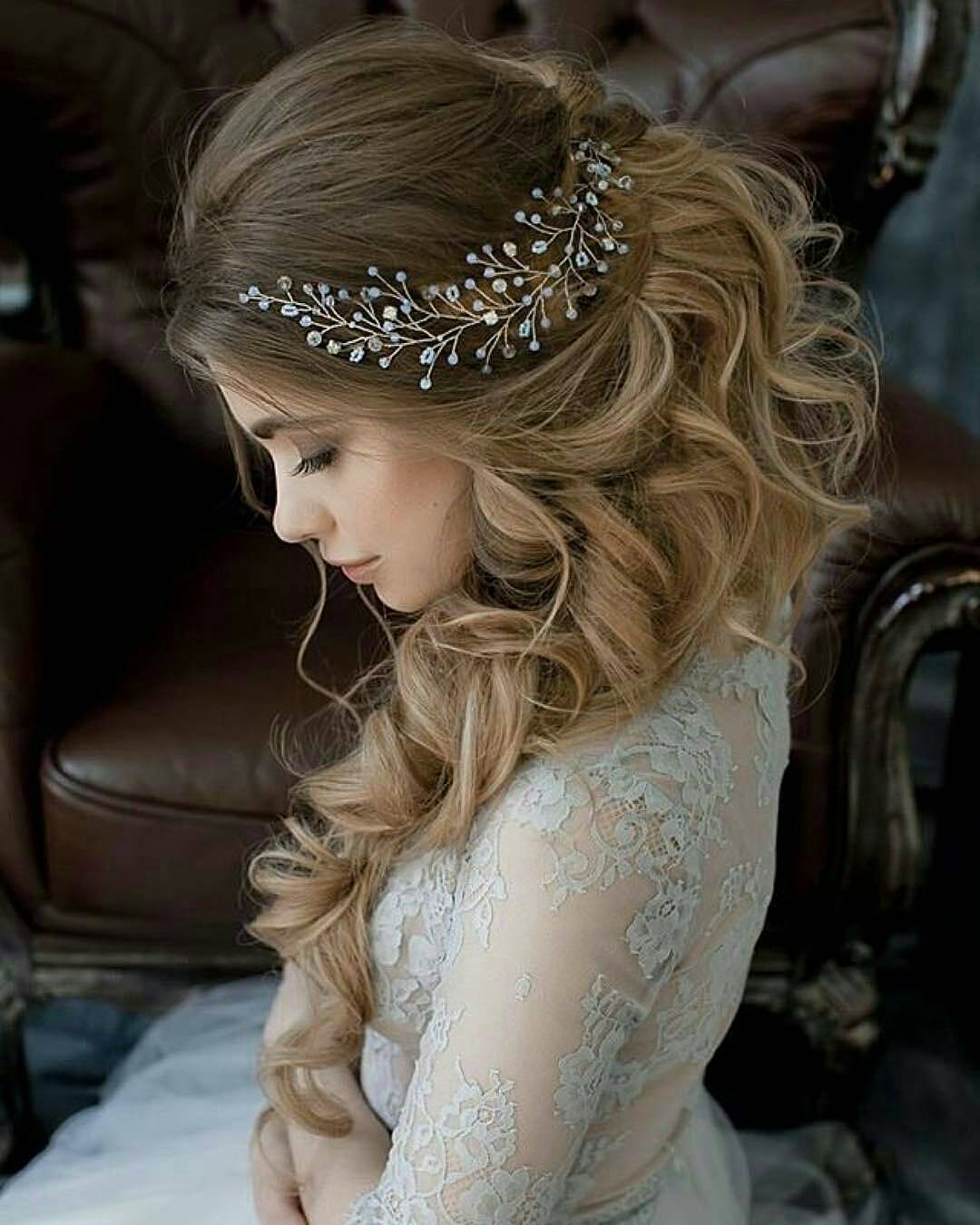 10 Lavish Wedding Hairstyles for Long Hair
These wedding hairstyles for long hair are lavish, luxury looks, ensuring each happy bride is the undoubted star of her day! Today's fashion-forward, bridal hair inspiration includes down, half-up and up-styles, hot off the wedding fashion runways!  You'll also see the latest trends in hair accessories for brides, as you plan your once-in-a-lifetime look. So come right in and browse the new colors, styles and hair accessories for bridal hairstyles your new hubby will love!
Cascading curls half-up wedding hairstyles for long hair
This wedding hairstyle shows off long and healthy hair in a semi-formal, half-up hairstyle.  The colorist has concentrated the dual-blonde balayage on the lower lengths, giving an interesting contrast with darker hair around the head.  A touch of bouffant height on top adds elegance, along with a very tasteful, modern hair accessory that's far more fashionable than any tiara.  Cascading barrel waves in fashionable, soft beige-blonde complete a harmonious blend of traditional and modern bridal style!
Glamorous loose braid wedding hairstyles for long hair
Is this a curly pony-tail, a chignon or a loose braid!  Well – it's a creative combination of all three hair-styling techniques that will never look dated in your wedding photos.  Softly draped over the ears, before being swept up into a beautiful, woven chignon gives a lovely semi-formal bridal hairstyle.  The hair color design is an expertly judged blend of honey and caramel-blonde, contrasted by toffee-brown balayage.  And you must add one of this season's signature looks – a jewelled hair accessory for an elegant finishing touch!
Informal copper & auburn half up wedding hairstyles for long hair
This youthful wedding hairstyle is a great idea for an informal wedding and can be worn by the bride, or her bridesmaids.  The country-wedding theme is set by the lovely waterfall braid which creates a pretty circlet of woven texture around the head.  But the fabulous mix of copper-blonde highlights, with deep copper-brown is a modern twist to this traditional bridal hairstyle.  Instead of a jewelled hair accessory, this relaxed style accentuates natural beauty with dainty sprigs of white, gypsophila flowers!
Chic over-one-shoulder half-up wedding hairstyles for long hair
This super-chic, wedding hairstyle for long hair is an intricate blend of shape and color.  It's semi-formal – using balayage colors in natural medium-blonde, medium ash-brown and pale blonde to create a stunning 3-D effect.  For this trendy, asymmetric design, the talented stylist made two stylish hair-knots above the tousled, loose ringlets.  The hair accessory of dainty, fresh gypsophila flowers accentuates youth and natural beauty in a chic,  half-up wedding hairstyle your 'groom will love!
Messy 'big hair' braid – wedding hairstyles for long hair
If you're already a fan of 'messy' hairstyles, consider this, 'souped-up', bridal version of the pulled-out, shoulder braid!  The cute quiff creating height above a bare forehead will suit brides with a round or oval face, but not a long face.  Loose strands at the sides soften an angular face by creating a pretty, oval frame from chin up to the hairline.  Twin braids across the top are the perfect decorative detail to hide the join – if you decide to wear a volume-boosting hair extension!  Medium-golden-blonde is a flattering blonde shade for most women with warm undertones to a light skin-tone!
Bouffant vintage wedding hairstyles for long hair
Whether you happen to be a fan of the classic 1960's upstyles, or not, this is a very attractive wedding up-do!  A bouffant upstyle, with woven details behind the center part for a modern twist, really adds a touch of elegance to any bride.  And this style that can easily be created on mid-length hair, just by adding a real-hair, curly hair-piece! It will keep your nape cool and dry during a long and exciting day, and creates a flattering, regal vibe!
Messy 'big chignon' wedding hairstyles for long hair
The lovely warm shade of this messy chignon/ponytail wedding hair idea is a great new look! Hazel-nut blonde is a beautifully balanced hair color, between light-auburn and beige-blonde.  All copper, auburn and flat-out red hair colors are very trendy this year, and subtle hazel-nut will never look weird in your wedding photos!  Tousled bridal chignons that cover the nape are great for informal wedding parties. But they can cause heat and perspiration on warm days.
Regal chignon wedding hairstyles for long hair
This bouffant chignon is considered to be the epitome of elegance and it's a style we see time and again adorning the heads of European royals.  The lines are soft and gentle curves create a variety of different textures in the three main sections.  Trendy, beige and ash-blonde shades, with warm brown low-lights, create a perfectly harmonized color-scheme.  Instead of an old-fashioned tiara, brides are choosing modern hair accessories to add the perfect finishing touch!
Blonde bombshell half-up wedding hairstyles for long hair
If you're a blonde-bombshell to the core, this glamorous, shoulder-braid bridal hairstyle could be just what you're looking for!  And if you don't have extra-long, thick hair for this stunning braid – do what other bride do and fake it.  This closely-matched color scheme uses the latest beige-blonde and pearlized blonde shades to create extra depth and color dimension.  And along with deep beige roots the overall effect is softer than say, platinum with dark-brown roots.  These gentle colors will stand the test of time, as you look at your wedding album in years to come!
Mink-blonde half-up wedding hairstyles for long hair
Luxurious mink-blonde is an exciting, new shade in the range of blondes offered this season!  It's a clever combination of coral-pink, ash, beige and pearl-blonde. Your colorist can adjust it to suit pale skin that has a warm undertone perfectly.  This lovely, wedding hairstyle is just one example of how to 'embellish' your mid-length hair with a longer hair extension! Those glamorous, (hair-extension), waves flowing down the back will add oodles of extra style for your special day!