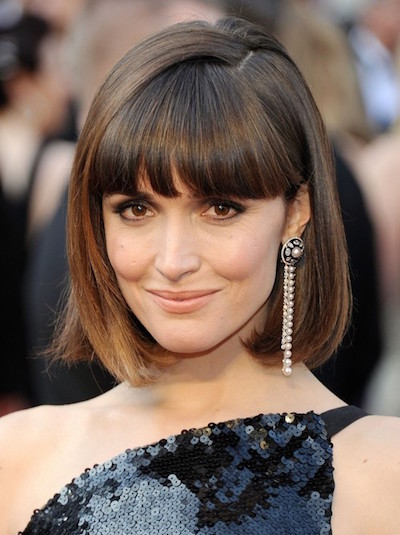 20 Amazing Short Hairstyles With Bangs
Not all of us can pull of a centre or side part as elegantly as other can. Bangs are an essential style statement that looks amazing on those who get it right. This trending look works especially well on short hair, giving incredible volume and texture to a look that could fall flat otherwise. So, what are you waiting for? Get out there and get your hair chopped into one of these amazing new looks.
1. Sweeping Side Bangs
Nothing says intense quite like side bangs like this!
2. Razor Cut Bangs
Rough and edgy, these razor cut bangs are definitely chic.
3. Blunt Cut
A more provocative look, blunt bangs certainly don't work on everyone.
4. Thin Side Bangs
Instead of promoting volume, your bangs can also help you remove volume, as seen in this cut.
5. Long Bangs
These long bangs are gorgeous with a sense of mystery.
6. Thick Half Bangs
For a less intense version of blunt bangs, give this look a try.
7. Sexy Side Bangs
But, our girl shows us that side bangs are also an excellent choice.
8. Wavy Bangs
Quit straightening your bangs to achieve this radical surfer flow look.
9. Perfect Side Bangs
Perfection at it's core, Emma Stone shows off the quintessential side bang look.
10. Subtle Bangs
Bangs don't always need to be "in your face," so to speak. This subtle look proves they are elegant in simple way.
11. Cute Bangs
Cute and a little messy, this is a great look to try.
12. Blunt Bangs
Traditional blunt bangs can look amazing on the right look.
13. Messy Swept Bangs
Swept bangs are what it is all about.
14. Short Fringe
Cute and simple, this look is perfect for anyone looking for simplicity.
15. Very Long Bangs
Rihanna rocks this look with long sweeping bangs.
16. Rough Bangs
Layered bangs will add a texture to your look that a non-layered look can't.
17. Side Swept Bangs
Glamorous and easy, this look is truly wind swept.
18. Messy Fringe
Get messy with a chic look such as this one!
19. Blunt and Swept
This blunt sweep demonstrates the versatility of bangs.
20. Long Blunt Bangs
So, go get bangs and rock them when you do.