3 Britney Spears Hairstyles: Blonde Hair
Here's a more sophisticated look for Britney with her long hair at a shorter length and with very long layers. The golden blonde shade is soft and flattering and the roots are now just one or two shades darker for a more natural look. The centre parting opens out to display Britney's oval shaped face and the smooth soft waves create an attractive frame.
This look is totally up-to-the-minute with a tousled, voluminous finish creating an amazing silhouette and a really beautiful look!
Britney Spears wears mermaid waves: Long Wavy Hairstyle
This is a real 'blonde bombshell' look with the long layers styled into glossy, blonde waves like seaweed softly waving in the ocean. The hair has added volume around the crown and the centre-parting is short with a couple of centimetres of dark root showing. The shorter layers around the face create a face-brightening frame that draws attention to Britney's pretty eyes.
The platinum blonde is softened with subtle golden balayage highlights that add fantastic colour dimension and emphasise the lovely flowing waves!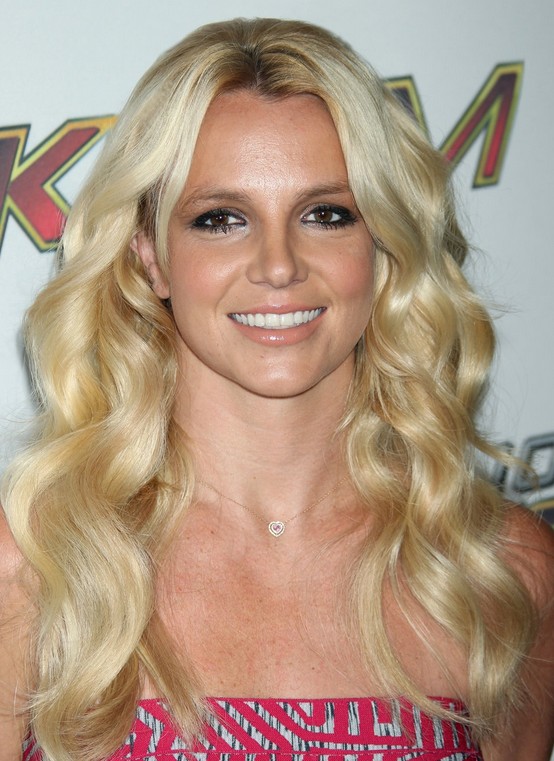 Britney Spears Latest Layered Cut: Casual Long Hair
Here's an edgy look, that is unashamedly 'bleached-blonde' and gains body from the thickening effect that bleaching has on hair. The hair is cut in long layers with textured tips for a wispy finish to the strands. The centre parting is totally contemporary and opens out Britney's face with a face-framing fringe that draws attention to her lovely eyes.
The finish is 'urban chic dull' with a touch of black roots and tousled styling that draws attention to the fabulous texture created by the layering.