10 Chignon Buns for Every Occasion – New Season's Best Buns!
This season's latest chignon buns are very different in style and color from everything we've seen before!  This gallery shows a range of casual, semi-formal chignons for prom hairstyles, wedding up-styles and elegant evening wear – for women of all ages. The styles are simple but stunning, with the latest beige- and ash-blonde shades creating lovely patterns on brown hair.  You'll see the latest gem flower hair accessories, too. Plus a gorgeous, deep-copper messy chignon – for those of us who don't want blonde highlights!
New shape & loop texture on this season's chignon buns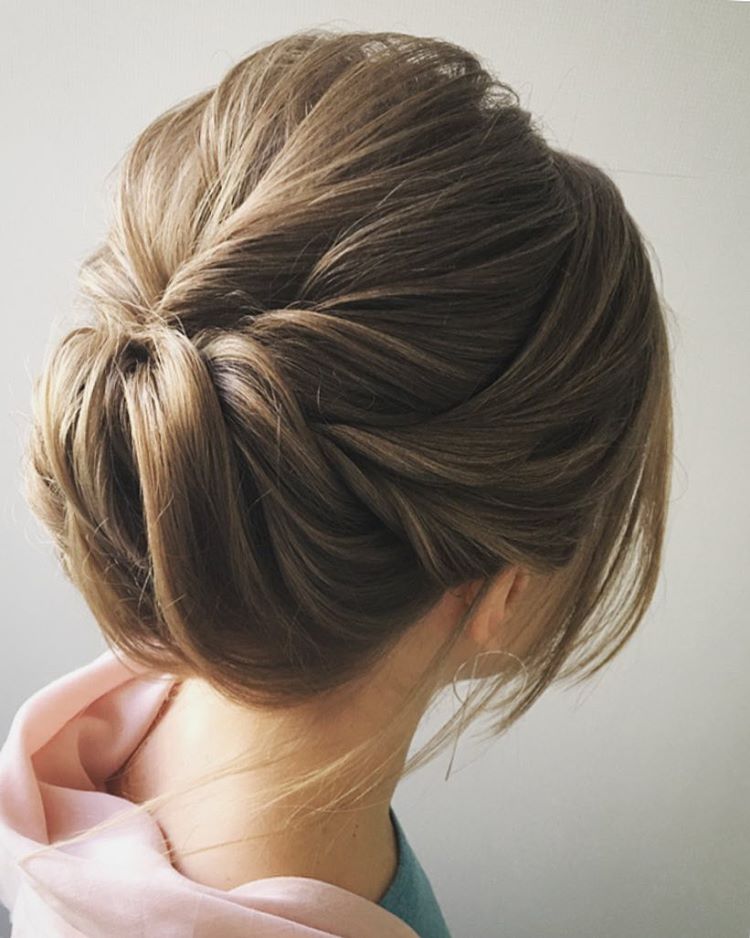 The focus of this chignon bun isn't the usual place at the nape, but several inches higher between the crown and nape.  And instead of smoothly brushed-back hair, twisted strands create attractive textured loops in this chignon bun update!  And completing the modern twist, beige-blonde highlighting adds subtle color-depth to a relaxed, new up-style.
Cute ash-blonde chignon buns with pretty hair decoration
Here's another gorgeous new chignon bun style created with twisted sections on mid-length hair.  The nape has a small bun, with super twists sweeping across in asymmetrical movement.  Loose strands soften the face and sides for a casual chignon in trendy ash-blonde. Add a pretty gem-flower pin for a party look!
Striped highlighting adds 3-D color-depth to brunette chignon buns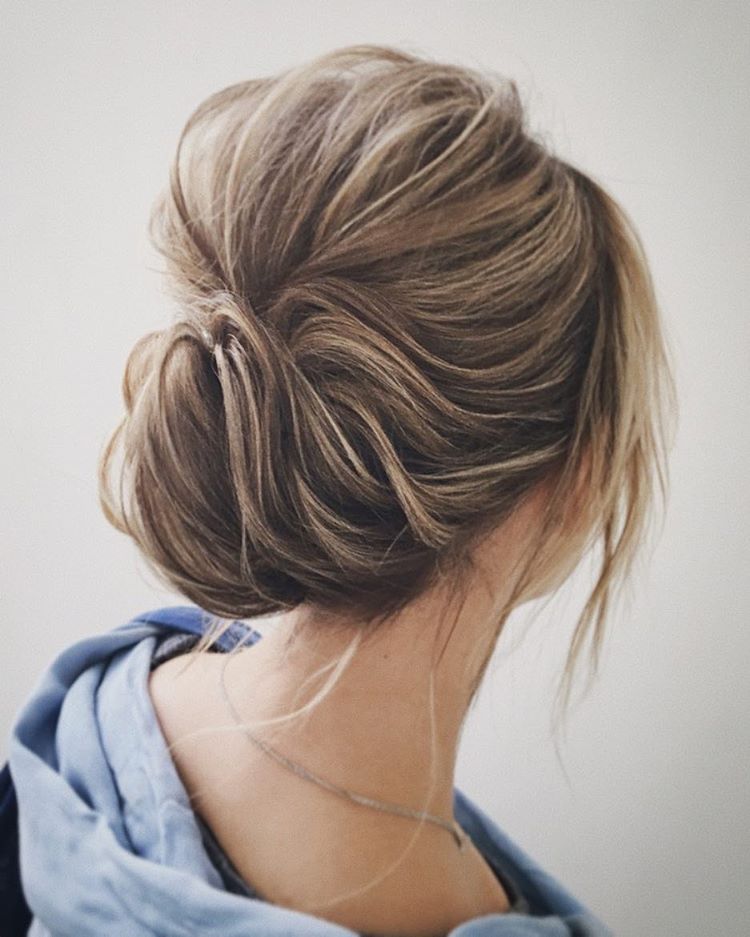 This style shows more or less the same chignon bun styling as our main image.  However, this shows the wonderful 3-D effect you get with contrasting beige-blonde highlights.  The colors are well harmonized with extra highlights on loose strands that soften the line around the face.  Beige-blonde is a trendy new shade for women with warm skin-undertones.
Easy chignon buns for mid-length up-styles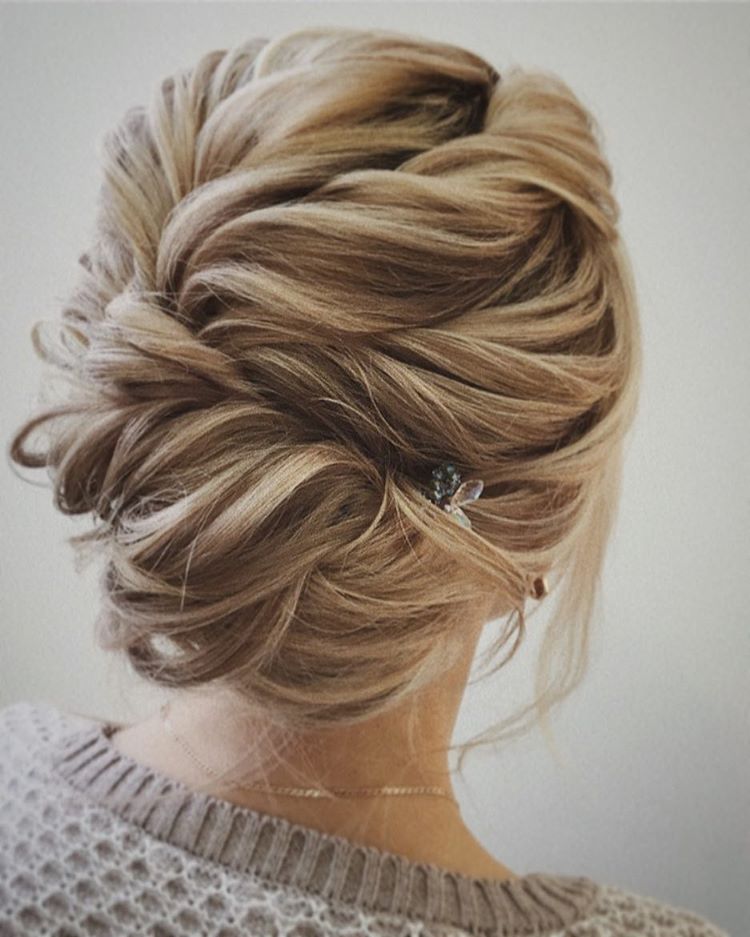 The change of focus away from vertical styling on the latest chignon buns, means you can easily create an impressive up-style yourself.  The casual look calls for a slightly messy finish, which is a great time-saver all round!  Lightly teased hair adds volume at the back in fantastic, multi-toned sections beautifully highlighted in beige- and ash-blonde.  Add a dainty gem flower for added style!
Wedding hairstyles' & chignon buns with ash-white highlights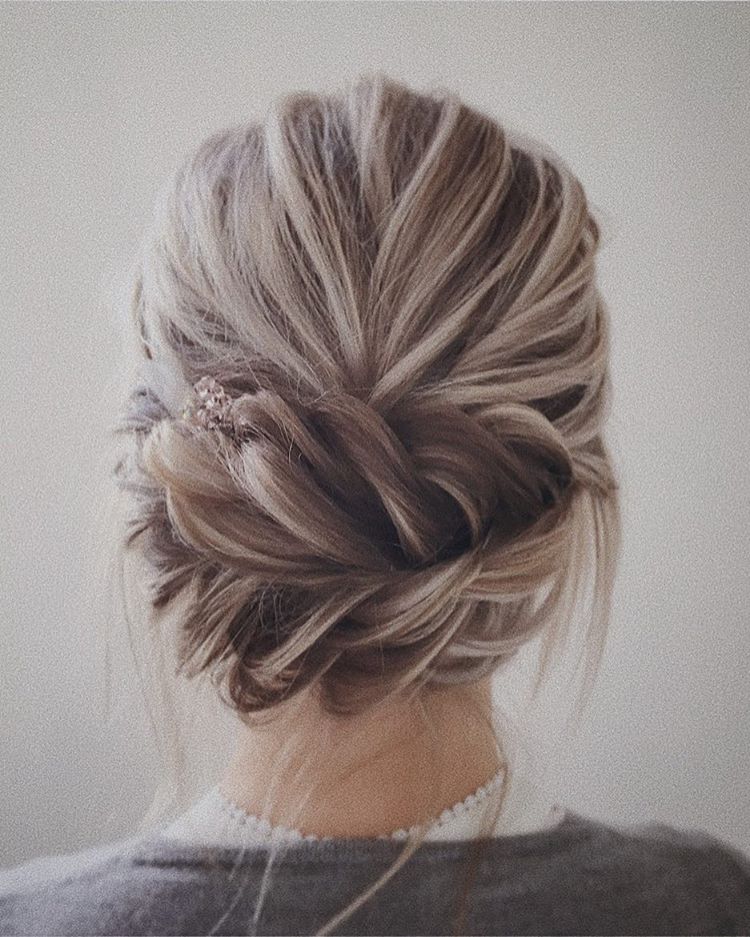 Whether you're the bride, or a special guest at a wedding this year, this gorgeous loosely braided chignon bun is a super-trendy look!  Instead of a tightly braided bun at the nape, this season's special-occasion chignons favor wide, loose braids with fantastic color-patterns.  This high-fashion, brunette and ash-white-blonde up-style is a real showstopper and includes another pretty, new jewel accessory!
Vintage curly up-style channels 60's biker look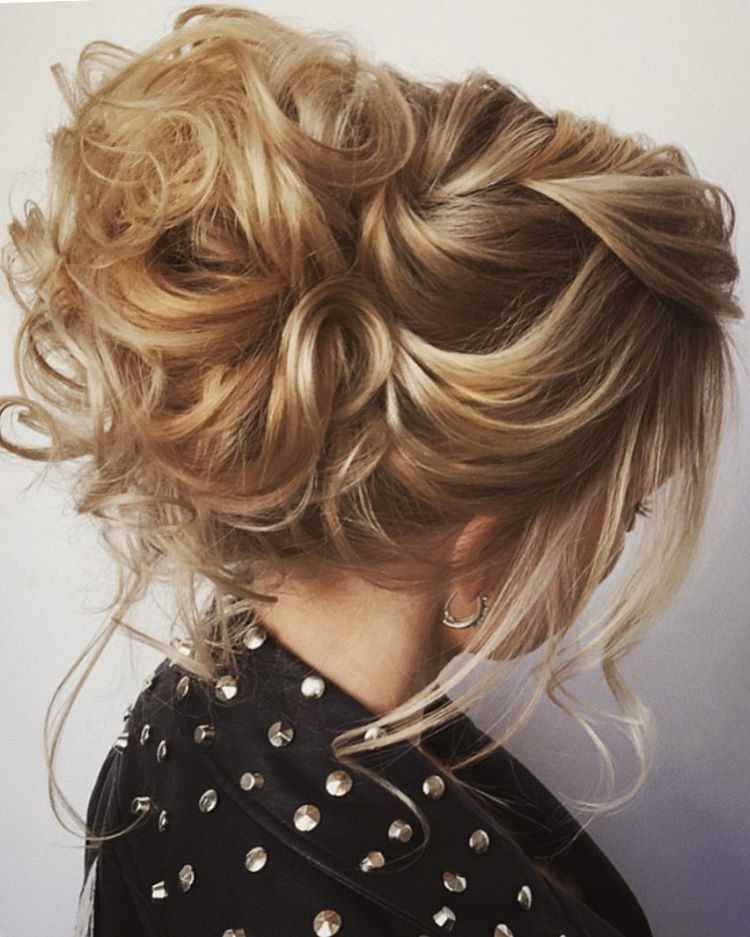 We love this gorgeously curly vintage 60's up-date, once worn by the teen biker-babes wearing groovy, studded black-leather jackets.  However, these days this artistic curled up-style is more likely to be gracing the head of a bride or at a glittering dinner-dance.  It's a very feminine look with 'casually' arranged swirls and loose ringlets combining 3 main modern colors for even more color-depth and textured movement!
Sophisticated casual chignon bun & warm beige highlights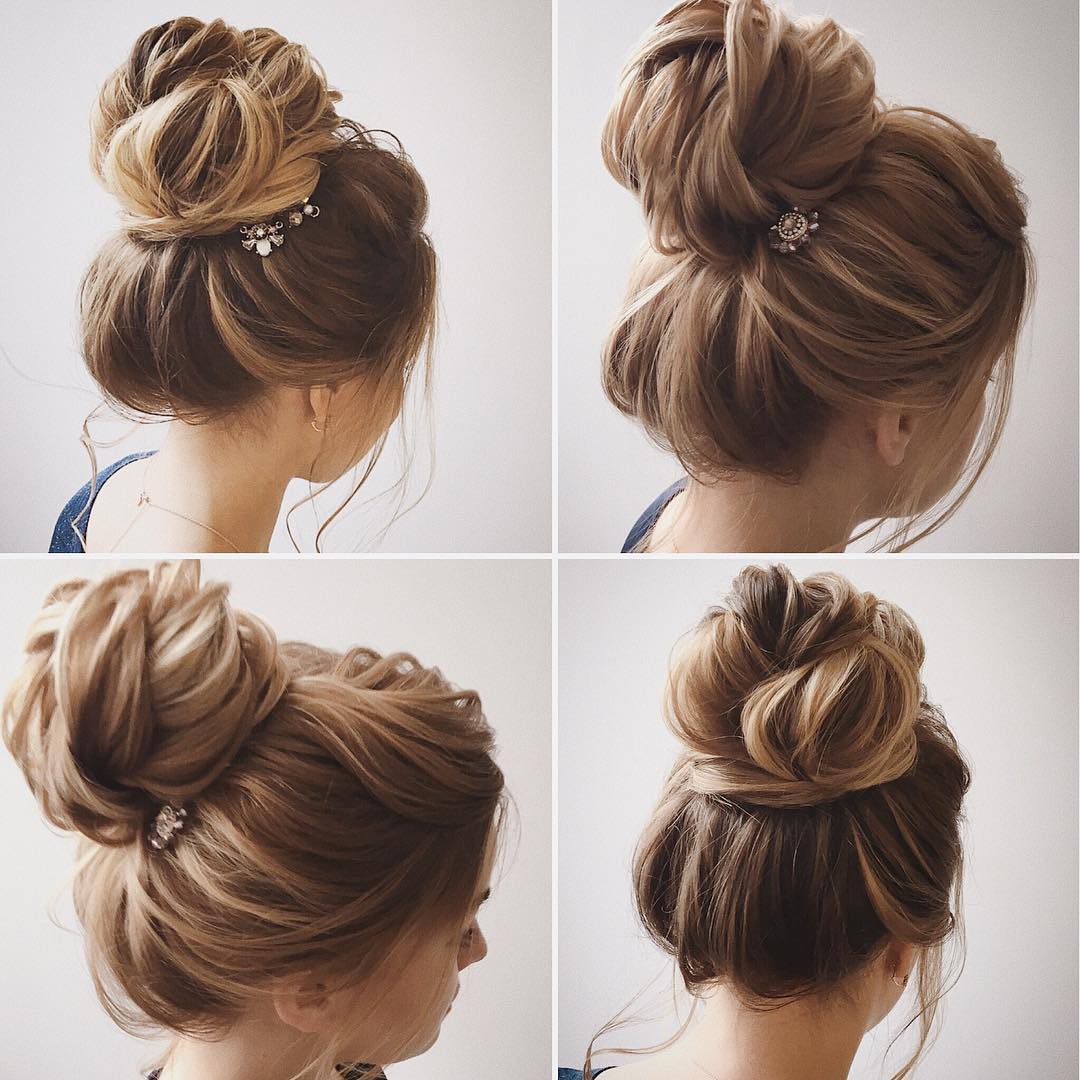 This hot, free-form bun-on-top style is a super, prom up-style idea that's very easy to achieve on long hair.  Actually, it's suitable for lots of different occasions, from every-day casual to a gorgeous semi-formal wedding hairstyle!  But for a high-fashion, totally up-to-the-minute look, you must copy the soft, warm beige-blonde highlighting and a gem-flower decoration.
Elegant 'woven' chignon over 40's up-style with soft beige-blonde balayage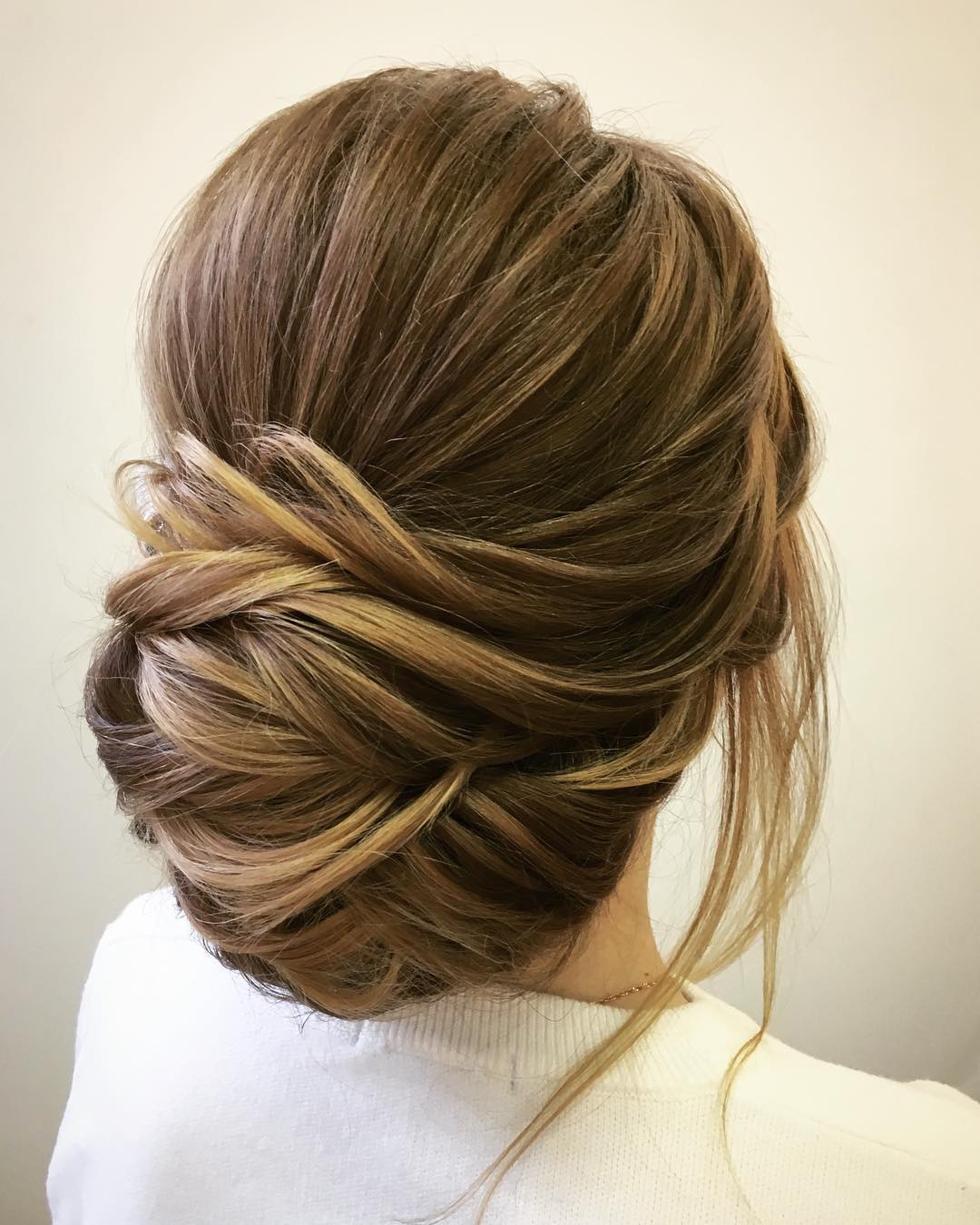 This extremely elegant chignon is shown on thick, long hair that has plenty of natural volume.  Medium-blonde is more flattering to women over 40, than the neutral or ash shades. Notice how dual-blonde balayage highlights, in soft-medium-beige and medium-golden-blonde, are beautifully harmonized with the mid-brown base.  The careful choice of matching tones in this up-market, woven-look hair chignon is the secret to creating a very classy look!
Chic chignon up-style in beige-blonde on ash-brown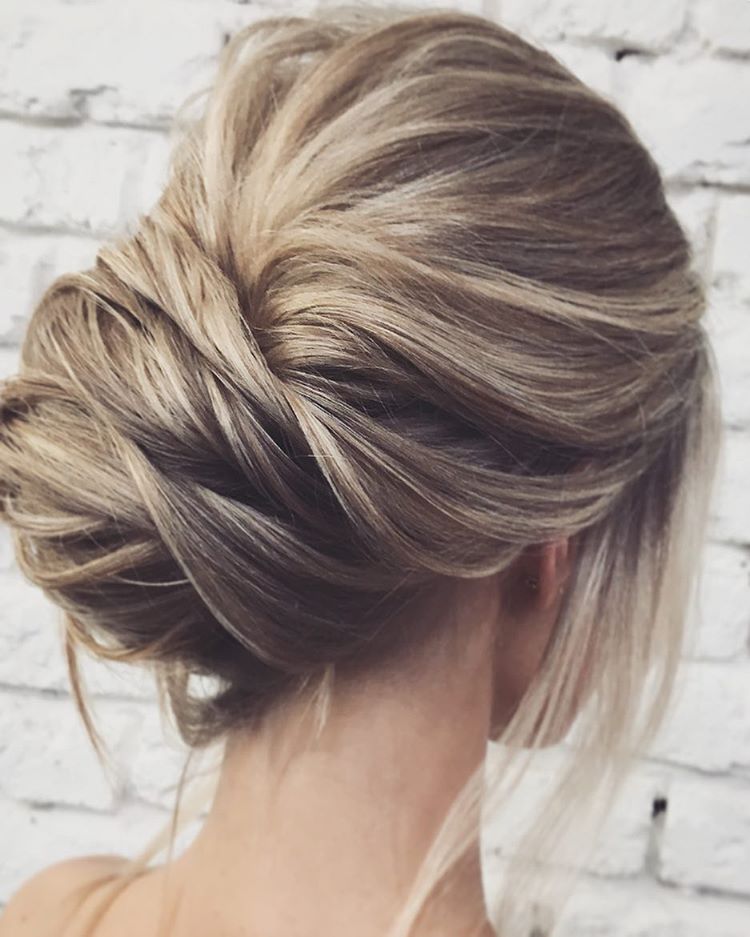 And this trendy, urban-chic sweep of hair is hugely popular with brides this season!  Beige and ash-blonde highlights lighten up brown hair and show the fantastic texture and movement perfectly!  If your own hair isn't thick enough for the big volume back, don't worry, a bun-ring can be used as the base.
Fabulously sexy intense dark-copper on messy chignon bun!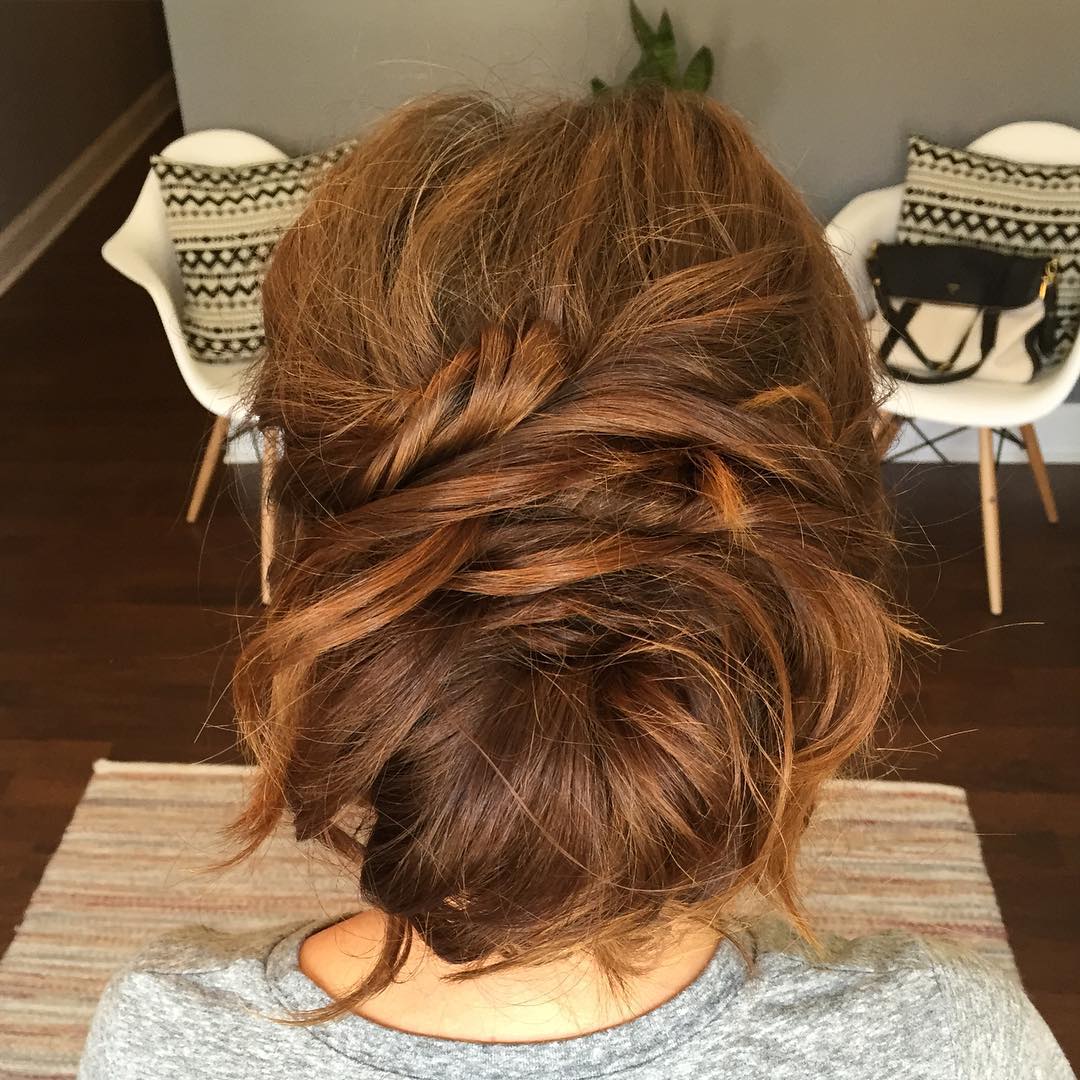 And if beige- and ash-blonde hair-colors don't match your warm skintone, try this fab color to bring dull hair to life!  Re-invent yourself as a sexy, but classy, woman with this rich copper hair-color!  And this messy chignon, with lovely twist details, projects an alluring image of femininity, warmth and a relaxed outlook.