10 Layered Hairstyles & Cuts for Long Hair in Summer Hair Colors
Whoever invented layered hairstyles was an absolute genius! If your hair is thick and uncontrollable, thinning-layers create lovely, natural shape and bring out the beauty of your hair. And if your hair is fine and easily weighed down, a few well-placed layers remove the weight so you can fluff-up and volumize silky tresses! Today's batch of trendy, layered cuts for long hair is an exciting showcase for the best fine, medium or thick hair styles. So step inside and choose a fabulous summer cut and color in shades of ash, beige, silver, white, sky-blue, plum, raspberry, driftwood gray, faded bronde, warm gold, copper and sexy, racy red!
Sexy long hair makeover – copper-red waves for brunettes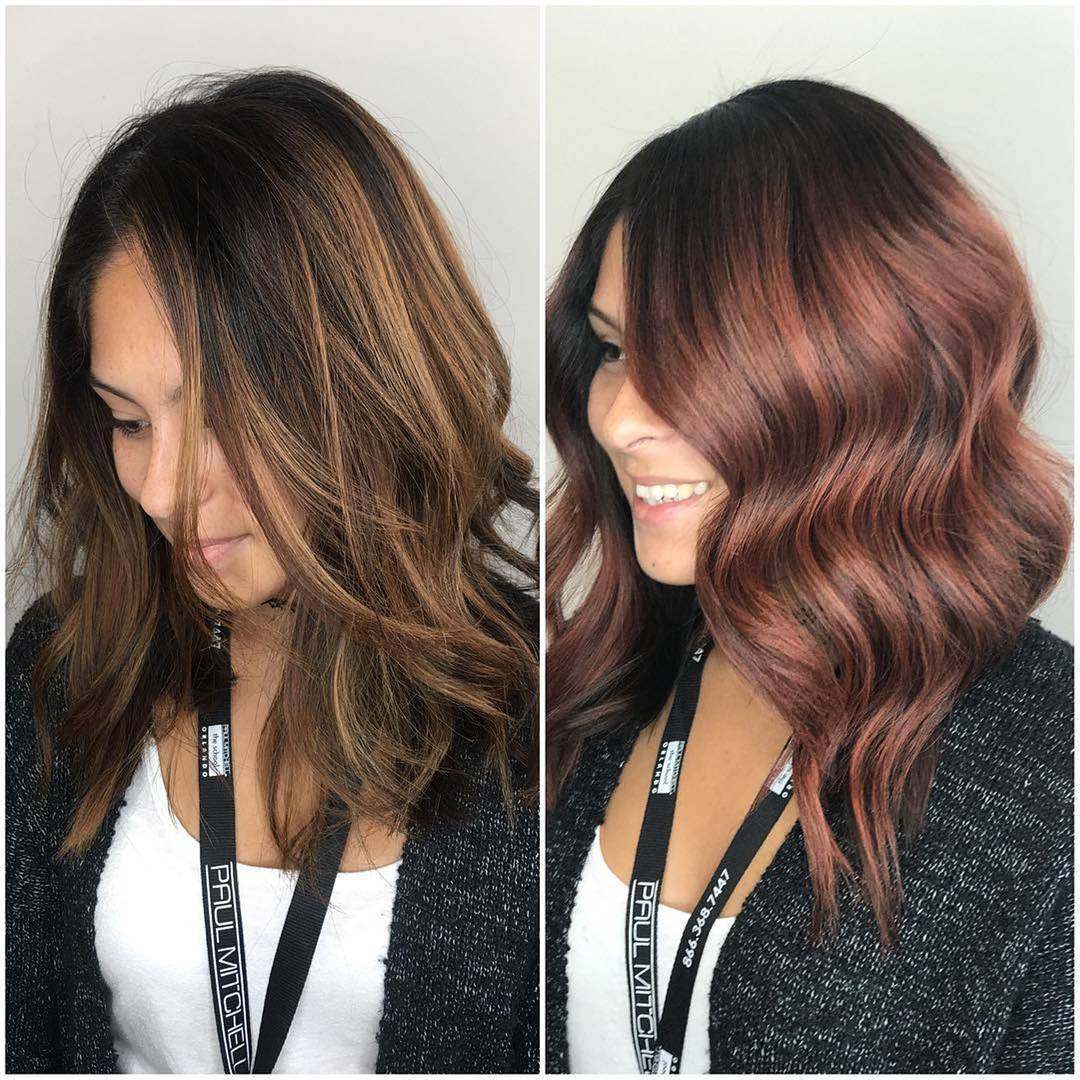 Here's how to add sophistication to a long layered haircut – ready for a special date!  The before image shows attractive old-gold balayage in a casual, everyday style that's very nice. But the after image, with a warmer red-copper hair color and deep Hollywood glamor waves is an altogether sexier look!  Rich, dark/light red striped highlighting creates a marvelous wave pattern on the sides. And straight,  sharply textured tips add a touch of edge to a very sultry look!
Sassy silver-gray & muted blue – long layered haircut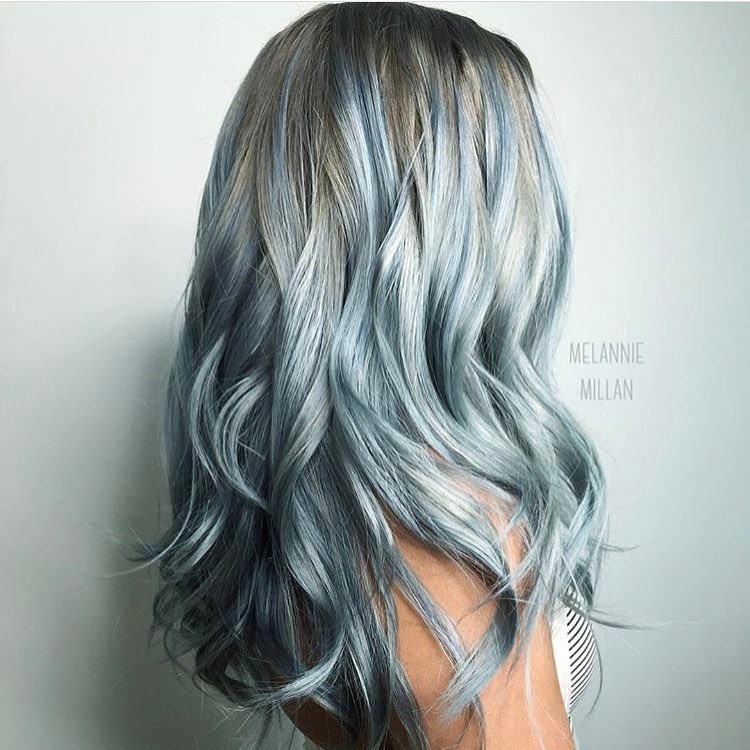 These two colors look wonderfully fresh, combined in this appropriately wavy long hairstyle!  It's a hairstyle that couldn't be more perfect as a sea-themed, summer look!  The driftwood gray roots move to soft white-blonde and those dazzling, light reflections.  And summer-sky-blue, with a hint of dark blue and ash toner is such a 'classy' color combination.  This young women may be sassy and confident, but she also has exquisite taste!
Beautiful copper-gold tones on brunette long shag haircut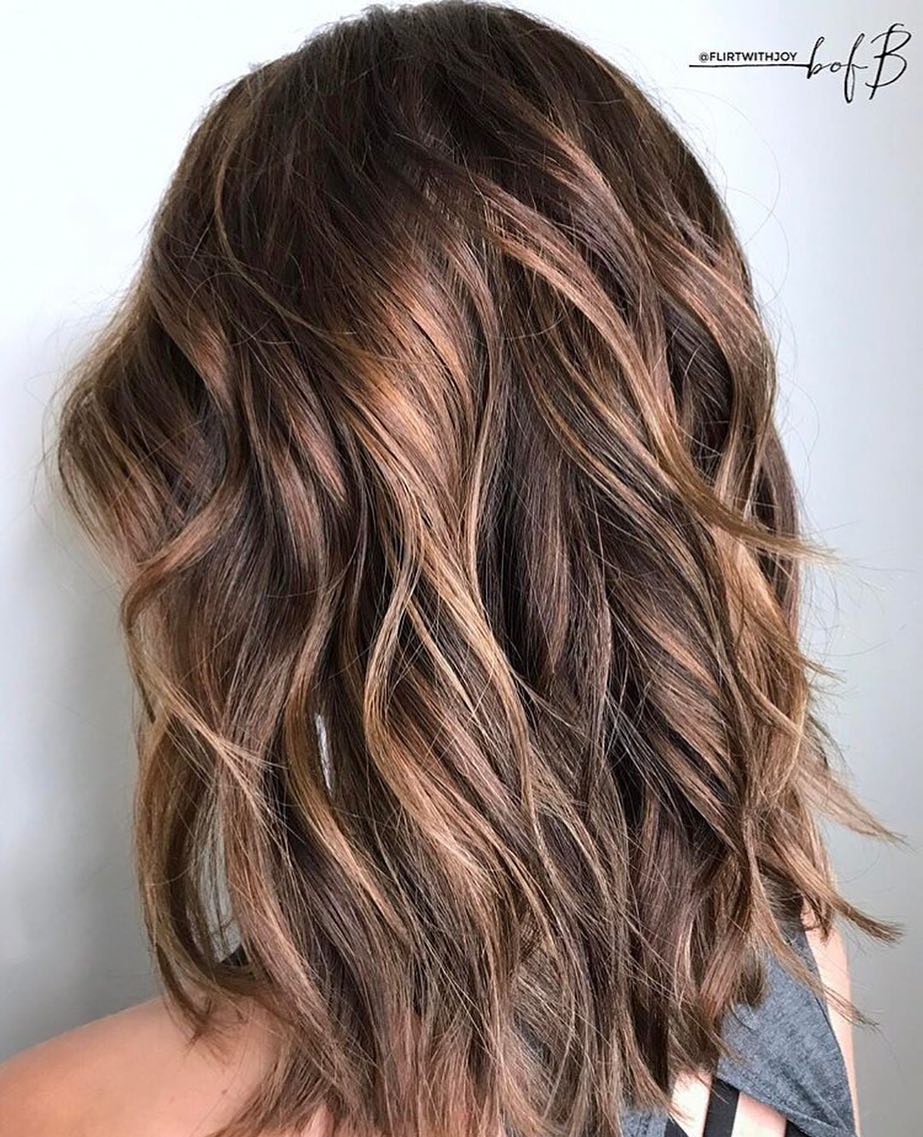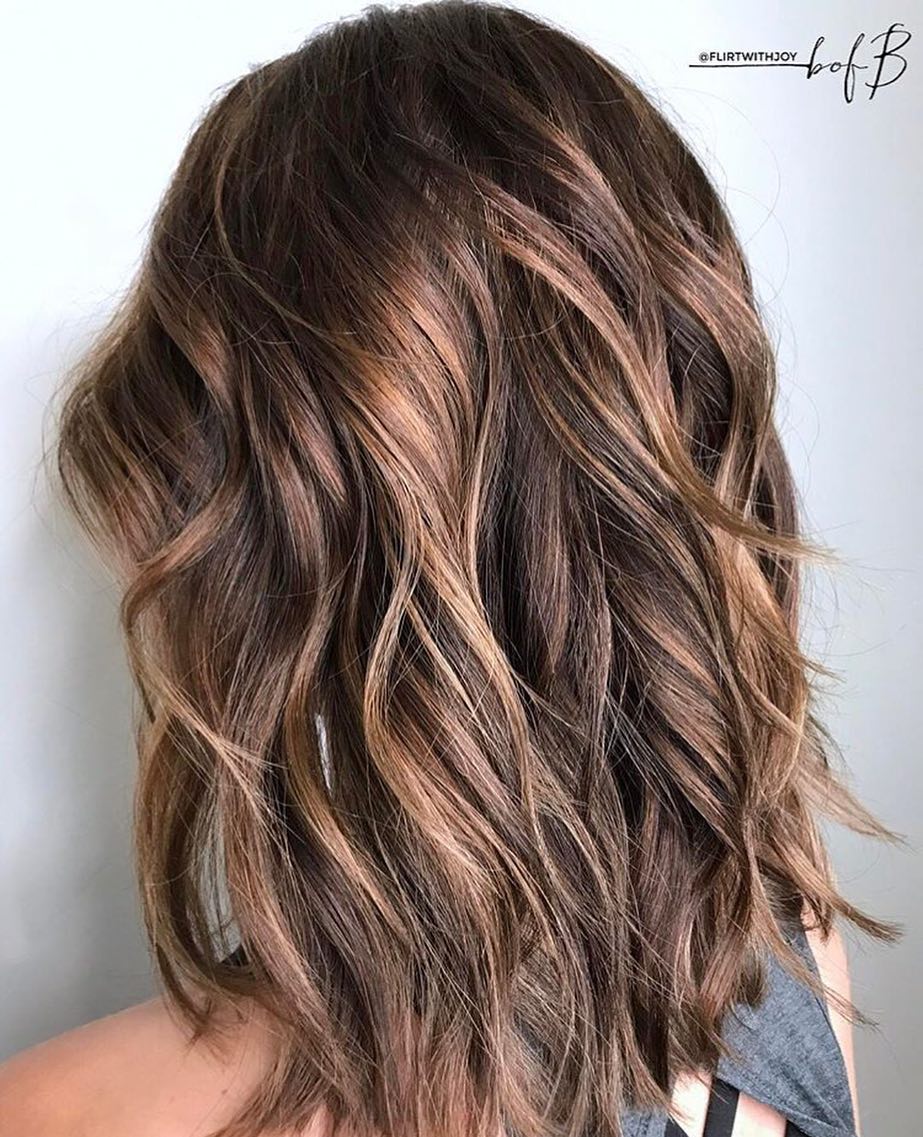 Here's a heavily layered long shaggy cut for medium to fine hair, with tons of style and personality!  The waves start high around the head adding volume to fine hair and use trendy sharp, straight tips to keep the volume going down to the blunt-cut ends.  There's a nicely placed front wave to frame and flatter the face and a sophisticated color design.  Brown hair is given a lovely, burnished copper summer look blended with shades of beige and deep-brown low-lights for a chic but relaxed hair design!
Romantic plum & raspberry long waves with ash-white ombré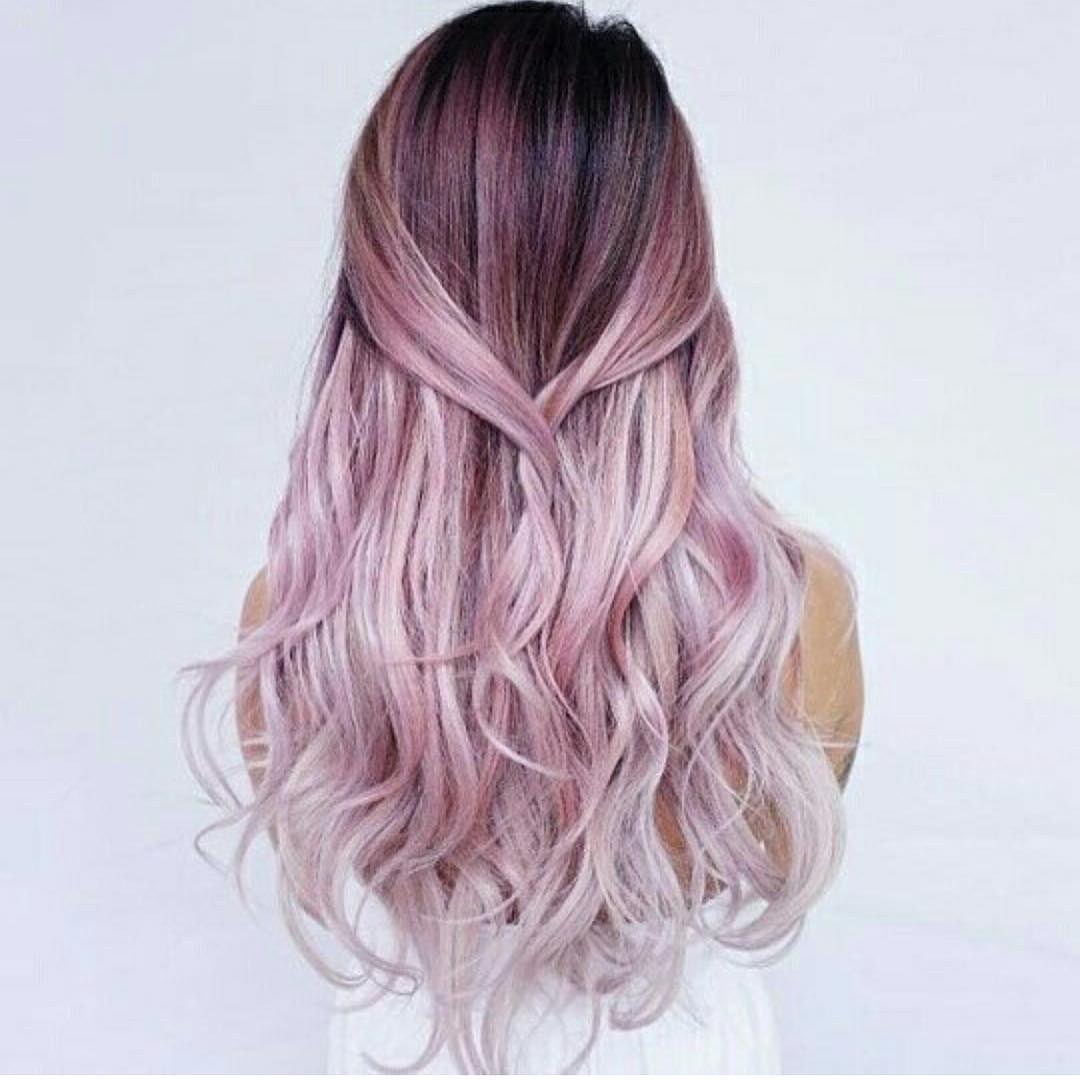 Pink may have begun as a daring 'fantasy' trend for teens, but it's evolved into a romantic wedding hairstyle for lots of modern women!  We love these fruit colors right now, which create more sophisticated pink shades and a highly stylish vibe. From plum-brown roots, the balayage includes pretty coral and lavender pink, before merging into silvery-white blonde tips.  Add some loosely tousled waves and you've got a beautifully original, semi-formal long style!
Soft & gorgeous neutral-beige blonde long haircuts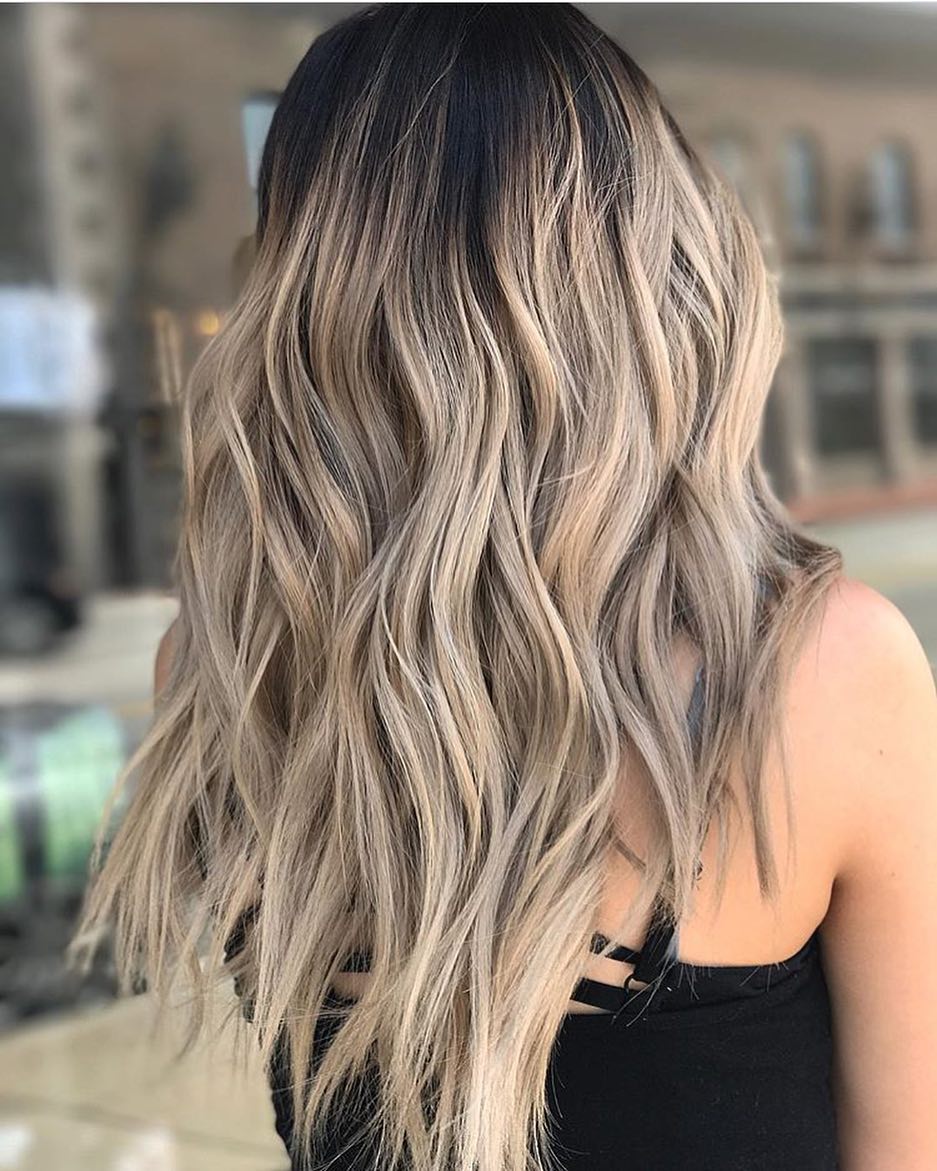 We love the huge range of beige shades on offer for summer this year!  They always look very chic even on this windswept, layered hairstyle for summer evenings.  If you enjoy wearing bright colors, muted blonde is such an easy color to match. And if you favor stone, fawn, ivory, brown and other faded colors – trendy beige-blonde hair will complement your wardrobe perfectly!  This medium beige-blonde hair color design has clever touches of ash, lavender and apricot toner – creating a very high-toned finish!
Amazing ash-blonde & beige layered hairstyles & cuts for long hair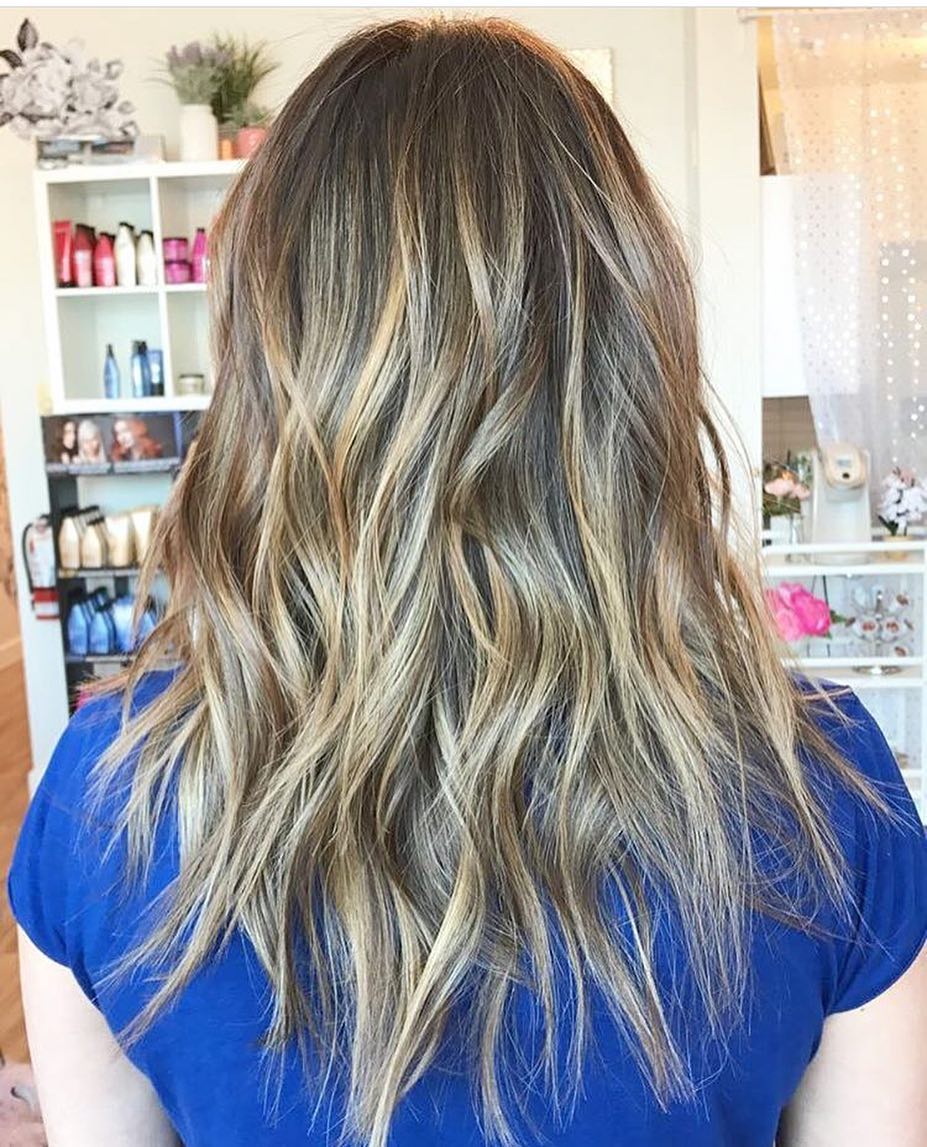 Straight, medium-textured dark-blonde hair throws off its boring image, in this exciting, modern cut and color! The cut is a super-trendy layered look, graduated into a U-shaped back from shorter layers at the front.   Long, tapered tips create a fashionable, uneven line. The balayage colors range from apricot- and ash-blonde highlights to graphite-gray and brown low-lights.  This balayage is so expertly done and the colors so beautifully blended that it's impossible to define it as blonde or brunette!
Shaggy warm blonde layered hairstyles & cuts for long hair
Warm golden-blonde shades are a fabulous makeover idea for summer wear, especially if your pale skin with warm undertones becomes sun-tanned.  As your skin-tone darkens, you can wear brighter gold shades for a gloriously sun-kissed effect.  This long layered hairstyle suits medium or thick hair as it has lots of thinning-out layers in the last 6-inches. Ask for shorter and blonder layering at the front, for an adorable face-frame.  Tousled beach waves need heavily tapered tips for a shaggy, holiday look that's very appealing!
Glamorous white-blonde layered hairstyles & cuts for long hair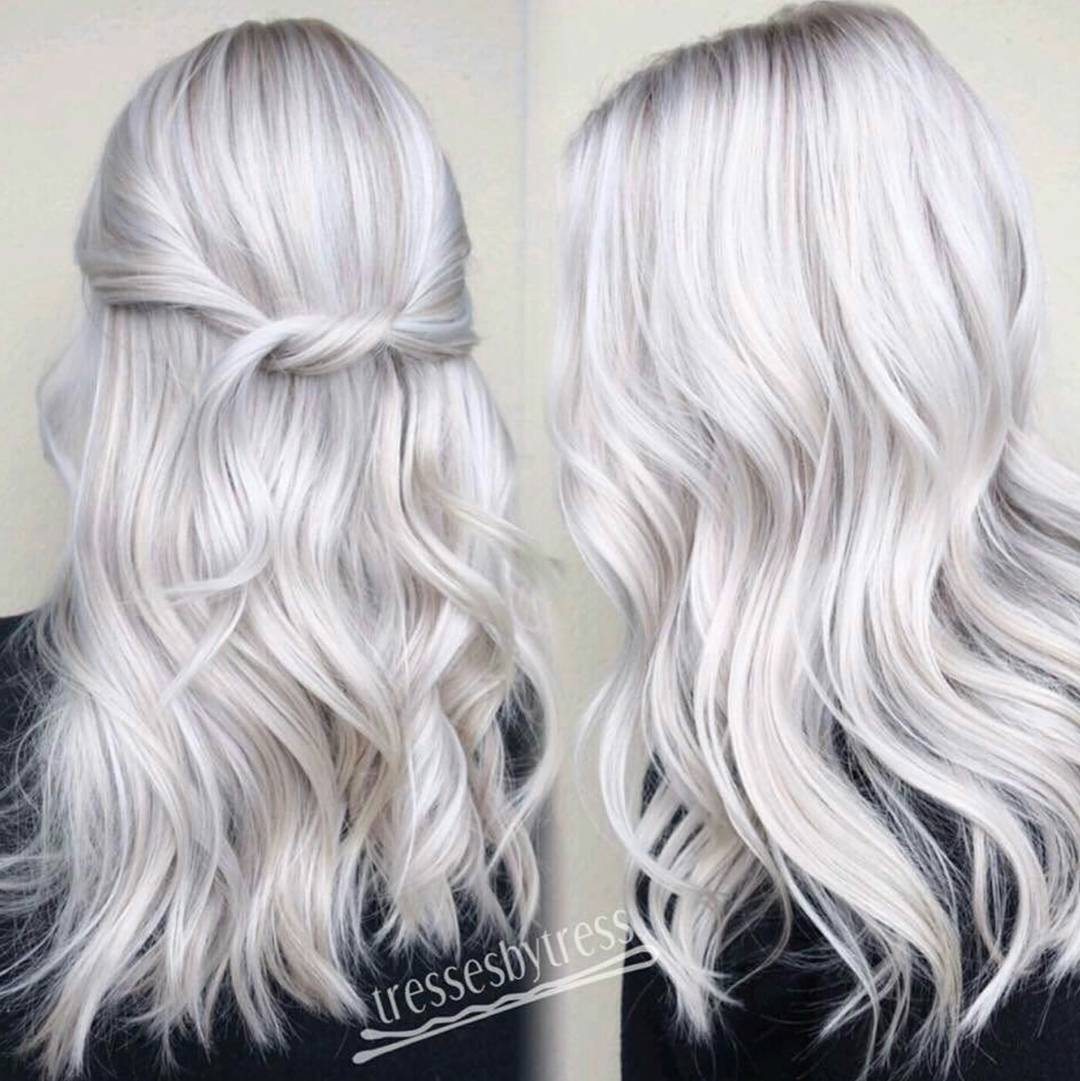 Natural-blonde hair is usually quite fine, but lightening it to this gorgeous white hair-color will create thicker hair.  Bleaching always thickens individual hairs, which is a real advantage on fine hair – if you keep it well moisturized.  The expert colorist has applied two toners to the hair, creating cool lavender and warm apricot reflections, which highlight the elegant, wavy texture.  Long, fairly straight fine hair looks denser with waves and just a few layers at the front to soften the line.
Beach-ready ash-bronde layered hairstyles & cuts for long hair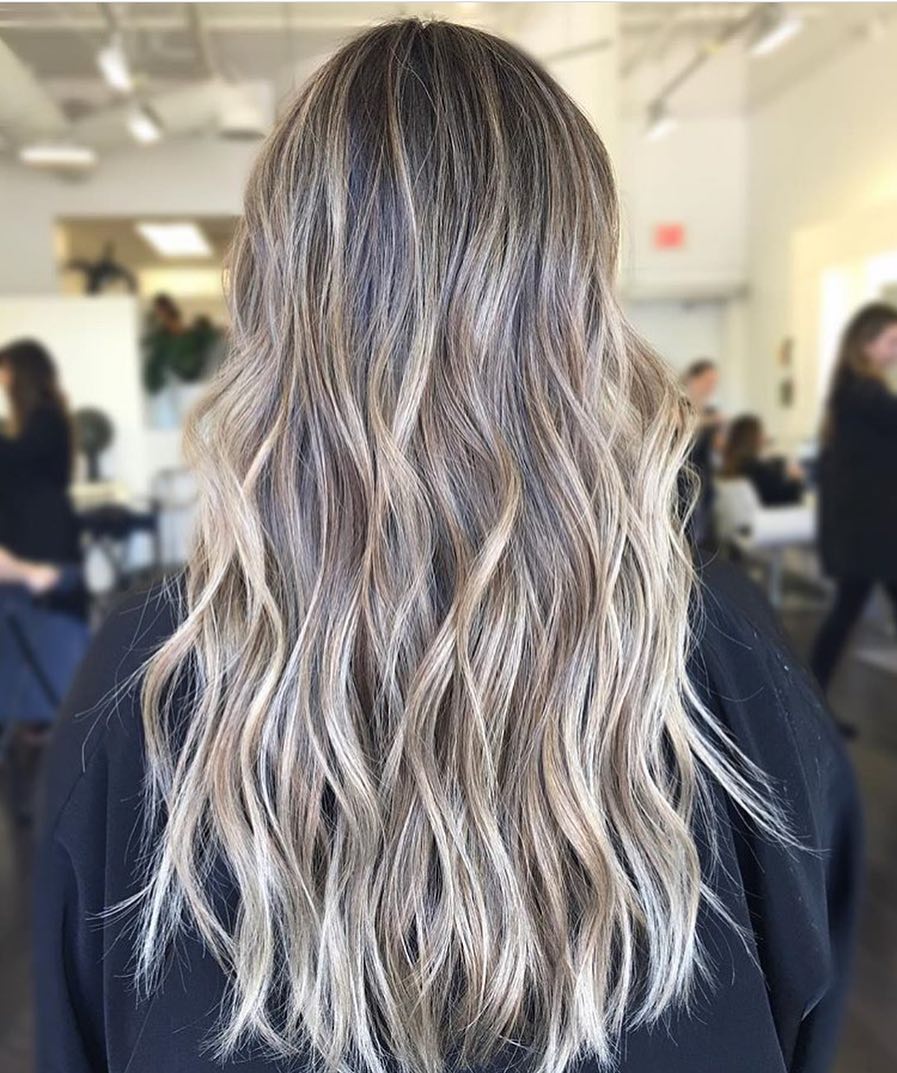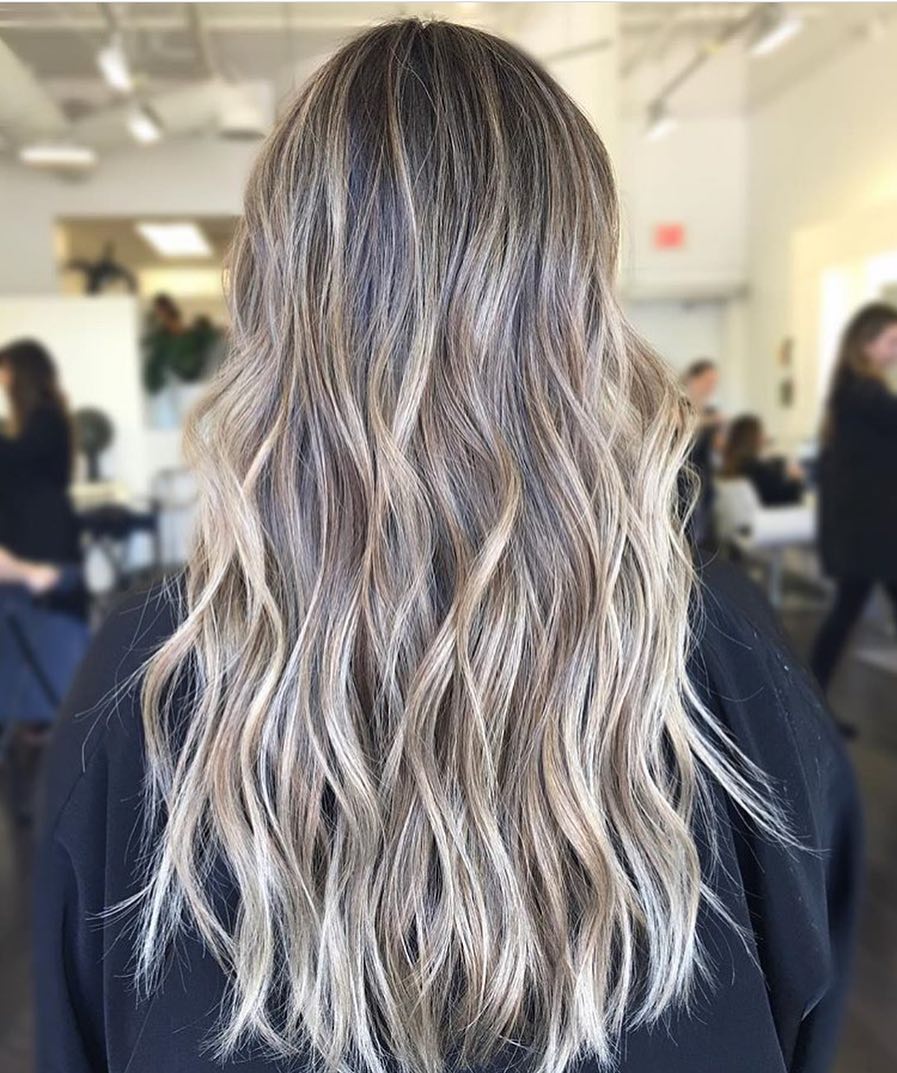 This is a great hairstyle for long, thick hair as several long layers thin out the hair significantly. And sharply textured tips create a trendy, wispy U-shaped shaggy line around the back.  If your hair doesn't have any natural wave, a mild 'body perm' will add these easy-care, surfer-look defined waves.  The color is a beautifully balanced mix of ash-brown with ash-blonde balayage, inspired by bleached driftwood, which can only be described as 'ash-bronde'!
Classy beige-blonde layered hairstyles & cuts for long hair – fine hair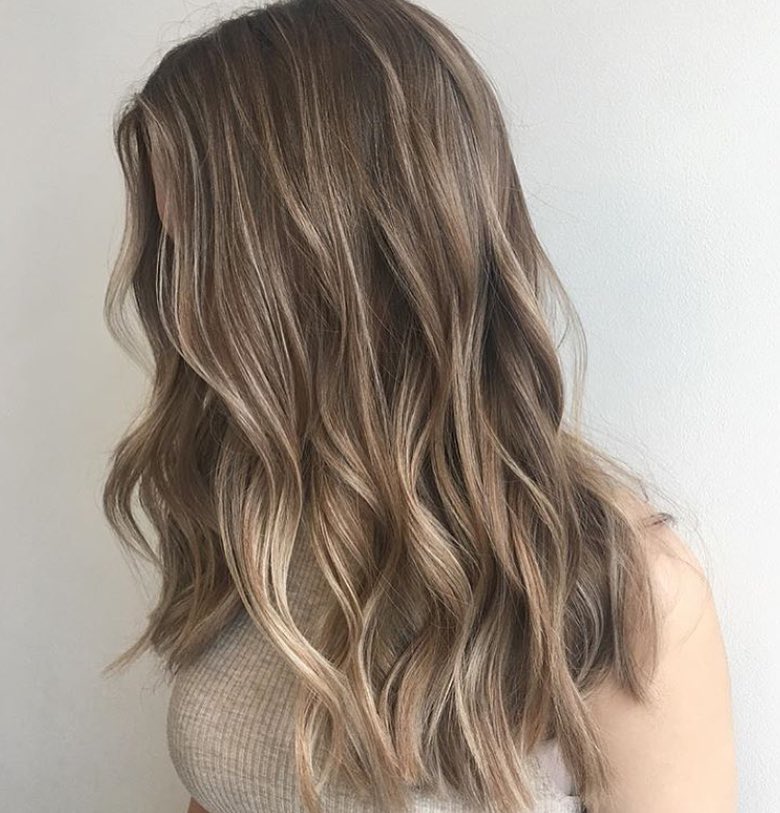 If you need to add some color to dark-blonde/mousey hair, but in a fairly natural look, beige-blonde is a great option!  By avoiding the extremes of other high-fashion hair colors, beige-blonde is never completely 'out' of fashion.  It's always classy and currently very trendy!  On loose defined waves, with blunt-cut tips adding density to fine hair, this layered hairstyle also looks thicker from varied shades of balayage highlights!