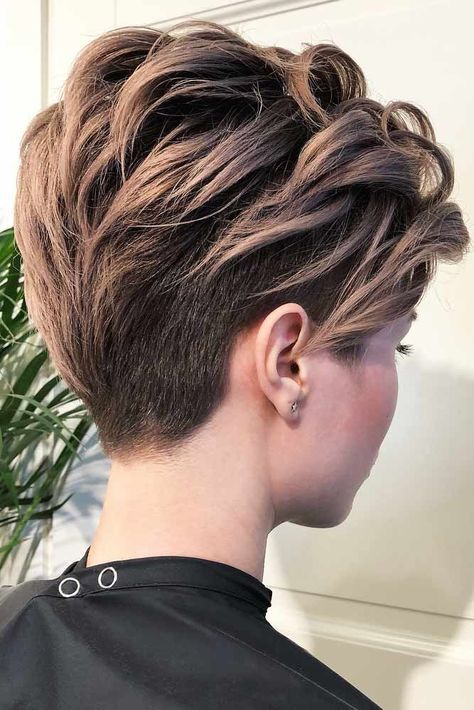 10 Easy Short Hairstyles for Women
One of the potential perks of having a short hair cut is enjoying a quick, low-maintenance daily styling routine. While not every cropped cut can cut down your styling time in the morning, the easy short hairstyles featured in this post certainly will.
If you're considering going shorter with your hair or are already rocking a cropped cut, check out these 10 super trendy, low-maintenance short hairstyles that range in length from cropped pixies to shoulder-length lobs.
1. Piece-y Dirty Blonde Pixie with Shaved Back and Sides

This super short pixie manages to seamlessly blend femininity and edgy style into an ultra-low-maintenance cropped cut with a trendy shaved back and sides and longer layers on top.
All it takes to style this cut is your hands and a little bit of lightweight styling gel, mousse, or pomade. Rub the styling product of your choice between your palms. Then, starting at your front of your hairline, run your fingers through your hair from roots to ends to slick it back toward the crown of your head.
2. Short Tousled A-Line Bob with Balayage
This cropped bob features a sharp A-line cut that skims the nape of your neck in back and falls an inch or two below your chin in front to frame your face with longer front layers. Honey blonde balayage adds flattering dimension to this bob, and its messy-on-purpose finish adds volume and carefree style.
Achieve a tousled style for this cut by using a flat iron or curling rod to create loose, beach-y waves in the top layer of your hair. Skip the hairspray and apply a liberal amount of lightweight texturizing spray through your hair from roots to ends. Complete your styling by scrunching your hair to add volume and relax your curls for a tousled finish.
3. Tousled Blonde Pixie with Side-Swept Bangs
This trendy, edgy wavy blonde pixie is simultaneously feminine, bold, and super easy to style.
Start by creating a zig-zag part in your hair using the end of a fine-tooth comb. Rub texturizing spray or serum between your palms and run it through your hair from roots to ends. Scrunch your logs lightly to achieve a messy-on-purpose finish. Finish off your look by using a round brush and a blow dryer or a mini flat iron to straighten and smooth this pixie's asymmetrical side-swept bangs.
4. Silver Shoulder-Length Lob with Shadow Root
If you're looking for a manageable cut that isn't super cropped, try this shoulder-length lob. Its bright silver hue with a darker shadow root adds dimension and eye-catching style to this simple and low-maintenance cut.
You can rock this sleek silver lob wavy or straight. Either way, all you need is a thin flat iron to smooth and straighten or create relaxed beach-y waves.
5. Straight Blunt Ombré Bob
This bob is a classic, mid-length cropped bob with blunt ends that is super trendy and super low-maintenance. A subtle ombré that fades from medium brown at the roots to light blonde at the ends adds dimension and trendy style to this cut. It also allows for seamless root re-growth so you won't have to run back to the salon every few weeks.
Use a thin flat iron to straighten this blunt bob. Depending on the texture of your hair, you can also apply smoothing serum from your roots to your ends to achieve a smooth, pin-straight finish.
6. Tousled Rose Gold Pixie with Long Side Bangs
This low-maintenance pixie's subtle rose gold tones allow you to enjoy the fun of having bright-colored hair without going too over-the-top. Its long side bangs frame your face and add femininity to this edgy style.
All you have to do to style this pixie is run texturizing spray or serum through your hair from roots to ends to achieve a messy-on-purpose finish. If needed, run a mini flat iron through your bangs to smooth and straighten them and keep them securely side-swept all day long.
7. Short Red Bob with Micro Bangs
With its bright red color and piece-y, asymmetrical micro bangs, this ultra-trendy cropped bob is bold, daring, and undeniable.
If you have fine, manageable hair, all you have to do to style this cut in the morning is run a brush through your hair. If needed, apply smoothing serum from roots to ends to give this cut a shiny, sleek finishing touch and make its bright red color pop.
8. Spiky Brunette Pixie with Side Bangs
This simple pixie cut is bold, edgy, and ultra-trendy. Its spiky style adds dimension and its long side bangs add femininity to this manageable one-color cut.
Achieve a spiky style for this pixie cut by rubbing styling gel, mousse, or pomade between your palms and running your fingers straight out through your cropped layers from roots to ends.
9. Smooth Auburn Pixie with Long Side Bangs
This vintage-inspired auburn pixie is ultra-smooth and sleek. Its long side bangs add femininity to this style and its smooth finish give it undeniable elegant style.
Use a flat iron or a round brush and blow dryer to style this pixie pin-straight. Apply a liberal amount of smoothing serum through your hair from roots to ends to achieve a sleek and ultra-shiny finish.
10. Bright Blonde Chin-Length Bob
If you're looking for a classy, classic cut, try this simple cropped bob. Its chin-length layers frame and flatter your face, and its bright blonde all-over color gives this bob a feminine, stylish finishing touch.
Use a round brush and a blow dryer to style this classic bob for a sleek and voluminous finish.