10 Layered Hairstyles & Cuts for Long Hair
Layered hairstyles and cuts for long hair are a great way to make your hair more face-flattering!  Layering is essential for shaping thick long hair, and for creating tousled volume on medium or fine, lank hair.  So if you're ready to ramp-up your sex-appeal with layers, loose waves and the trendiest balayage ideas, you'll find the latest looks right here!
Casual volume on sophisticated ash-blonde & silver – layered hairstyles and cuts for long hair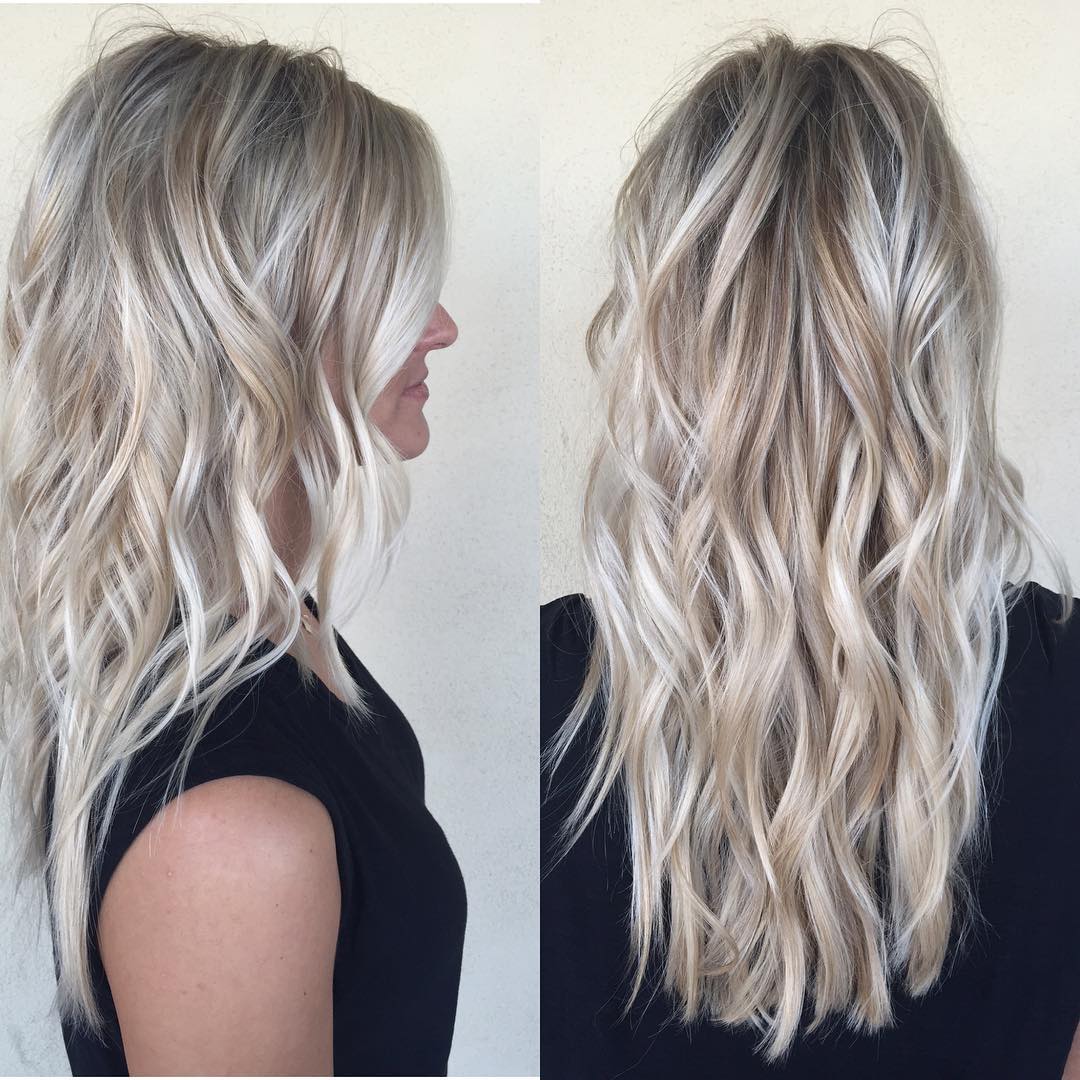 Fair hair can be quite fine and thinner than other hair color types. But that's not a problem these days! Here's a fantastic, 3-D triple-blonde in silver, ash and beige balayage that tricks the eye into seeing 'thicker' hair.  Long layers also add volume and texture in gentle defined waves that reveal the gorgeous color layers.  And the gentle, U-shaped graduation to the back leaves shorter layers to soften and frame the face with light!
Chic shades of white-gold – shaggy layered hairstyles and cuts for long hair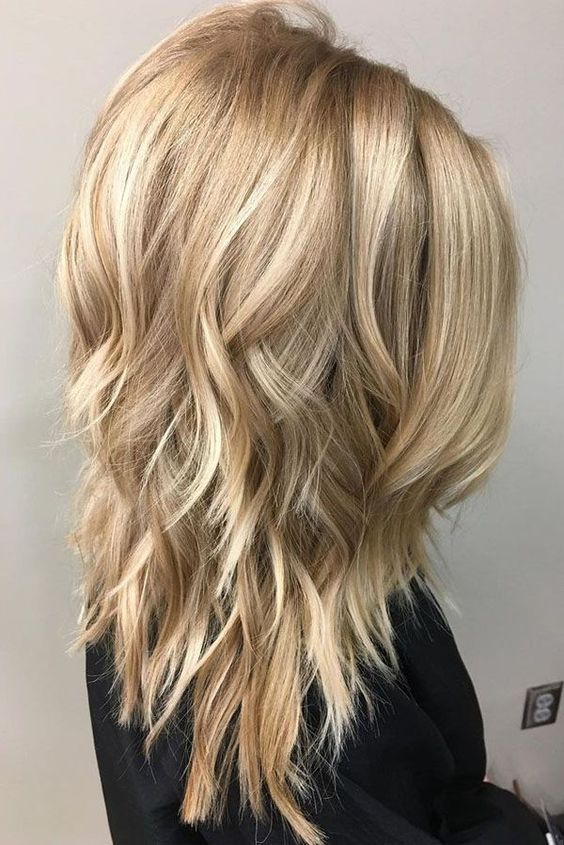 If your skin-tone has a warm undertone, ash-blonde will probably not be your best color.  But this modern, shaggy layered long bob shows how various shades of golden-beige and palest golden-blonde come together for a fantastic alternative!  Notice how the layering from roots to mid-way down creates natural volume around the head, which you wouldn't get in a same-length long style.  And darker balayage on disconnected layers underneath also help build-up the fabulous texture and movement!
How to get the perfect gradual ombré on long layered hairstyles and cuts for long hair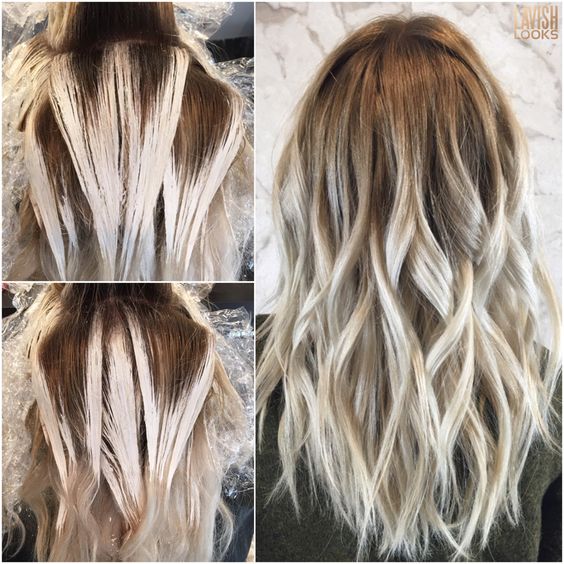 For those who want to take advantage of the many DIY balayage home-kits available right now, here's a quick tip on how to get a professional look.  It's the subtle transition of root color to ombré shade that marks out the work of an expert colorist.  As you can see, creating layers that are, 'interleaved' rather than straight, horizontal lines is the key.  And then you need to put the color on the edges, leaving a central root section untouched.  If you get it right, it should look like this lovely, ash-blonde ombré with defined waves!
Classy neutral beige – layered hairstyles and cuts for long hair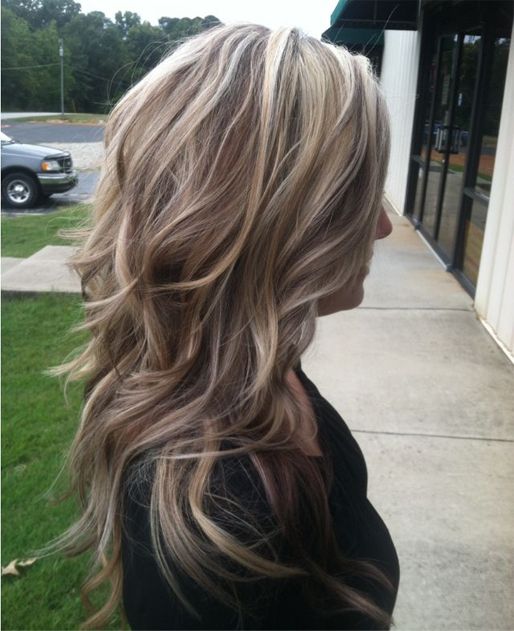 When the idea of putting 3 different tones in blonde highlights first came in, hairdressers insisted that it created a more 'natural' look.  And now we're up to 4, 5 or 6 blended shades, and brown lowlights, which may not look entirely natural.  But they do look absolutely fantastic!  This year's neutral and beige-blonde shades are truly 'effortlessly elegant', using the most natural shades of real blonde to create gorgeous layered hairstyles.
Sexy golden blonde balayage waves – layered hairstyles and cuts for long hair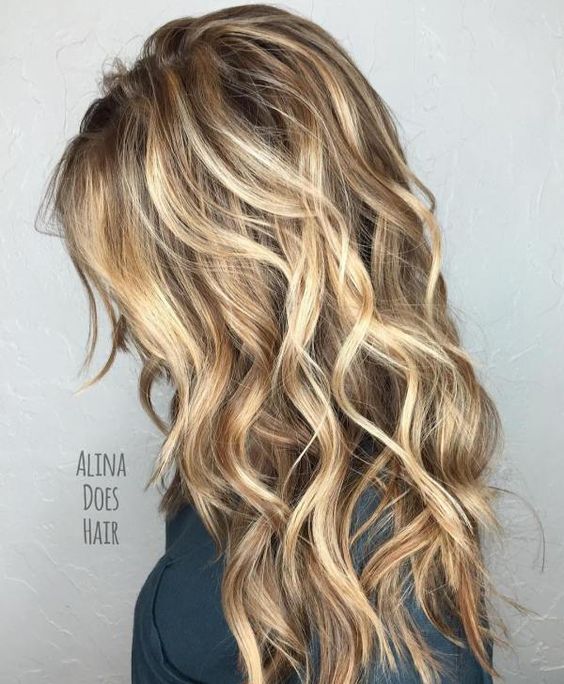 What makes one hairstyle look 'sexier' than another?  Well, in this case the style is an updated Brigitte Bardot long, layered blonde haircut.  And as a beautiful 1960's film star, BB was famous for bedroom scenes with her long blonde hair spread over her bare shoulders in a sexy, bed-head look.  To get the exact look, you need a centre parting, with cute, short layers cut to frame the face at the front.  Then instead of the original all-over light-blonde look, add lots of trendy modern style with more natural shades of golden blonde and beige-brown.  Absolutely irrestible!
Sizzling-hot copper with yellow-blonde balayage on textured waves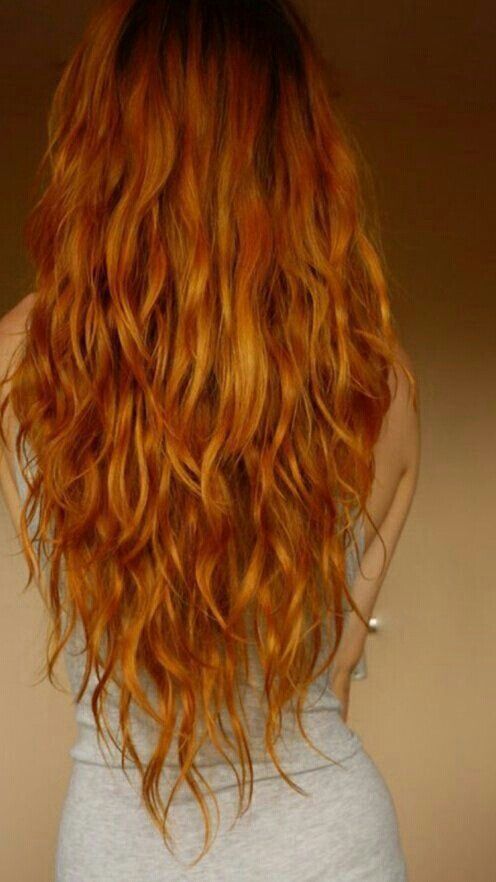 And if the golden-blonde bombshell above is a sexy look, this sizzling-hot cascade of copper-orange is guaranteed to set hearts beating wherever you go!  Healthy extra-long hair is a fabulous fashion statement in itself.  But this orange-copper 'redhead' color design, is the first to create such an eye-catching blend of orange, yellow and rich, burnt-orange balayage.  With a long, V-shaped outline and lots of tousled-wave layers, this gorgeous long, copper haircut is a stunning new look!
Casual style on long layered brunette haircut with 'lived-in' look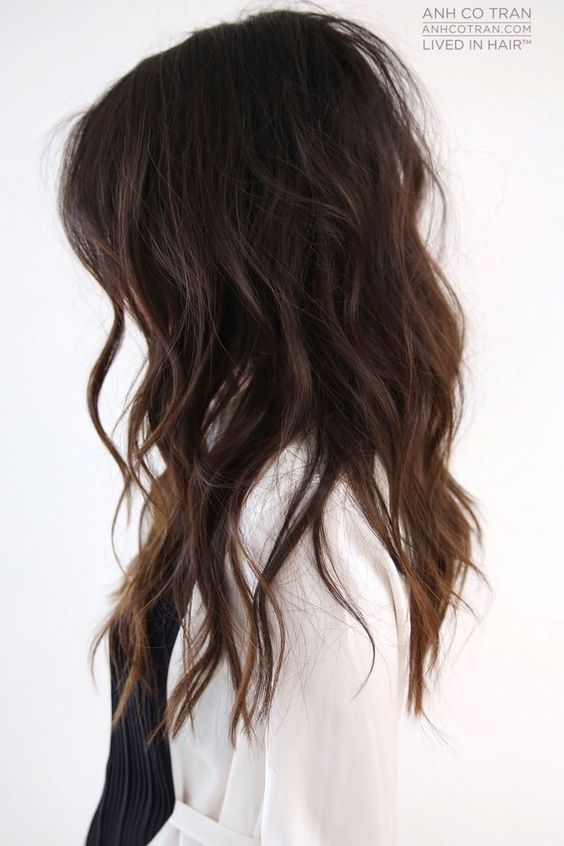 Following on from the success of the BED-Head hair styling products, this innovative stylist has registered their fashion-focussed approach as 'Lived in Hair'!  And this relaxed, long layered haircut shows just what that's all about.  'Cool' hairstyles that stick to natural colors but have super-trendy features, like these ultra-long, tapered tips and loose, tousled waves!  If you hate leaving the salon looking like you've just come from the hair-salon, you'll love this idea!
Super-shaggy layered haircut on thick, long hair for brunettes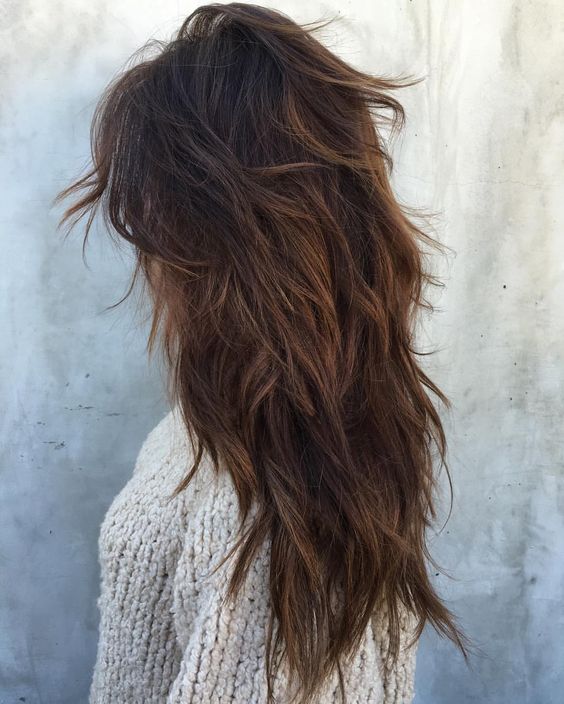 This is another casual and natural hairstyle that's fashionable, yet easy-care, for anyone who loves spending time out of doors.  The hair is extra-shaggy, because the layering starts quite close to the roots on top.  Along with shaggy, tapering tips, full-length layering takes the weight out of thick hair and promotes natural volume and shape.  Can you see the subtle balayage done in very fine, ash and beige-blonde highlights?  The result is a shapely, trendy layered haircut with wonderful texture and movement!
Super-trendy ash-blonde ombré on Asian hair – long black hairstyles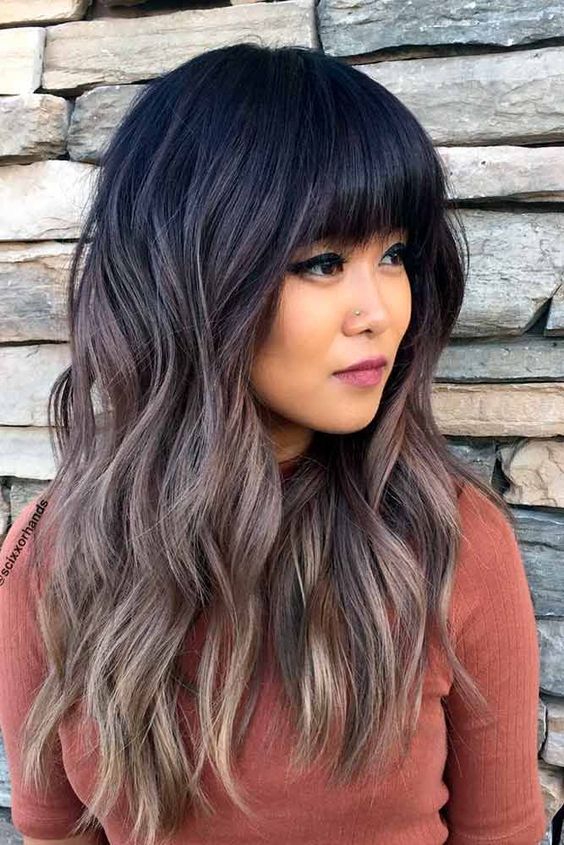 Although you may not normally see lots of Asian hairstyle pics, depending on where you live, they often have the most cutting-edge haircuts.  Dark coffee or black Asian hair is thick and coarse, making it perfect for high-fashion, layered styles.  This super hairstyle blends the full, straight-across fringe with a feminine lightness in loosely waved, ash-blonde lower lengths.  Beautifully judged balayage shades include a lavender toned, ash-blonde horizontal band above disconnected beige-blonde layers and brown lowlights.  It's a very classy and sophisticated cut and color for black hair!
Woven-look flat waves on soft beige balayage-ombre for long fine hair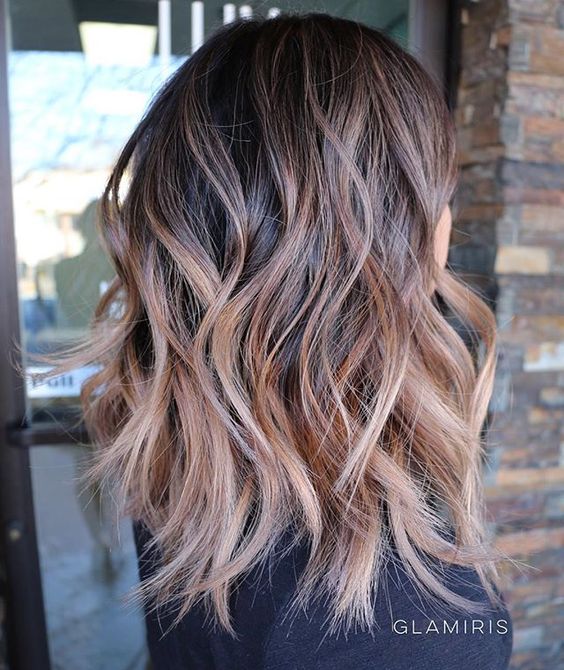 Fine hair isn't usually dense enough for heavily layered long hairstyles, but you can get equally trendy and attractive styles with other hair techniques.  This is a long, A-line bob cut to fall just below the shoulders.  Long layers help to retain the density of the hair and styled in trendy, flat waves creates lots of lovely texture and movement.  Disconnected layers with highly textured tips add a trendy, shaggy vibe.  And this fabulous ash-blonde and copper-beige balayage-ombré is a wonderful color option for light-brown hair!