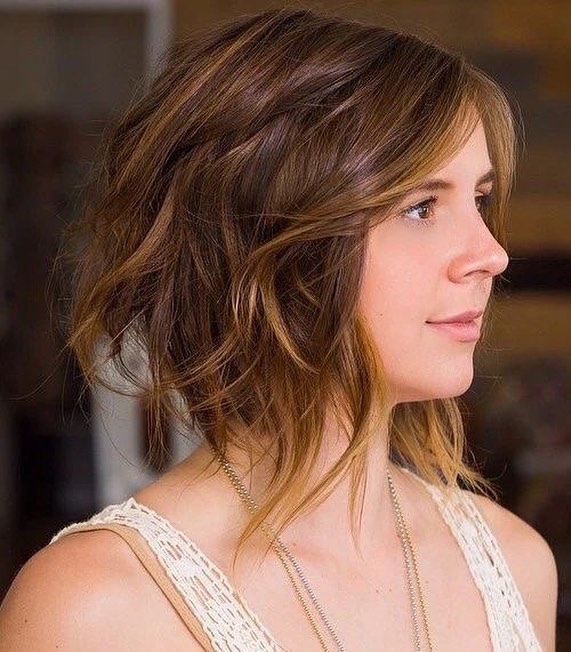 10 Cute Medium Hairstyles with Gorgeous Color Twists
Cute medium hairstyles bridge the gap between short and long hairstyles very well, combining time-saving, easy care qualities with the option for formal up-styles and casual ponytails!  And rather than just being a sign of 'vanity', our constant need for new cutting styles and colors, is a perfectly natural way for women to express their creativity!  We don't have time for painting or sculpting a masterpiece – but we love to play with new textures and color blends that enhance our personal image!  So if you're looking for new and original ways to cut and color your hair, take a moment to browse the freshest of the fresh right here!
Rad windswept uneven layers – cute medium hairstyles for thick hair
Yellow-gold balayage highlights and coffee low-lights are the perfect color combo for this fresh, super-cute medium hairstyle!  This radical medium bob has a center-part, tapered uneven tips and feathery disconnected layers.   It works best on medium to thick hair, as a little natural volume and movement is required to get the full effect.  Center-partings are best for oval faces, as they accentuate the symmetry and balance of this shape.  The cut is ultra-modern, but natural looking with subtle balayage shades and a cute windswept vibe!
Glam bed-head blonde in beige – cute medium hairstyles for fine hair
This is another center-part hairstyle that suits medium and fine hair especially well!  The length stops above the collar-bone, which helps fine hair look thicker than it would in a longer haircut.    There's a fabulous new twist on the young, blonde bob because it has soft, beige roots and medium-beige-blonde at the sides and back.  Adding extra glamor and flattering reflected light, pale-gold highlights make a pretty oval face frame.  This accentuates the model's green eyes and waves draw attention to the mouth and chin.  It's easy-care with a tousled finish and blunt tips also adding 'thickness'!
Pale ash-blonde over mid-gray roots – cute medium hairstyles
This is a knock-out, but very simple hairstyle, which will turn heads everywhere you go!  This very natural-looking ash-blonde hair color will suit a pale skin, with warm undertones.  You need a fair-haired base color, which an experienced colorist can lighten to medium ash underneath and gleaming blonde on the top layers.  The shape is a long, A-line bob, blunt-cut with lightly textured tips to increase the density.  It's an easy-care, youthful cut for medium or fine hair, with trendy casual waves in fabulous shades of modern ash-blonde!
Soft gray roots & uneven layers on blonde – cute medium hairstyles for fine hair
This long, sleek bob has asymmetry in the sides for a fabulous modern vibe.  The mid-blonde shade flatters medium skin tones with warm undertones and dark eyes.  There's an exciting new twist here, which moves away from black/brown root-contrast and introduces chic, graphite-gray roots!  The center part accentuates a lovely, oval face shape. On fine hair, the bleach will thicken hair and attractive height is added to the crown with a teased section pinned at the back.  This creates a place to add a pretty hair accessory like a tortoiseshell clip or a jeweled accessory for a special occasion!
Blue & copper balayage on dark hair in medium angled bob hairstyle
We all get bored with our hair color and it's this constant demand for 'something new and different' that inspires colorists!  This colorist was definitely feeling artistic when she designed a blue and copper balayage ombré that adds tons of style to a natural black bob!  Like several new color designs there are three color sections here. There are dark roots, highlighted mid-way down in pastel-blue, before blending with ash-toned, copper in the final section.  Layered styles with strongly tapered, textured tips work best on thick, coarse hair. And the separated, defined waves in this creative new look present an attractive and original take on the medium hairstyle!
Gorgeous twist on auburn as 3-D copper balayage 'lifts' medium wavy bob for fine – medium hair
This gorgeous wavy cut is suitable for fine and medium hair with a little natural movement.  At just below collar length, with blunt-cut ends in a straight line at the back, this style creates a good balance between length and volume for fine hair.  The long layers also help create volume, texture and movement without 'thinning-out' hair density.  The main color is actually a very old shade called 'ox-blood'.  But the beauty industry prefers gentler names, like dark russet auburn!  And the hairdresser has placed gorgeously intense, red-orange and copper balayage perfectly, to make the casual waves leap-out in a marvelous, 3-D, color extravaganza!
Warm-up to a natural chestnut bob with subtle balayage
This is definitely going to be a popular new hair color idea for those who like a subtle hair color design!  The base could be light-brown/dark-blonde/mousey brown, which instead of being perked-up with vertical blonde streaks, is warmed-up to be natural chestnut!  Warming-up dull hair-color is often a more flattering choice than blonde streaks, for pale complexions with warm undertones and medium-brown eyes.  I've seen too many brunettes with badly done, vertical blonde streaks draining the color from their whole face.  This stylist has created a lovely, casual shape with curves in the bangs and tousled sides.  It's a natural, healthy and youthful look for fine or medium hair, just needs light styling as you blow dry!
Hi-fashion steep angled bob – brunette & blonde balayage-ombré
And from a natural hair color and style, here's the fabulous opposite in the form of a steeply angled bob!  This style works best on medium to thick hair types, with natural movement and volume.  The high-fashion theme runs from brown roots, beige-brown streaks, dual golden-blonde balayage and the trendy finishing touch of dove-gray on the front tips!  This color mix will suit fair to medium skin tones with a warm undertone! And for shape and individuality, this is definitely one of our faves!  You can choose from a really wide range of color blends, including browns, reds, copper, gray and whites, soft beige blends et cetera in this super, eye-catching hairstyle!
Sexy neon-white-blonde & soft gray roots
If you love being the center of attention – and why not – take a good look at this amazing white-blonde, medium haircut!  This is another modern take on the pale blonde hair most of us associate with Norwegian and Finnish models!  As one of the rarest natural hair colors, it's always eye-catching.  And, because we deal with ultra-new hairstyles only, this blonde color design has an extra twist!  Soft, dove-gray roots move down to become pale-beige and appear again in random spots at the tips.  On top of this muted backdrop, bold swathes of chalk-white balayage 'leap out' to create a stunning, 3-D, neon-white finish!
Fabulous shaggy haircut with classy beige & brown balayage
The shag-cut for thick hair, was really the first of the modern styles to move away from a neatly coiffed look for women.  Before a London hairdresser invented the shag-cut in the 1970's,  most males thought a woman wearing long, messy hair around the shoulders in daytime was 'out-of-control'! And men found it very threatening!  I mean, even the 60's hippies wore neat head bands and straightened hair! LOL!  We've come a long way since then and today's shaggy hairstyles are a wonderful way to show off thick, healthy hair!  I love this shaggy hairstyle for the beautifully blended and fashionable, beige-blonde and coffee-brown balayage!  It's casual and classy!