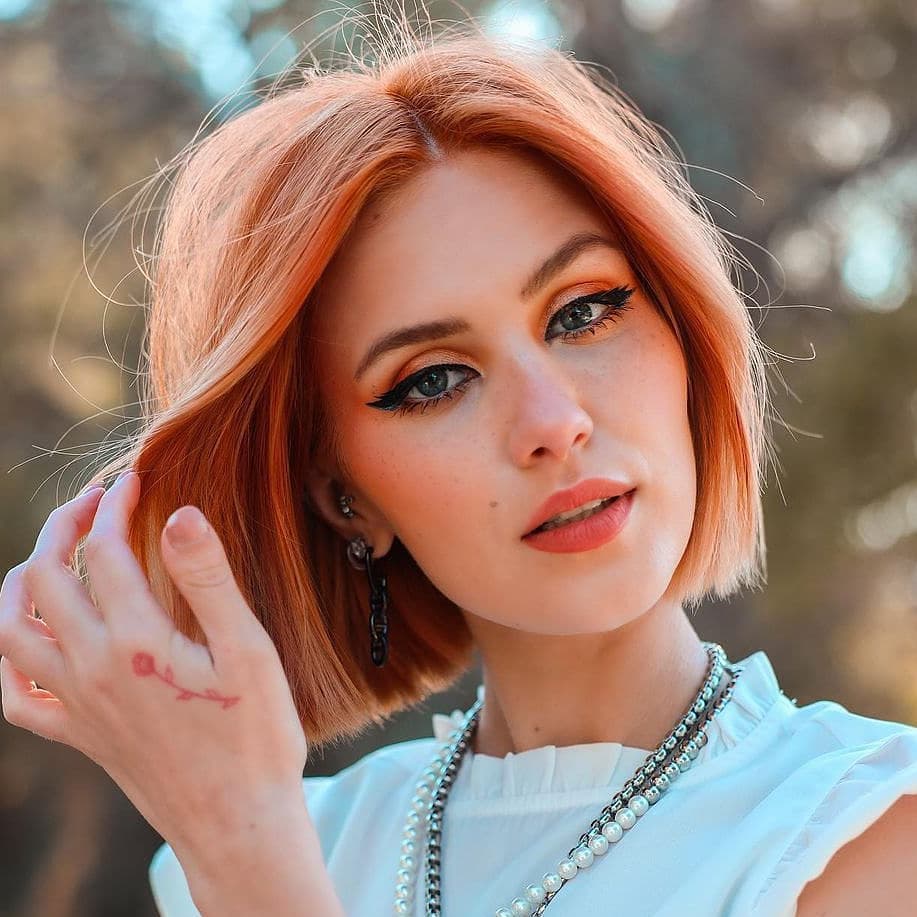 10 Easy Short Bob Haircuts for Straight Hair – Plus Trendy Hair Color Ideas
The bob has never been out of fashion since it was created in 1909! It was the answer to many women's hair-care and styling problems and that's why it's still one of our favorite fashion cuts. The major attraction of easy, short bobs for straight hair is that the stylist can cut a style that will flatter your individual face shape. And make the best of your hair type and natural color, too!
Trend-setting bob haircuts
In addition, straight bobs make the perfect background for stylists and colorists to create lots of new and exciting versions. And we've seen some fantastic new cutting and coloring techniques emerge during the last few years. From choppy through internal layering and currently, shaggy styling, there's always a trend-setting look just waiting to hit your local hair salon!
Fabulous hair-color designs
So whatever your face shape, age, or fashion style, you'll find a super-flattering easy, short bob right here. And just wait until you see this season's latest hair-color designs below! Let the salon do all the work – so all you ever need to do is wash and dry your lovely, short bob!
 1. Sliced layer balayage for dynamic – easy short bob haircuts for straight hair
Thick hair is perfect for this trendy bob haircut, as it has plenty of volume to hold a carefully trimmed shape all day. This bob has long layers for sleek sides, and added texture from the expertly cut sliced layers graduated down to a curved line at the nape.
And the fabulous hair color design accentuates the texture, shape and movement perfectly. So the two shades of mid-golden blonde create exciting color dimension and movement all around a smooth and textured style!
2. Brighten up your brunette – easy short bob haircuts for straight hair
Dark brunette hair often shows gray hairs far too soon, but that's never a problem these days. This is also a great way to add brightness and interest to a lovely A-line bob, whether you have stray grays or not!
Adding subtle beige-blonde balayage in an ombré pattern, adds attractive texture and movement to a straight bob. And styling hair behind your ear can show off some fabulous earrings – and leave a flattering, fashionable strand to soften your profile!
3. Wild & windswept ash-blonde bob – easy short bob haircuts for straight hair
No wonder this model is looking smug and happy! She has just got a fantastic cut and color that's ultra-trendy – and requires almost no styling whatsoever! This wild, straight bob has been lifted to a beautiful, light-ash blonde with warmer touches of beige balayage.
And long layers, with choppy tips at the bottom edge are styled for a wonderful shaggy finish! So if you want to update your blonde, angled bob for this season, this is a great option!
4. Soft copper face-framing balayage – easy short bob haircuts for straight hair
And at the opposite side of stylish bob choices, here's a superb precision-cut bob that drapes down to a couple of inches below the chin. This is a very polished look, for hair that shines with good health. And it makes a great cut for a professional person who needs to look up-to-date and well-groomed.
So the main style is classic and the center-part flatters an oval face. The absence of contrasting roots keeps the look beautifully natural. And the gentle, warm, copper blonde balayage frames and softens the face with a modern twist!
5. Chin-length brown-copper bob with full straight-across bangs
And here's a super-cute, bob hairstyle that's also a classic look. This fresh-looking fringed bob cut is very flattering and easy to maintain. And chin-length, long layers are a great style for most face-shapes and ages.
This version has a pretty fringe that is shaped shorter in the center, and gradually becomes longer in the sides. This adds a touch of length to the face and creates a gorgeously curved frame for the eyes. And this medium chestnut-brown shade, adds flattering 'warmth' to the complexion!
6. Soft beige-blonde bob with swept-back front layers
This slightly off-center part adds a touch of asymmetry to the wings of hair framing the face. And this makes a cute peek-a-boo strand that drapes seductively over one side of the face. The style flatters an oval or slightly rounded face shape.
And the overall theme here is, 'softness', which suits silky, fine hair because it drapes so beautifully.  The curved long lengths are cut in textured layers just above the tips to help the hair curve inwards naturally after washing!
7. White-blonde asymmetric straight bob haircut
This eye-catching, white-blonde look is suitable for anyone with cool undertones to their skin. So if your hair is naturally fair, you'll be able to have it lightened up to this level. And with such a light-blonde shade, you really need to show it off on a simple style.
The off-centre parting creates a diagonal line across the face to 'break up' the line of a long, slim face shape. With one side draped seductively over the eye and the other pushed casually behind the ear, this is a very flattering look!
8. Pearl-gray & pink shimmery straight bob hairstyle
This model's hair is fine and silky, so it drapes well when cut in a long bob that just hovers above the shoulders. The stylist has cut the hair in long layers that retain all the thickness of the hair, but shaped it at the tips to create a natural curve and textured ends.
The gorgeous hair color design mingles faded pink and pearly white-blonde tones in subtle vertical stripes. And this adds 3-D depth to fine hair with flattering shorter lengths around the chin!
9. Blonde balayage on brunette extreme angled bob
This is a super-trendy twist on the short, angled bob and will look great on fine hair. It's basically a chin-length bob with edgy, disconnected layers adding a new and modern look. The center part is perfect for an oval face shape and the hair falls forward perfectly to complete the oval frame.
And to add even more to this pretty bob hairstyle, there's lovely balayage in pink and golden blonde tones to add interest and accentuate the model's lips!
10. Beige & orange center-part chin-length straight haircut
Copper, ginger and orange hair is everywhere you look right now! It's so popular that actresses, celebs and women in advertising posters and tv ads have suddenly all switched from blonde to redheads.
And there's a special shade of copper to suit everyone, now that colorists are cleverly blending cool and warm tones in the latest bob haircuts. This simple bob is brought brilliantly to life with orange, coral and beige shades creating a vibrant new look!
So which flattering color and bob style will be gracing your head this season? Whichever one you choose, will be a fabulous style makeover!