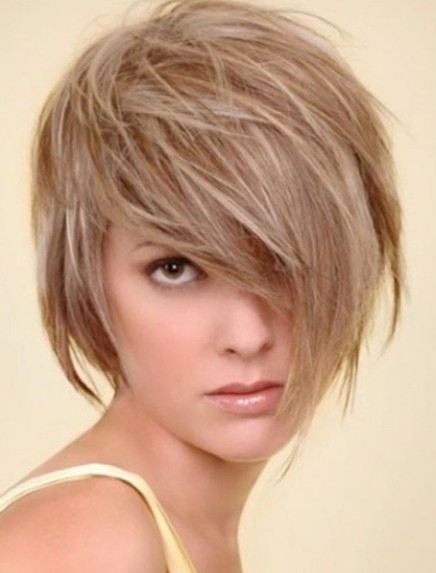 Medium, Short Hairstyles: Tousled Haircut
The medium, short hairstyle looks luscious and is more blocked, and the random lengths at the ends offer an edgy look offers the whole hairstyle a rocker and trendy vibe.
The hair ends are razor-cut with deep strokes, achieving a tousled effect to the hair. This layered hair ends are tapered forward edges and some side swept sharply cut fringe. The layering is mainly on the top, leaving bulk on the ends. The color is a warm and the hair is styled to a smooth and soft finish. The cool and splendid medium hairstyle is great for many face structures.
Styling Steps
Blow the hair straight and iron it with some smoothing serum to gain the soft and smooth effect.
Create various layers to add more volume. Trim the hair at back shorter and keep the front and side hair longer.
Sweep the fringes to the side and comb the lengths forward to get a faux unkempt look.