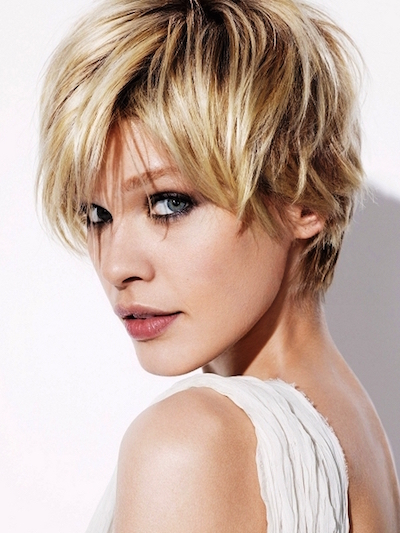 20 Mega Short Cuts for Any Women
These days it seems the shorter you go, the more stylish you get. Famous hollywood superstars have been ditching their long locks for short ones for the past few years, and the public has followed them. If you are behind the trend, it's never too late the join. Or, if you are looking to try out a new cut, it's never too late to change it. Now is the time to do it. Take a chance! Try something new. You have the power to reinvent your look. Why not give it a try with one of these great cuts?
1. Dark and Cropped
This dark style is the perfect look to bring out bright eyes and firm jawlines.
2. Soft and Wind Swept
Blow their world away with this gorgeous and flattering cut.
3. Edgy Posh
Posh has always been known to set trends. This messy cut is no exception.
4. Cute and Short
This adorable girl-next-door look is the perfect cut for someone who is into natural beauty.
5. Sweeping Edge
This glamorous do is bound to get you some double takes.
6. Soft Sweep
This soft pixie is both edgy and feminine. The dark colour is sure to bring out bright eyes.
7. Very Short Pixie
For those blessed with perfectly round skulls, this is an excellent cut for you to try.
8. Trendy Crop
Rihanna once again shows us that a cropped pixie is definitely chic.
9. Short Faux Hawk
Pink rocks this dazzling look on the red carpet, and so could you!
10. Short Silver Pixie
A messier version of the pixie, this silver cut remains fashionably elegant and risky.
11. Super Short Pixie
This Meg Ryan inspired do is both playful and adventurous!
12. Stacked Pixie
Rihanna is so stylish, she made this list twice! This stacked look is very risky and undeniably hot.
13. Cool and Short
Keep it cool with this short do. You'll be ready for any activity or event!
14. Naturally Short Afro
Not everyone has the chops for a look like this, but if you do this is a great cut to try out.
15. Short Undercut
This look retains it's femininity through the soft hair on top!
16. Playful Pixie
With enough room to play with, this fun cut is great for the summer!
17. British Pixie
Emma Watson blows us away with her darling pixie cut.
18. Swept Pixie
Stunningly swept out of her face, this is definitely a cut that's worth mentioning.
19. Close Cut
Keep it close, like Michelle, in this glamorous look.
20. Thick Pixie
A beautiful look that is full of volume and texture, is the perfect one to end this list.