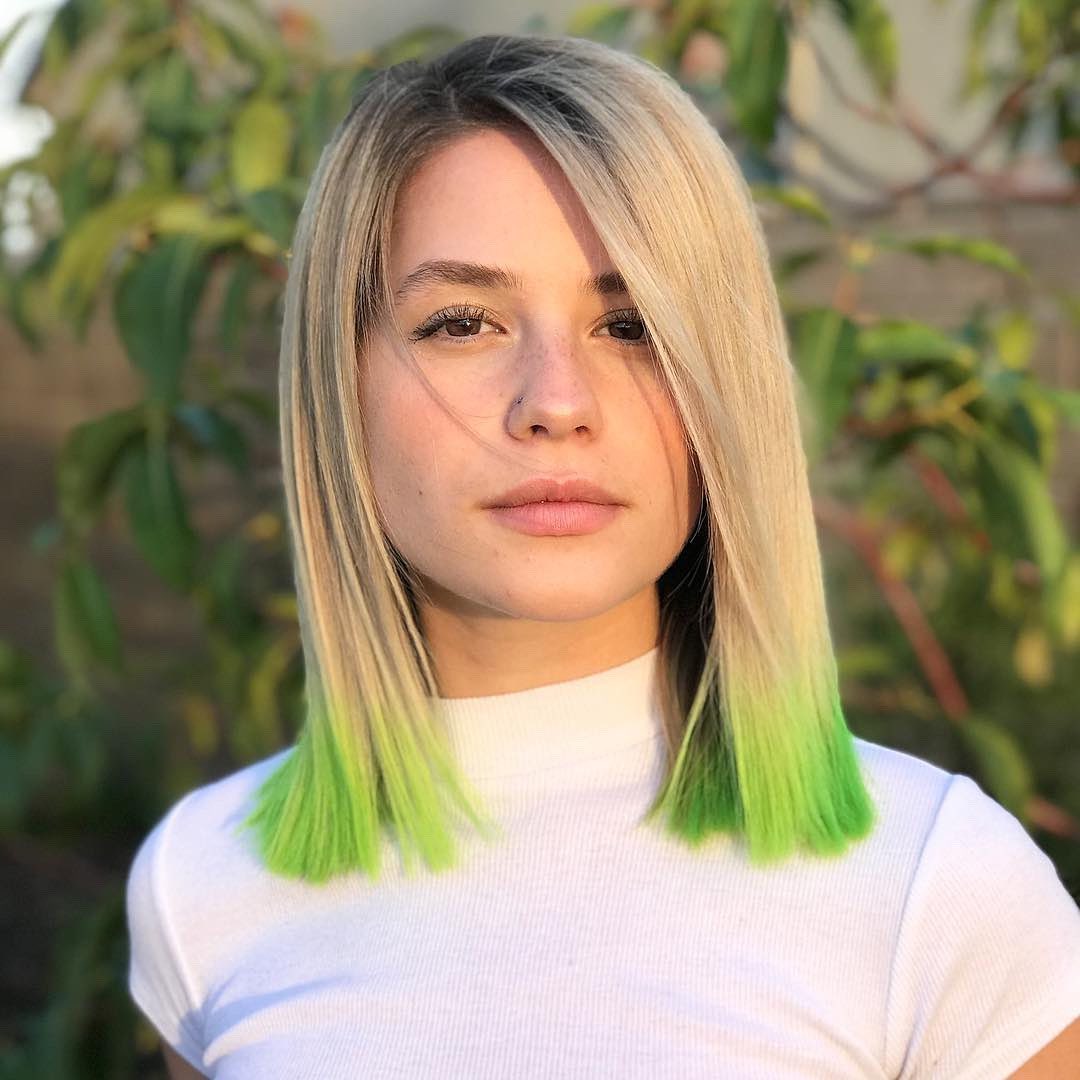 10 Ombre Balayage Lob Hair Styles with a Color Surprise!
Whilst we all like to have a simple, modern haircut that's easy to style – no-one wants their 'look' to be boring. So these expert colorists have added a contemporary color feature for a creative twist to classic ombré-balayage lob hairstyles! And along with gorgeous blonde and copper balayage, you can now add green, yellow, orange, blue and pink to give your fashionable, lob hairstyle a fabulously, fresh edge!
1. Trendy straight blonde cut with lime tips – ombre balayage lob hair styles
This lovely natural-blonde straight haircut is mostly all-one-length, with a couple of shorter layers around chin length and below. These soften the strict lines and add a little extra movement. And the surprise here is the fresh green shades added a couple of inches above fashionable choppy tips. This is a great style for a broad face as the shoulder-length and fairly flat sides slim a round or wide face. It's suitable for medium and fine hair types.
2. Wavy center-part cut with yellow ombre balayage – lob hair styles
Instead of platinum blonde with dark roots, change your look completely with an off-beat canary-yellow ombré! Like platinum, yellow is a cool color, which suits skin with cool or neutral undertones. The center-part flatters an oval face shape. And the loose wave pattern adds an interesting section of volume, half-way down the head. And following the trend for triple color hair designs, there's a hint of purply-pink creating root shadow, too!
3. Bright orange on brunette – ombre balayage lob hair styles
Chocolate brown natural base color looks fabulous with this autumnal orange balayage! And look how the colorist has staggered the start of the ombré. It starts from the parting at the front, down to a lower level in each subsequent strand, creating an additional pattern. This is a great style for fine hair that would look too thin if it was any longer. But with strong color contrasting and defined, balayage waves you get additional volume and texture for a thicker-looking effect!
4. Dreamy light-blue all-over hair color – ombre balayage lob hair styles
I love how the windswept effect on this pale-blue all-over color reminds me of clouds scudding across the sky on a windy day! The three main colors are ice-blue, white-blonde and soft, romantic blue. This is a bold statement lob hairstyle that will suit skin with cool or neutral undertones. And if you happen to have blue eyes, this is a really gorgeous way to accentuate them! Random waves and a casual finish mean you won't spend hours styling this look. And they add attractive texture, volume and movement to straight, fine hair!
5. Cool taupe – beige – ice-blue inverted long bob haircut
This inverted long bob haircut has lots of rounded volume and shape. And so you need to have have medium to thick hair to get this look. The back is inches shorter than the front, with a high-fashion, steep graduation down to the collar-bone. And you always get a trendy, edgy look with choppy, but heavily textured tips. The base color is taupe, a mix of gray and brown, that's easy to get on dark-blonde/mousey natural color. And the radical balayage-ombre has touches of warm, golden-beige before switching effortlessly to silvery, ice-blue!
6. Glam natural blonde with vertical yellow highlights on medium length haircut
This shoulder-length lob haircut is great for medium to fine hair types. It's not too long, which can make fine hair appear thin and straggly. And it's more chic to have shoulder-length hair these days, especially combined with a stunning, unconvential highlight color like this gorgeous canary yellow! The lovely, defined waves add plenty of glamor and touches of white blonde create that fabulous 3-D color depth, which makes all hair look thicker!
7. Lovely light-brown with blonde baby-lights on inverted lob
This sophisticated lob haircut and color is the type of hairstyle you expect to see on classy, young celebs. And it's a super way to add blonde glamor to naturally dark-blonde/mousey brown hair. The main colors are warm sandy-blonde, with dark-blonde roots and a generous face-framing balayage in pale, golden blonde. The center part shows off a lovely oval face shape and the loose waves frame the eyes and lips perfectly!
8. Beautiful blonde, blue & magenta medium hairstyle with long bangs
This hairstyle is at the medium – long length of the inverted bob spectrum. And it looks great on medium to thick hair. You need to have fairly blonde hair to begin with, in order to withstand the bleaching up to this level of beiger-white blonde. But it will also make your hair shafts thicker and add natural volume. The roots are warm-beige, with blue and fine magenta vertical highlights decorating the mid-section. And the lower lengths have a turquoise ombré to finish the look. Long bangs with a center parting suit oval faces beautifully!
9. Vibrant citrus orange baby-lights and subtle blue-green ombré
Gray-beige-blonde is the main hair-color, which lightens to delicate green/turquoise ombré at the choppy tips. But what a fabulous surprise it is to see vivid citrus-orange strands framing the face, from a center parting! Orange clothes, including swimwear, are the fashion designer's favorite this season and it's a daring, but gloriously eye-catching, way to liven up your hair, too!
10.  Romantic raspberry roots on pearly-beige-blonde inverted bob for fine hair
The super-flattering shape of a medium-length, inverted bob make it one of the hair-fashion world's favorite choices for women of all ages. But it's especially popular as a way to leave behind a shapeless, teenage long style and become trendier, more sophisticated woman. This lob shows how the strict lines of an A-line bob can be softened with 'fluffy' styling to add more volume to fine hair. And to complement the feminine finish, just add cute, gentle colors like raspberry roots and golden-beige balayage over pearl-white blonde! This color scheme blends cool and warm shades beautifully and is suitable for skin with neutral or cool undertones.