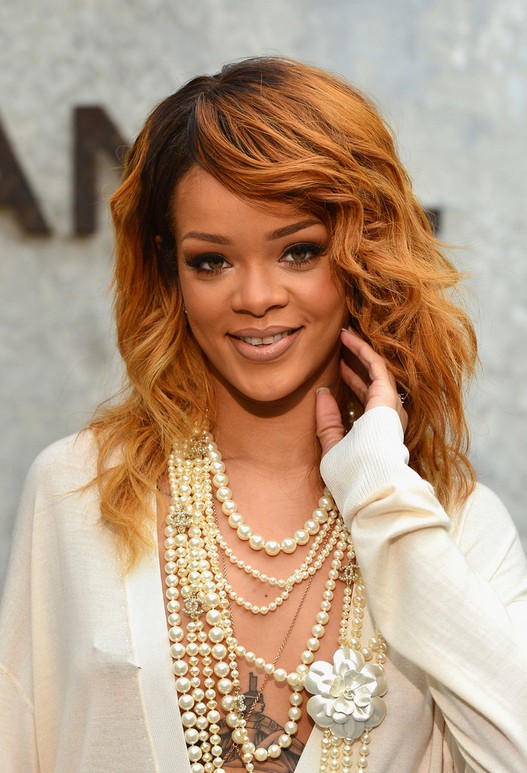 3 Rihanna Curly Hairstyles
This red-carpet look for Rihanna is long and layered with textured tips to soften the outline and emphasis the casual waves.
The hair has an asymmetric side-parting with an extra-long fringe styled to create a soft curve on the forehead and a flattering wave that frames the eyes.  The roots are dark brown for edge, lightening to trendy copper and then a subtle strawberry-blondesombre at the ends.
Rihanna Short Hairstyle: Black Pixie Haircut with Curly Hair
This fabulous curly pixie style shows off Rihanna's beautiful bone structure in a Fauxhawk short cut.
The sides are cut very short, with a dainty point at cheek level and shaped around the ears.  The centre section running from the nape to the forehead makes excellent use of Rihanna's naturally curly hair to create a Fauxhawk that's full of lively movement and texture.
Rihanna Medium Haircut: Blonde Curls
Here's a lively style full of flattering colour, texture and movement. The roots have been softened from black to a warm brown, which harmonises perfectly with the blend of light and medium gold highlights. The top is divided by a centre parting that moves forward to a wispy fringe graduated down to accentuate the cheekbones at the sides. And the rest is curled in pretty spirals which have been tousled to create a fabulous contemporary-casual party look.