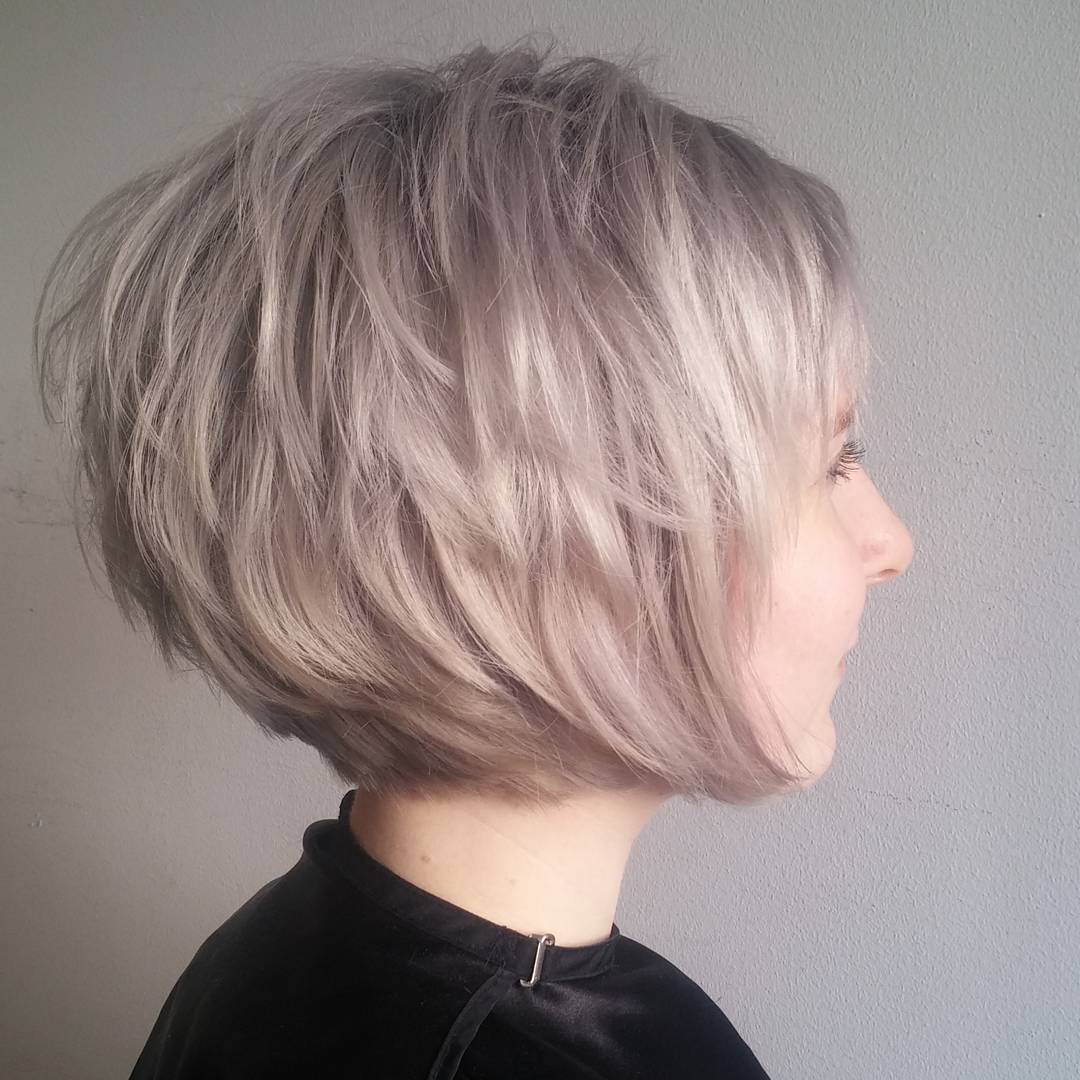 10 Short Edgy Haircuts for Women – Try a Shocking New Cut & Color!
Today's gallery of short, edgy haircuts is specially chosen to showcase the latest cutting techniques and some very daring colors!  These thrilling new looks offer a concise 'catch-up' of the coolest of cool blondes to positively eye-popping scarlet, via pink and red stripes and screaming fluorescent yellow!  So if you enjoy fashion and love introducing the latest trends, take your pick from these shocking new cut and color ideas!
Icy ash-blonde-lavender bob – the hottest short hairstyles for blondes!
Here's a great cut for fine-but-plentiful or medium hair types. Instead of curls or waves, this cut for straight hair uses layered texture to create an attractive rounded shape.  On finer hair just use hair-styling product to get the fashionable forward movement and fluffed-up texture.  This super-trendy, ash-blonde color with pinky-lavender toner suits pale skin tones with a cool undertone.
Chic chunky bob shows today's best short haircuts for women
Here's an absolutely gorgeous combination of colors on a very modern casual bob cut.  The bob is suitable for fine and medium hair types and the chunky look comes from clever blunt-edge cutting at the tips.  I count at least 5 well-harmonized shades in the messy, young hairstyle! From the latest mink-beige blonde at the back, the color lightens and then warms up to soft copper with yellow-blonde accentuating the tips.
Edgy white-blonde short hairstyle with tons of textured layers
Pale blonde with a touch of gold is softer than harsh platinum-blonde and suits skin tones with a warm undertone best.  This is a new, high-fashion cut which plays with long and short layering to create a sharp and trendy look.  The stylist has buzzed the model's hair very short around the ear, showing off a tattoo and quirky ear-rings.  And there's an unusual dyed-black line accentuating the different shaved layers and textures, too!
Luscious lilac on best short hairstyles for women with fine hair
This eye-catching color has been done by an expert colorist.  You can tell at a glance, not from the quality of the image, but because lilac-silver accentuates the model's beautiful, green eyes and cool skin-tone.  This is a great cut for fine or medium hair as it's meant to have a messy texture.  This adds more natural volume than a combed-through style, which would be flat to the head.  And those quirky bendy tips are another cool way to make fine hair appear thicker.
Daring fire-red angled bob for the absolute hottest short hairstyles!
This bright shade of red is a sure-fire way to show you're a powerful, self-confident woman!  Wearers of this eye-catching shade can expect to be taken seriously in their professional career – or anywhere!  The hottest short haircuts in a vivid red color need to be simple – like this fabulous angled bob with lots of rounded back-volume and flat sides.
Fluffy forward waves on lively short hairstyle for fine hair
This reversal in the usual styling direction of hair has been a fantastic boost for those of us with fine hair!  Going against the growing direction of your hair really does boost volume and adds loads of hip, fashion-style to your look.  This is a super-trendy, blend of two very similar ash-blonde colors, which look fabulous in tousled, forward-facing waves.
Sexy ash-blonde – hottest short hairstyles for neck tattoos
When you've gone to the trouble of having an artistic tattoo on your neck, choosing a short haircut that shows it off is essential!  This high-fashion pixie is another expert colorists' triumph, with fine white balayage creating highlights on ash-blonde with lavender-pink toner.  Trendy texture and height sweep down to a cute V-shaped line following the curve of the tattoo!
Sporty ash-blonde bowl cut – 4 views of hot short haircuts for women
This easy-care, bowl-cut plays around with asymmetry and buzzed layers that create fabulous texture.  This is one of the latest, high-fashion short haircuts for women who have fine hair and favor a casual, sports-wear look.  The model's naturally fair hair shows the shaved and buzzed layering in light, golden tones.  And the longer side's light-ash shade adds a cute contrast.
Quirky striped colors on brunette bob-cut for fine hair
This quirky, new color design resembles striped fabric! Creative hairstyle designers are always looking for new sources of inspiration and this will definitely be a popular new look.  Shades of raspberry and plum mingle with pale-pink and white-blonde on brown hair with a cute wave pattern.  It's a great way to add depth and texture to a fine, brunette bob hairstyle!
Vivid orange & yellow hair color on short haircuts for women who love to shock!
This slickly styled pixie cut owes its outrageous color design to the punk styles of the '70's.  Vivid artificial colors are great to project an unconventional image.  Citrus-yellow is a difficult color to wear, so this is just for those with a smooth, young complexion! Even so, there's a definite nod to current blonde shades in the trendy, beige-blonde color on top.