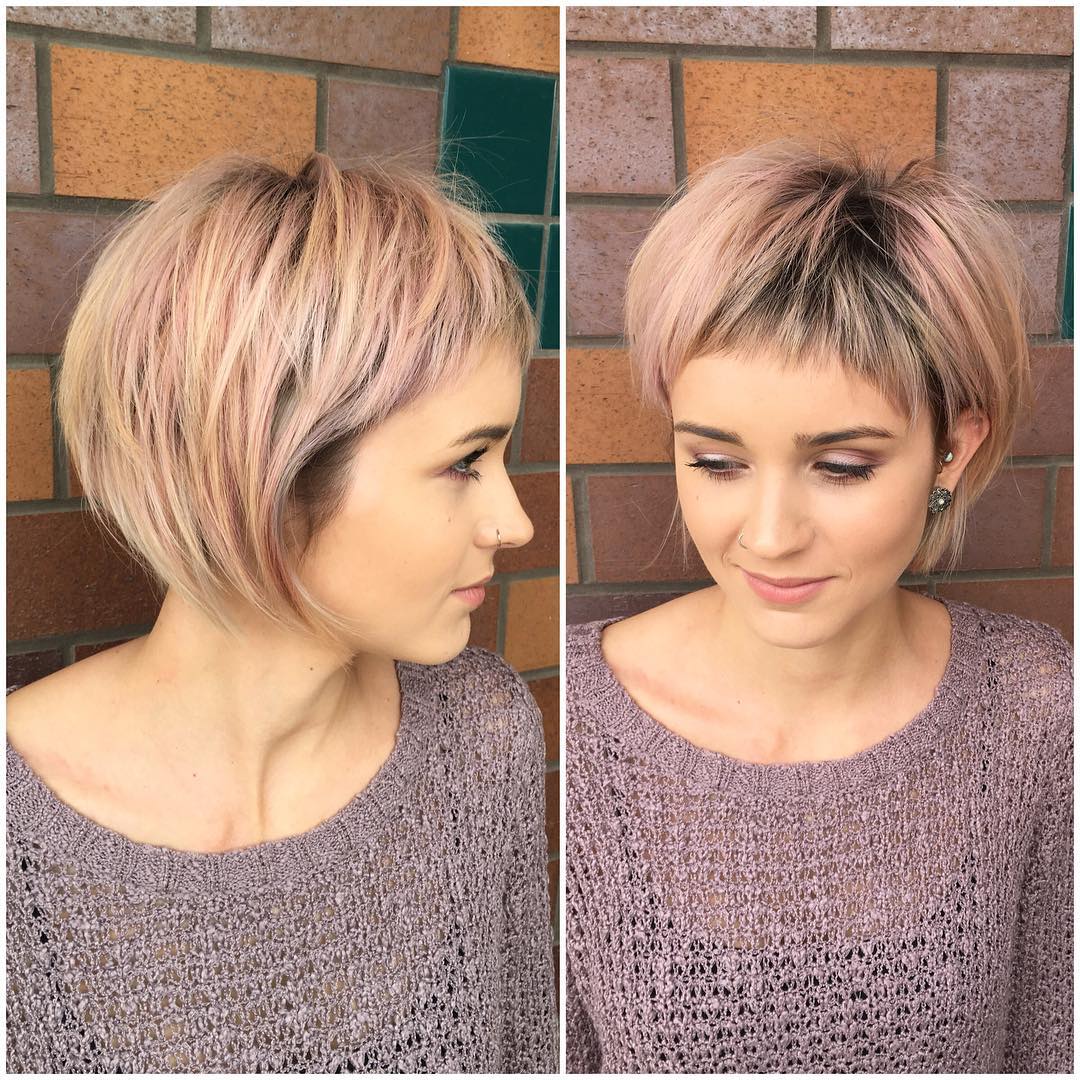 Stylish Short Hairstyles for Fine Hair
If you have very fine hair, it's easy to feel like you're limited with the hairstyles that you can work with. If your hair is fine then PoPular Haircuts are here to show you that you have absolutely nothing to worry about. There are, in fact, a whole host of amazing hairstyles which will work perfectly with fine hair. We're here to prove that. We have the most stunning gallery of hairstyles for short hair so get ready to transform your look. Here's 10 of the best hairstyles for short hair designed to provide you with the ultimate inspiration.
Pink Textured Bob Haircut for Short Hair
Working colour into your hair is a great way of making it look like you've got lots of volume to your locks. Create a cool and casual bob style by chopping the hair around the jaw length. Be sure to have the strands of hair closer to the face fall ever so slightly longer. Add a side fringe and colour your hair with pink streaks to create a fuller effect.
White Blonde Bob with Curly Fringe
White blonde is the perfect hair colour to incorporate into your look if you have fine hair. It will bring your locks to life – especially when you have a stunning pixie cut like this! Choose a super short bob with layers gradually getting longer to the top of the head. Leave the fringe section long and add lots of amazing curls throughout.
Graduated Blue Bob with Straight Short Hair
Graduated bobs work perfectly with fine hair – especially when you keep them straight and sleek! Steal this style by opting for a cool and curved bob look. Work longer sections of hair towards the front of the face and cut them shorter towards the back. Dye your hair a gorgeous bubblegum blue and keep your locks straight whilst curling the ends under.
Asymmetrical Platinum Blonde Bob
Asymmetrical hairstyles are both totally trendy and absolutely perfect for fine hair – so we really have a winner! Chop your locks into a super cool pixie cut, but keep one side of the hair longer than the other. This will form a long fringe section which will frame your face to perfection. Finish with a platinum blonde colour.
Double Layer Bob Hair Cut with Golden Highlights
Golden highlights on top of dark brown hair will add a sun-kissed effect which when combined with lots of layers can create a stunning hairstyle for fine hair. Steal this double layer style by chopping your hair into a bob. Shave the lower section closer to the head, and leave the top layer longer to fall around ear length. Add tons of choppy layers throughout the top and finish with a smattering of golden highlights.
Pixie Cut with Long Fringe
Bangs can completely transform your hairstyle and we think the end result of this particular look works incredibly well with fine hair. Opt for a pixie cut with incredibly short layers throughout the back of the head, but lovely long layers on the top. Drag the top of the hair forward to create a stunning long side fringe.
Cream and Pink Curved Short Bob Hairstyles
Curved bobs will make the prettiest hair option for those with fine hair! Chop your hair into a bob which falls around the jaw level. Add lots of wedged layers to the back of the head to create this incredible curved finish. Choose a gorgeous shade of cream with a twist of pink to add a remarkable and super trendy end result.
Layered Short Bob Haircut with Short, Blunt Fringe
Adding lots of layers into your hairstyle can simply transform fine hair. Opt for a super short bob which finishes around the jaw length. Add lots of shorter layers to the top of the hair. Cut an incredibly short and blunt fringe which falls across the forehead. Finish with blonde and baby pink highlights throughout.
Brown Curved Straight Bob Hairstyle with Highlights
Create the illusion of thicker hair by playing with the layers to make the hair look fuller. Cut a bob into your hair, but ask for a smooth curved edge at the ends of the hair; longer at the front and shorter at the back. Keep your hair straight and sleek for the perfect glossy finish. We particularly love the brown hair with highlights too!
Silver Bob with Choppy Layers
Funky layers and super cool edges will create a cool and contemporary look which will be simply incredible with fine hair. With the lower layer, opt for a cool, shaved pattern in the back of the head. Then, work the rest of the hair into a cool bob with a long sweeping fringe. Add lots of choppy layers throughout the top of the hair and style with tons of product.
We hope this post has showed you that fine hair is most certainly not an issue, and you can work a range of incredible and fantastic short hairstyles into your short hair with the most fantastic end results.