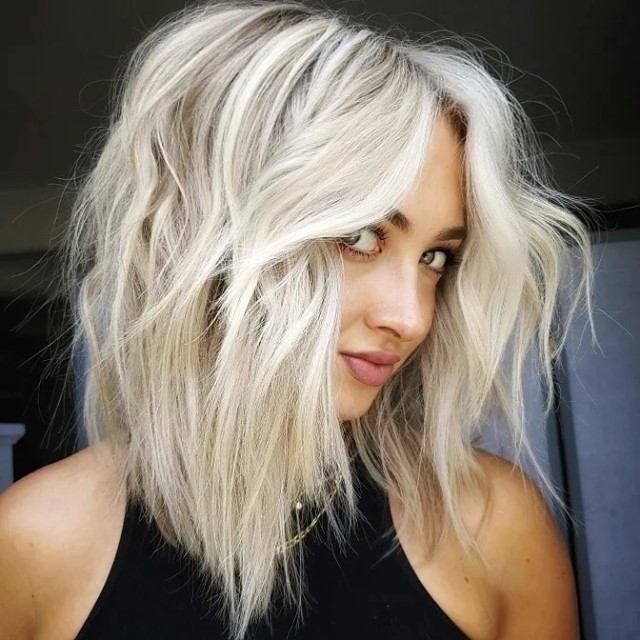 10 Women's Shag Haircut Designs – Great New Cuts & Wild Styling!
Short bobs and pixies are still one of our favorite styles and ultra-shaggy hairstyles are the theme for these fabulous new season cuts!  And you'll love what we've got for you today, because with lots of obvious layers in the cuts, you get more texture and natural movement.
Curls are everywhere you look, so that's great news if you have textured, curly hair. And windswept, straight strands with loose curls make a great creative contrast!
Shaggy haircuts for all face-shapes & ages
Longer choppy-layering, with strands that frame your face, create a flattering cut that gives extra volume and lift. Long bobs are great for summer, and locations that don't have a cold winter, as you can wear them up and off your nape to stay cool.
Not only can these shaggy, choppy styles be tailored to suit any face-shape or age group, they are almost maintenance-free! To style you just need to spray your hair with some texturizing product, muss it up with your hands and that's it!
Best autumn hairstyle trends
Long bobs are great for summer, and locations that don't have a cold winter, as you can wear them up and off your nape to stay cool. In colder climes, cropped bobs above shoulder-length are hot this season and the shorter, 90's version will be the hottest!
So for cool autumn weather, a shorter haircut that just brushes your high-neck sweater or shirt is incredibly chic. Center parts on sharp, chin-length bobs are cute and versatile. And you can wear French bobs cut close into the neck with a blunt fringe for a fresh, fashion twist!
So let's see what your favorite shag haircut makeover is going to be!
1. Ash-blonde forward tousled pixie bob – women's shag haircut designs
What a fabulous profile you get with this highly fashionable, shaggy pixie-cut! The hair is layered shorter at the back and sides, with longer layers on top styled forward to create a casual fringe.
The cool shades of ash-blonde include darker gray at the roots. And this adds color depth, which creates extra density, and lots of lively movement and texture!
2. Cute layered pixie cut in beige with dark roots – women's shag haircut designs
This gorgeously soft, beige-blonde is perfect for skin with warm undertones. And this is a super style choice for fine hair, too. The layers remove all the weight from hair and allow it to be 'fluffed up' for extra volume.
And the expert blend of colors the stylist has added create fabulous 3-D color depth. This both accentuates the lovely shape of the bottom line, and shows off the soft, side points reaching just half-way down the ear!
3. Shaggy & choppy windswept bob – women's shag haircut designs
Fine hair looks great tousled, but for a full-on windswept look you need thicker or coarser hair like this. This style looks like the most awkward cut and styling effort of all time – and that's what makes it the trendiest cut you can get right now!
It's an angled bob with a strong contrast between dark roots and glimmering pale-gold blonde. And with textured tips, straightened sections and wayward waves you get a wonderful windswept style!
4. Golden-blonde medium bob with 'curtain' bangs – women's shag haircut designs
Here's a lovely, feminine look for fine hair you can wear every day and not spend more than a couple of minutes styling it. It's a medium length bob hangs just an inch or two past the jawline, which is a flattering length for most face-shapes and ages.
If your hair is fair to begin with, you can have it lightened and balayaged in these white and golden shades of blonde. And the extra texture will allow you to plump it out with casual waves that stayed tousled and fashionable all day!
5. Trendy ash-blonde lob with 'curtain' bangs
Here's a flattering version of the 'curtains' fringe, that's back in fashion from it's time in the archives since the 70's. There are lots of 70's psychedelic prints in my shopping mall fashion stores, and this is just the right sort of hairstyle to complement the updated 70's look.
The colors are greige at the top, fading down to oatmeal-blonde framing the face. The uncontrolled width and volume at the sides gives a casual look and helps add flattering width to a narrow face shape.
6. Ultra-shaggy platinum-blonde long bob
This style has evolved from the platinum-blonde urban looks that used to have black roots for a dramatic contrast. The roots are dark, but not black, this season and the 'curtain' fringe shows it's the latest look.
The layering looks almost random and unproportioned, with long straight sections down to the tips. So this is a wild and shaggy look finished off with tapered tips and a lot of 'attitude'!
7. Angled bob in ash-blonde with a hint of beige
The under-layers of this platinum-blonde style have cleverly mimicked the way hair turns gray, and leaves small sections of the original natural color mixed in. So you can see subtle balayage in yellow, light-brown, blue and beige, warming up this cold blonde color design.
The sliced layers are excellent for thick hair types and look stunning with lovely wispy tips to balance out the shape. Defined strands create deep texture and rough styling makes this another successful shaggy bob cut!
8. Choppy asymmetrical bob in beautiful beige
Curves, contrasted with straight, choppy-cut tips, give this bob a ton of extra personality and fashion-flair. Dark beige roots look fabulous against the pale, beige-blonde long lengths.
And the casual, swept-over crest adds flattering height above the forehead, before the hair drapes down attractively over the other profile!
9. V-back ash-blonde short haircut with defined sliced layers
The V-shaped back is totally trendy for the coming season and can be colored to contrast with the main shade of blonde or brunette. This style has lots of lovely volume from the model's thick hair and the contrast between gray roots and ash-blonde tips.
But the ultimate shape and texture comes from shorter layers around the crown. And those gorgeous defined strands creating depth and movement all around the head!
10. Choppy asymmetrical A-line bob with half-and-half ombré
This is a wonderful autumn/winter hairstyle that shows the natural root color, with sun-bleached lower sections still visible. I love the way this blonde ombré is half-and-half colored, with the change lined up perfectly with the model's cheekbones.
It's an original look and a super way to accentuate a good bone-structure. And with ear-cuffs gaining more popularity every day, style your hair to show your ears and your fave, new ear-rings!
So, have you fallen in love with a new look yet? Take your time and see which colors and shapes are likely to flatter your individual face and eye-color. And then make an appointment as soon as possible, because there's nothing like a change of season to make you desperate for a change of look!