What's the biggest trend for 2017? Buns! They're everywhere- from celebs to school girls and everyone in between. The best part about buns is they're extremely versatile: keep it simple with a topknot in 2 seconds or add a bit more elegance to your style with curls and teasing.
You'll find a wide range of bun hairstyles on this list to fit any and all occasions, whether you're getting ready for school in the morning or heading off to a wedding.
Loose High Bun with Subtle Height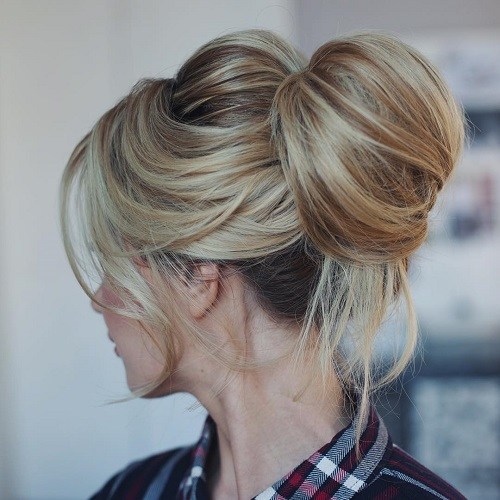 Long layered locks can really make a beauteous high bun. Give your locks a bit of teasing at the crown for extra height, and make sure your bun is messed up a little for that sexy bed head appeal that's particualy glamorous with a few pieces left around the face.
Simple Topknot: Easy Everyday Hairstyle for Women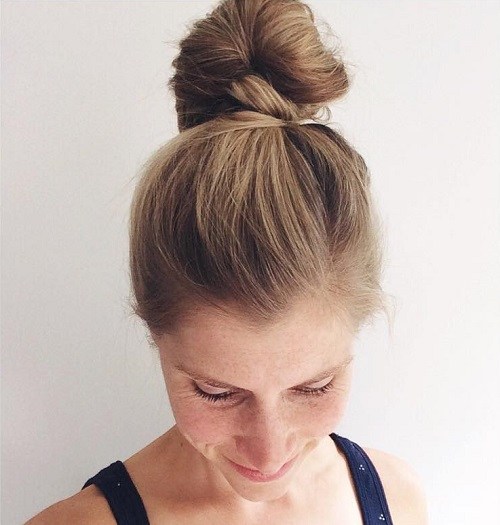 On those days where you're in a rush or simply don't feel like styling your hair but still want to look cute and trendy, the topknot is your best friend. It's quick and easy- toss it up in about 30 seconds and head out the door!
Colorful Underbraid Topknot
With dazzling colors like this, little styling is needed to make a statement; but why not go the extra mile for bigger impact? An Underbraid leading up to a topknot is one awesome way to add an extra dose of personality and lovely design to your look- give it a try!
Voluminous High Bun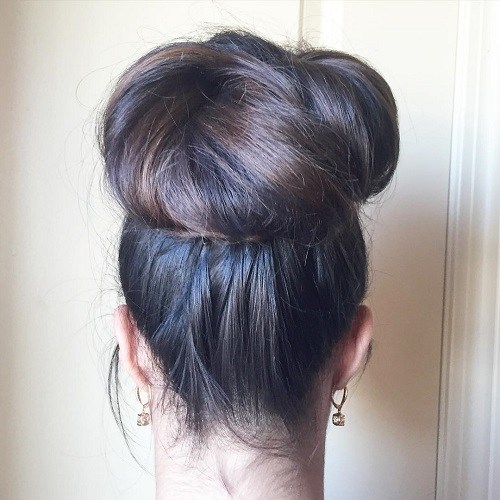 You can never go wrong with volume! Give your bun some extra oomph by loosening it up for added volume. This look easily transitions from day to night depending on your attire, and its versatility is one of the main reasons why this voluminous bun hairstyle is a top pick for all women.
Red Hot Topknot with Undercut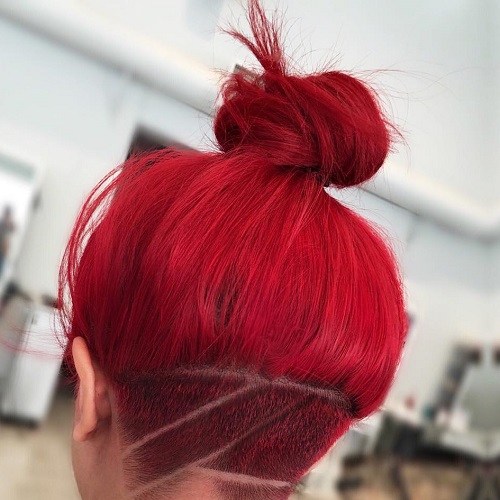 If you've indulged in an edgy and fierce designed undercut like this, you undoubtedly want to show it off. Make your fiery undercut the main attraction by wrapping your hair into a tight topknot.
Chic, Classy Blonde Bun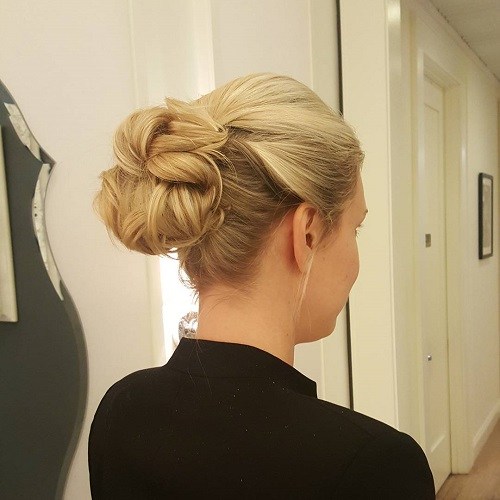 Buns aren't just for busy mornings; they can also be one of the classiest hairstyles suited for a wedding when designed properly. Her classy bun is undeniably refined and will quickly pair up with fine earrings and a dazzling dress.
Fishtail High Bun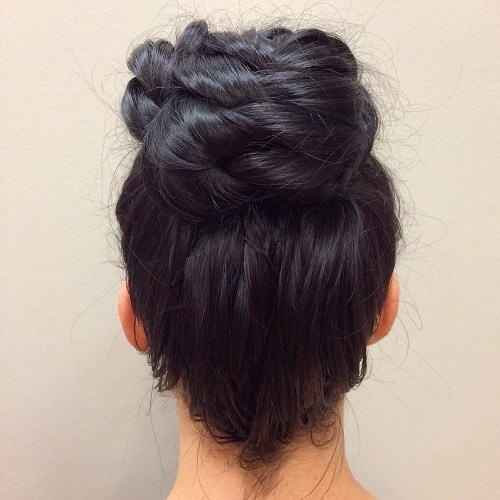 With buns and braids being so popular right now, why not combine both trends into one awesome hairstyle? Before wrapping your locks into a high bun, design your hair into a fishtail braid. It's a glamorous style that's sweet and sensous, loaded with beauteous depth and contrast.
Teased Bun with Loose Strands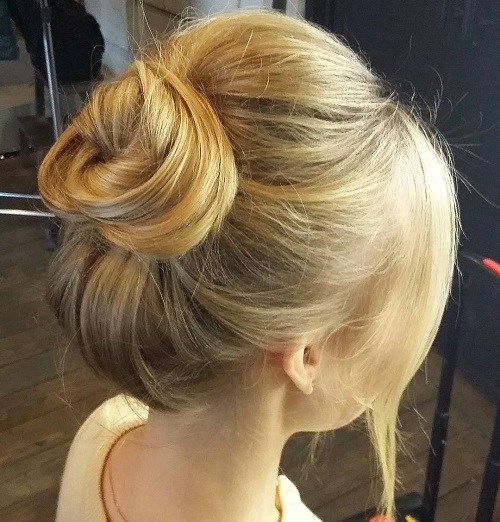 Your bun hairstyle can be made with some perky and sexy volume when you tease the crown before tying it back. The extra height makes for a very elegant finish, especially when a few strands are left around the face.
Mermaid Topknot with Braided Wrap Around
Mermaid hair is so mystical and divine, given a soft and delightful touch with a luscious messy topknot like this. Add even more dainty appeal by braiding a few strands of your hair and wrapping it around the base of your bun.
Elegant Bun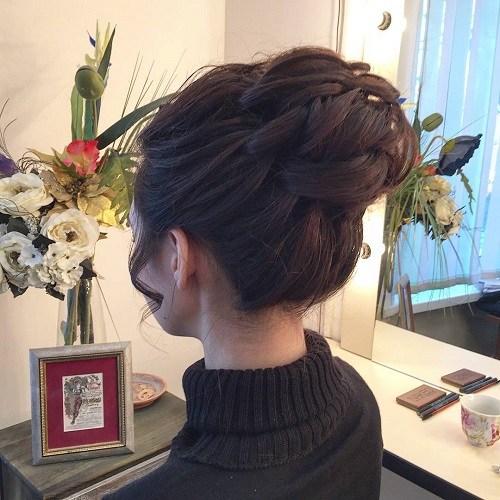 The most regal situations require an elegant 'do to fit the occasion, and this utterly divine bun hairstyle is the ideal candidate. A stunning piece of art that is unmatched in beauty and etiquette.
Bangs and Buns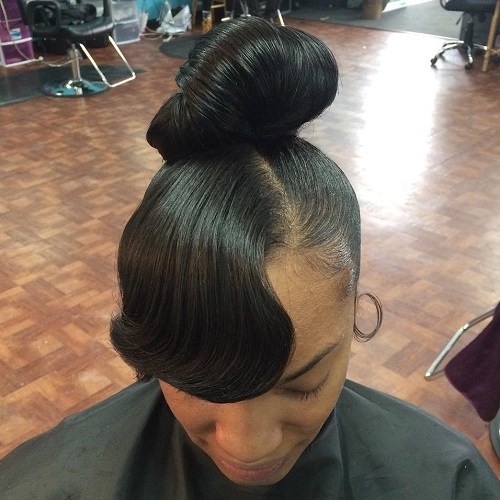 When you have a set of adorable bangs like this, it would be a crime to tie them back. Toss the back half up your locks up into a trendy tight topknot and give your luscious bangs a little flip for a fiesty yet very feminine look.
Polished Wrap Around Topknot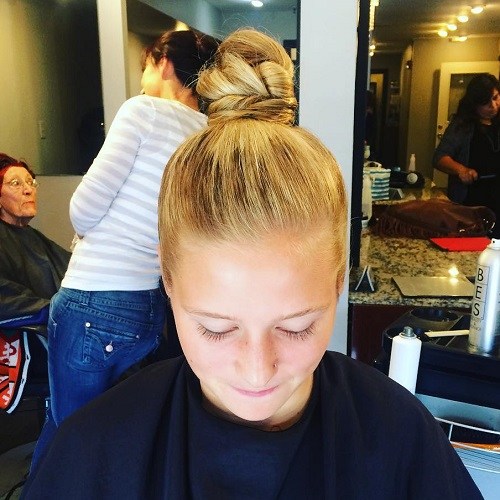 To look a bit more "put-together" and polished, make sure your strands are pulled tight when putting up your topknot. Wrap a piece of hair around your hair band for a little extra depth and flavor.
Tri-Braid Back Topknot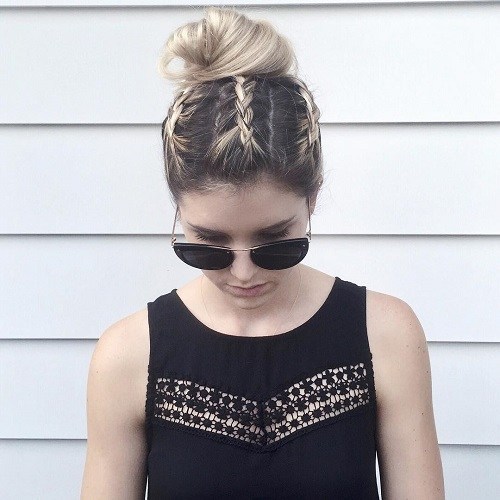 With a little extra time spent on styling your hair, you can give your topknot some extra flare! Design your locks into three plaits leading back to a messy bun. The outcome is super cute and ultra feminine with some extra depth that looks absolutely lovely- especially when you have contrasting-colored locks that are brought to life through the plaits.
Wavy High Bun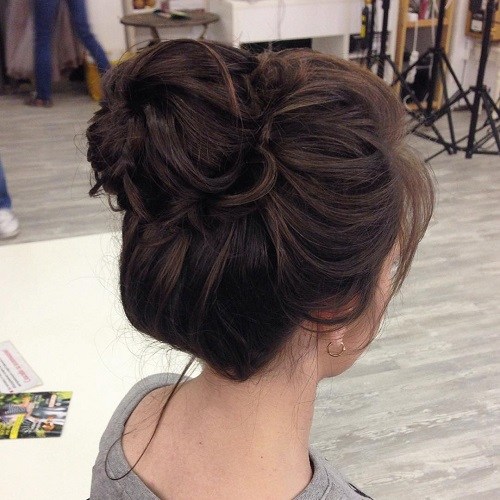 Before pinning those tresses back, give your hair a little wave (unless your hair is naturally wavy- then just blow dry and toss it up). This gives the bun a bit of daintiness that can't be matched.