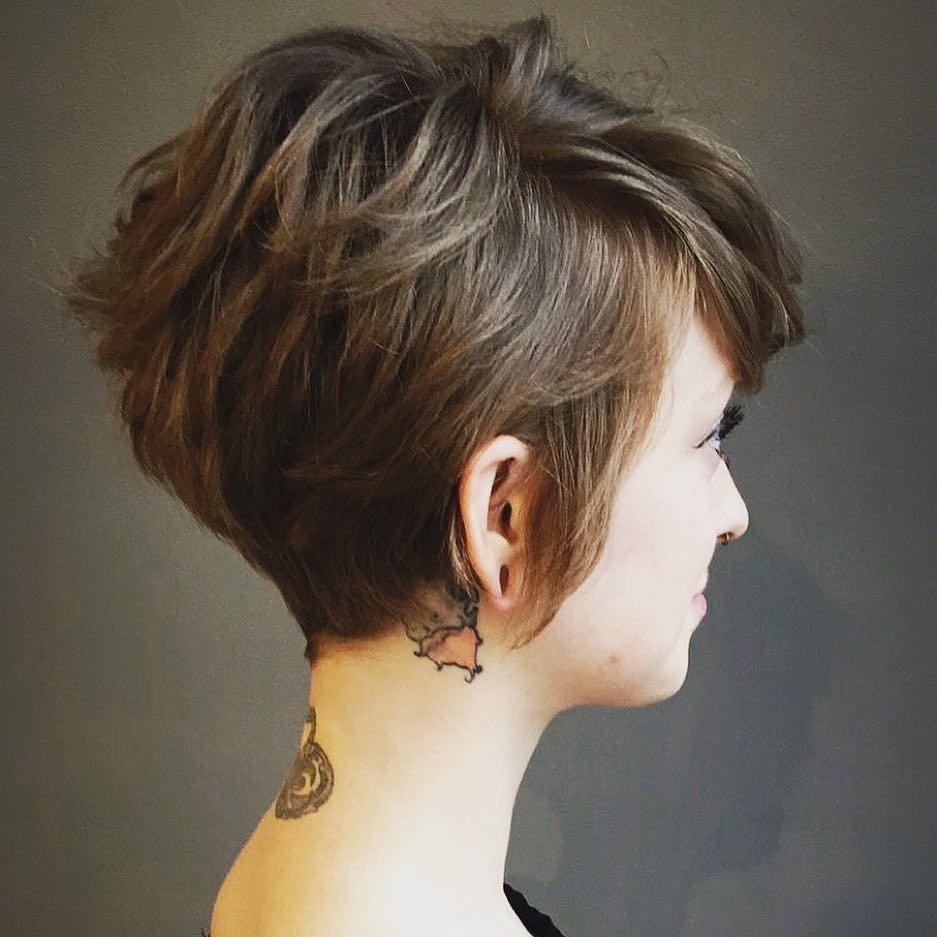 10 Highly Stylish Short Hairstyle for Women
These stylish short hairstyles for women are perfect inspiration for freshening-up your current short haircut – or a complete re-style and color makeover!  There's no doubt that many of us are still walking around in hairstyles that do nothing to bring out our best facial features.  Of course, that's fine if you don't mind.  But most of us gain a lot of self-confidence from looking our best. Who doesn't feel like hiding away when we have a, 'bad hair', day!  These styles will balance your face-shape, accentuate your eyes/lips/cheekbones and generally knock off a couple of years if you're starting to feel older than you used to be!
Asymmetrical short hairstyle for women with thick hair
The fashion for neck tattoos has made short, trendy hairstyles more popular than ever!  And this model has balanced the soft colors in her tattoos with a mid-brown, all-over color with a copper-gold undertone.  This lovely bob hairstyle is perfect for thick hair and a busy lifestyle, as it's a trendy, easy-care look.  The asymmetry creates a flattering side-swept, long fringe and stacked layers create that fabulous volume!
Choppy champagne-blonde – short hairstyle for women
Choppy haircuts are the main choice for young trendsetters right now!  But instead of the harsh platinum-blonde shade of years past, they're softening the impact with soft beige-blonde.  This is a lovely natural shade of blonde over roots tinted slightly darker.  This accentuates the wonderful texture, without spoiling the naturalness of the color.  This stylish cut suits medium and fine hair types, as lots of layers, texture and a tousled finish add volume!
Bright & bold short hairstyle for women in red
Intense russet-red can leave you looking drained of color, if you don't choose the right shade.  And you may need to add brighter blusher and lip-color, to ensure your features balance the bold red.  That said, this is one of our favorite looks to highlight short, high-fashion haircuts!  The extreme color matches with extreme asymmetry and the shaved undercut contrasts with a longer side.  The color-design has darker roots that help accentuate the marvellous ridged texture and movement of this bold, modern short haircut!
Pretty shell-pink short hairstyle for women with fine hair
Fine fair hair's perfect for this super-cute short haircut and color design!  Shell-pink and pearly-blonde balayage create lovely light and dark color-depth on fine hair.  And they match the model's playful neck tattoos and delicate nose piercings.  Layering creates weightless hair you can fluff out easily for volume around the crown.  The pretty combed-forwards layers make a flattering fringe with defined sections.  And the V-shaped nape is one of the latest shapes, too!
Long layers on sophisticated beige-blonde bowl-cut
Natural shades of blonde and beige are not only very flattering to mature complexions, they also accentuate blue and green eye-color!  And who would have thought a classic, basin-cut could look so sophisticated?  Styled out from a point between the crown and front hairline, with sides divided to show the ear, makes a chic, modern look.  This is a lovely short hairstyle for a well-groomed woman!
Brunette short bob with blaze of raspberry & copper balayage
When choosing your featured colors on a brunette base, consider your favorite fashionwear colors carefully.  Because nothing looks worse than a color-clash between hair and clothes!  Rich autumn shades in this high-fashion, short haircut match the model's plum-colored top and blue-denim jacket perfectly.  The long fringe is a blue-pink shade of raspberry and the top layers are copper with raspberry balayage.  So the overall look harmonizes because plum and raspberry are both blue-pink tones, and 'orange' is a 'complementary color' to blue on the color-wheel!
Smart urban short haircut with gray & lavender balayage for fine hair
This very smart-looking pixie cut is a simple short hairstyle with tons of 'added value'!  The layers are cut to follow and exaggerate the model's well-shaped head.  Flattering height is achieved by combing hair forwards from the crown.  And the blurred side-parting leading to a sideways fringe over one side of the forehead adds casual chic. The dark-blonde base is expertly highlighted with ash-blonde to accentuate the textured layers. And dual, lavender-blonde balayage creates a subtle touch of trendy faded color!
Silver & ash-blonde wedge-cut short bob on thick hair
Thick white hair looks stunning with the latest silvery, purple and pink toners adding a touch of high-fashion flair!  And the new, V-shaped stacked back adds a super-cute detail at the nape, too.  This classic, asymmetrical wedge-cut bob always looks modern and smart, and makes a lovely haircut for women over-50.  'Cos if you want to look younger, try switching to a modern haircut and make sure the stylist tailors it to suit your face-shape!
Girly pale-gold & pearly-beige blonde short bob for fine hair
I've placed this cute and girly short haircut next to the silvery hairstyle, to emphasise that it's a very pale gold shade – not silver.  And with such a bright and beautiful color, this simple asymmetrical bob is the perfect way to show it off.  Long layers retain the hair thickness around the head, and expertly layered ends fall naturally around the nape and sides.  Slightly darker roots create added texture and color depth. And the lovely, extra-long fringe drapes softly from a side parting, reflecting flattering light onto the face!
Sporty straight blunt-cut bob for medium & fine hair
If you're a sporty type, easy-care hair is part of your life-style.  But style and femininity doubtless have their place in your fashion-look, too!  This simple style has clean lines and blunt-cut tips to help fine hair look thicker.  And to liven up brunette hair, medium-gold-blonde highlights are all the decoration you need for a trendy and practical, short hairstyle!