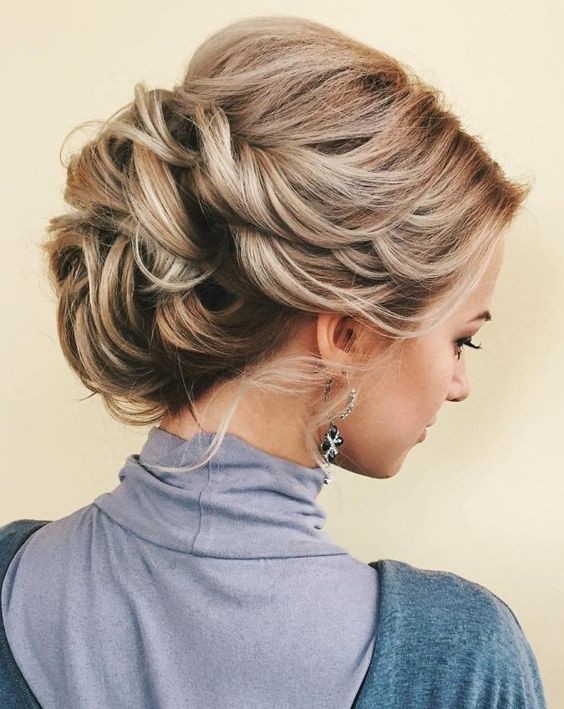 10 Stunning Up Do Hairstyles – Bun Updo Hair Style Designs for Women
Up dos are not only incredibly practical, by keeping all of your hair off your face and ensuring you remain comfortable, but also extremely beautiful too. Wearing your hair up can offer a variety of versatile looks, each as stunning as the last, and with a few simple tips and tricks you can create a wonderful selection of hairstyles which will help you stand out from the crowd. Here are some of our most favourite updos for you to recreate in your own time.
Pulled and Pinned Blonde Bun Updos
When it comes to up dos, pins and bobby pins will be your best friend. This lady has worked her stunning blonde hair back by twisting sections of hair and creating this unique sweeping finish. She's twisted the ends of the hair and pinned them, creating this gorgeous bun effect, and left a couple of wispy strands to fall around her face to finish.
Braided Brown to Copper Ombre Bun
What better way to show off your gorgeous ombre locks than with a curly up do which showcases both colours to perfection? This lady has a dark brown to copper hairstyle, and she's taken the front sections of hair and worked them into French braids, gathering at the back of the head to meet in this beautiful pinned and curled up do.
Swept Back Blonde Up Do – Casual Updo Hairstyles for Women Medium Length Hair
Sweeping back the front of your hair creates a cool and contemporary fringe look which looks absolutely incredible when worked into a pinned up do – just as this lovely lady proves. Her white blonde locks are curly, and have been worked into a wonderful twisted and pinned look which is oh so pretty, as we're sure you'll agree.
Braided and Pinned Blonde Bun Updo
Balayage hairstyles are oh so beautiful, especially when worked into a pretty up do like this one! This lady's brown to golden blonde hair has been pulled into a messy pinned bun at the back of the head. The front sections have been braided backwards in a French braid style to meet the ends of the hair, which create the bulk of the bun.
French Braided Pinned Updo Hair Styles
French braids are all the rage lately, offering a gorgeous way to work your hair into an up do. This lady's beautiful brown to blonde balayage hair has been worked into a French braid from the front of the head to the back, pinning the ends of the hair upwards for this fantastic sweeping finished look. Loose strands fall around the head for the ultimate wispy finish.
Pulled, Braided and Twisted Golden Bun
If your hair is full of golden highlights like this lovely lady, then it's essential that you learn how to recreate a stunning up do to show off the colours at work. From the front of the hair, a French braid is gathered, sweeping all of the hair up and pulled to the back. The strands are loosely pulled out for effect, then the ends of the hair have been twisted and pinned for this gorgeous curly bun effect.
Half French Braid Half Curly Bun Updo Hairstyles
A tale of two halves; this remarkable hairstyle comprises two stunning hair techniques into one remarkable look, creating a gorgeous hairstyle which is simply to die for. This rich dark brown style has been separated into two sections. The front section has been worked into a French braid from one side of the head to the other, with the other half of the hair being worked into this elaborate curly bun.
Blonde Ringlets with Low Bun – Updo Hairstyles for Curly Hair
Ringlets have been worked through this luscious blonde hairstyle, which is a collection of golden hues, from root to tip, creating this stunning curly style which is full of bounce. She's worked the ends of her hair into a twisted bun which she's pinned at the nape of her neck in the centre. We adore the loose strands she's left to frame her face!
Knotted Blonde Pinned Updo Hairstyles for Short Hair
Up dos don't just work on long hair – they also look just as beautiful on short hair too! This lady is blessed with a gorgeous bob which finishes around the jaw level, and has worked the ends of her hair into this incredible knotted up do, pinning the sections of hair to create this incredible finished look. The end result is truly special.
Twisted and Tucked Under Updo – Balayage Hairstyles
We're finishing our gallery of updos in fine form with this stunning twisted and tucked under style. This lovely lady has worked her golden curly locks into this unique hairstyle by twisting one section of hair and wrapping it around the back of the head. The ends of the hair have been tucked under to create this unique and pinned look which is oh so stylish.
From long to short hair, curly to straight, a unique up do hairstyle will totally transform your look. This gallery features a stunning selection of hair inspiration ready for you to recreate in your own time – so be daring and give it a go!