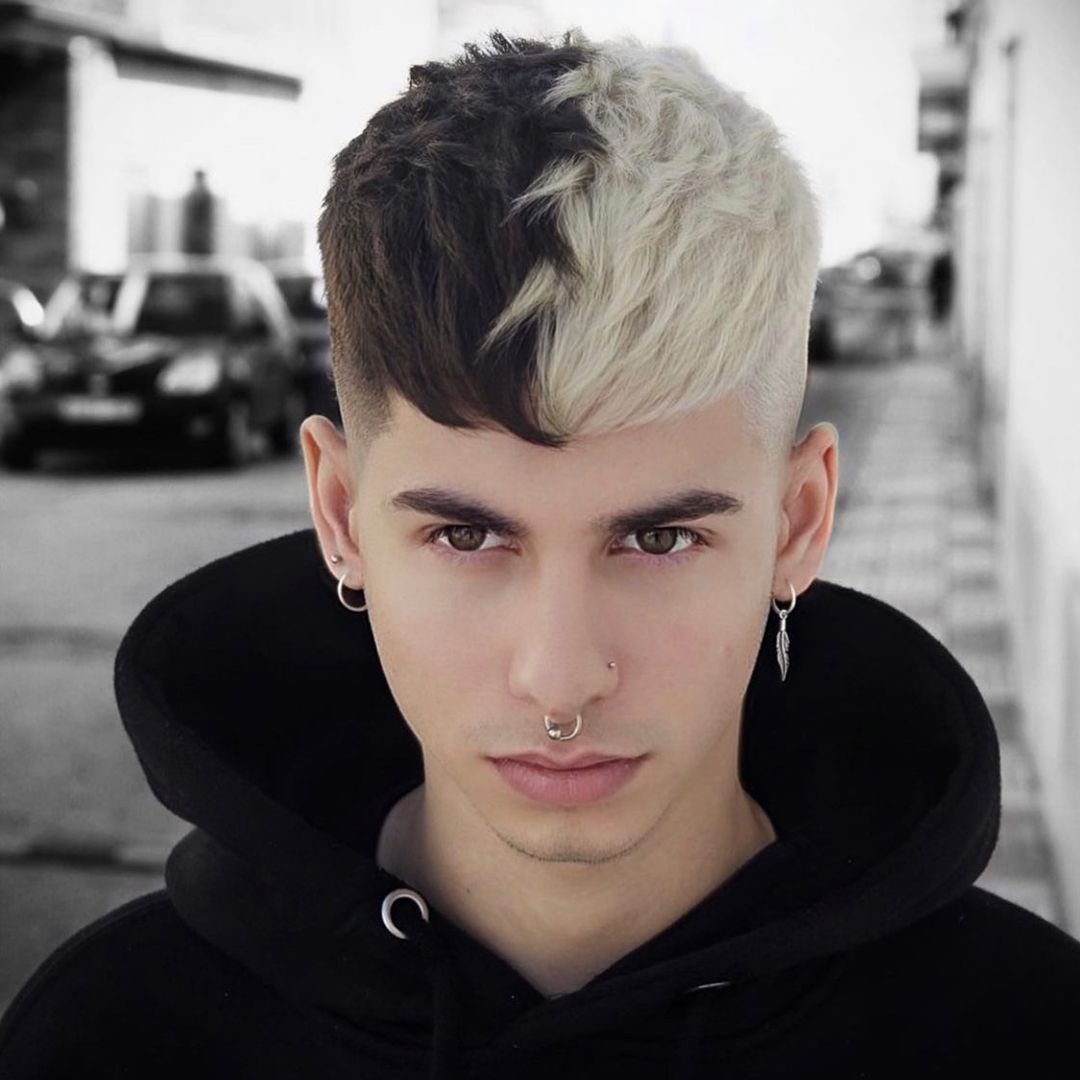 10 Men's Fade Haircuts for Short Hair – Got to Stay Super-Cool!
Men's Fade Haircuts for short hair are popular for men because they allow the barber to make any number of adjustments, so the style will suit your individual face shape. And they also let you make a fashion statement with a haircut that echoes your personality and is very short and easy to style! So read on and see how many different modern fade haircuts there are, so you can always look your trendy, handsome best!
1. Bleached blonde 'street' look – men's fade haircuts for short hair
This is a guy who likes to get noticed! And with a blond top and medium fade, this style is definitely eye-catching. This fade gradient adds lots of interest, because there are four different textures on the sides and back. And these are the softly-tousled, light beige-blonde longer layers on top, the curved, buzz-cut line beneath, then darker, natural hair which becomes a bald fade above the ear. This fancy haircut matches well with the model's high-quality, body art and light tache and beard, for an authentic, street look!
2. Edgy bowl-cut with yellow-blonde & orange balayage – men's fade haircuts for short hair
This year the popular basin-cut from the 1990's has re-emerged as one of the trendiest new looks. This contemporary, bowl-cut is edgy and has a 'gritty' look about it that emphasises masculinity. This look has lots of modern features, like the contrasts between curly, tousled hair on top and a strong, straight line of blunt cut hair below. Yellow- and orange-blonde highlights add volume/movement and make hair look thicker.
3. Black & white half/half – men's fade haircuts for short hair
This well-groomed short, fade haircut is also a rebellious look, with half of the hair in dark, coffee-brown and the other half in ivory-blonde. The joining point of the colors has been softened with interwoven strands making a symmetric line down to the short fringe curved into the center. And high-fade sides mean there's no need to style this haircut after each wash!
4. Curly top & long fringe – men's fade haircuts for short hair
This messy look is perfect for naturally curly hair that you like to wear tousled. The hair is styled forwards and drapes down over the center of the forehead and eyes, for a casual look. The low fade starting just above the ear and neckline is less 'edgy' than the high fade. And there's less of a stark contrast between the sides and long layers on the top with this style, which has more side texture and shows off thicker hair.

5. Zig-zag razor-lines in buzz-cut blonde fade
This easy-style short, fade haircut has a high fade that makes a strong contrast with the tapered longer layers on the top. There's a nice curved line from the crown, arching down to a precisely cut fringe covering the center of the forehead. The zig-zag cut into the fade creates a fabulous feeling of speedy movement and contrast in texture. And the fade continues down to an edgy, skin fade at the ears. This is a super-trendy, youthful look!
6. Short black spiky hair with faded sides
The medium fade on this modern haircut allows the barber to create three layers of interesting texture around the head. You'll find that this haircut works great with thick, dark hair and a little hair product will emphasize the interesting spiky texture on top. A short fringe softens the line around the face. And if you take the bald fade right down to the full, square-shaped beard, you'll get a strong, masculine finish.

7. Messy top with a razor-line & V-back
Here's a short, messy fade haircut with several different textures and features to make it super-cool and trendy! The medium fade allows the barber to have a narrow line of straight hair, below an extreme side-parting. And then the top layers are messy and defined with a little hair product. The front has a dead-straight fringe with a curved line that decorates the side-temples. And there's a randomly placed cross razored into the side fade.

8. New mullet fade on brown curly hair
This curly hair has been highly styled to get a trend-setting, new mullet look with lots of different features. The major trend in hairstyling is plenty of contrasts in volume and texture. And here you can see a flattish top contrasted with a tousled back section. The top curls are styled under and the back curls flipped up. And this also contrasts strongly with the bald fade around the ears. The mullet is hated by some, but it is actually a very flattering style to lots of face shapes. And it lets you get away with longer hair, as you can keep the front section neat!
9. Front undercut on curly hair with geometric hairline
This high, almost tapered, fade undercuts a curly top and a spiky back section! And there's an unusual forehead undercut with a raised layer of curly hair tumbling over to make a casual fringe. These curls are contrasted by a geometrically cut hairline at the temples, which continues down to become a bald fade. It's a high fashion haircut with plenty of asymmetry and fabulous contrasts!
10. Blonde wavy spiky top with razor-line in fade
This is a very 'smooth', dressed-up image with bleached, white-blond hair calling attention to the model's facial features. The top layers are styled into an attractive quiff and there's a razored line in the high fade below! This slightly curved line looks like an athletic logo and appears as if you have your own, personal brand! And the neatly clipped small beard emphasizes full lips in this super-cool men's haircut!
So whatever type or texture of hair you have, there's a super-cool, easy style fade cut with your name on it! Take a look in the mirror now, and if your hair doesn't improve your whole image, maybe it's time to get down to the barbers and update yourself!