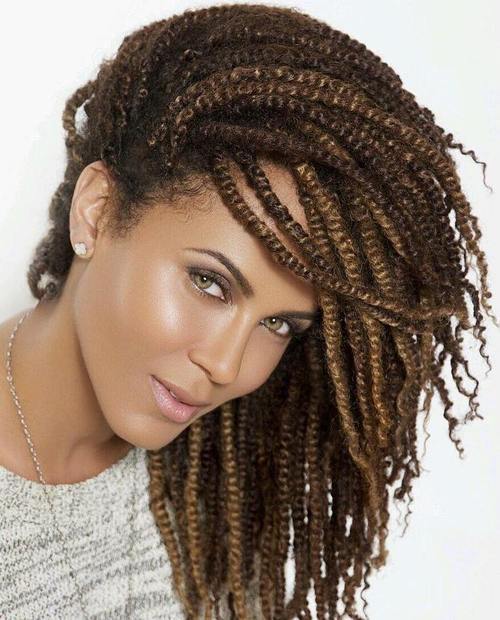 19 Amazing Twisted Braid Hairstyle Ideas
Box braids, rope braids, twisted braids; whatever you call them, this lovely hairstyle is worn by women all across the world, and is one of the coolest ways to show off some unique texture that doesn't require much upkeep.
But did you know that these kinds of braids can be tossed into a multitude of trendy and cute styles? You'd be surprised how many fascinating hairstyles you can rock with box braids, from sassy high ponytails to sultry updos, and everything in between. You will find some new and awesome styles to rock on this list!
High Ponytail Rope Braids
There's nothing more SASSY than a high ponytail, and with rope braids like this, you give the high ponytail a saucy makeover that's voluminous and cool.
Raspberry Twisted Bob
This style is reserved for the gal with attitude, the lady who wants ALL eyes on her. Raspberry hues are the perfect match for darker skin tones and jet black hair, creating a sultry finish that's smooth and utterly appealing.
Highlighted Retro Twists
Ladies with longer hair can certainly benefit from some sexy thick box braids– no more styling! These thick box braids are gently highlighted for a touch of natural contrast that looks divine when tossed and swayed with a deep, sexy side part.
Short Blonde Twist
Whimsical and bouncy, flirty and fun! Yes, even short hair can be twisted to utter perfection and the outcome is awesome! Like a fluttery butterfly, these lovely twists are bouncy and lightweight, an ideal choice for summer- especially when lightened up with a charming shade of caramely blonde!
Hair Four Ways
This lovely lady is showing you how you can transform your thick rope braids in no time at all! Try on a middle part for a contemporary feel, or toss it all up into a bun up high for a sassy yet elegant look that's great for parties. Rock it to the side with a sexy side part that can work for literally any occasion big or small!
Thick Ombre Rope Braids
Rope braids don't always have to be miniature sized. If you prefer a more bold and robust hairstyle, then ask your stylist to make thicker shaped rope braids that are standout and perky. Toss in some ombre hair coloring technique to lighten your overall complexion and add contrast to the ropes.
Rope Braid Half Updo
The great thing about rope braids is they're ALWAYS voluminous no matter how you style them; and a lovely half updo like this is the ideal candidate for high-end events when you want to look classy and sophisticated with your favorite little black dress.
Double High Ponytail Rope Braid
Oh, so a high ponytail isn't quite sassy enough for you? Well, you certainly are a rare woman with plenty of attitude that needs to break free! I have the perfect hairstyle for you to match your witty personality- double high ponytails. Side by side, this creates a massive look-at-me effect that's saucy and downright full of womanly spice.
Tossed Kinky Braids
Nothing quite like thick, lustrous hair being tossed to the side to give off that alluring, sexy appeal; and what's even better is thick kinky braids being swayed to the side. Kinked up braids like these with a slight touch of highlights is a great way to show off your beautiful darker complexion in a way that's enticing and seductive.
Unique Updo
One of the cool things about twisted braids is they can be styled in so many amazing ways; as clearly seen on this lovely woman. She wraps and swirls her locks into a gorgeous updo that can be worn day or night.
Classy Updo
Make a statement at any wedding and look like the flawless beauty you are by pinning back your box braids into a stylish and posh updo. You don't need any tricks or tools to make yourself look charming when you've already twisted your tresses into some beautiful braids like these. Standout with bold makeup colors and bright, stunning jewels.
Highlighted Rope Braids
If you're indulging in some sexy rope braids like these at shoulder length, that doesn't mean you have to stray away from highlights. Adding some caramel blonde hues to your dark brown base will add a splash of cool contrast that's interesting and intriguing to the eye.
Raspberry Mini Box Braid Updo
Reserved for the woman who loves to make an impact with every step she takes, this voluminous and outlandish updo creates a massive amount of height on top, ideal for framing faces that are rounder. Raspberry coloring is a great match against her skin tone, creating a vibrant look that's even more intense with purple and pink makeup hues.
Sparsely Highlighted Natural Twists
Flirty and charming, natural twists such as these should be chopped around the shoulders to ensure their beautiful bounce is always swaying with every step. Tired of mundane jet black hair? Then sparse highlights like these will add some seriously sweet and sassy brightness that's unique and fun.
Twisted Updo
Diversity, dimension, and uniqueness; this look has it all! There's tons of volumes as she loops and twirls her braids into utter perfection. This look is easily dressed up or down for any occasion big or small.
Kinky Twist Side Ponytail
It's a style we all know and love from the 90's- the beloved side ponytail! This sweet and cute hairstyle is great for kinky twists, a voluminous look that takes years off your face. Youthful and refreshing, a side ponytail is ideal for any age and any woman who wants a flashback look that's undeniably flirty.
Boho Inspired Thick Rope Braids
Even rope braids can get a bit of a bohemian makeover by simply adding a head piece! It's quick and easy, and paired with your favorite boho inspired outfits, you're ready to step out and flaunt this super-trendy look.
Tossed Back Twisted Bob
Showing off your facial features is a cinch when you have a cut bob loaded with enticing rope braids. Simply toss back the front pieces away from your face to show off your beauty while simultaneously throwing in a little bit of flirty volume.
Curly Rope Braids
Just because you have lovely rope braids doesn't mean you can't style your locks with some nice ringlets! Her curls are lively and fun, full of depth and personality that goes well with those spunky bright pink lips.