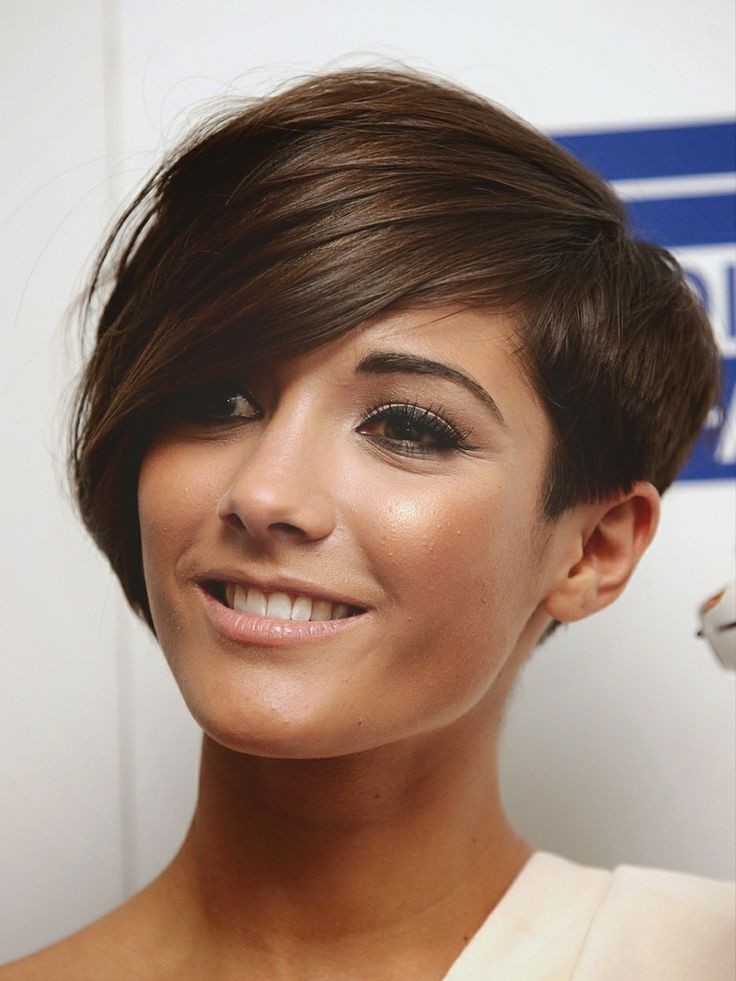 20 Pretty Hairstyles for Thin Hair: Pro-Tips for a Perfectly Volumised Style
If your hair is long, cut it – because the longer the hair, the thinner it will appear. To get the benefit of a handy visual illusion, thin hair should ideally be no longer than chin – shoulder-length at most. The best hairstyles for thin hair are usually chin-length or shorter bobs and pixie cuts.
Fortunately, bobs and pixies are some of the most popular hairstyles for everyone these days, so you have lots of choice amongst the trendiest styles!
Best Hairstyles for Thin Hair /Via
Best hairstyles for thin hair – curls
Another rapidly-increasing trend is for curly hairstyles, and that's another great way to add the illusion of thicker hair and flattering volume around the head. If your hair is in good condition, it may be worth your while getting a gentle perm. This will free you from the bother of trying to keep the curl in straight hair from going flat as soon as there's a hint of dampness in the air!
Shaved Haircut for Short Curly Hair /Via
The 24-hour perm method (Air-dry perm)
I always have a perm in my own fine hair and find it makes a world of difference in the amount of volume I can achieve. I recommend the 24-hour perm method, if you can find a hairdresser who knows what that is.
The difference is that the 24-hour method does not use hydrogen peroxide to lock the curl in place, so no damaging chemicals are applied to your thin or delicate hair-shafts. After having the perm solution rinsed off – you have to keep the perm curlers in place for 24-hours and let the air around you gently fix the permanent curl.
Women Haircut for Curly Hair /Via
It's worth it and you get a good curl with no damage to the hair at all!
The best hairstyles for thin hair – layers
The best hairstyles for thin hair are short and layered, as layering creates more lightness and 'lift' in the hair, making it appear thicker and more voluminous. Ask for blunt-cut layering, which makes the ends seem thicker.
Layered Hair Style for Thin Hair /Via
Highlights or all-over colour?
Highlighting is another of the processes that helps you achieve the best hairstyles for thin hair. This is because when you put bleach on a hair, it automatically thickens the hair-shafts and makes hair denser.
In addition, adding dual-highlights – one lighter and one darker – than your base colour is a very clever visual trick which adds depth and dimension to thin hair, so there appears to be more hair on the head!
Cute Short Haircut with Long Bangs /Via
Best hairstyles for thin hair – fringe types
If you have a fringe, the best hairstyles for thin hair have a deep, full straight across fringe to create a thicker hair look.
Never wear a wispy fringe on thin hair, as it will look thin and weedy and keep sticking to your forehead!
Frankie Sandford Asymmetrical Short Hair Style /Via
Now you know what you're looking for, all you need to do is to browse our Pophaircuts.com  fabulous Inspiration Gallery of the trendiest, best hairstyles for thin hair and book a salon appointment!
Straight Long Bob Haircut /Via
Short Haircut with Side Swept Bangs /Via
Portia de Rossi Short Hair Style /Via
Blunt, Medium Bob Haircut Back View /Via
Ashley Greene Hair Style /Pinterest
Shaved Pixie Haircut /Via
 Shaved Short Haircut with Bangs /Via
Trendy Hair Color for Short Hair /Via
Women Hairstyles for Short Hair Ideas /Via
Women Short Haircut for Thin Hair /Via
Stacked, Layered Short Hairstyle /Via
Very Short Hair Style /Via
Everyday Hairstyle for Short Hair: Women Haircuts /Via
Layered Wavy Haircut /Via