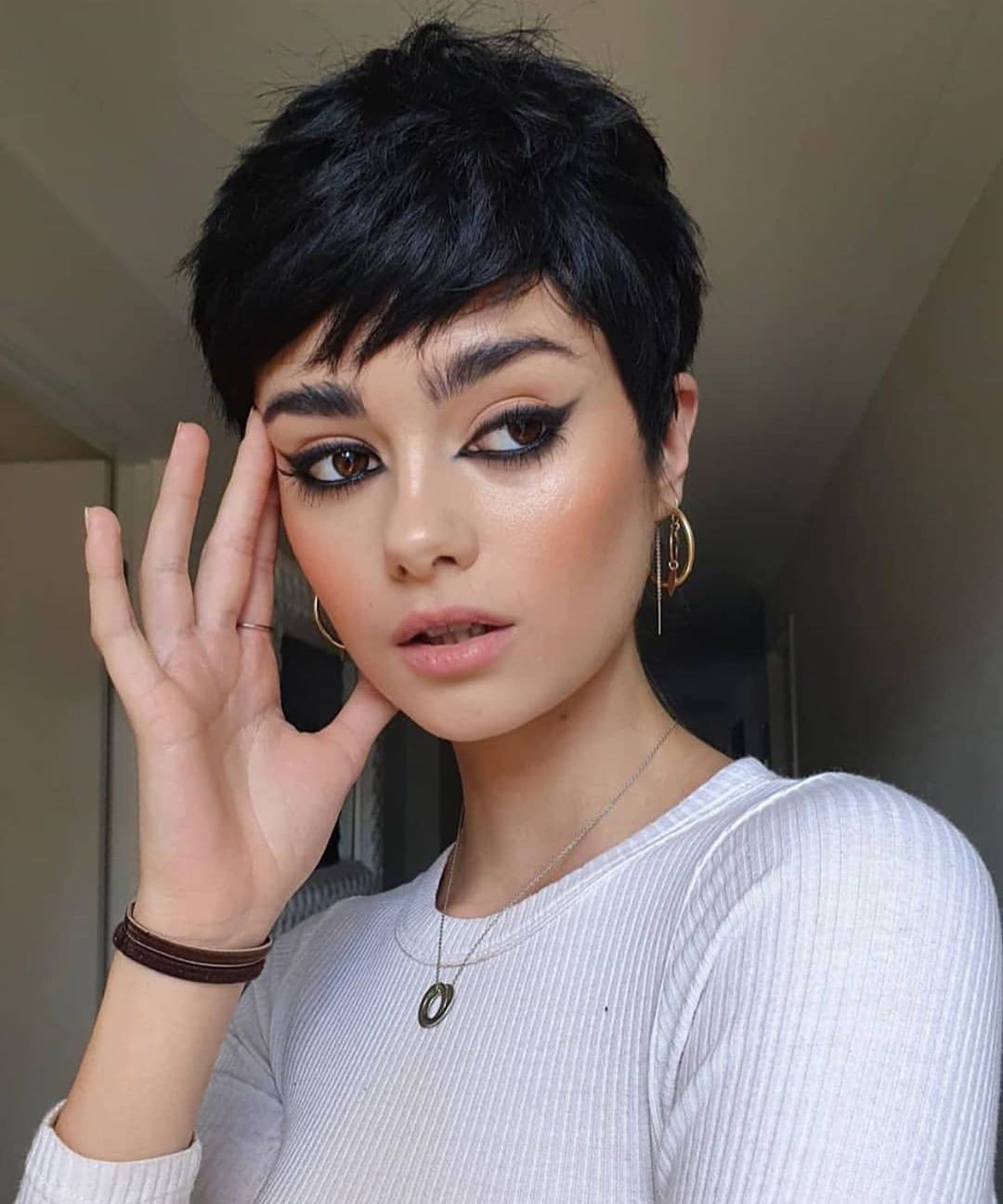 10 Stylish Short Haircuts for Thick Hair
If you're ready for a new look, these stylish short haircuts for thick hair will show you the best of the new season's cut and color designs. Pixie cuts and short bobs are all excellent ways of controlling thick hair and creating easy-care, beautifully colored modern looks. People do judge each other immediately by how their hair is styled, so if you can look in the mirror and give yourself 10/10 – fine! But if you've let your hair lose its trendy shape and flattering color recently – you'll get some great inspiration from these edgy and cute looks!
1. Edgy shaved nape on golden-beige – stylish short haircuts for thick hair
Three views of this medium to short haircut makeover will make it easier for your stylist to copy the look. This short bob haircut has been designed especially to balance out the model's slightly prominent nose. And you can do that by ensuring you have volume at the back to balance out the profile. In addition, it's best to avoid curves moving in a forwards direction. So this cute golden beige short haircut has fairly straight face-framing sides with a light forward curve accentuating the lips and chin.  If you don't like the short bob cut, how about the longer version, the latest trendy lob hairstyles?
2. Short bob makeover – stylish short haircuts for thick hair
This set of four images shows exactly what happens to the shape of your hairstyle when you add some layers. You get curves that follow the shape of the head, far more texture and extra volume, especially at the crown and above the nape. The asymmetric short bob has an attractive side-swept fringe from a defined side part, and the whole makeover look suggest a younger, more fashionable, woman!
3. Long pixie in neutral blonde – stylish short haircuts for thick hair
This is a classic, pixie hairstyle which is longer than the original pixie-cut. And that makes the effect softer around the face. The stylist has added lots of texture to the thick hair and that helps create attractive volume that radiates out from the crown. Long wavy sides and a straight-across fringe frame the eyes and bring out their color. And slightly parted hair shows the ears in a relaxed way, allowing you to wear statement earrings.
4. White-blonde stylish short haircuts for thick hair
This is a high-fashion basin-cut hairstyle that's also incredibly easy to style, so it's pretty and practical! The back and sides are undercut so you can vary the look with a short, high pony-tail at the crown. The bare nape accentuates the cute floral tattoo. And bare ears can be decorated with the latest mismatched earrings and ear-cuffs. The stylist has created a delicate white, pale-beige and pale-pink shade that complements the model's skin-tone and matches brilliantly with her glasses!
5. Original pixie-cap haircut on black hair
The pixie-cut was inspired by illustrations in children's books of the 1920's, in which the pixies were mischievous little boys who had short hair and wore flowers, such as bluebells, as caps. And this is one of the most authentic versions of the original pixie-cut. It's a very flattering hairstyle that suits a wide age range as it frames the eyes and keeps the attention focussed on the upper face. There's a blurred side part, and a lightly swept-over fringe creating a fashionable asymmetric style. And the ears are shown, so you can wear the latest mismatched earrings to finish off a trendy, classic short haircut!
6. Wiggly waves on ash-blonde & golden-beige short cut
What you've really got here is a clever mixture of silver and gold, echoed in the gold metallic eye-shadow worn by the model. There are various high-fashion colors in this hair-color design, including gray, oat-white, beige and yellow, which create a mostly cool color design. So this is a good color-style to wear if you have light-coloured eyes and cool/neutral skin undertones. The roots are shadow-dark and create 3-D color depth. And short sharp side-points contrast with long, wavy layers and a casual, long side-swept fringe!
7. Straight black bob with asymmetrical sides
This perfectly-groomed bob is asymmetrical with a slanted side part and a large swathe of hair draped across one side of the face. This is a good way to 'cut' the length of a long face. And adding curved volume at the sides will also add 'width' to a narrow face shape. The back has a clean line cut around the nape, which is a good place to wear a tattoo. And the shorter side curves in to accentuate the lips, as the longer side follows the curve of underneath the chin!
8. Silver-gray straight A-line bob with a hint of pink
This sophisticated A-line bob will stay in place all day and need minimal care. It has gorgeous curves with the front sections styled to move towards the back, and the hair from crown to nape is rounded to create a lovely profile view. The roots and ends are light taupe, with a broad band of silvery ash-blonde moving horizontally down to the front. Plus a very subtle hint of pink toner to match the model's cool/neutral skin undertones. And the center-part frames the face with lighter ash-blonde  that brings out the color of blue, green, hazel and violet eyes!
9. Glamorous copper wavy choppy slanted bob haircut
If you like to be the center of attention, then this is a great cut and color for you! It has lots of trendy features, such as a messy, choppy vibe. And beautiful waves show off the three or four different shades of orange and copper perfectly. The copper color is really rich and luxurious, and with darker, shadow roots, you get 3-D color depth that makes your tousled hair look even thicker!
10. Makeover from medium bob to perky short textured haircut
It's amazing how much your hairstyle contributes to your beauty look! But I think this makeover does a superb job of opening up the model's face and showing off all of her best features. The first style has an off-centre parting suitable for an oval or slightly round face. But looks as if it will go greasy and flat if it isn't looked after carefully. However, the short-back-and-sides pixie haircut removes the curtain-effect and shows off the model's oval face, with a chic textured top and a cute baby-blonde all-over color!