10 Easy Pixie Haircut Innovations – Everyday Hairstyle for Short Hair
Feast your eyes on the latest, easy pixie haircut ideas – ready for the new season! We're all looking for something new and exciting to polish up our image. So I'm sure you'll love these attractive, new ideas – making it easy to look hot and trendy, with almost no effort at all!
Bob makeover to easy pixie haircut with gray-blue highlights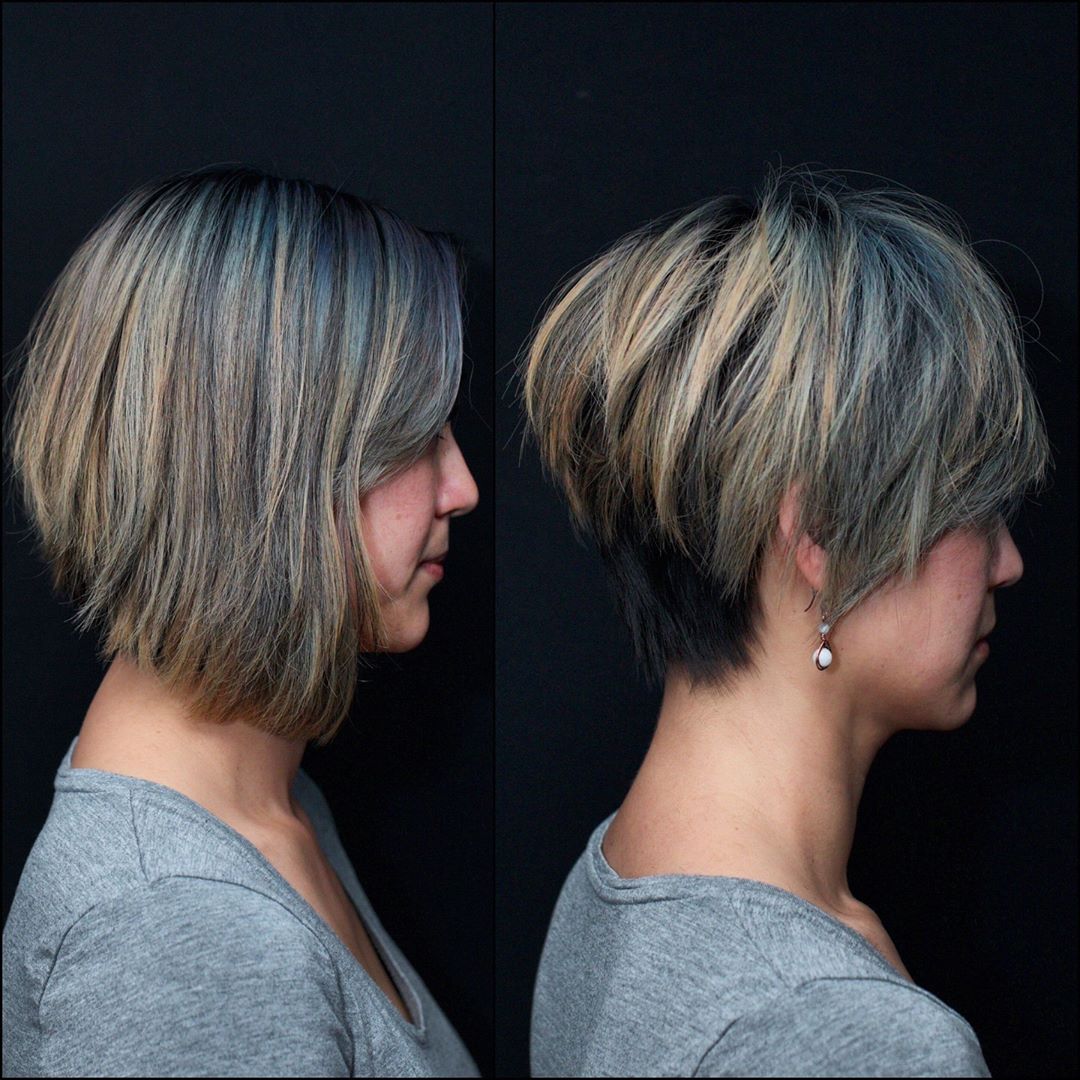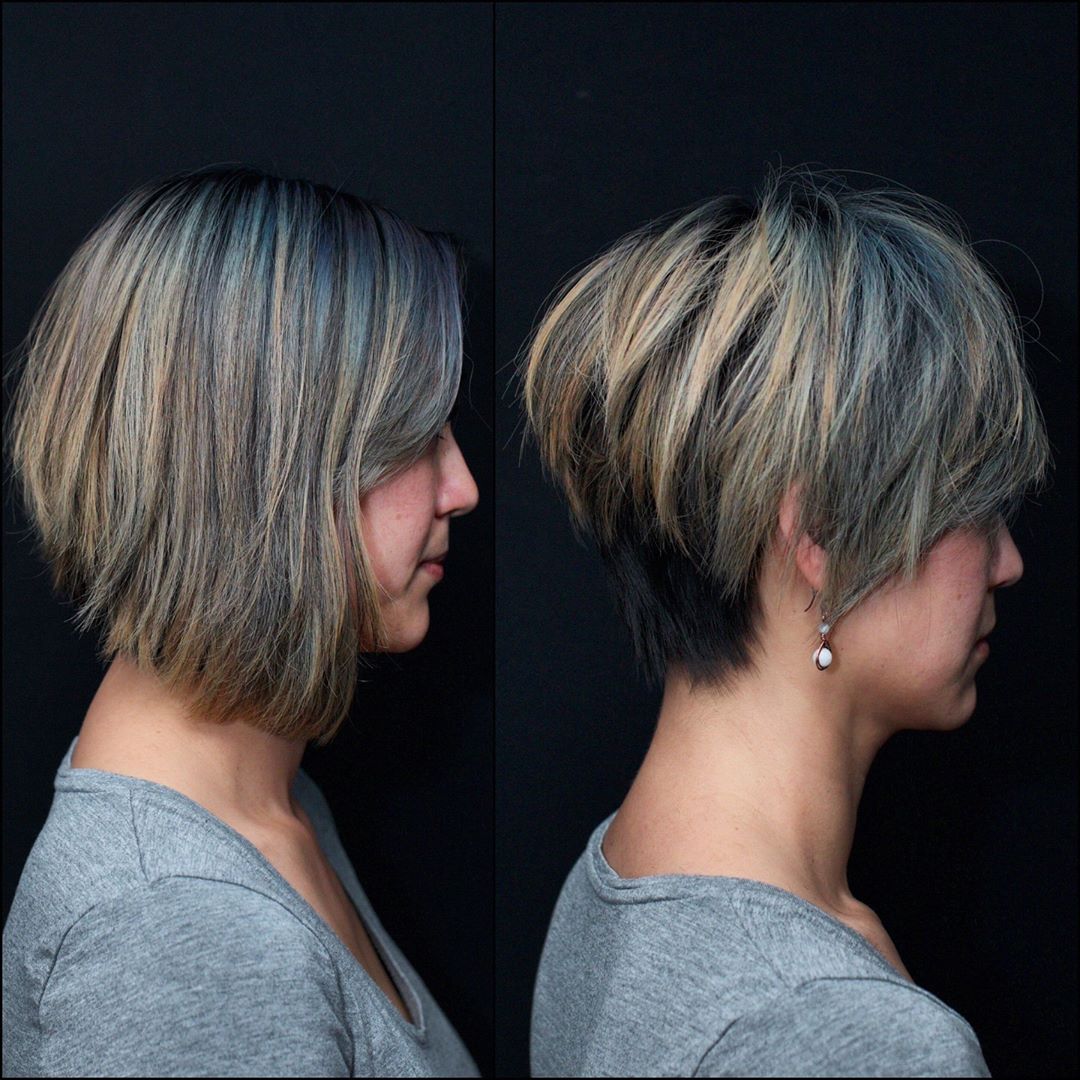 If you want to look younger, choose a modern pixie cut! There's no doubt that a well-cut asymmetrical pixie will give you a cutting-edge image. Short hairstyles with bangs draw attention up to the eyes, and away from any hint of a double-chin. This long layered, easy care short haircut has super-modern hair color design. And the model's natural dark-blonde hair provides the back-drop for some pretty spiffy blonde and blue-gray highlighting.
Brunette bouffant short cut for thick hair – side & back views of easy pixie haircut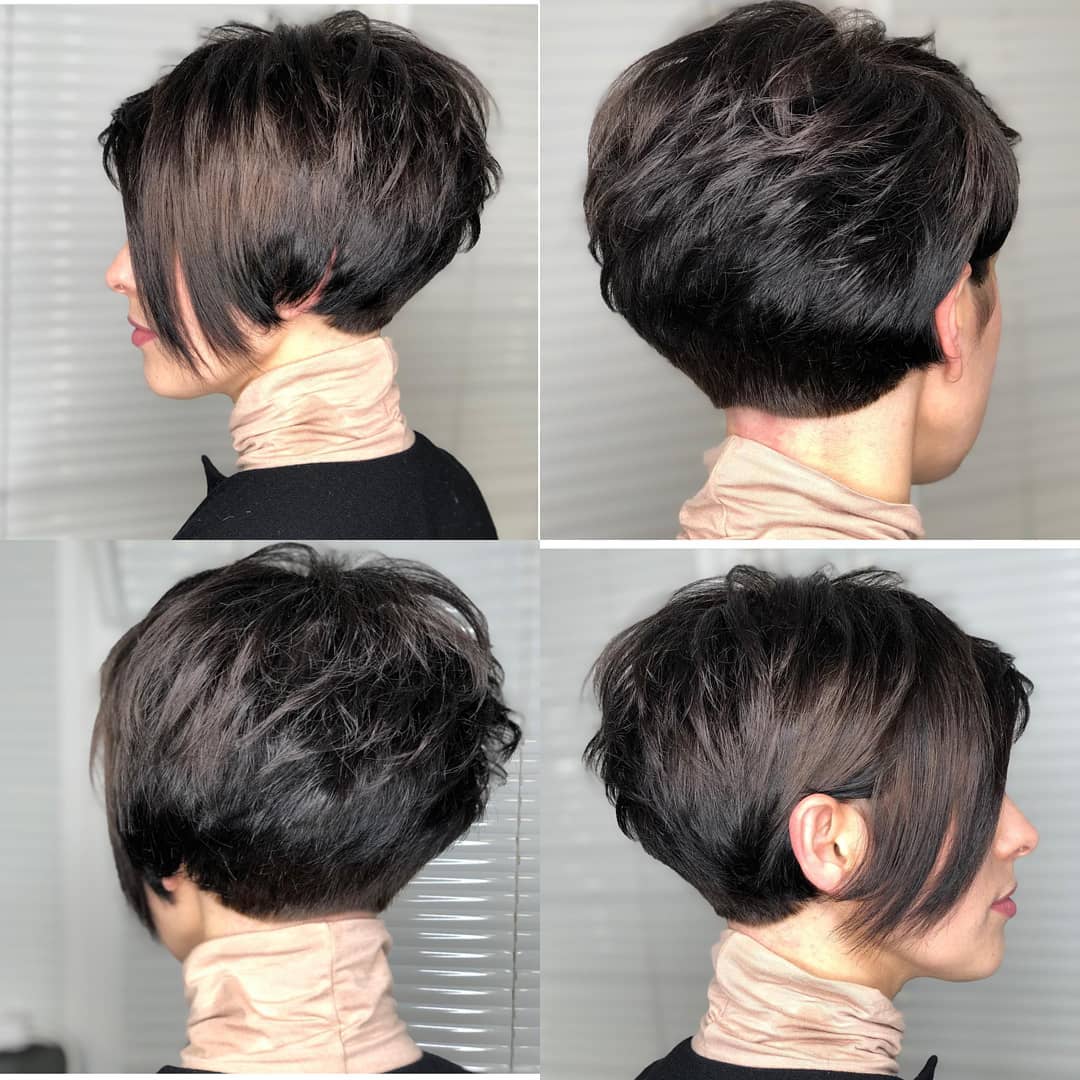 Here's another panoramic view to make your trendy pixie hairstyle makeover easy for your stylist to copy perfectly. It's a great short haircut for thick hair as it's sculpted into a breathtaking profile. The asymmetric pixie haircut or short bob is still one of the most popular haircuts for this season. And you can see that texture, rather than curls or waves, are the most fashionable choice right now!
Extreme long to short haircut makeover – easy pixie haircut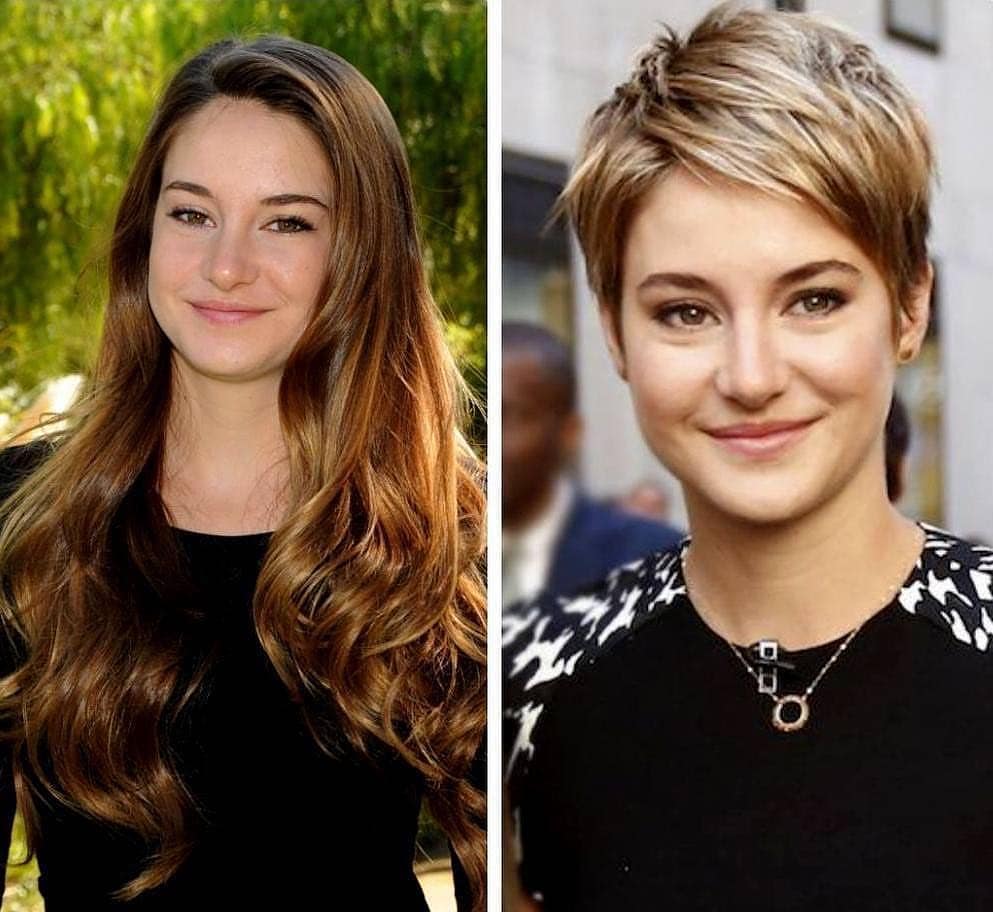 Wow! – what a fantastic transformation this is! It's a real, 'coming of age' haircut showing the transition of a girl to a trendy young woman. Her long, thick waves are gorgeous, of course. But there's a subtle switch from 'country-girl' to bright, urban chic that definitely projects a contemporary and independent image. Looking fashionable isn't only a matter of fitting in with current trends, it affects the way people relate to you. And a short, snappy look helps you look efficient at work, as well as attracting like-minded males!
High fashion edgy short hairstyle for fine hair – easy pixie haircut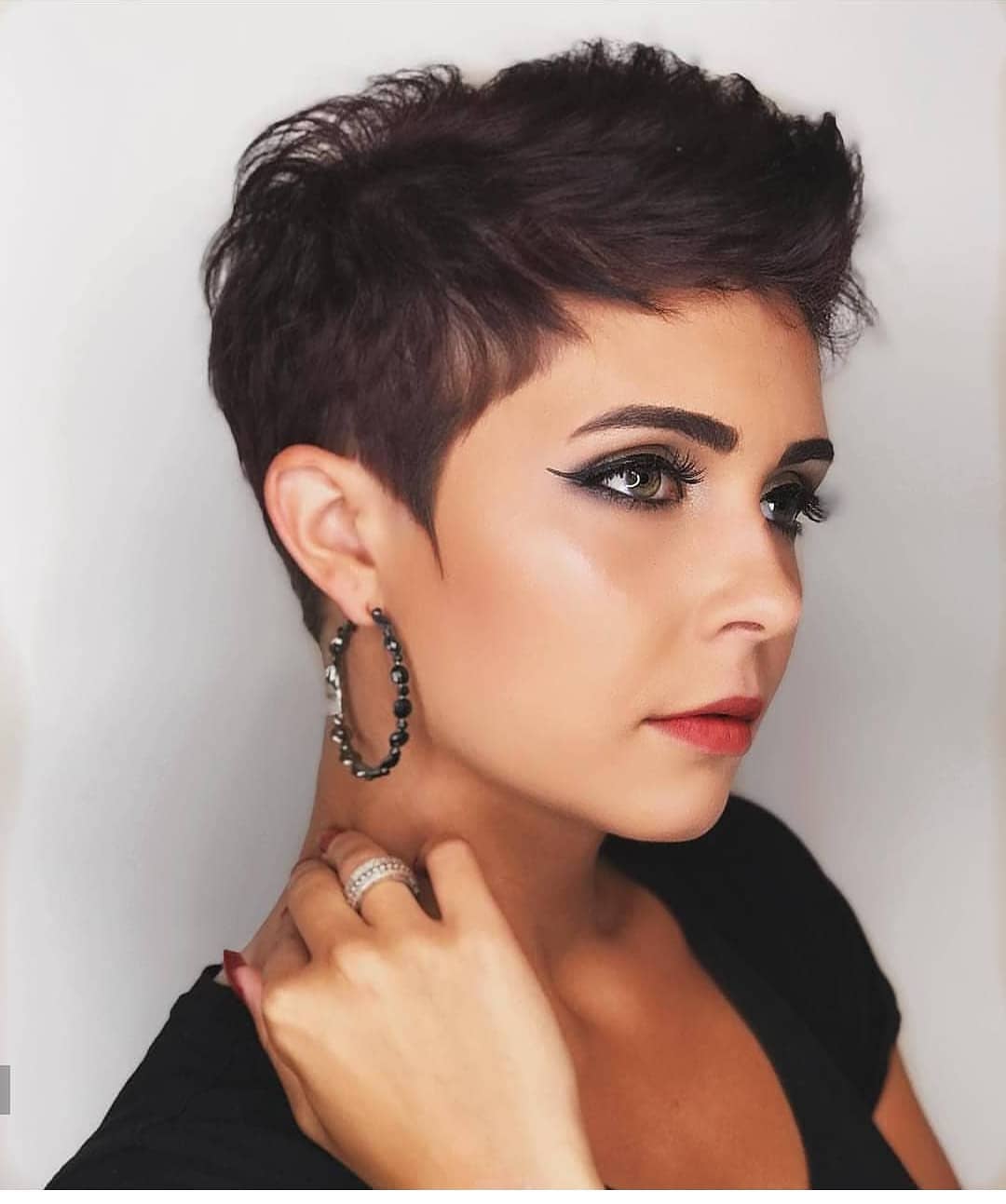 Young and sassy, this trendy short haircut is precision-cut by an expert stylist. And the end result is very flattering to an oval face shape. The stylist has cut the back and sides in short layers, with super-sharp, tapered side-points. So in addition to showing off dainty ears, the line accentuates the cheekbones, too. There's lovely height and texture on top, from a little forward and side-swept quiff. The quiff softens the forehead line and altogether this style really focuses attention on the eyes!
Wavy short haircut for medium to thick hair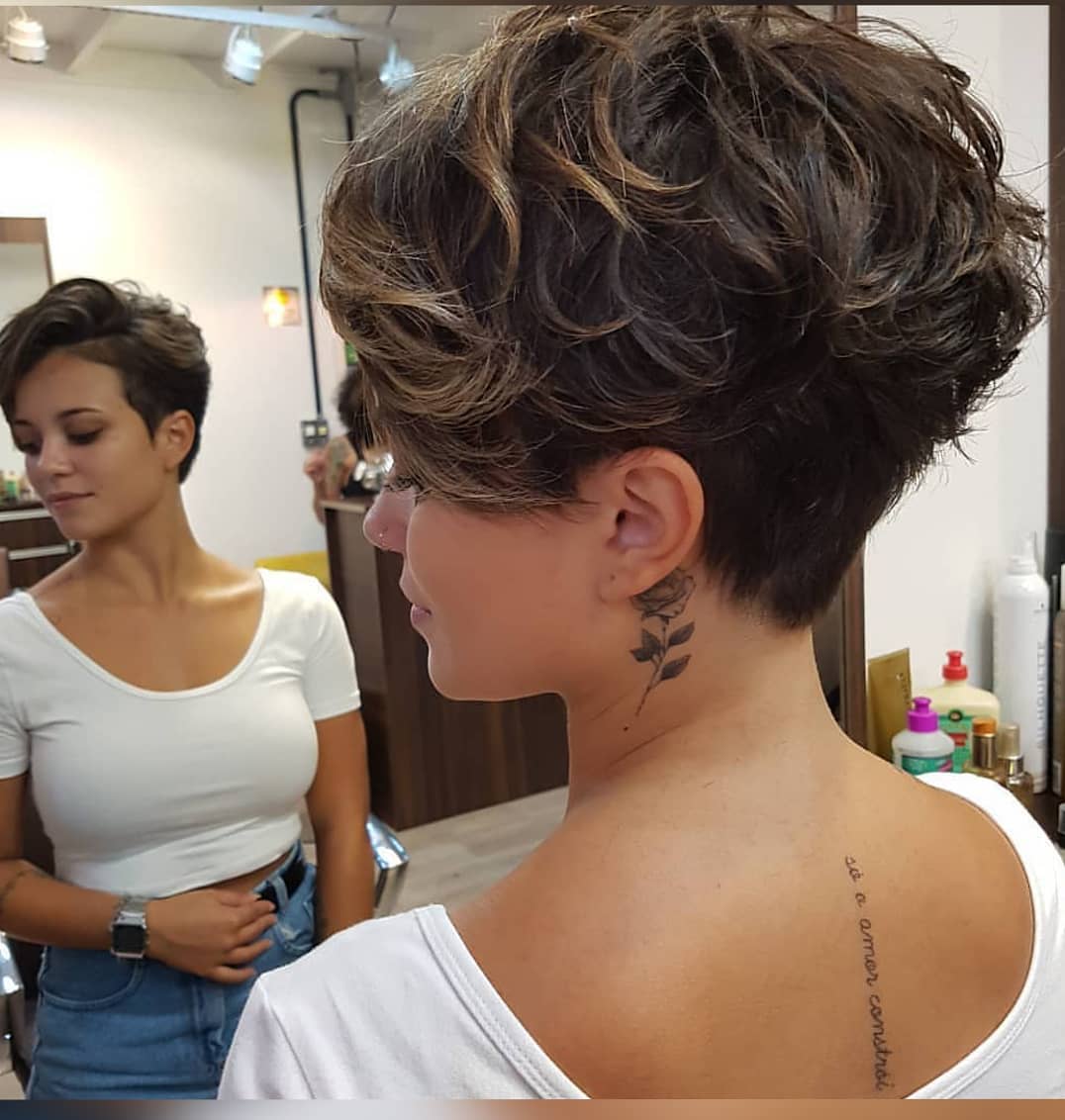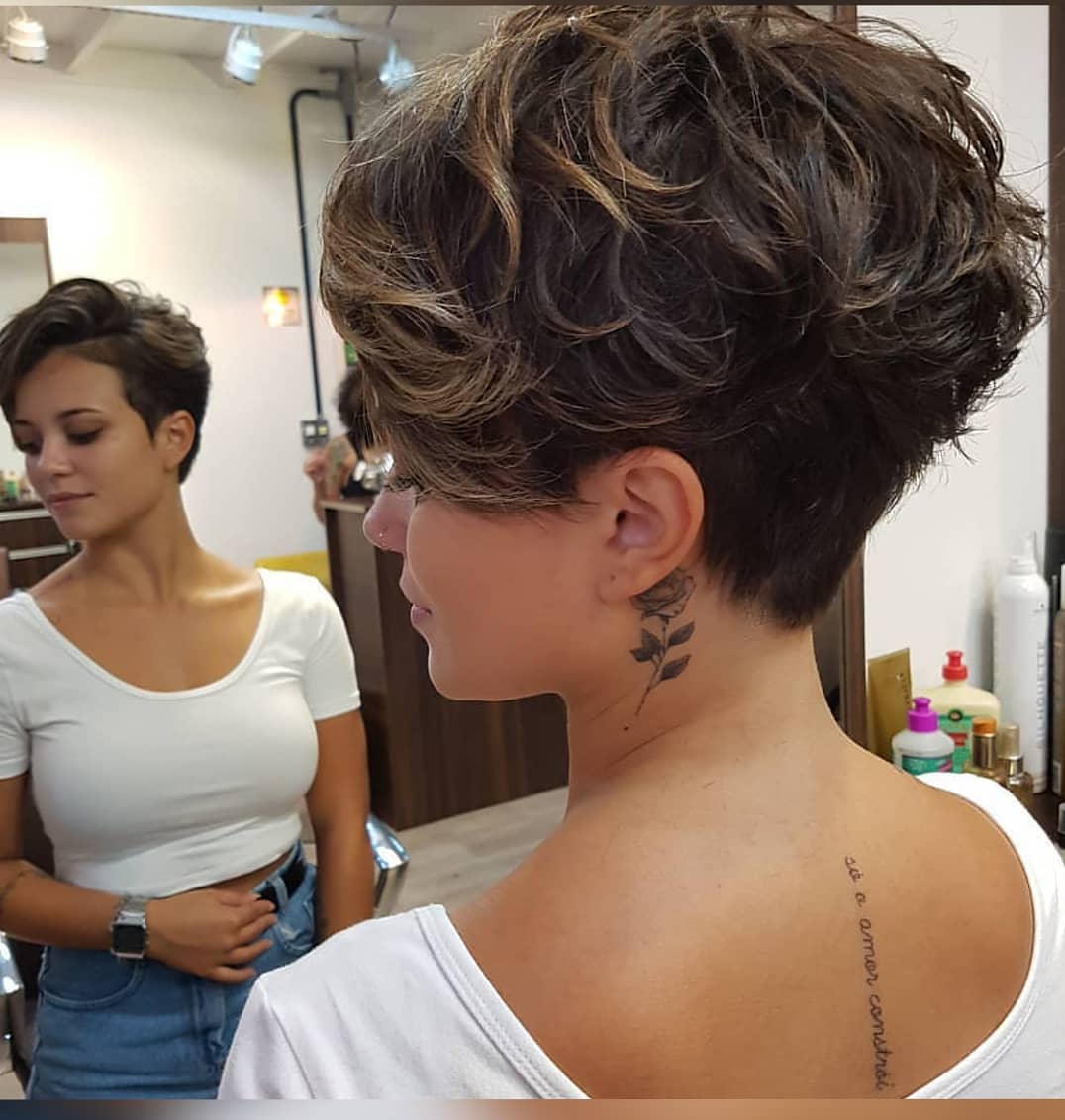 Thick hair is perfect for this beautifully shaped short wavy hairstyle. There's a fabulous curve just below the crown, that becomes a steep line down to the graduated nape. And this cute haircut is perfect for showing off the model's pretty rose tattoo, behind one ear. The asymmetrical front features a side-part and a face-flattering quiff that adds height to a round face. And the shorter side displays a lovely curved hairline down to a short, tapered side-point.
Four views of cute asymmetrical short hairstyle for long face shapes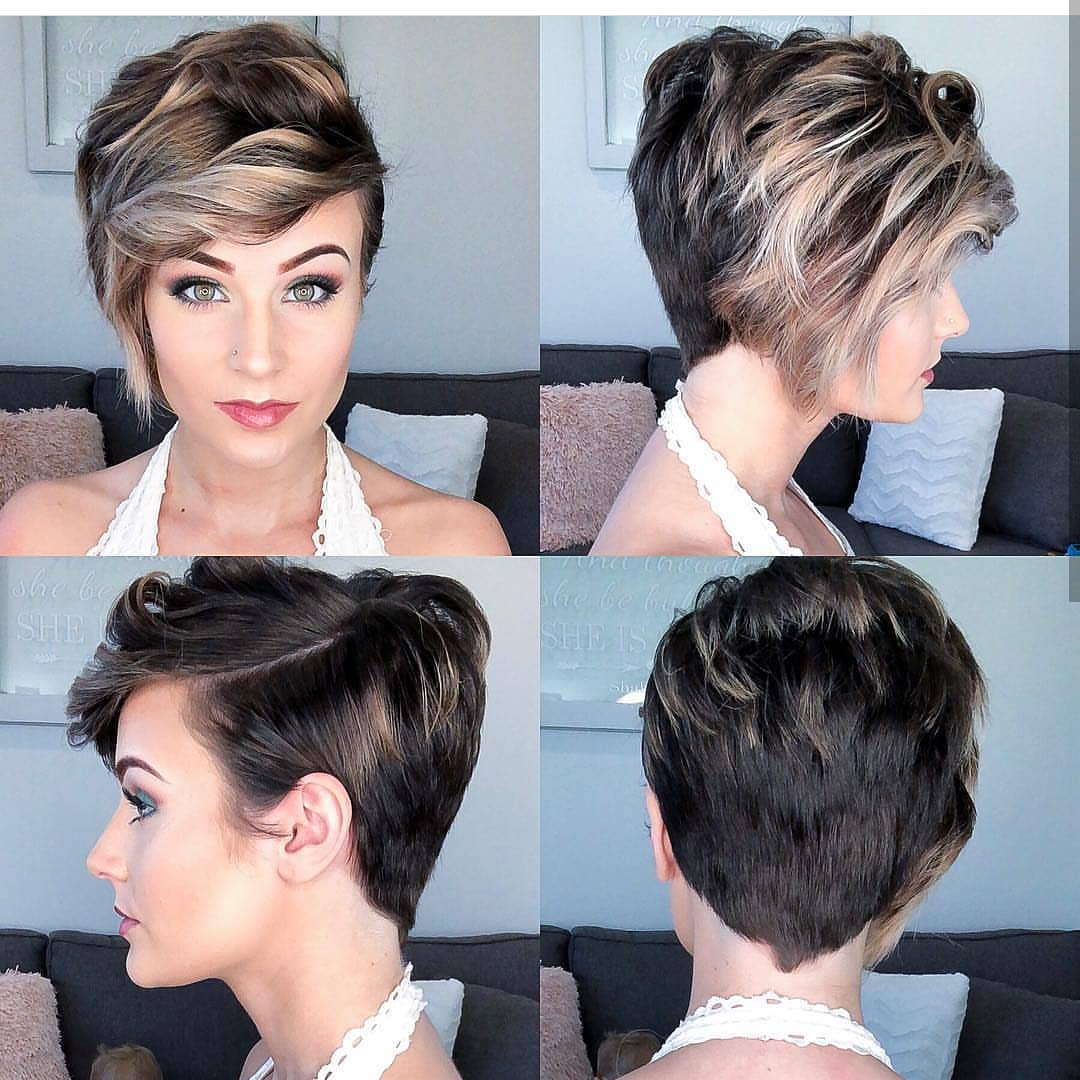 Have you even taken a photo to your stylist that just shows the front of your favorite celebrity haircut? The problem comes when they ask how you want the back cutting! So this front, back and side view of a flattering pixie haircut for long faces is the perfect answer. The deep side part allows for a strong diagonal line across the face, that covers the forehead and shortens a long face. And to minimize an angular or wide jawline, that part of the face has no extra volume from hair at the sides.
Rebel razor-cut pixie haircut on peach-blonde hair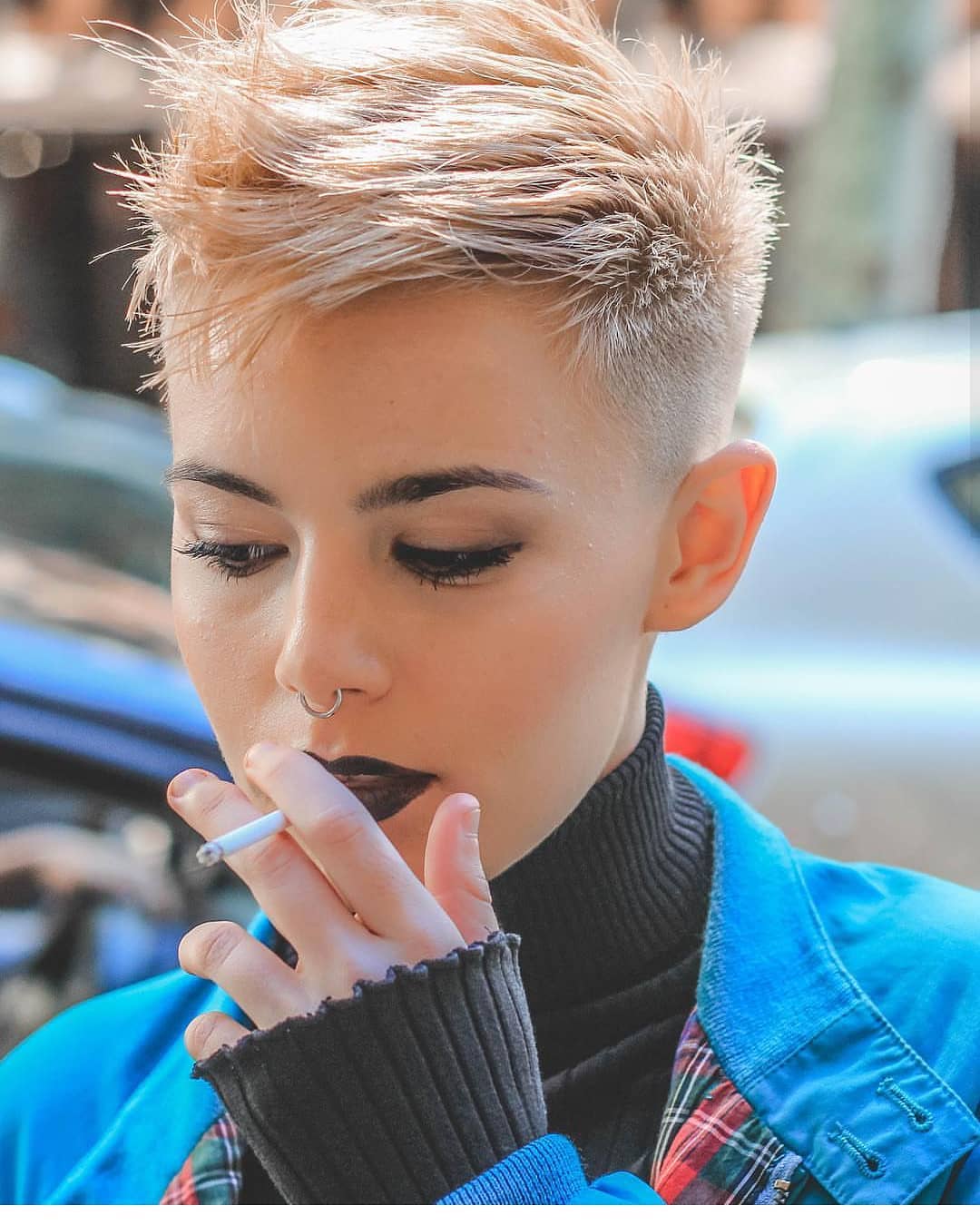 This edgy, urban chic pixie haircut is as fresh and fun as the young woman wearing it! It's designed for gals with an independent outlook on life, who make their own style and let others follow behind. It's a cheeky steal from the boy-cut short-back-and-sides, that emphasizes the model's youth and femininity. With forward styled texture on top and a cute quiff to soften the hairline, this pretty peach-blonde cut is just adorable!
Classic two-tone basin-cut with defined nape shape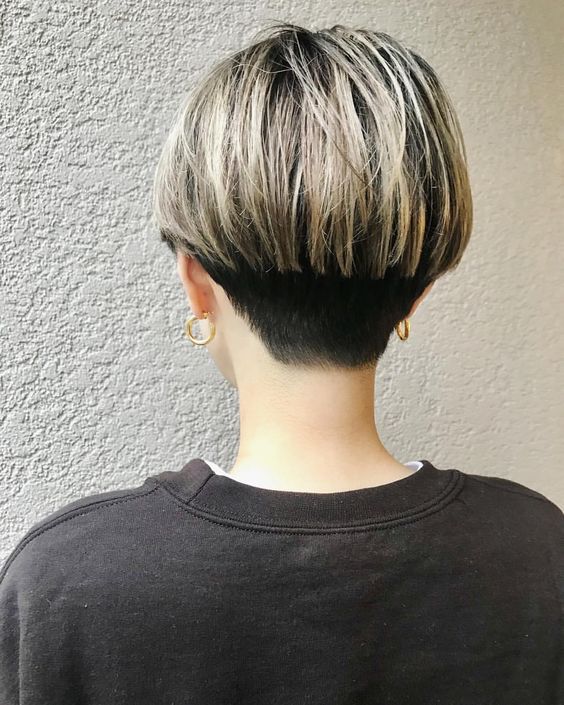 Classic styles like this basic cut stay in fashion because they always look modern and appealing. Ideally suited to medium or thick hair, if you have finer hair you can add this 3-D hair color design to give the impression of denser hair in the top layers. And to keep the look right up-to-the-minute, choose a natural-looking neutral blonde hair-color, lightly spice-up with fine, mid-blonde balayage.
Swept-over wavy short haircut for fine to medium hair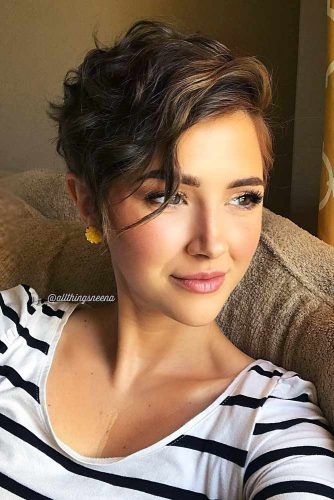 Finding a haircut that really flatters your face shape is the most important step towards making the most of yourself. And short haircuts are fabulous for showing off your best features! This side part and swept over bangs can be tailored to flatter most face shapes. The asymmetry, and a diagonal line across the face, break up a round or long face. Height above the forehead adds length to a round face. And you can pull down the bangs to cover more of a wide forehead and flatter a heart face, too!
Soft pixie haircut in beige-blonde for fine hair/square face shape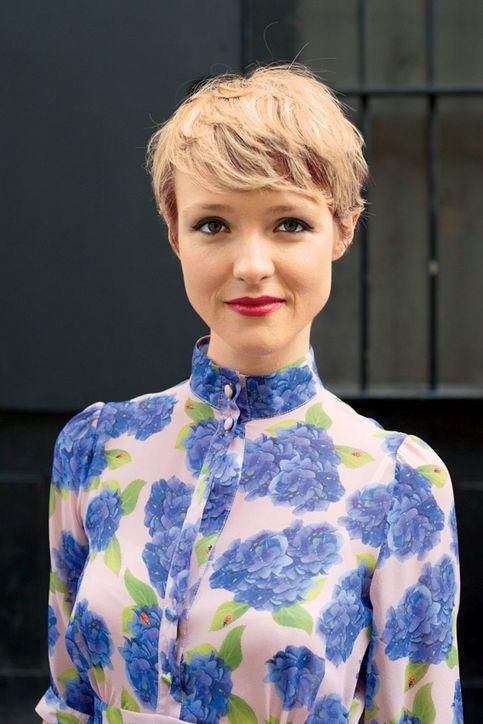 This pretty pixie haircut for fine hair is also a style that balances out different face shapes. The deep side part breaks up the symmetry of a round or square face. And the blurred part- line softens this model's square face beautifully. If you have a broad jaw-line, wearing a short pixie haircut moves the focus up and away from the width, for a more flattering look. Plus – curved bangs cover a wide or square forehead, creating cute curves that balance an angular shape!
So if you're ready to move up to a more flattering hairstyle, try a trendy short haircut like these cute and easy pixie hairstyles. With low maintenance and a fresher image, you'll feel ready for anything!