10 Messy Hairstyles for Short Hair – Quick Chic!
Messy hairstyles for short hair are a great, easy-care option and a trendy fashion look, all rolled into one!  In fact, short haircuts usually lead the fashion trends and the current popularity of tousled and 'windswept' styling means you only need to fix your hair once a day.  Today's gorgeous gallery of modern, messy hairstyles for short hair also showcases lots of new, face-flattering hair colors.  So make yourself comfy and enjoy the show!
Chic beige looks great on messy hairstyles for short hair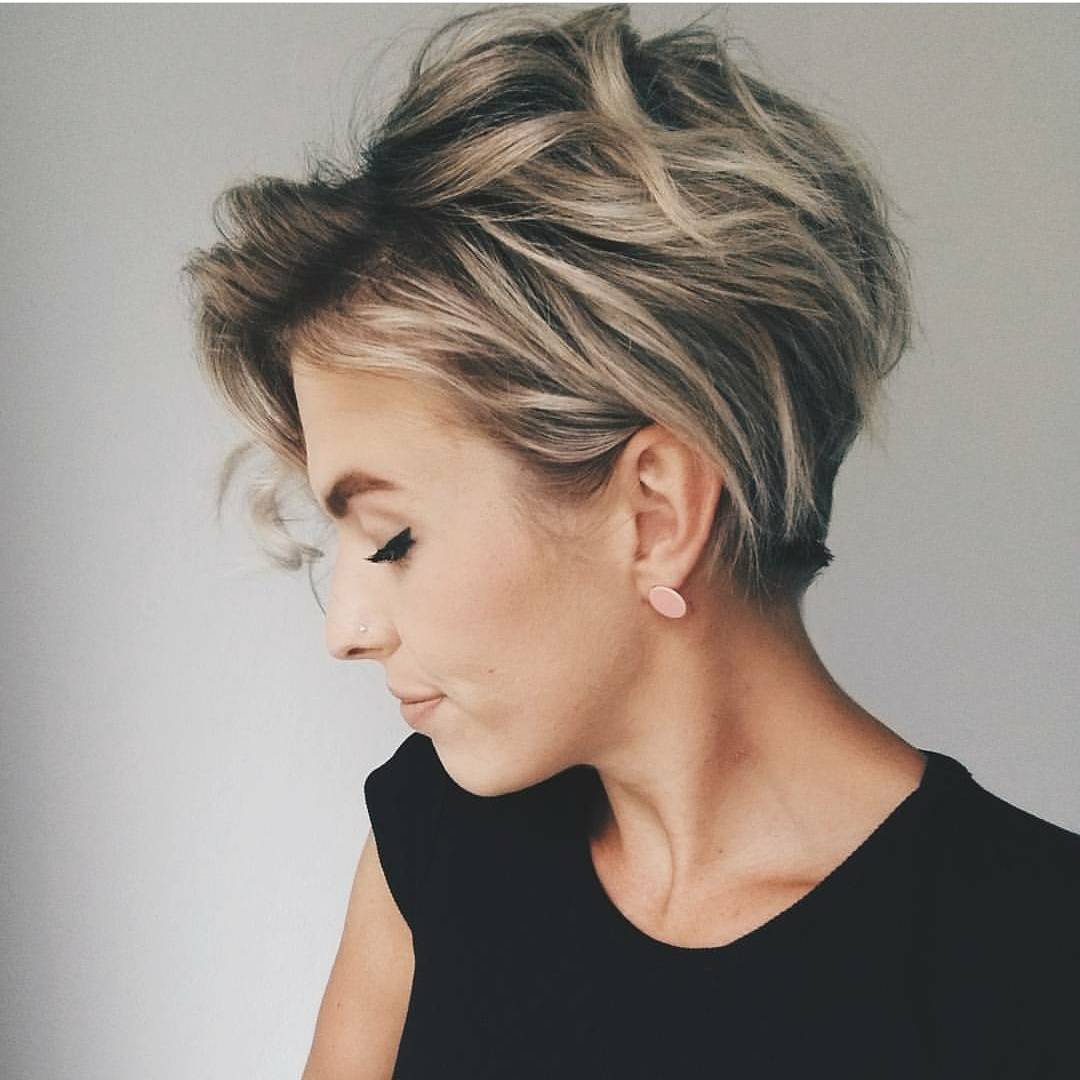 This short bob haircut with natural-looking beige and ash-blonde streaks is just perfect for softening dark hair, without losing sight of your 'roots'. LOL!  Of course, beige isn't really a natural blonde shade, but it always looks more sophisticated than brighter blonde shades.  This asymmetrical bob has a side-parting with a casual look in the hair tucked behind one ear.  And there's height over the forehead to add length to a round face or to minimise a broad forehead on a heart face.  It suits the model's dainty nose-piercing and subtle makeup style beautifully!
Cool ash-white blend adds depth – messy hairstyles for short hair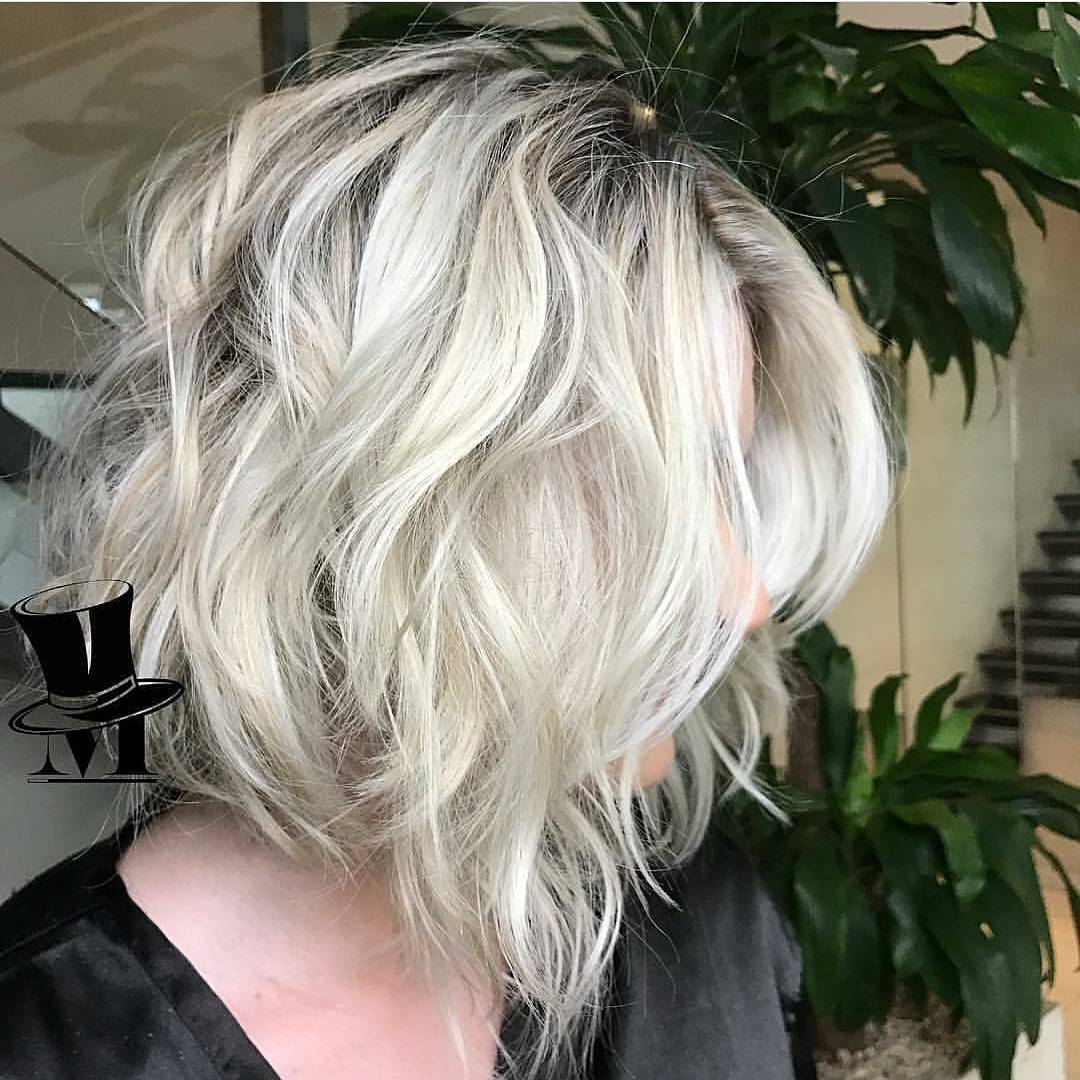 This clever blend of gray roots, with ash- and narrow beige balayage is a wonderful artistic creation for fine hair!  This highly skilled colorist shows exactly how to add texture and volume to fine or medium hair, using optical illusions!  I can count four balayage shades, which are all very close on the shade chart, not counting the gray roots. And as light colors seem closer and darker colors appear further away, you get a 3-D effect.  3-D highlighting has been around for a while now, but this year almost all balayage styles use 3, 4 or even more closely matched shades.  3-D is perfect on messy hairstyles as hair tresses part naturally to show the depth, as well as length!
Soft ash-blonde brightens brunette – messy hairstyles for short hair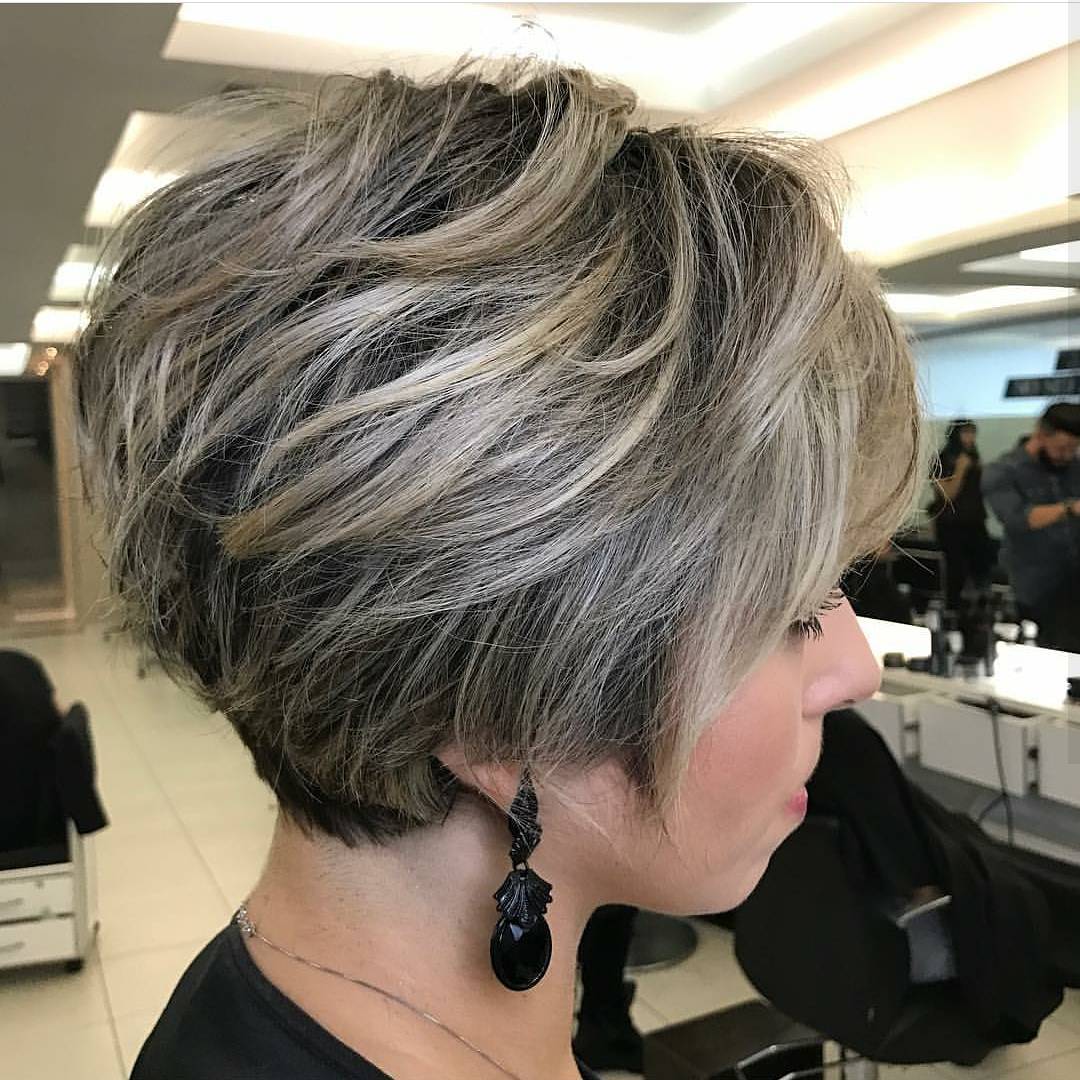 If you have thick hair, this short bob haircut is a super, business-like hairstyle that will stay in place throughout a busy day at work.  And with a little extra tousled volume added, to break the strong, smooth lines, you'll look casual and ready for after-hours relaxation.  And although the model is a brunette, she projects the image of a blonde, professional woman via expertly applied balayage in beige and ash-blonde.  Thick, dark hair often loses its color earlier than other hair-colors, and with this clever technique – your gray hairs will all be blended in to a modern hair-color design!
Muted silver & pale pewter haircolor on messy hairstyles for short hair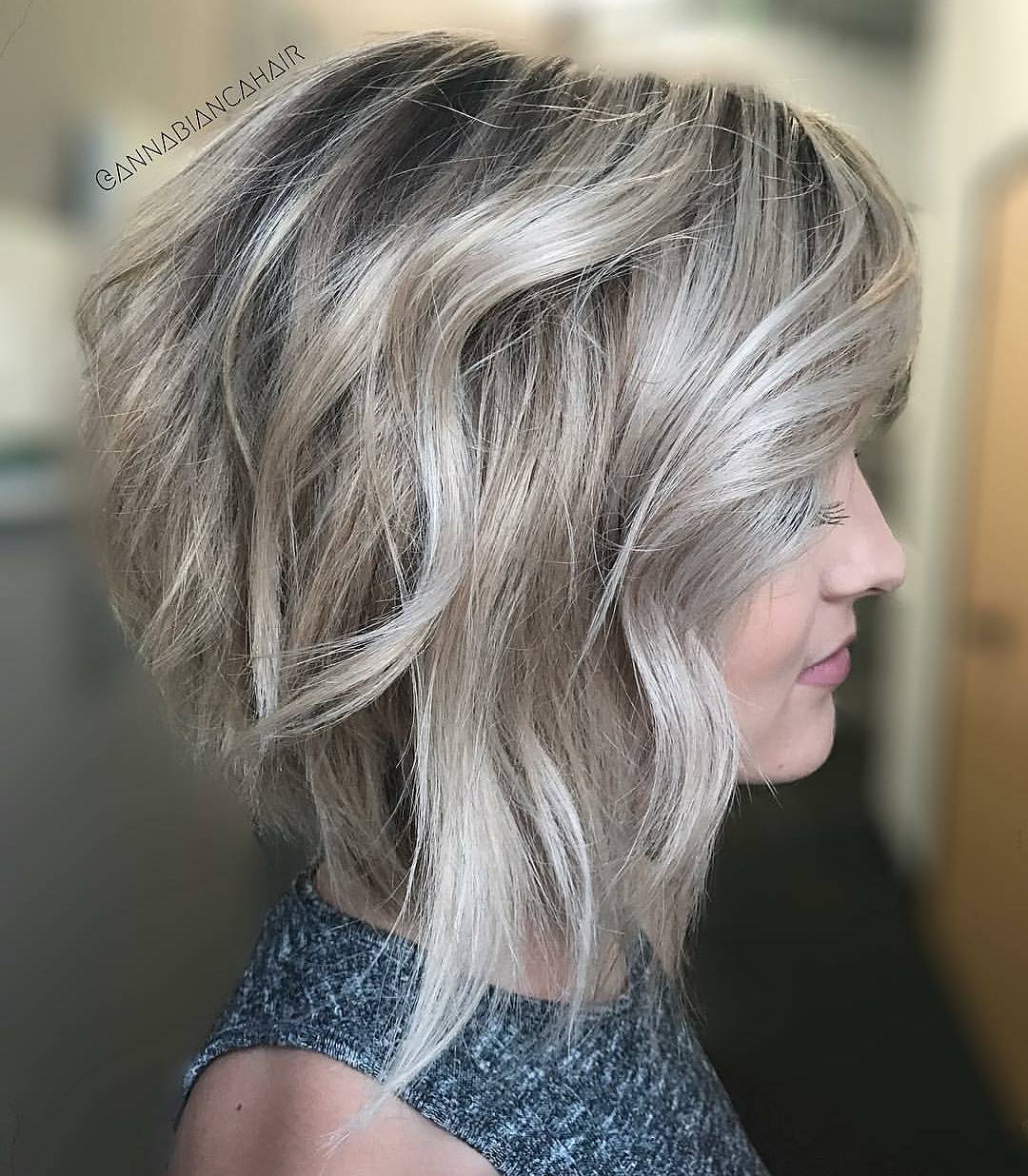 This totally fresh hair color blend will mark you out as a luxury-lover with good taste – and the cash to get the best colorist in town!  The casual long bob has ultra-modern, disconnected layers 'floating' around the sides, which are deftly highlighted in pearl ash-blonde.  The roots are a soft shade of gray, which transitions gently to medium-ash-blonde with a touch of beige.  The angle of the bob is rounded and gently waved sections add volume, texture and movement.  These ethereal colors suit blue- and green-eyes and pale skin with cool undertones.  This is a fantastic piece of creative hairdressing and the true definition of, 'effortless elegance'!
Playful tri-color stripes on punky windswept short haircut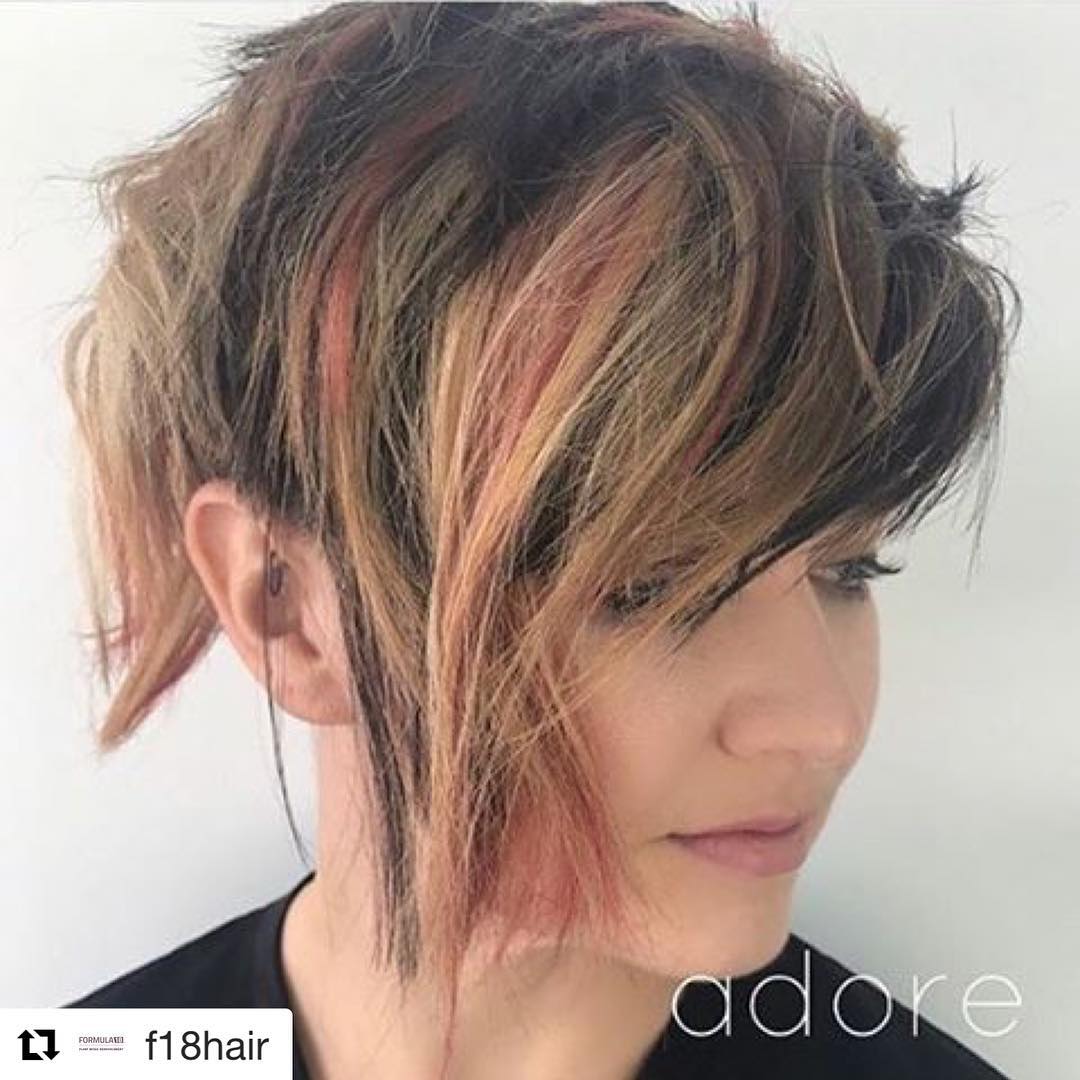 And now, as they say, for something completely different!  This exciting hair-color design is as far away from the 'cool-blonde' image as you can get, but it's just as adventurous.  The short haircut is truly avant-garde in its unstructured shape and disregard of the usual rules.  The black section is cut in a strong, horizontal line along the side, leaving the ear uncovered.  And eye-catching long, disconnected layers create an asymmetrical feature with black, red and gold streaks.  The back is coral-beige and the slanted fringe frames the eyes in an unconventional and fun hair-design!
Snazzy two-tone black & beige pixie cut with quiff – for round faces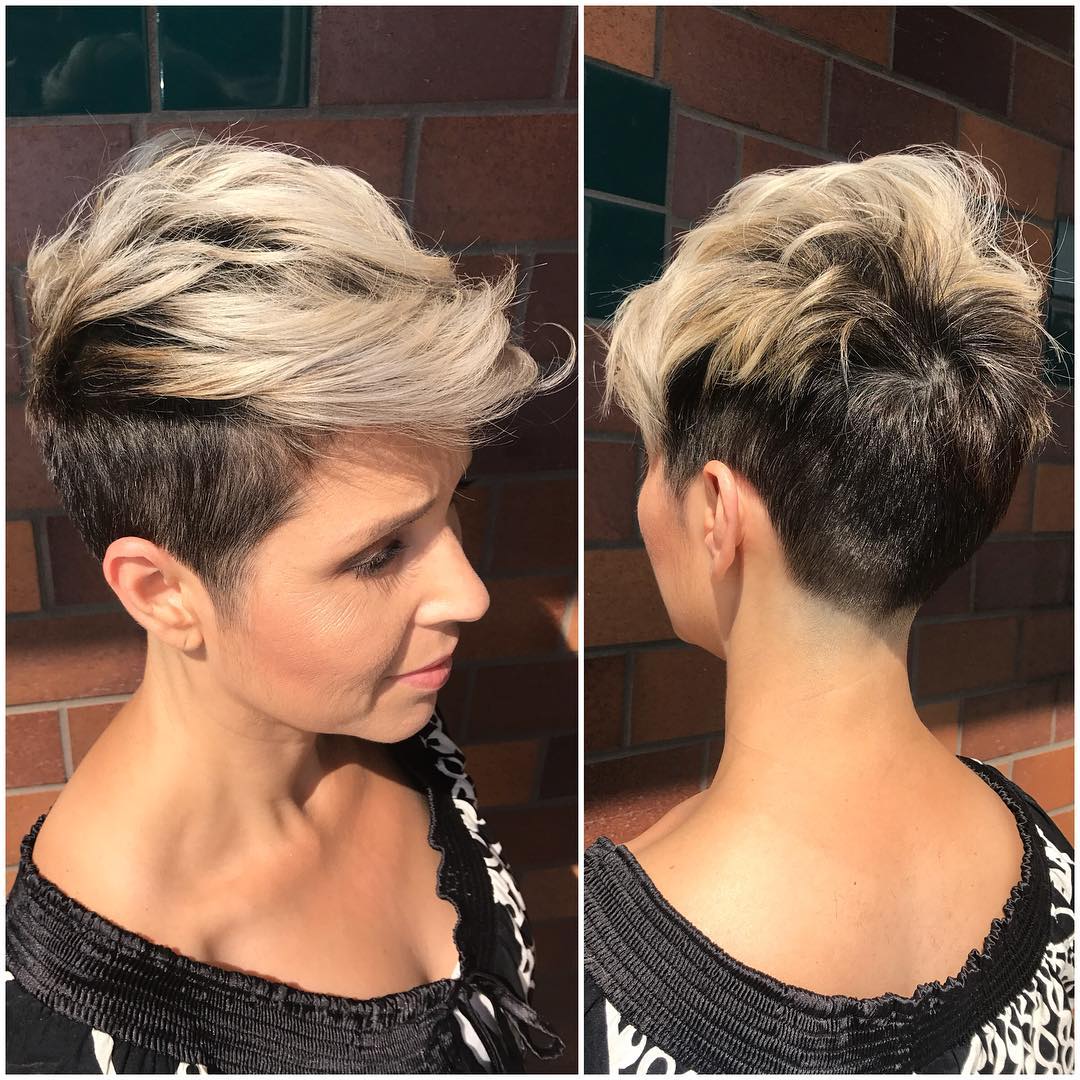 Black & white patterns in fabrics and decorative paper have been popular for thousands of years.  They create a clean style and elegance lacking in even the prettiest multi-colored designs.  And this high-fashion hair-color design in black and light ash-beige, adds a new twist to a firm favorite.  Like many blonde shades worn this season, the use of beige creates a softer and more 'forgiving' blonde.  In this modern, pixie haircut the lines are strong and the textures contrasted, from buzz-cut to long, curvy quiff.  And the trendy, two-tone color design adds the perfect finishing touch!
Pretty pearly blue-green balayage on ruffled pixie cut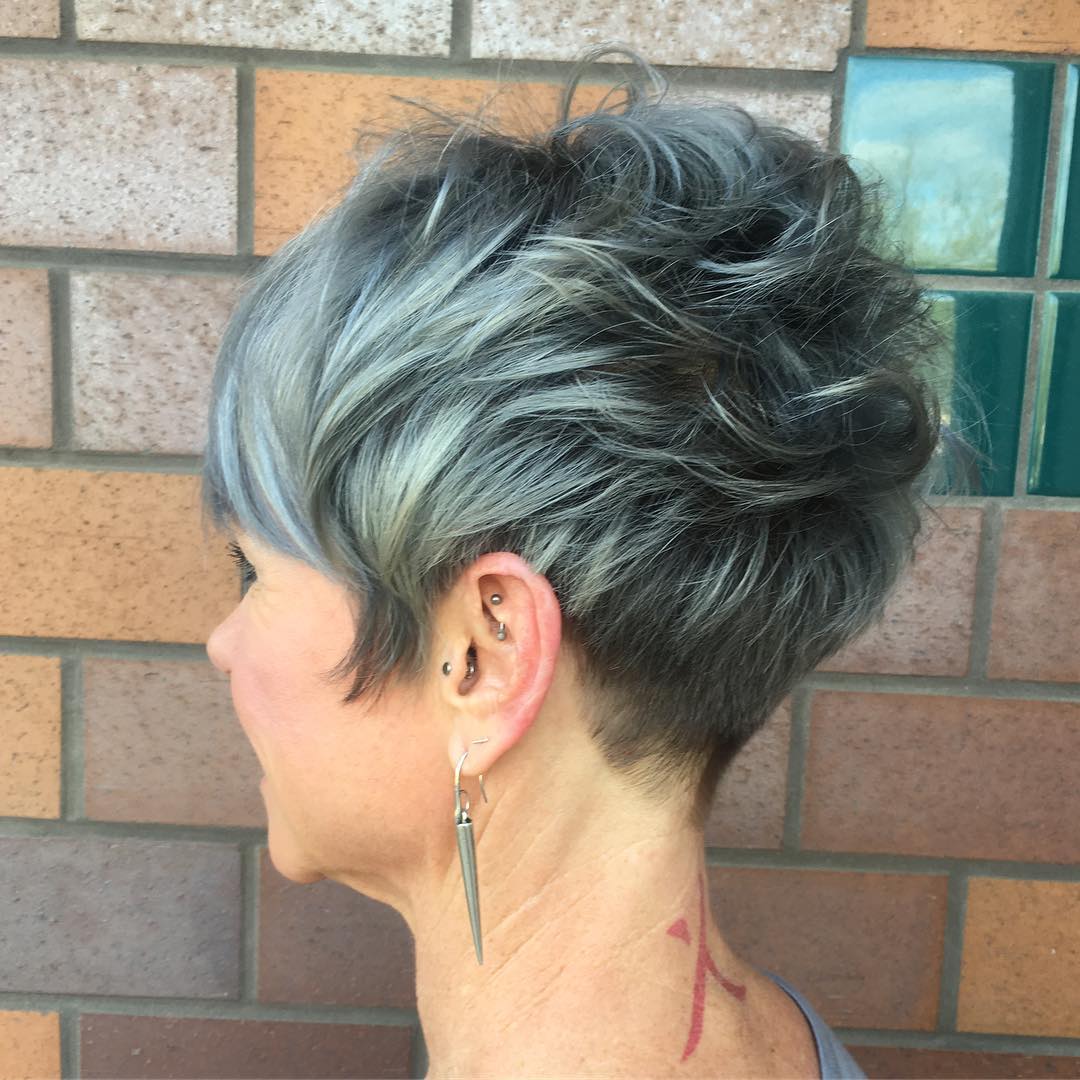 I was delighted to find such a contemporary cut and fantasy color showcased on a model from the over-30 age-group.  Many of the styles we feature in PoPular Haircuts are suited to women of all ages, but it's hard to find showcase pix to reflect that.  Anyway, this is a super-cute pixie cut for fine and medium hair with gorgeous, ruffled texture just below the crown.  I love this straight haircut for the clever use of curves to add texture and lively movement.  The U-shaped nape highlights the neck-tattoo, and a curved side-point always softens a profile line.  Gray roots complement muted blue and green shades that are ultra-modern, but beautifully blended!
Extreme messy boy-cut with shaggy bleached bangs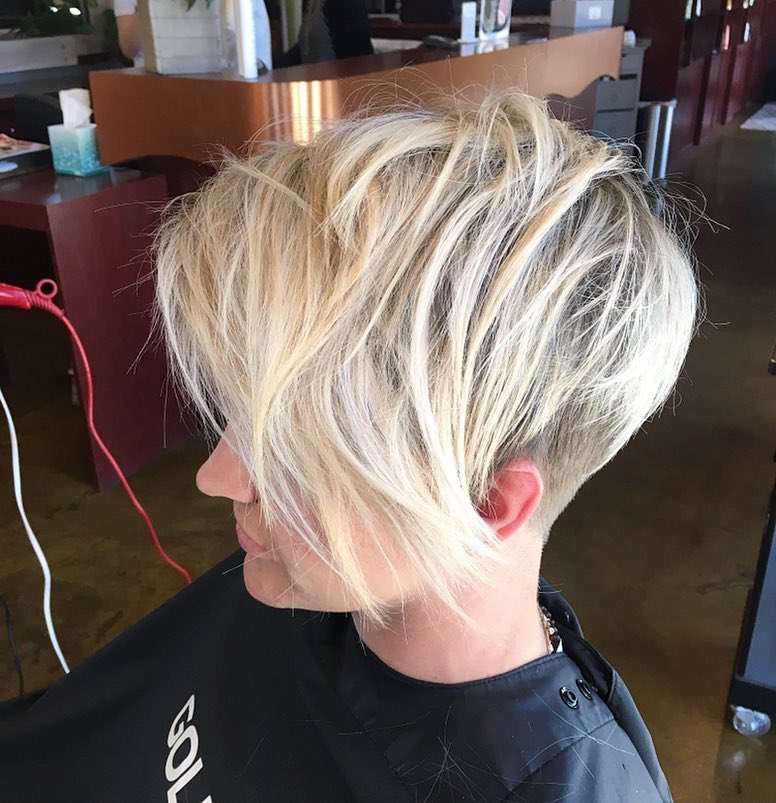 Here's a great messy hairstyle for the ultra-fashionable who want a totally unconventional take on current hair trends.  The short-back-and-sides is moving towards being a mainstream fashion style for women and getting more popular every week.  So you need something pretty radical if you aim to stand out from the fashionable boho styles.  This is a version of the 'bed-head' hairstyle, with layers swept into a 'comb-over' for a strongly asymmetric look.  The hair's been bleached to light-beige with strands of white balayage framing the face and profile.  The finish is 'rough-dried' with shaggy tips and lively movement from the reverse wave styled to show the ear!
Casual chin-length angled bob – suits most face shapes & hair types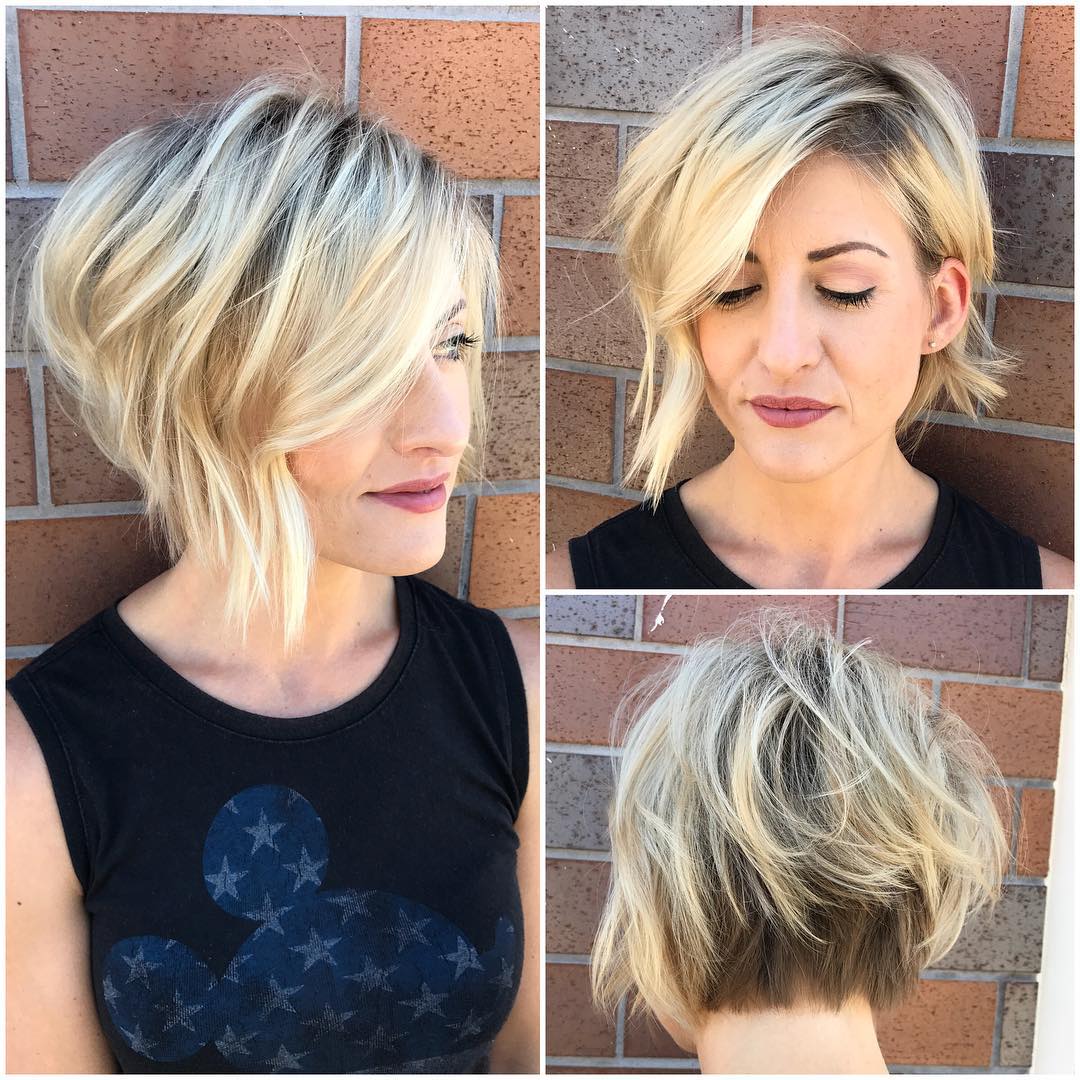 Looking for a short haircut that's fashionable, without being too way out?  Maybe this easy-care, angled bob is just what you need!  It's modern and feminine, with a flirty peek-a-boo strand falling seductively over one eye.  It's a fairly natural shade of blonde, with vertical highlights in just two shades, so it won't cost the earth to keep up the color.  The nape has the latest, horizontal line and medium-brown lowlights match the roots. And there's just enough edge in the crimped wave and straight, textured tips to be totally on-trend right now!  No wonder this highly stylish cut-and-color is one of the most requested short haircuts again this season!
Casual glamor of white-blonde with lilac roots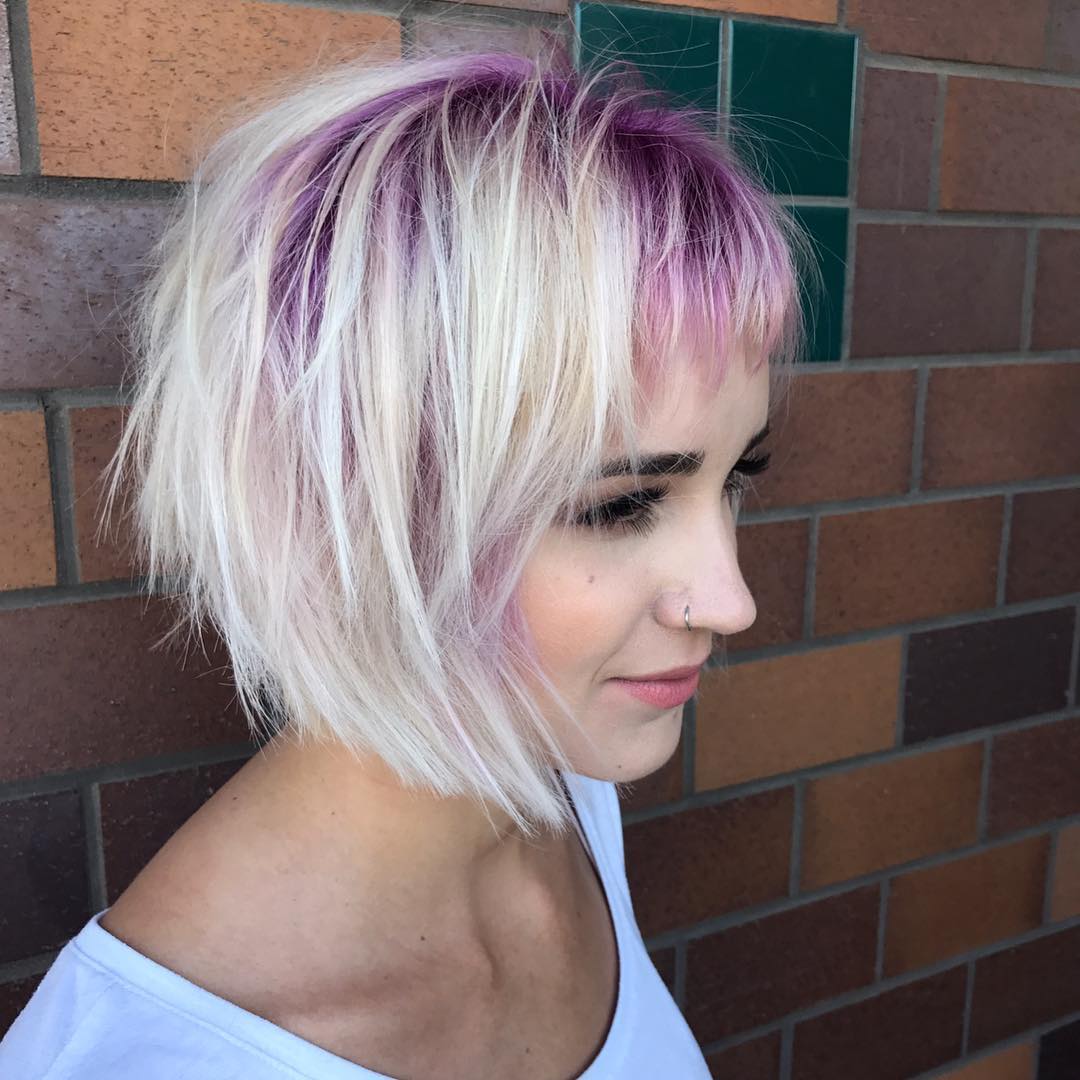 There's a fresh, fun vibe to this hair-design that rejects the same-old color conventions, like brown or black roots.  This playful hairstyle moves us into a whole new dimension.  But not so far as to be a total fantasy, which could cause difficulties with an employer.  The chic and fashionable chin-length bob suits fine – medium hair and flatters most face-shapes and ages.  Ask for long layers (as above), so it's easier to get 'fluffed-up' volume on the top with fine hair.  But the joy radiating from this youthful hairstyle comes from those gorgeous lilac roots against delicate, dual-blonde shades.  And the hair-colors complement the model's dark eye-brows, lashes, pale complexion and soft pink lip-color perfectly!