10 Stylish Short Wavy Hairstyles with Trendy Balayage
From chunky inverted bobs to sassy short wavy hairstyles these new haircuts will delight you with their fabulous style and beautiful hair color designs! Beige, neutral and ash-blonde shades continue to liven up all hair colors with gorgeous balayage and the popular 3-D look. And salmon-pink is just one of the attractive new hair-color designs you can have to get a sassy, individual look on brunette base color!
Inverted bob with neutral blonde balayage – short wavy hairstyles
This super new hair-color design shows how effective a 3-D balayage can be to make fine/medium hair appear thicker.  The base is dark-blonde/mousey-brown which, when brightened up with a neutral blonde vertical highlights, comes vividly to life! And the lighter tips create a soft, graduated line, broken up by defined wavy texture.  Notice how the hair strands framing the face are lighter, to reflect more light onto the complexion for a flattering finish.
Edgy medium bob – short wavy hairstyles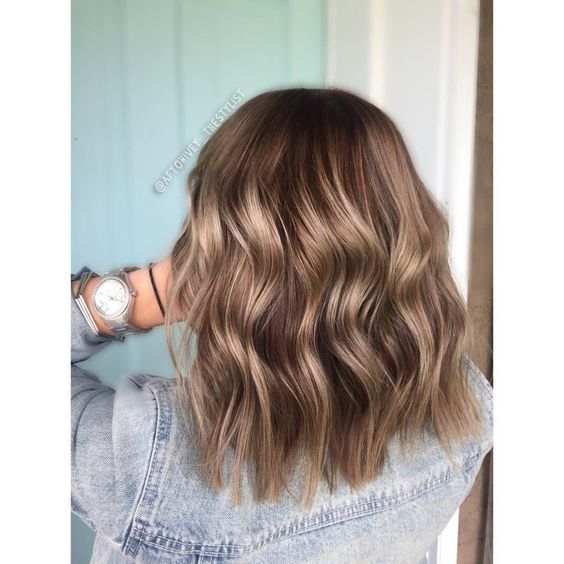 Notice how incredibly shiny this trendy, short wavy hairstyle is! And that's because the clever colorist has placed brighter blonde highlights just where the waves curve.  This creates a stronger contrast with the medium-neutral blonde base color and a superb 3-D effect. This young look is the perfect way to update teen long hair to something a little more sophisticated. And those modern, choppy ends make an edgy contrast with the glam waves above.
Golden blonde balayage on brunette short wavy hairstyles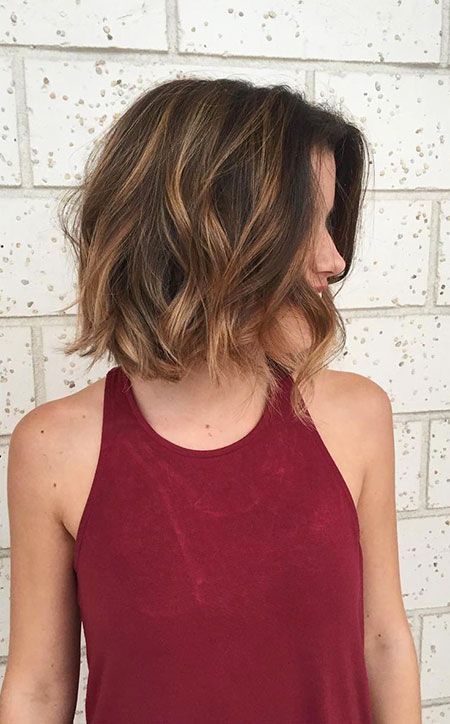 Adding golden blonde balayage to otherwise flat, brunette base shades adds a multitude of new and attractives features to short, wavy hairstyles.  You get a softer, warmer look to your hair that is very flattering to a lightly-tanned skin tone.  And the casual, tousled waves divide to show the darker roots for a trendy 3-D look that makes any hair appear thicker. The 'wings' of hair on either side of the face come from a centre part, which flatters oval face shapes.
Cool ash shades on short wavy hairstyles with choppy tips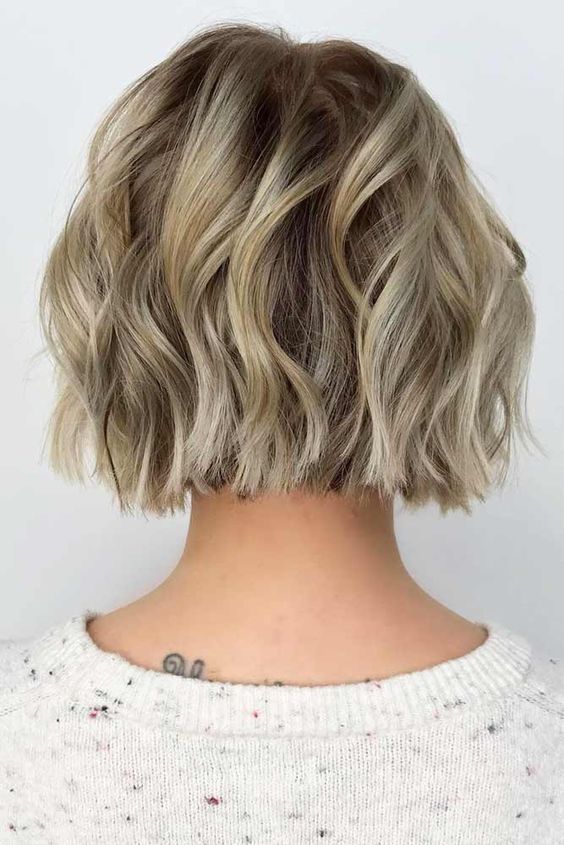 Waves ending in heavily textured tips mix two modern hairstyle trends to create a totally up-to-the-minute twist! This short wavy hairstyle is easy to care for and style, with a casually chic look that's youthful and appealing. And to finish off the contemporary twist, ash-blonde over neutral-brown roots, with beige highlights on the waves, shows this colorist has perfect taste!
Extreme inverted bob with bright-blonde twisty waves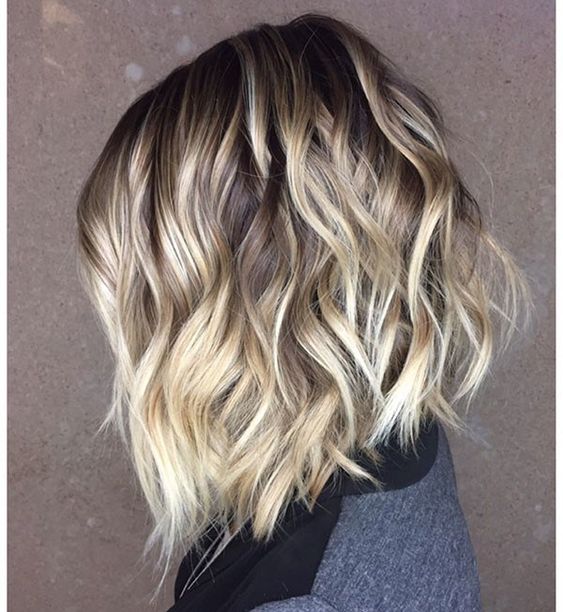 This short wavy hairstyle has exaggerated shape and color to give it that extra touch of edgy style. The steep graduation down to the front creates a fabulously trendy profile. And the dual blonde highlights in ivory- and pale golden-blonde catch the light and create wonderful tousled texture! This style is suitable for making medium/fine hair appear denser. It's an appealing, relaxed style with a high-fashion vibe!
Brunette bob with side part and textured tips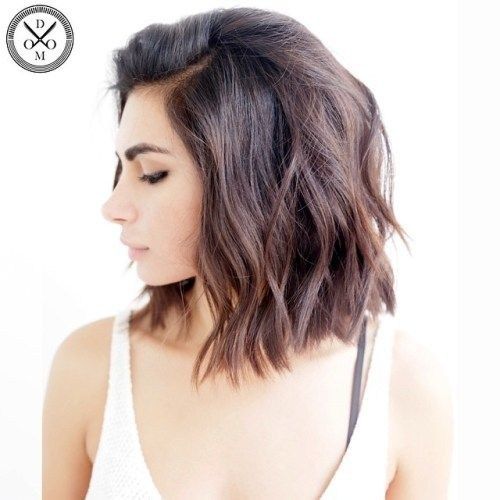 Here's a super daily hairstyle for straight hair or hair with a little natural movement. It's a relaxed look with soft waves contrasted with heavily textured, choppy tips. Side partings help balance round faces and a bare forehead helps to add length to a low hairline. And soft waves falling over the sides of the face can soften a strong jawline for a prettier look. This same-length hairstyle is suitable for medium and fine hair textures, as the absence of layers retains the hair's density.
Vintage ash-blonde hair color on steep bob wavy bob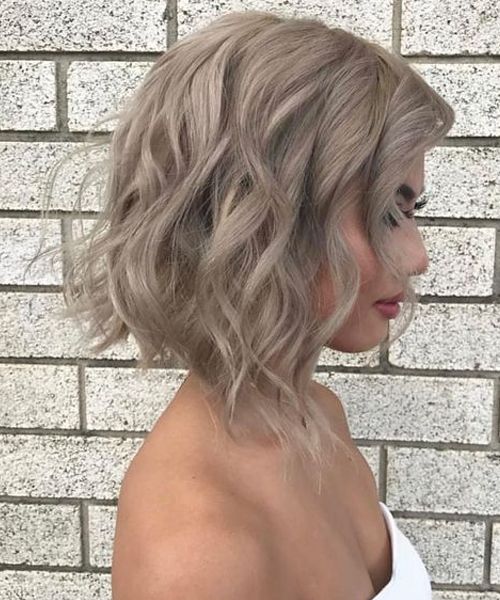 There are at least 3 different tones in this messy, wavy short haircut that's full of movement and texture.  Beige-ash-blonde is balayaged with pinky-gray tones creating lots of light and shade contrasts for thicker-looking hair. The look is distressed glamor, breaking the 'perfect' finish of old-style Hollywood glamor. So you look totally trendy with tousled waves, wispy 'untidy' tips and ash shades!
Salmon-pink edgy asymmetric short bob haircut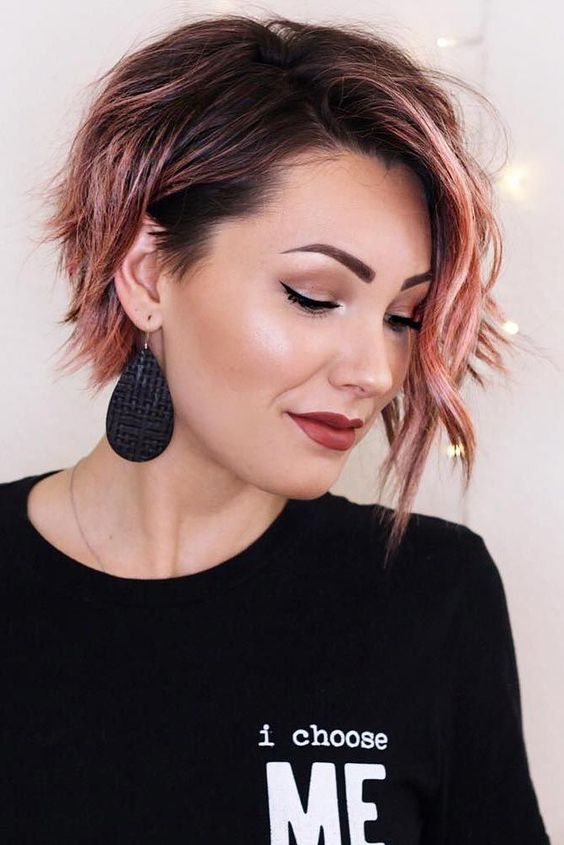 This is a superb, individual look for anyone who wants to stand out from the crowd. The popular vintage-pink shade is a blend of orange and pink shades known as salmon-pink. And it looks fabulous against the model's brunette roots. Two shades of pink are blended with a light copper-brown balayage to create wonderful 3-D color depth and texture.  Edgy, textured tips complete a chic and highly stylish asymmetric bob!
Steep graduated bob for thick dark hair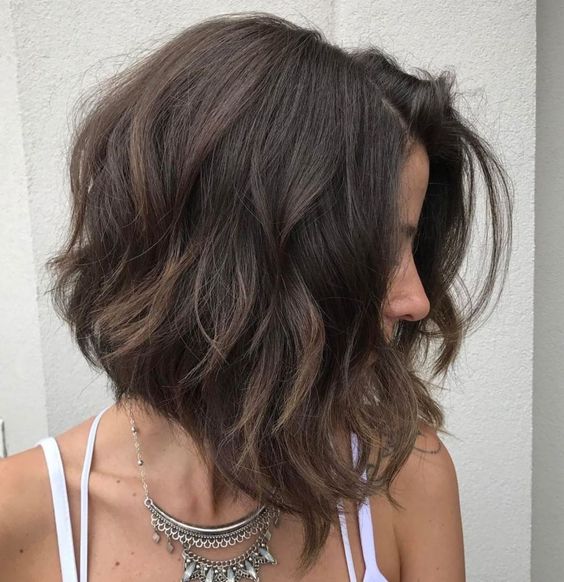 Thick hair needs to be cut in vertical, sliced layers to remove the bulk from the tips. And you can see the layers here accentuated by casual, twisty waves with lightly highlighted tips. Cutting a medium bob with strong geometrical shape is a great way to move on from long straight hair and get more style and personality into your beauty look! The slightly off-centre parting is suitable for oval, or roundish face shapes. And leaving the forehead bare adds length to a wide face or a low hairline.
Chic soft wavy bob for brunette thick hair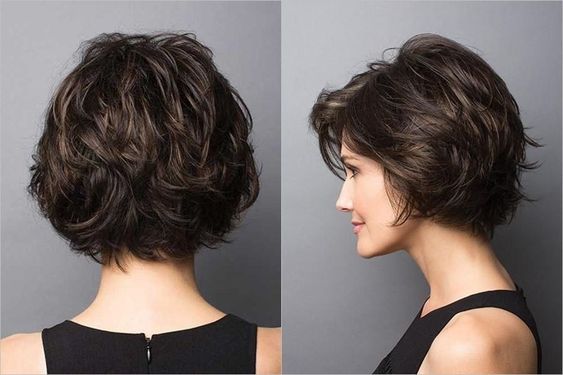 Here's a great look for thick hair as it uses the natural volume to create a lightly bouffant curved shape and a beautifully balanced profile view.  And what really sets it apart is the super-trendy, surface texture the stylist has created with wispy half pin-curls decorating the back and nape. The side parting allows for a long, side-swept fringe. And there are subtle touches of blonde balayage around the crown, too!
Now is the time to give yourself a confidence boost with a trendy new look from one of these easy-care, attractive new short wavy hairstyles!