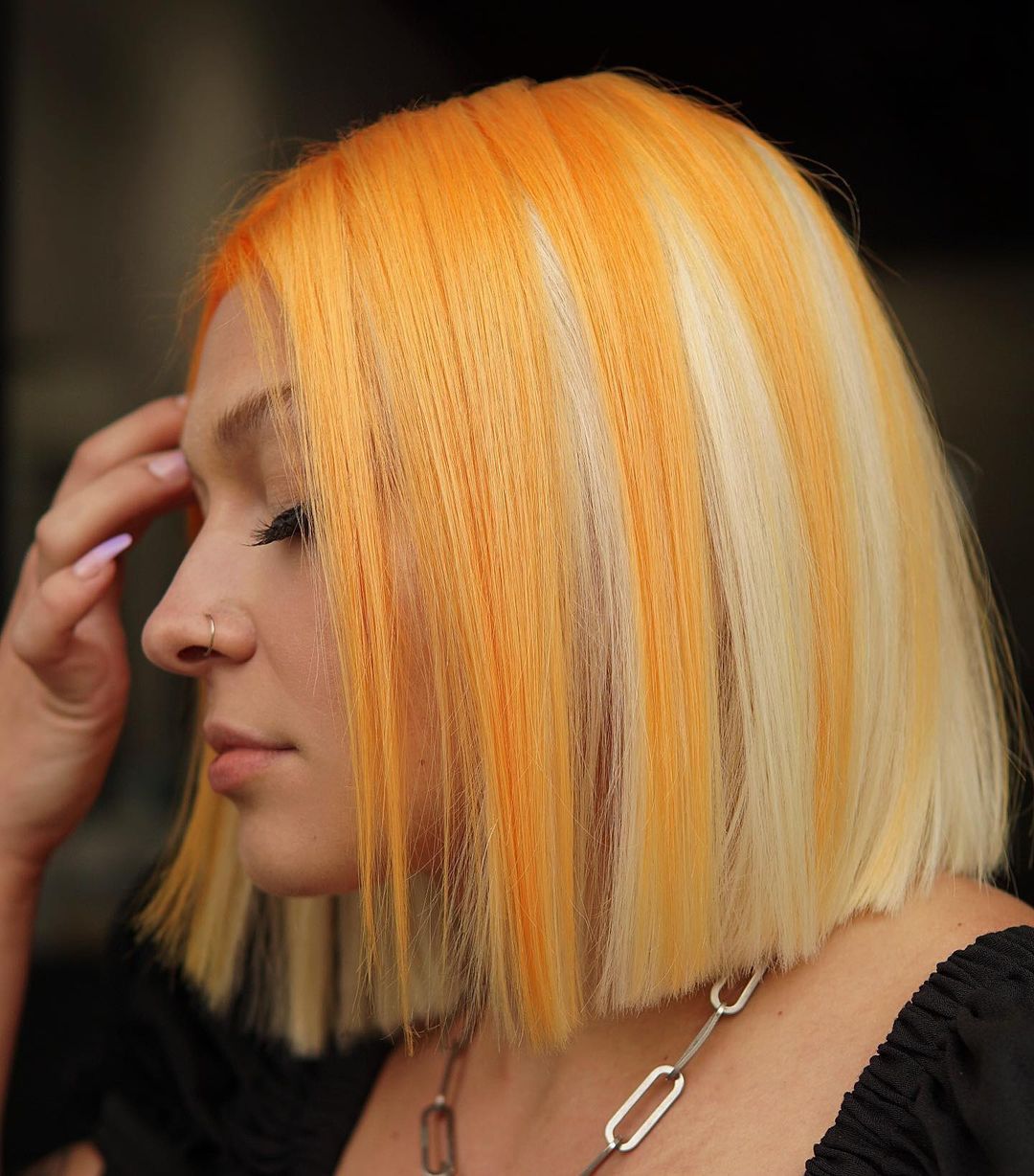 10 Easy Short Hairstyles for Thick & Thin Hair – Subtle & Vivid Colors!
Everyone needs an easy short hairstyle for an easy life! And whether your hair is thick, fine or thin, we have a trendy and face-flattering way to wear it this season. The main trends right now are varied between natural looking colors with shaggy texture and movement.
And vibrant balayage, which look marvellous on simple bobs and pixie haircuts. Either way, these superb cut and color ideas are the latest fashions for looking great and feeling confident!
1. Warm light-brown shaggy cut – easy short hairstyles for thick & thin hair
Light brown hair color is a great way to bring more colour into a mousey or dirty-blonde natural hair color. And this new shade contains trendy yellow-blonde tones and subtle yellow balayage, flattering the model's skin tone and eye-color.
The angled bob has heavily textured tips that remove any bulk from the ends of thick hair. And that creates lots of interesting texture. With sliced layers and a tousled finish, this bob fits perfectly with the fashion for shaggy texture this season!
2. Auburn top curls with orange buzzed sides – easy short hairstyles for thick & thin hair
This curly-top short hairstyle is full of interesting texture, movement and color effects! It will suit a round face shape, because it has extra height on top to lengthen the face. And there's no volume at sides, which slims your face.
The beautifully rich auburn on the top section is a high-fashion color this season. And the orange buzzed section is lots of fun! I love how the two buzzed sections are separated by a spiffy razored line for a totally new style!
3. Platinum-blonde tousled straight bob – easy short hairstyles for thick & thin hair
This simple, glamorous style balances out an oblong face shape perfectly! The slightly off-centre part creates diagonal lines that 'cut-off' the forehead's square corners. And face-framing strands curve in just beneath the chin, creating an oval shape. And to break the symmetry of a square face, the other side is gently flipped out.
In addition, this fabulous, ivory-blonde bob has subtle gold and blue tones added to accentuate the model's lovely, blue eyes! And highly textured tips and tousled texture give the trendy, shaggy look that's hot for this season!
4. Wavy ivory-blonde bob with orange balayage – easy short hairstyles for thick & thin hair
This haircut and colors shows how to style your hair to suit a pair of modern spectacle frames. The model has a symmetrical, oval-shaped face, which is flattered by the center-part. And her hair has been lightened, making the individual strands thicker.
Layers and waves add plenty of extra volume to straight, fine hair. And the wispy tips are so cute! Orange balayage adds high-fashion, color dimension and in particular, brings out those gorgeous blue eyes!
5. Long dark copper pixie cut for straight hair & a round or heart face
This classic pixie cut is perfect for trendy women with fine hair. The stylist has cut short layers around the crown, which gradually become longer at the front to create a long, side-swept fringe. And the rich color  has slightly lighter, copper-blonde balayage to highlight the lovely texture.
With the asymmetrical fringe and a cute, short side-point accentuating the cheekbones, this is the perfect style for round and heart-shapes faces this season!
6.  Perfect everyday short layered haircut for thick healthy hair
No-one enjoys styling long, complicated haircuts first thing in the morning, so this easy-style haircut for thick hair is great for relaxed, everyday wear. It has a center part that divides the hair and creates two flattering 'wings' of hair framing the eyes and upper part of the face. And this makes it a popular style for all ages.
And the model's natural, chestnut-brown hair is shown off brilliantly by the glossy layers that produce such attractive movement and texture. So with volume at the back, curving in beautifully to the nape, this is a very appealing daily hairstyle that's always in fashion!
7. High-octane citric-orange & blonde super-straight bob with long layers
And here's how to add some vibrant new life to a straight, choppy bob this season! It's a great way to have a glam, trendsetting look, but never have to bother with time-consuming home-styling! The pale lemon blonde is highlighted with several shades of orange to create loads of extra 3-D color depth.
And instead of the underlayers being a darker shade, this colorist has swapped the method to show lighter underneath hair peeping between those amazing, bold vertical highlights! It's a highly stylish fantasy color design that's more sophisticated than multi-colors!
8. Long brunette straight pixie & matching glasses for fine hair
Matching up your glasses and your hairstyle is an art in itself! So this is a great example of how to get a bold color and style theme in your hair, glasses and eye make-up! The long-layered, asymmetrical pixie cut's perfect for showing off silky, fine hair and a face with delicate features.
The long fringe is separated and slightly tousled to soften the line above the strong, narrow lines of color-matched glasses. And long, separated side-points add an extra touch of casual to counter-balance the dark frames and broad eye-liner!
9. Softly curved ash-gray blonde bob with extra-long asymmetric bangs
And here's a lovely style for medium and fine hair types. It's another classic, updated with fabulous trendy ash-blonde with a touch of pink toner in the mix. The shape is flattering to many different face shapes and your stylist can vary the asymmetry of the off-centre parting to make it perfect for your face.
Long layers keep the thickness of fine hair, and there's a little layering at the ends to create that super curve that hugs the chin. The roots are darker, but in a complementary gray tone and the long fringe adds an attractive peek-a-boo look that's very appealing!
10. Edgy silver-ash-blonde asymmetric razored pixie cut for thick hair
And you can see that a very fashion-conscious pixie inspired this pixie-cut! LOL! The profile is absolutely fabulous, with an asymmetric ash-blonde section at one side. The stylist has cut the hair in a graduated line down from the ear, so a section of the face shows in front of the ear.
Short spiky layers on top add volume and that lovely, curved shape around the crown graduating down to a clipped nape section. The ash-silver blonde color is super eye-catching and this expertly-sculpted pixie haircut is both glamorous and easy-style for daily wear!
Are you already on the phone to your stylist? I'm not surprised – these new looks are super-attractive!