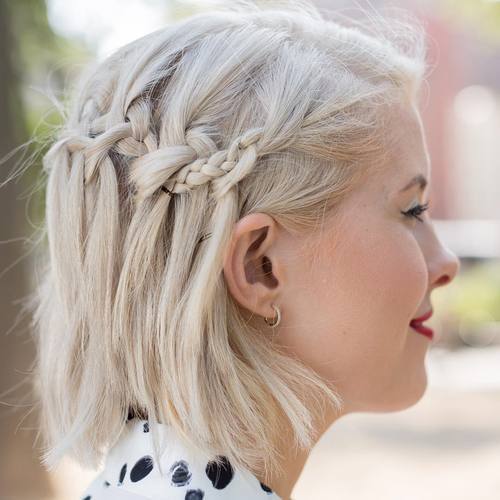 20 Fancy Ways to Upgrade Your Short Hair
Short hair is all about ease of styling, creating a thicker and more refreshing style, and escaping the heat of course! But just because you have shorter locks, doesn't mean you can't indulge in some really glamorous hairstyle.
If you're simply tired of leaving your pixie, short bob, or long bob stick straight and boring, you're going to love these looks. From simple braids to luxurious waves, rockin' faux hawks to colorful manes, you're sure to find one of these styles very attractive- and make it your style statement of the season!
Crown Braid
Fit for a queen, this lovely crown braid is a fashionable style that looks super cute on a long Bob such as this. And if you're sporting a drastic yet sensible ombré blend like this, a crown braid gives you the opportunity to show your roots further, causing depth and contrast that's highly appealing.
Thick Fall Braid
These fall-inspired hues are simply enthralling, a gorgeous blend of greens and reds; and if you have a thick Bob and want to switch it up, throw on a thick side braid to let those color intermingle for a very refreshing and warm style you can wear all season long.
Platinum Waterfall Braid
Platinum hair with red lips = HOT! But one-noted hair can lose life quickly. For some lovely, charming texture for your platinum Bob, try on a romantic waterfall braid like this. It's easy to style, but glamorous enough to wear to fancier nights out.
Triple Braid Ponytail
Lots of hair means LOTS of room for styling! This epic ponytail is anything but average, with a trio of plaits from large to small trickling down to an adorable bow ponytail. You find this look often, so be prepared to walk out with all eyes on you.
Braided Topknot
Short haired girls CAN rock a half Updo, and it looks AWESOME! Her fierceless blue-hued brunette Bob is given a trendy makeover simply by twisting her locks into a French braid leading back to a highly popular topknot.
Double Pinned Back Braids
The innocence and grace of this style is unmatched, with the beauty of two minimal braids being pinned behind the ear. One larger braid and one miniature sized plait creates a fantastic site that's interesting and lively, waves down below completing this highly feminine yet simple style.
Side Braid with Curls
Even the most intense hairstyles can be softened with the right styling, as clearly seen in this photo. Adding a side braid to your mane allows you to really spotlight that undercut, while a multitude of ringlets creates a dazzling finish that's both dainty and cute.
Waterfall Braid
Whether your hair is thick or fine, a waterfall braid always looks fabulous. It adds a little bit of feminine dimension that's cute and bouncy with a boho inspiration that works well with lace and feathers.
Braided Bangs
Sure, that choppy Bob is downright adorable, but it can be a little boring; and that's why you show off a unique style such as this. In a matter of seconds you can toss your bangs together into a fantastic plait, a quirky style that's edgy and fabulous and certainly not a look you see day in and day out. Awesome choice for school days!
Faux Hawk Braid
Having short hair means you can rock a faux hawk in a matter of seconds, but if you want a more feminine and subdued take on the faux hawk hairstyle, do a bold braid down the middle like this. The best part about this look is the blonde all piles up on top which creates a really intriguing, colorful finish.
Side Waterfall Braid with Labender Ends
Take your lob from boring to extraordinary in seconds by splashing in a touch of color to the ends of your tresses. A lovely ash blonde hue is the ideal pairing for lavender, a mix that goes together like peanut butter and jelly. For a more ravishing effect, style up your locks with voluminous waves that are undeniably sexy and a side waterfall braid to tie it all together.
Fishtail Braid Half Updo
Creating elegance doesn't have to cost you three hours or styling in front of the mirror; in fact, you can toss this look together in under 10. Her glamorous short hairstyle is as fancy and sweet as can be, with double braids leading back to a lovely fishtail braid down the middle. Soft spirals on the ends ensure you're wedding-ready.
Simple Side Dutch Braid
This look may be simple, but it sure does cause quite a ruckus. A lovely look like this only takes a matter of minutes to create- simply bring your front strands back into a simple dutch braid and leave the rest of your pixie free and effortless.
Double Fishtail Braid
An extra short pixie haircut like this may be hard to style, but there's nothing stopping you from indulging in some flirty fishtail braids. Why settle for one, when you can have TWO? Enhance your look for school or work instantly by doing double fishtails a few inches back from your face. Leave a few strands loose for an effortless finish.
Braided Headband
Twisted tresses like these may be, at times, simply unbearable; and when you need a thick mane away from your face, this is the ideal hairstyle. Bringing your locks back and spiraling them into a cute braided headband leaves you with a flirty and all-feminine look that really lets your facial features shine bright.
Messy Double Dutch Braid
Messy, chic, and ready for anything- this hairstyle is about as cool as it gets. Double dutch braids are great for the gal who wants that free and easy look, although you can make it artsy and edgy with some rich red lips.
Pixie Dutch Braid
Didn't think you could braid a pixie haircut? Think again! A thick, simple dutch braid right down the middle draws all of your pixie locks in for a quick style that looks anything but boring. Love the minimalism of this look, while still remaining fierce.
Electric Purple Braid
There's something so striking about a woman with electric purple hued hair such as this, but you can still make it refined and fancy with a braided updo such as this.
Waves with Accenting Short Braid
A-line hairstyles are all about precision and angles, but even then you can create a soft and dainty style by tossing in some waves. These fluid waves break up the monotony of strict cuts below, creating an effortless bounce that's chic and full of delightful personality. The accenting short braid up top ties this look together for a regal, cute, and undeniably lovely appearance.
Corn Row Faux Hawk
Get crazy, get wild! For my ladies out there who love to bust out from the 'norm' and take on an edgy style, this one is certainly for you. Corn rows fixed on the sides are just the beginning of this out-there 'do, leading up to a frizzy and unkempt faux hawk that's absolutely ROCKIN'!