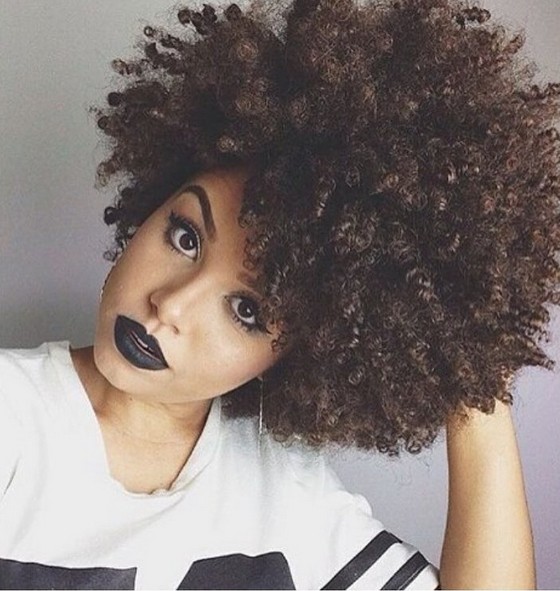 25 Gorgeous African American Natural Hairstyles
Twisty, kinky, curly or fluffy – African American natural hairstyles are firmly back on the hair-fashion menu! You can see them everywhere in American cities, where there's a whole explosion of modern big 'fro's, teeny-weeny short afros, twists, rolls and cascades of beautifully soft natural hair. All showing the popularity of African American natural hairstyles right now!
And it's not only women who are adopting natural styles, Dante de Blasio – the son of New York's mayor – wears an eye-catching big, bold Afro, setting the trends for young black men all over the world!
The modern 'fro
The new African American natural hairstyles are not just copying the big, round comb-out shapes of the '60's and '70's, there's a fabulous modern twist to them nowadays!
 Gorgeous Natural Hairstyles with Short Hair
One of the hottest African American natural hairstyles is the highly-textured and ragged finish afro. Shag-cuts are trendy across all hair-types this year and the shaggy afro is a great cut for taking advantage of the texture and volume of natural black hair.
New braids, twists and modern rolls
And there's a whole load of new designs for the 21st century, in contemporary Bantu twists, loose braids and rolled 'cornrows', avoiding the hair damage that tight corn rows cause, of course.
Casual, Everyday Hairstyles
Short African American natural hairstyles
The trends in short hairstyles this season are perfect for thick, strong hair of all types. Layers are important to get a face-flattering shape and they can be choppy, with fabulous uneven tips for an edgy ragged finish that follows the huge popularity of unconventional hairstyling just now.
Gray Balayage Hairstyle
Asymmetrical bobs
Shaggy and asymmetrical bobs are looking fabulous this year, producing really hot African American natural hairstyles that are so easy to maintain! Layered bobs are very versatile too, as they can be worn rough-dried and edgy or styled smoothly for a completely different look.
Asymmetrical Straight Bob Weave with Undercut
No more hair-damaging chemicals
African American natural hairstyles are delighting women who love the new popularity of natural hair. It's time we stopped yearning for smooth, straight hair and freed ourselves from the expensive and time-consuming straightening perms and heat tools.
Black Natural Curly Hairstyles for Short Hair
Whatever type of hair you have, it always looks better when it's in tip-top condition. And we should welcome this great opportunity to be proud of our identity and show how slick and trendy we are!
Shoulder Length Hairstyle with Curls
Brown Long Curls
Two tone Bob Haircut with Curly Hair
Messy, Long Curly Hairstyle with Blonde Balayage
Long Red Hairstyle with Side Swept Bangs
Blonde Medium Length Hairstyle
Asymmetrical Short Haircut
Blonde Balayage for Black Women Short Hair
Red Pixie Haircut – Undercut for Natural Hair
Two-Tone Blonde Wavy Hairstyle for Short Hair
Short Straight Bob with Side Bangs
Chic straight bob hairstyles with purple tones on black hair
Coffee-brown African American bob hairstyles with ash-blonde stripes
Sea-green African American hairstyles on long bob cut
Blonde bob African American hairstyles
Extreme cuts for straight African American hairstyles
Long bob hairstyles copper ombré on coffee-brown hair
Wavy bob hairstyles on black hair with copper and gold sections
If you're looking for the perfect natural style for your hair-type, why not browse our pophaircuts.com fabulous gallery of African American natural hairstyles and start enjoying your amazing hair! You'll look gorgeous!