Cher Lloyd Hair Cuts: Formal Hairstyles
And here's another view of the sophisticated wavy bob that suits Cher so well. Her dark-brown hair has natural highlights of deep copper, which add warmth and bring out the deep brown in her eyes.
This look works best on medium to thick hair which has some natural volume. And here it is styled smoothly around the head, with added width from the attractive barrel waves at the sides. And keeping the look contemporary-casual, the ends of the hair are lightly textured and left to be slightly spikey to create a look that is incredibly face-flattering!
Cher Lloyd Messy Updo
Here's the next stage in Cher's hairstyle evolution as she appears with dark brown hair arranged in a sort of 'fantasia' version of the messy updo. It's a fabulously imaginative upstyle that's perfect for a red-carpet event. The asymmetrical fringe is beautifully smooth and glossy, creating a fabulous creative contrast in texture and form with the 'messy' teased hair! Some messy upstyles just miss thatperfect balance between flattering 'disarray' and being just plain messy, but this look is both relaxed and subtly under control.
The finishing touch of a pretty red neck scarf is a nod to Cher's pride in her gypsy culture and looks great against the shiny, dark hair. This is a high-fashion look that is also totally individual and different!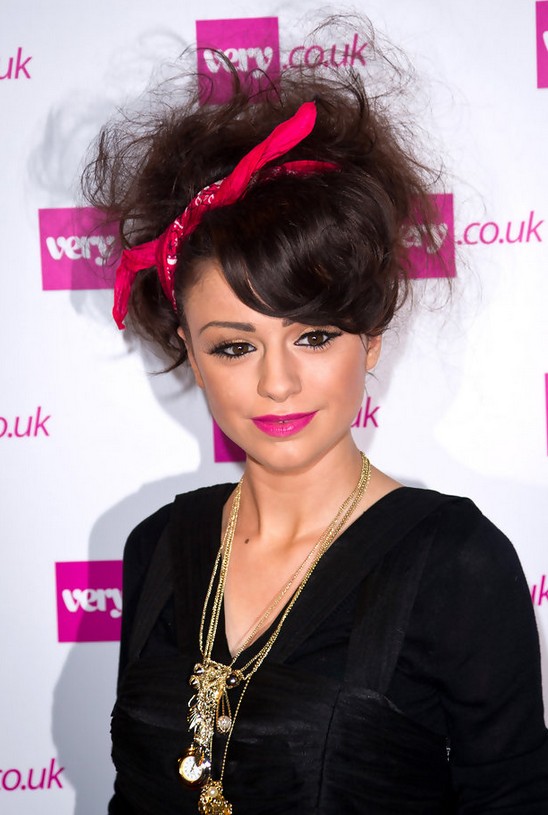 Cher Lloyd Hair: Brown Curly Long Hair
Here's British pop-star Cher Lloyd looking youthful and natural in a fabulous, 'windswept' look.  Her long hair is cut in an asymmetrical style with long layers and a deep side parting creating an attractive sweep of hair over the top.  This gives height and just covers part of the forehead as it blends in with the longer side.  This is a style that uses contrasting textures to highlight each section of the hair, rather than a colour technique, although there are just a few subtle highlights on the top.
The warm brown shade accentuates Cher's eyes and warms up her cool complexion and with just a couple of loose waves this is a wonderful example of how to use natural textures for ultra-modern styling!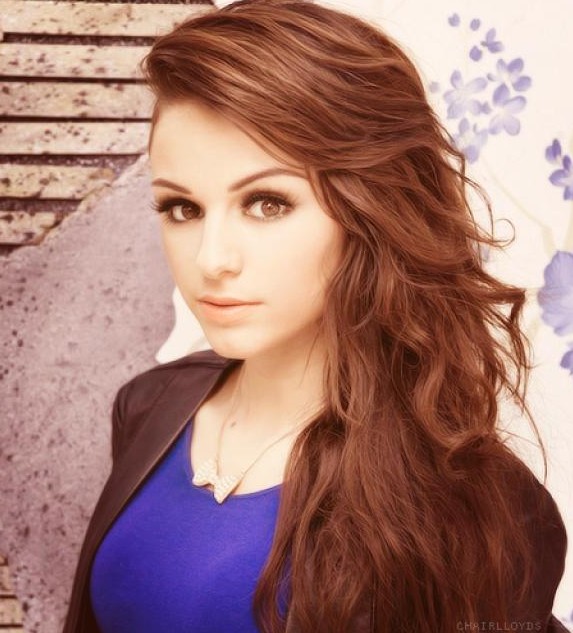 Cher Lloyd Wavy Hairdo: Formal Medium Haircuts
Here's another of Cher's fabulously flattering hairstyles and this time she is wearing a medium bob-cut, that is the same length all around.
The slightly off-centre parting creates the softly draped strand that finishes in a flattering, 'away from the face' wave accentuating her lovely brown eyes.  And the other side has waves styled towards the face, but arranged casually behind one ear for a relaxed finishing touch to a sophisticated look that's ultra-trendy!