10 Trendy Haircuts for Women over 50
Stylish haircuts for women over 50 are the key to looking your best! These new hairstyles are designed to draw attention away from the effects of age on the face, and present an appealing and modern image. And as we know, it's your hairstyle that really makes the biggest impression on people – not whether you've got a few natural lines around your eyes!
Beige & ash-blonde chin-length bob haircuts for women over 50
This medium-short hairstyle is totally on-trend with the current popularity of bob haircuts. For women over 50, the chin-length bob is always a good choice, because it can be tailored to flatter any face shape. With a few layers you get attractive volume at the sides, which balances nicely with the added height on top. And the lovely, long, side-swept bangs add a flirty touch that softens a long or round face. With beige and ash-blonde tones, this is a classic look with an appealing contemporary twist!
Short mid-blonde bob haircuts for women over 50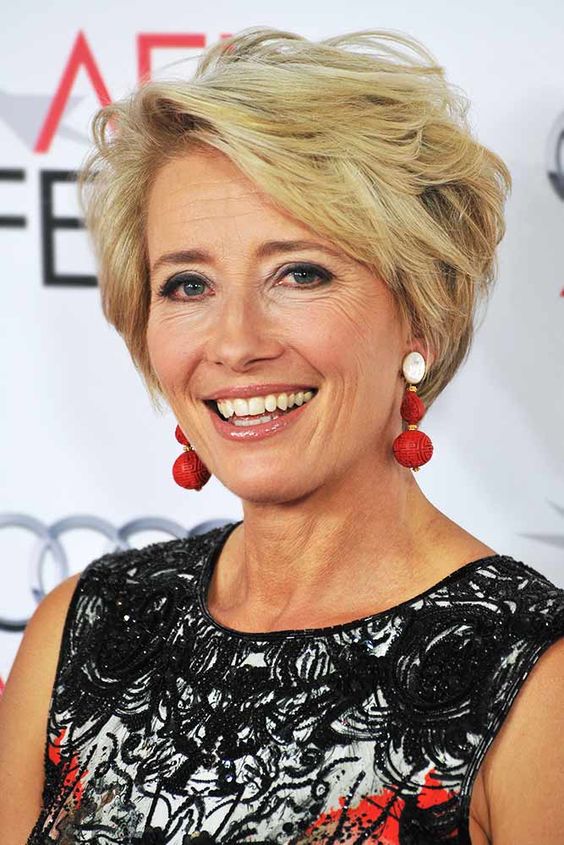 Choosing the right shade of blonde for your skin tone is an essential part of looking good for women over 50. And bob haircuts in medium-blonde shades are a flattering choice for skin with warm or neutral undertones.  But to keep the look totally trendy, you can update it with this tri-color, hair color design. The roots are dark, changing to a natural looking, light, neutral blonde in the middle. And then to soften the overall look, especially around the face, the colorist has added warmer golden blonde balayage to the tips! Brilliant!
Soft beige-blonde balayage on straight bob haircuts for women over 50 with glasses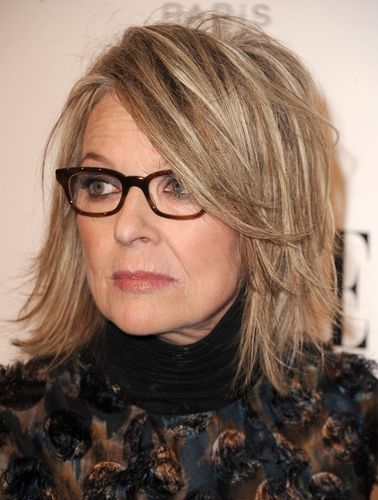 This straight bob haircut is another great choice for mature women's hairstyles. And it shows how to match your hair and glasses, with harmonized color tones. Trendy, strong, dark tortoiseshell brown frames need to be balanced by a softening side-swept bangs and gentle beige-blonde hair color. It's easy-care, and fashionable with the gorgeous blend of brown and beige shades creating lots of texture and 3-D color depth. And the tousled finish with flipped out tips adds a very modern touch to fine, straight hair.
Snazzy razor cut bob for thick hair – haircuts for women over 50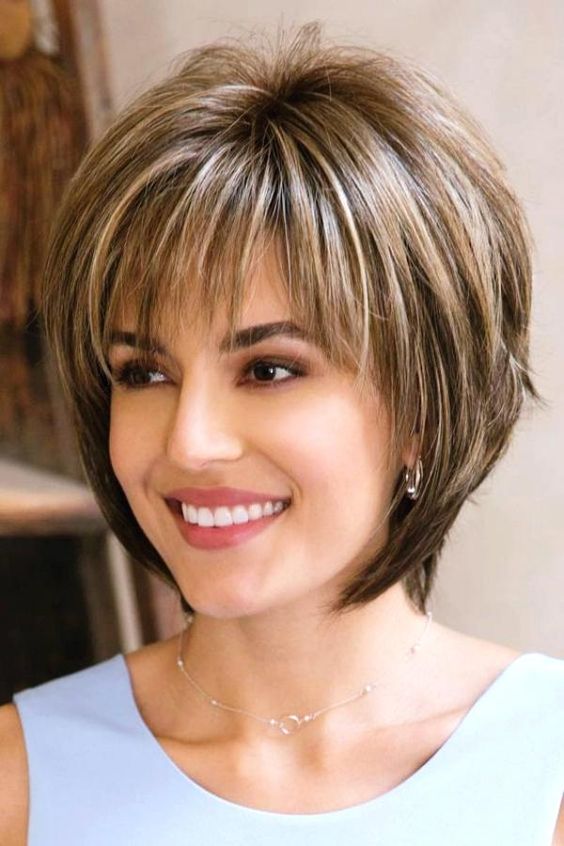 If you start off with thick hair, ask for sliced layers to get this highly fashionable, easy-care hairstyle. And some women find their hair becomes coarser as it grays. So choosing a razor-cut hairstyle makes a lot of style, and hair-care, sense. This lovely, curved bob suits many face shapes as it's a flattering chin-length haircut. In particular, this style suits round or heart-shaped faces, as it covers a wide forehead and is fairly flat at the sides. There's lots of youthful features here with wispy tips softening full bangs and trendy, beige-blonde highlights!
Makeover long to medium angled bob with starlight highlighting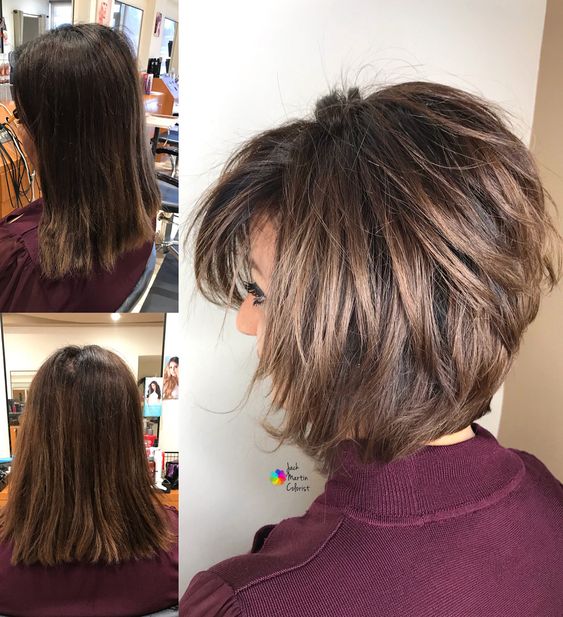 Starlight highlights are added half-way down the hair in a broad, horizontal band. And as you can see in the image above they look marvellous on a curved, angled bob hairstyle. The idea is to emphasize the curve and to give the impression of light reflecting off the rounded shape. You can also see how much younger the hairstyle is when you change from a straight, shapeless style to a beautifully shaped, fashionable mid-length bob. The lovely, pearly-beige-blonde highlighting really brings the whole look to life!
Bouffant brunette angled bob for thick hair with neutral blonde balayage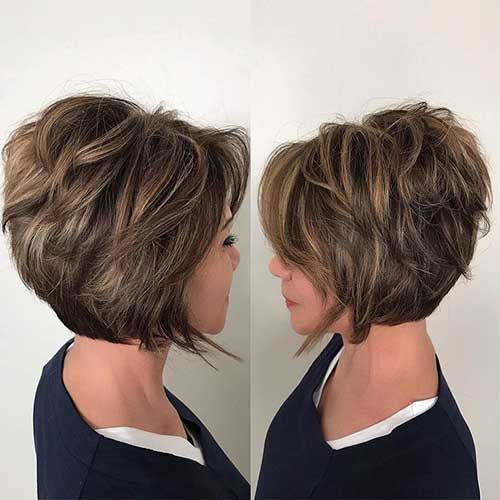 Thick hair is perfect for this bouffant angled bob with lots of contemporary touches bringing it right up to the minute! The sides feature long, disconnected layers that add an edgy, modern vibe. And those gorgeous defined waves decorating the surface, are also the latest way to add volume and texture. Add in two or three blonde balayage tones in neutral, coppery and white blonde, and you have a look that projects a highly fashionable and youthful image!
Flattering mid-blonde shades on messy bob hairstyle for thick hair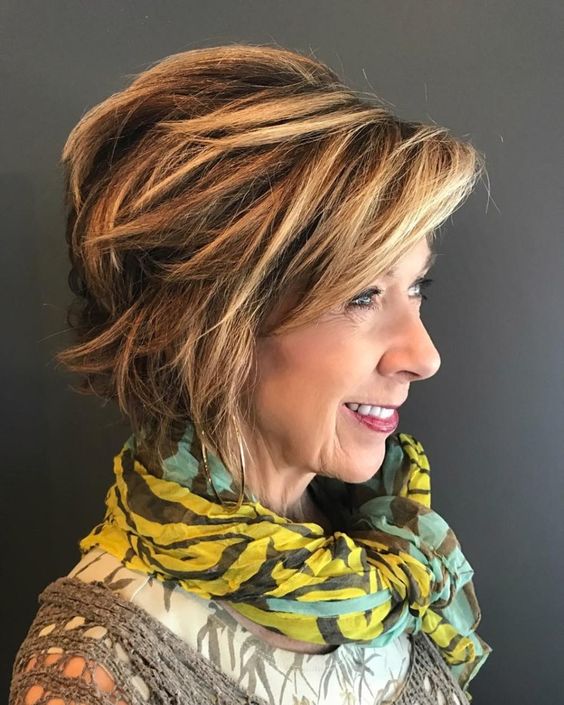 This layered bob is perfect for making thick hair behave, whilst projecting a trendy windswept vibe. The stylist has used sliced layers to cut vertical layers that end in tapered tips. This removes any suggestion of bulk at the ends and means your hair falls nicely into place after washing. So it's an easy-care hairstyle, with a strong, modern edge in defined swept-back sections, with an exciting 3-D color effect.  The blend of mid-blonde shades, including dark, medium and light-golden blonde are flattering to paler skin tones of mature complexions.
Elegant curly bob on neutral brown with dual blonde highlights for long face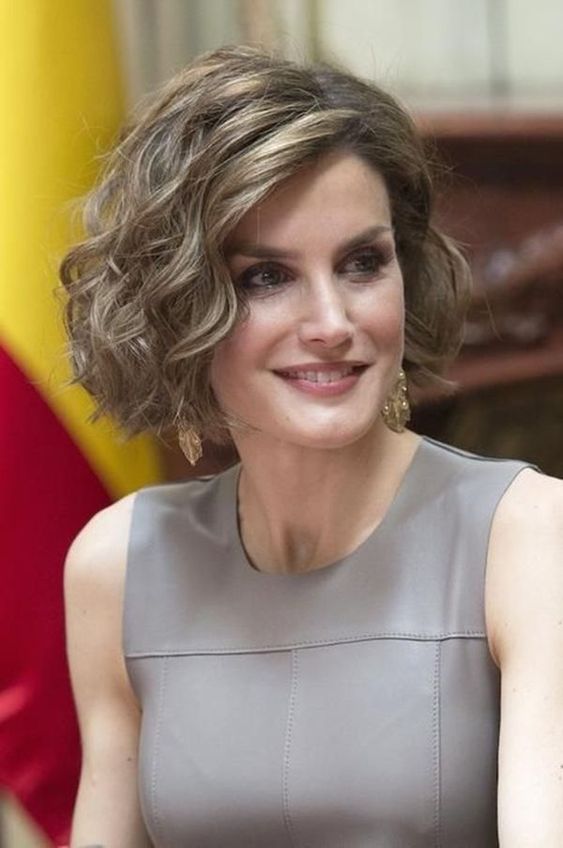 This chic, classic long layered bob shows how to balance a long or thin face shape. The side-parting allows a diagonal fringe to cut off one corner of the forehead, which breaks up the long line. And waves just below one eye are a super way to draw attention to eyes and the upper face. In addition, long/narrow faces need the added width from volume at the sides of the head. Curly waves soften angular faces and this style has fantastic texture and movement. Finally, ash-blonde and neutral-blonde balayage create fantastic 3-D effects on an elegant party look.
Classy face-flattering medium bob with bangs for oblong face shape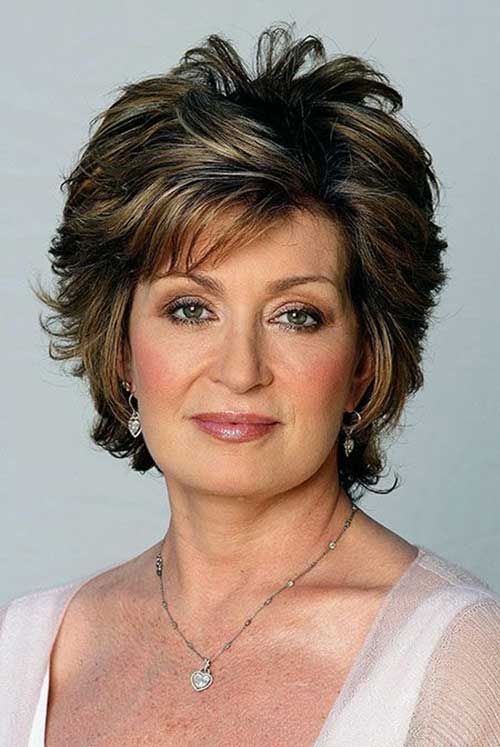 This vintage hairstyle gives a classy, natural look, and a soft and feminine look. It's a variation on the chin-length bob, which suits round, square and oblong face shapes. Height on top lengthens a wide face shape, making it seem narrower. And the cute, side-swept half-bangs soften a square forehead and break up the symmetry of a round face. The haircut ends above the chin, focussing attention up and away from a broad chin or angular jawline!
Quirky short brown shaggy bob cut with wispy bangs & blonde balayage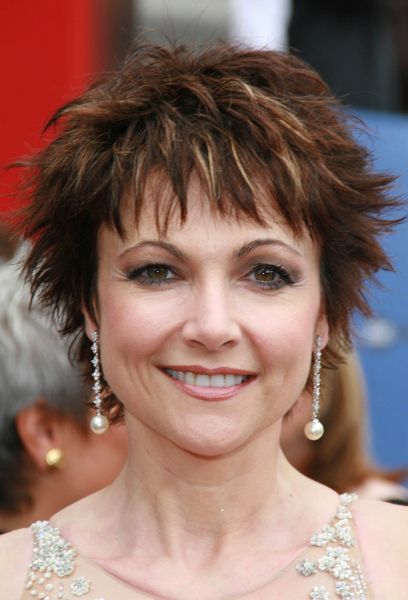 And just to show you can still be quirky and elfish, whatever your age, this lively pixie cut is a super-modern haircut for mature women. The stylist has added lots of layers, with tapered tips, to fine or medium hair. And this allows you to create shaggy, tousled volume around the head in an instant. Brunette hair is given 3-D color depth from dainty blonde balayage. And the separated, wispy fringe softens the forehead and hides any frown lines you'd rather not show!