10 Ultra-Mod Short Bob Haircut for Women
Short bob haircuts for women have been so popular, they've split into lots of fashion sub-divisions!  So today's set of gorgeous new looks is a good mix of party-special, boho and smart, everyday looks – with a stylish, ultra-mod twist.  The colors are soft shades of blonde, playful pink balayage ideas on copper and super-flattering beige and brunette color options.  So whatever you've got planned for your future, get inspired by these appealing short bob haircuts!
Classy beige-gold short bob haircut for women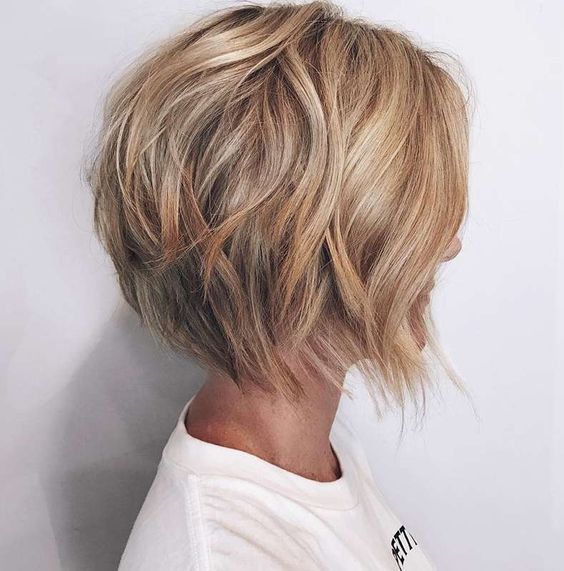 This easy-care short bob haircut is also full of trendy features showing its fresh new style!  The bottom line's funky disconnected layers, look feathery and unexpected on thick hairstyles.  And the base is a very flattering mid-blonde shade, softened with beige, which suits medium skin with warm undertones perfectly.  The subtle balayage highlighting adds depth with pale-blonde, cute copper tips and mid-brown at the nape!
Purple-pink balayage – short bob haircut for women ready to party!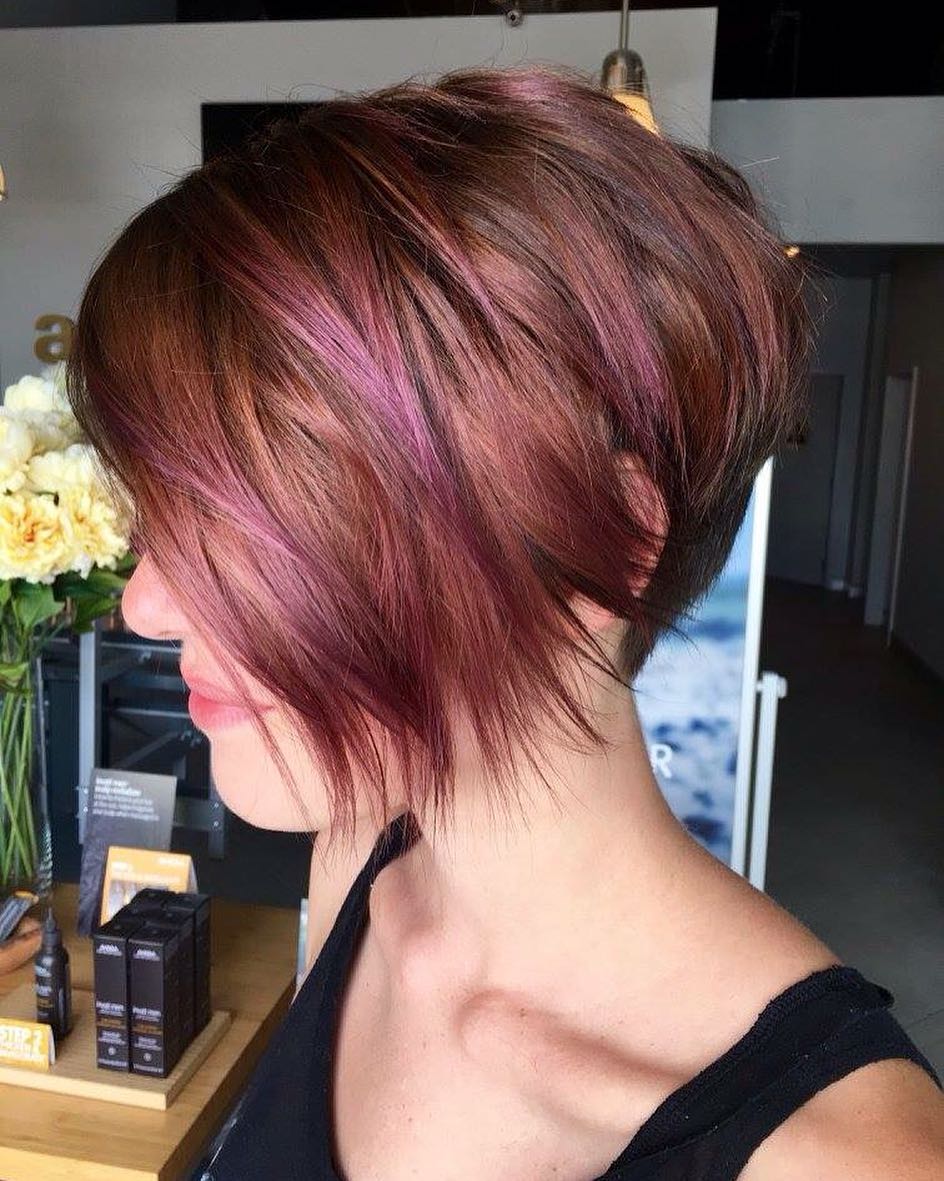 How far you go with your party-hearty hairstyles depends on how much you want your free-time to spill-over into your career prospects!  But this lovely young model has got it just right, with this appealing short, copper bob.  The attractive rounded curve at the back is balanced by pretty, feathery tips on the side.  And adding just a few purple-pink balayage streaks finishes this smart, modern look!
Asymmetric long & short bob haircut for women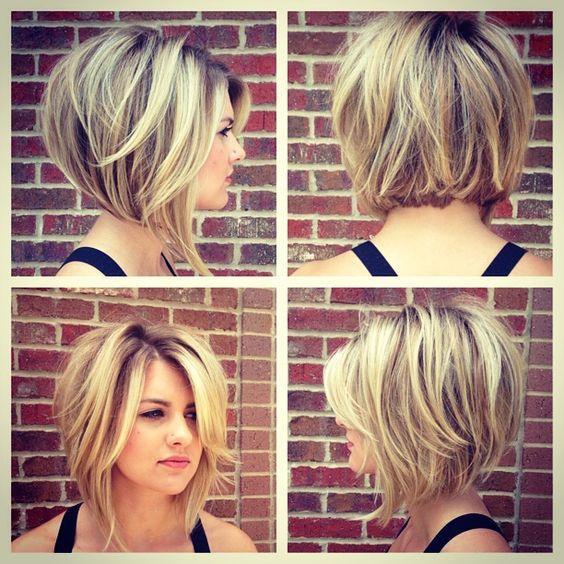 Here's a fantastic inverted, short bob option for thick hair, with unusual asymmetry in the front. Longer layers and a straight nape line allow the stylist to get a huge curve at the back.    The long fringe drapes casually over one eye and down to the shorter side.  The other front layer is a quirky, extra-long section brushing the collar-bone.  Over brunette roots, the dual mid-blonde highlights create the 3-D density we all love!
Extreme inverted short bob haircut for women with thick hair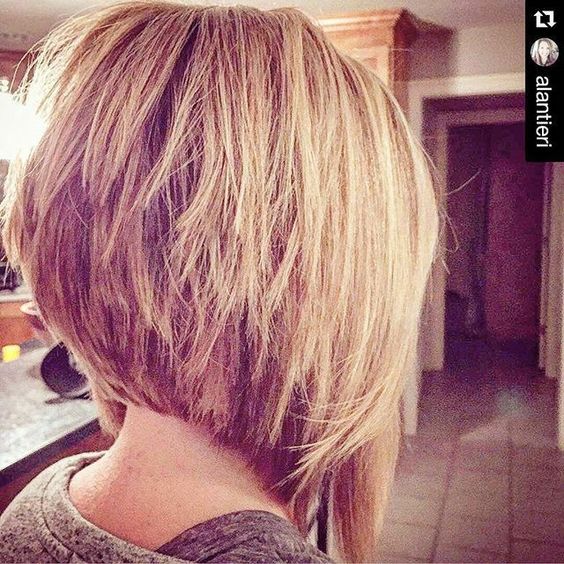 Thick, coarse straight hair is absolutely perfect for an easy-care, straight bob like this ultra-modern look!  Based on the original stacked-back bob haircuts, the layering starts high on the head.  This is what gives such a fantastic profile view down to long layers at the front.  And to get the ultra-modern texture, the back layers are almost blunt-cut instead of being tapered.  Finally, brown roots under blonde top layers show off  the contrast between a choppy back and smooth sides, beautifully!
Smart short brunette bob with blonde balayage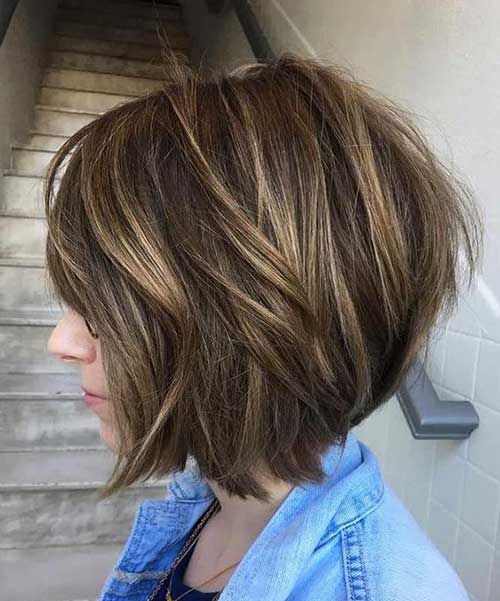 Now that disconnected layers are a part of mainstream haircuts, they are popping up everywhere!  But not always in the same places, showing how stylists take new ideas and use them to design new hairstyles.  This everyday short bob's long layers hit chin-length for a universally, face-flattering haircut.  But this isn't a same-old look, because two cheeky, disconnected layers are showing under the bottom line.  Along with subtle blonde balayage, the disconnected detail brings this cut right up-to-the-minute!
Trendy natural beige-blonde bob for fine hair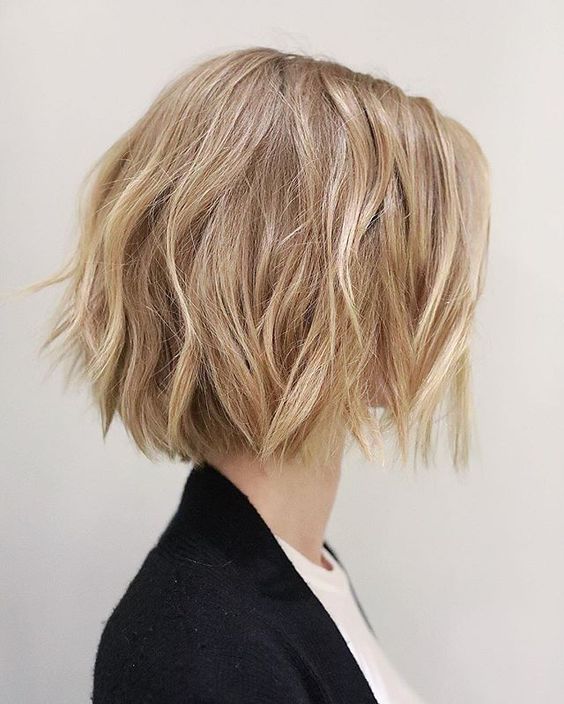 'Natural-look' is a beauty term that often means hours of shaping and coloring – so that the end-result 'appears' to be natural.  But this cute, beige-blonde, choppy bob is an ultra-modern hairstyle that'll look 'effortlessly natural' every day!  The gorgeous beige-blonde base with pale-blonde balayage is a very natural and trendy shade.  And defined strands with a hint of a wave are casually 'bed-head', too.  This is also a great short bob haircut for fine hair!
Chic contemporary messy bob with fluffy texture for fine hair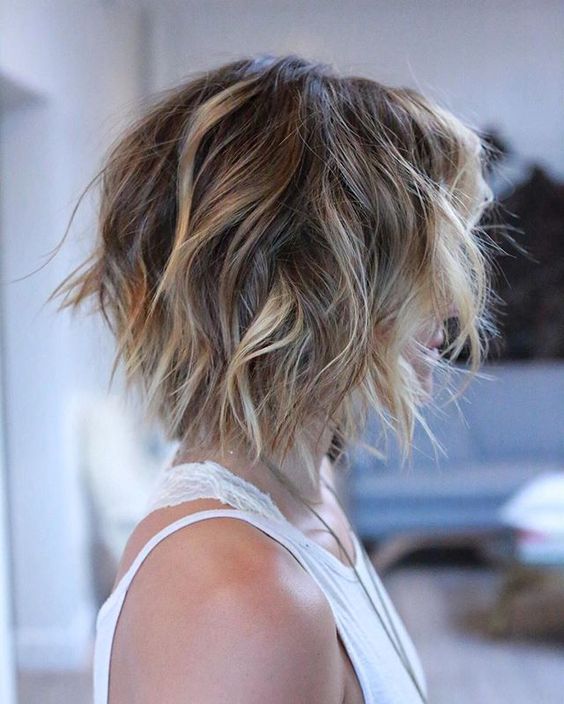 And this is another trendy short bob option that's suitable for medium to fine hair types.  The problem of adding body and volume to fine hair is solved here with clever layering and feathery texture on the tips.  The basic shape is an inverted bob and shorter layers at the back are flipped out to increase the outline and make fine hair look thicker.  Waves, twists and the spiky, ruffled texture also puff-out fine hair in a modern way.  And adding very light-blonde balayage to a darker base, creates 3-D color depth.  Plus – one or two cheeky touches of copper balayage also give the impression of 'more hair'!
Soft blonde over beige roots short bob with brown lowlights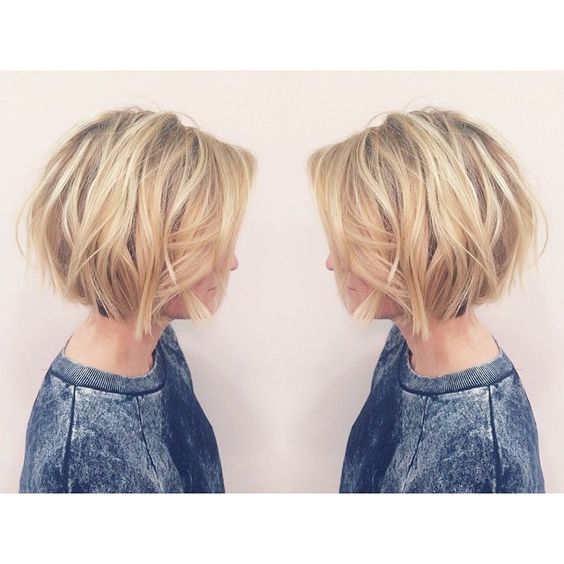 This blunt-cut short bob is another style that's suitable for medium or fine hair.  Regardless of your hair type, choppy tips instantly update any bob to a more edgy, modern look.  Long layers help retain thickness in fine hair and give more length to be styled in wavy or twisty texture.  Another key element in this attractive bob haircut is the subtle use of light and dark shades, which make the lovely tousled texture look denser!  And to finish off your makeover try adding a couple of funky, disconnected layers!
Sassy silver balayage on glam golden spiky bob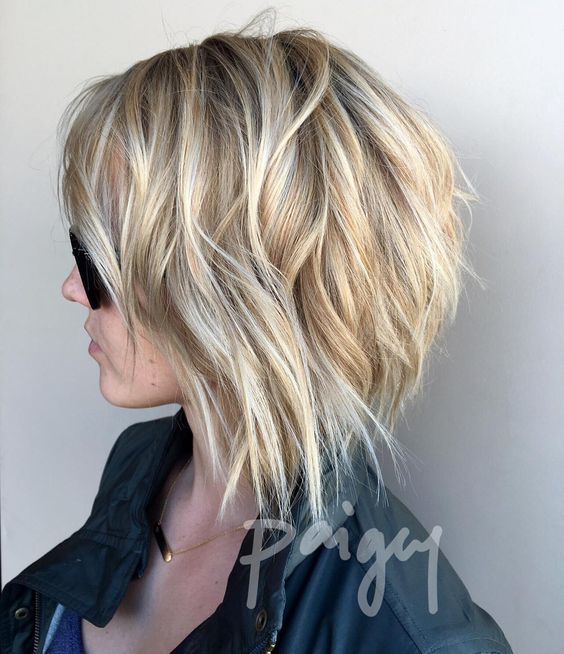 Want to look like a high-maintenance rock-star?  Well, it's not as difficult as you may think!  Everyone knows dark, aviator sun-glasses worn indoors can suggest a VIP vibe. But it's mainly the hairstyle that projects anyone's image.  This boho blend of beige, gold and silvery blonde shades is definitely the work of a talented, and costly, colorist.  But these soft, feminine colors would look cute on any short bob haircut.  So to look like a real rock-legend, you need to add extremely degraded tips and 'bed-head' texture – topped off with sun-glasses and a black leather jacket, of course!
Pretty pink & white balayage – short bob haircut for women who want to have fun!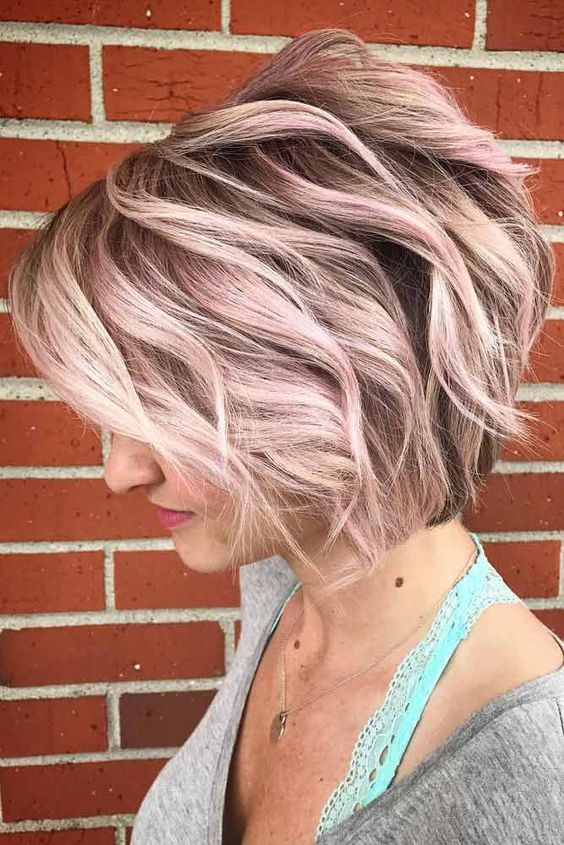 If you're approach to life is light-hearted and carefree, advertise the fact with a high-fashion pink and white-blonde balayage!  It's a great way to get more fun into your life and leave behind a dull, natural hair color that's just not adding anything to your beauty-rating.  This playful, short bob has long layers with heavily textured tips, styled in ruffled 'windswept' waves.  And you know you'll get more attention wherever you go, with this pretty, 'fun personality' short bob haircut!