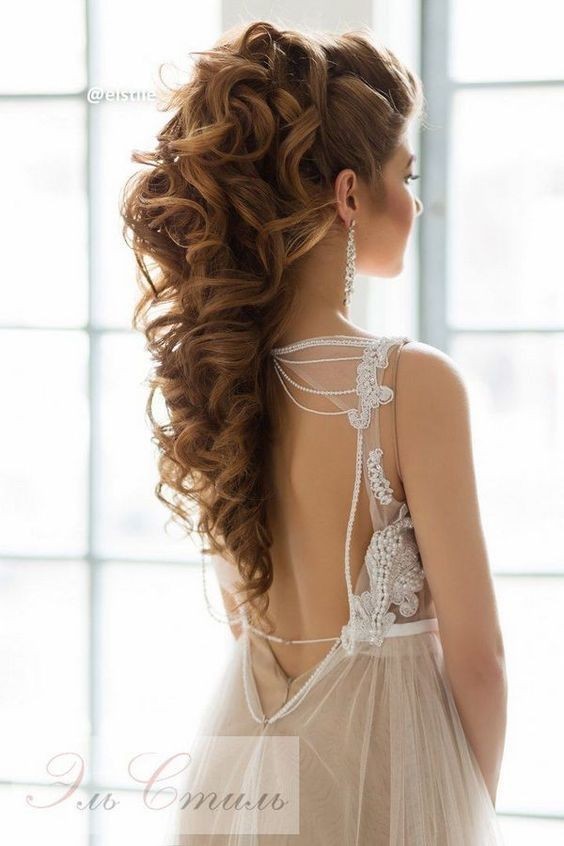 10 Beautiful Wedding Hairstyles for Brides
As a bride planning her wedding day, one of the most important aspects to get right is her appearance. It will be the best day of your life as you marry your best friend, so it's so important for you to look and feel at your best. From the dress to our make up, and of course your hair, every element must make you feel truly fantastic. Here at Pophaircuts.com, of course the main thing we're excited about is hair, so we thought we'd gather some beautiful wedding hairstyles for brides for your inspiration.
Pinned to the Side with Flower Crown – Bridal Hairstyles for Wedding
Curls are a fantastically popular wedding style for hair, but this lady has created a truly beautiful style with her locks. She's added ringlets from top to bottom, and twisted and fastened the hair to one side, pinning it so that her stunning ringlets fall down over one shoulder. She's finished the look with a pretty flower crown for a bohemian touch.
Messy Blonde Braid with Flower Accessories – Easy Wedding Hairstyle
Hair accessories can bring a wedding hairstyle to life, as this stunning lady's look proves. Her beautiful blonde tresses have been swept back and worked into a beautiful messy braid which cascades down her back. She's scattered beautiful white flowers throughout the braid for the most perfect finishing touch we ever did see.
Twisted Bun with Pink Roses – Bride Updo Hairstyles
Volume and height are essential when it comes to the perfect wedding hair, as this gorgeous lady has proved. Her beautiful brown balayage hair has been pulled backwards and back combed to create this dramatic swept back look, and she's twisted the ends of the hair to form this gorgeous bun at the back. The look is finished with a stunning hair accessory of pink roses.
Floral Curly Bun Updo Hairstyle for Wedding
This look is utterly beautiful and simply perfect for a bohemian themed wedding! This stunning loose bun sweeps up all of this lady's luscious brown hair, which has been worked into loose waves. This floral hair band has been placed as a crown on top of the head, and loose strands of hair are left to fall around her face softly.
Messy Tucked Under Style with Accessory
Messy is the new perfect in our eyes, and as this utterly gorgeous hairstyle proves, sometimes opting for a hairstyle which is a little rough around the edges can make it seem like not a single hair is out of place. This lady's stunning brown hair is full of golden highlights, and has been tucked up and under for this elaborate messy style and finished with a pretty crown.
High Curly Brown Bun Updo Hair Styles for Wedding
Picture perfect is one way to describe this beautiful look, and we think this will be absolutely perfect for your wedding day! This lady has the most gorgeous deep brown hair, which she's swept backwards and gathered up into this utterly gorgeous curly high bun. She's left a few ringlets to fall loosely around her face and the back of her neck.
Pinned High Curly Updo Hair Styles for Bridal
Golden blonde locks are best shown off in stunning updos – especially on your wedding day! This lady's stunning blonde hair is full of glorious white blonde highlights. She's pulled the hair back and loosely pinned it at the top of her head, to create this gorgeous waterfall ponytail effect, showing off her beautiful curly ringlets.
Copper Curly Faux Hawk – Messy, Curly Long Hairstyles for Wedding
Faux hawk styles are often underrated when it comes to wedding hairstyles, but after one look at this gorgeous lady's hair, you can see that they make a simply beautiful bridal look. This lady's stunning copper tresses have been worked into huge barrel curls, then pinned into an elaborate faux hawk which ends up falling down the centre of her back.
Glossy Brown Quiff with Waved Hair – Long Hairstyles for Wedding
Choosing to sweep the front section of hair back off her face, this utterly stunning lady has opted for a unique quiff style bridal updo and we think it's absolutely perfect! Her glossy brown hair starts with a smooth quiff at the front, with front sections pulled backwards and pinned at the back of the head. The rest of her hair falls in beautiful big curls.
Braided Fringe into Tousled Ringlets
Finishing the gallery with hair fit for a princess, this simply stunning look would make any bride feel a million dollars on her wedding day. Her stunning brown hair has been worked through with golden and white blonde highlights throughout and curled into ringlets. The front sections have been braided backwards from the front of the face, leaving the remainder of the hair to fall down the back. She's finished the look off a pretty flower garland.
Which of these stunning hairstyles is your bridal inspiration? Would you prefer to wear your hair up or down on your wedding day? Will you add a hair accessory or go without? We'd absolutely love to hear from you!