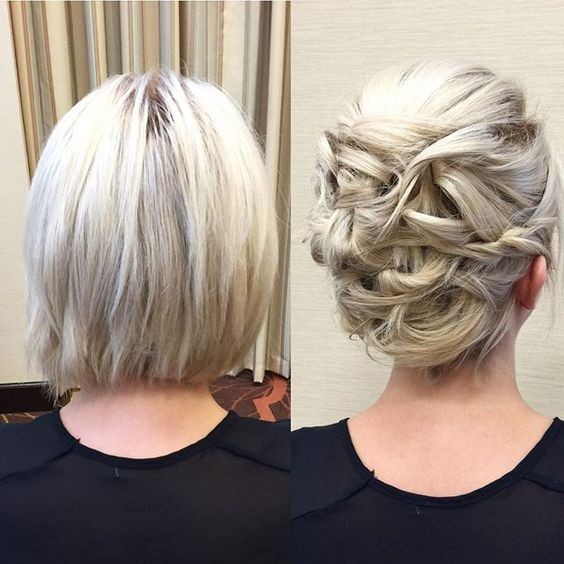 20 Gorgeous Prom Hairstyle Designs for Short Hair
Blonde to Purple Bob with Boho Braids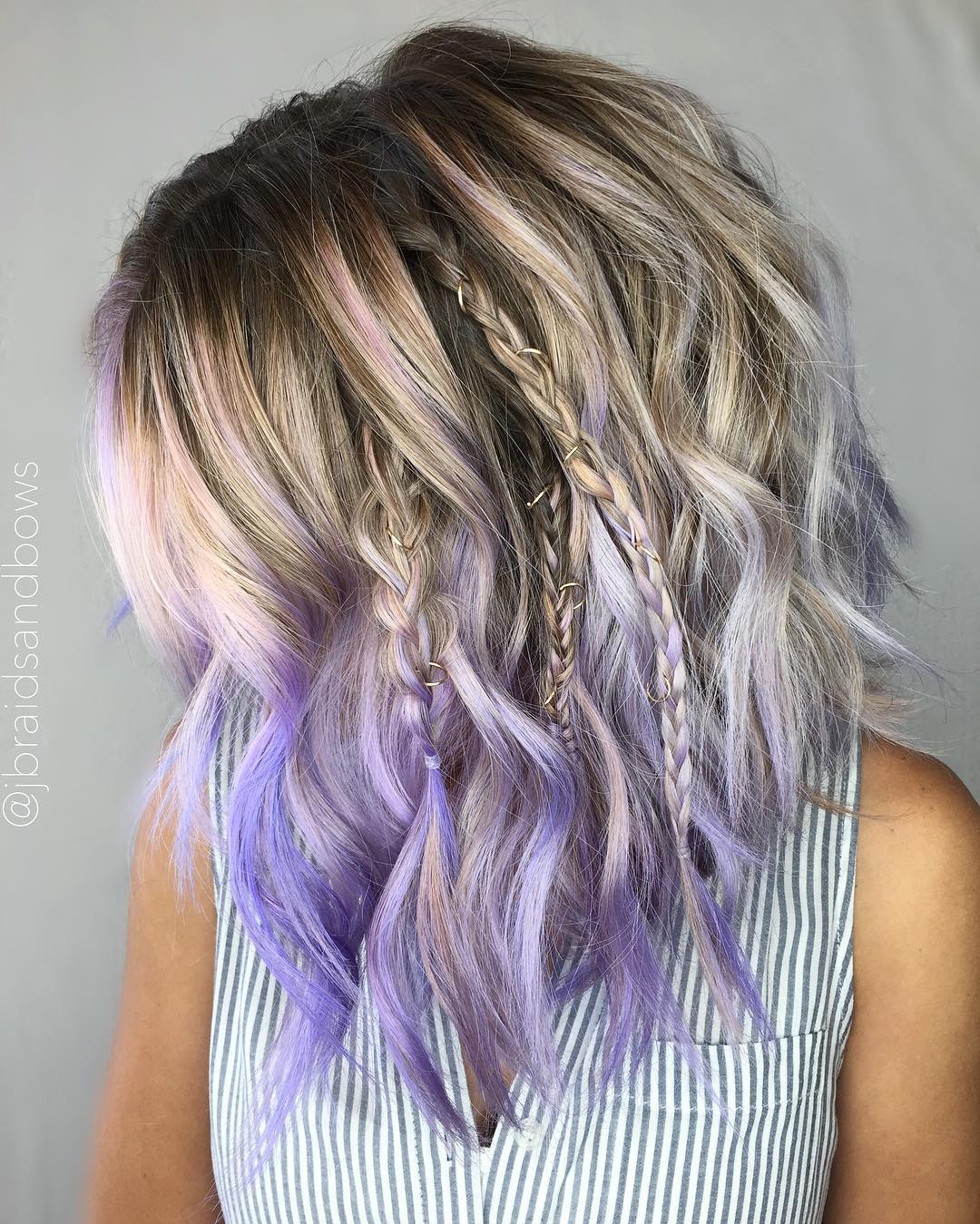 Colourful hair can also be absolutely perfect for a prom hairstyle. Why not experiment with purple tips like this lovely lady has done? Dye the ends of your beautiful blonde hair a pretty lilac colour. Add loose curls from top to bottom. Then, add lots of little French braids throughout for a bohemian chic hairstyle. You can add pretty hair accessories for a real finishing touch.
Side Blonde Braid with Silver Rings
Hair accessories can turn a standard hairstyle into a seriously stunning one. Prom is the perfect time to experiment with a gorgeous and glamorous look. Start by keeping your hair straight and sleek all over. Work one side of the hair into a stunning French braid from the front of the head back behind the ear. Add unique hair accessories throughout the braid like this stunning lady has done.
Silver Pixie Cut with Braid – Short Hairstyle Designs for Prom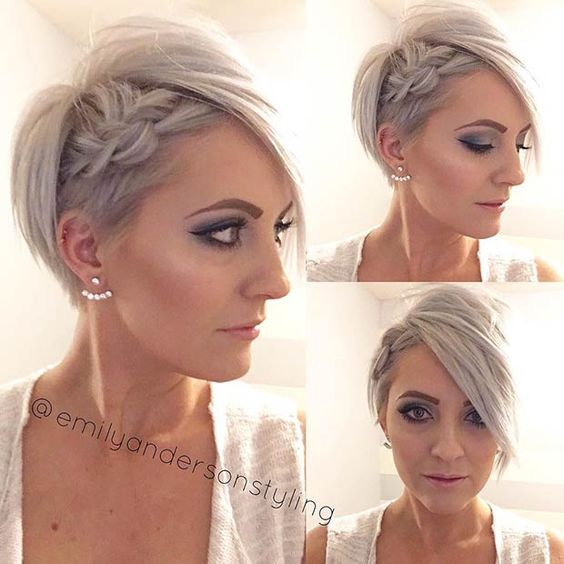 If you have stylish silver hair then working it into a unique braided style is the perfect way to show it off! This sleek and straight look is just incredible from a prom hairstyle. Part your silver bob deep to the side, leaving a lovely long fringe section. With the other side of the hair, work into a braid and pin behind the ear to finish.
Blonde Braided Faux Hawk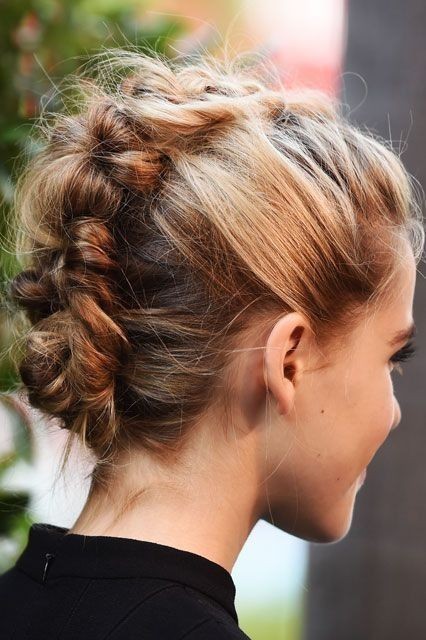 We're starting strong with this incredibly creative and oh so striking braided faux hawk! This lady's stunning blonde and brown hair have blended in the most beautiful ombre style, which she's showed off with this gorgeous look. She's braided her into a classic french braid style down the back of her head and then pinned it on the top of the head for this unique faux hawk style.
French Braided Crown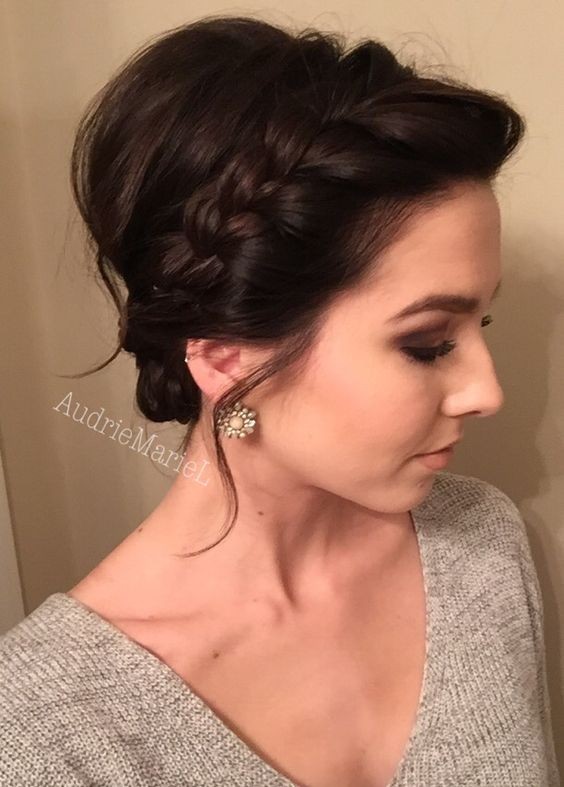 Another absolutely gorgeous short hairstyle which utilises a braid to create this gorgeous finish. Her hair is a striking and glossy chocolate brown, the front of which has been worked into a french braid from one side to the other and pinned. The rest of the hair has been tucked under to create this small bun effect, and loose ringlets are left to fall around the jaw line.
Twisted Blonde Side Hairstyle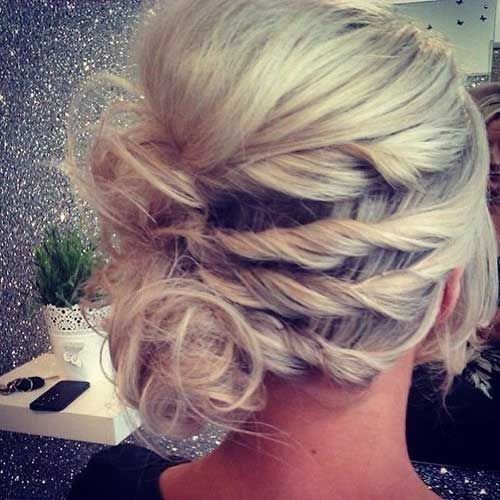 This lady has worked wonders with her beautiful and blonde short hair, creating this striking style that we think is oh so perfect for prom! Twisting the hair in sections from the right to the left and securing them in this gorgeous and tousled twisted bun finish on the other side of the head, she's left the fringe section to fall loosely around the front of the face.
Braided Crown and Curly Crop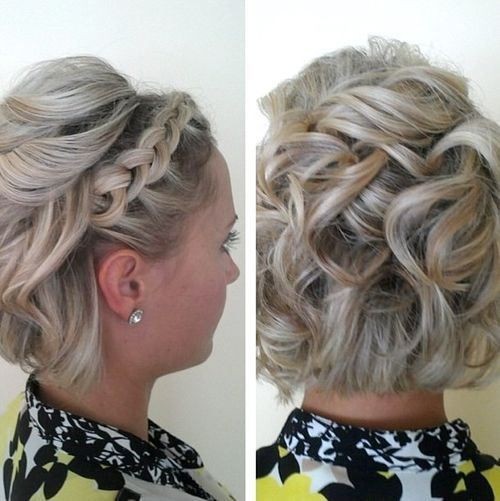 Who said that short hair had to be anything but spectacular? This gorgeous cropped style is finished in a neat line around the jaw, and works with a range of blonde shades to create this lovely highlighted look. The front of the hair has been swept into a french braid across the top, and the back of the hair has been curled tightly for this bouncy finish.