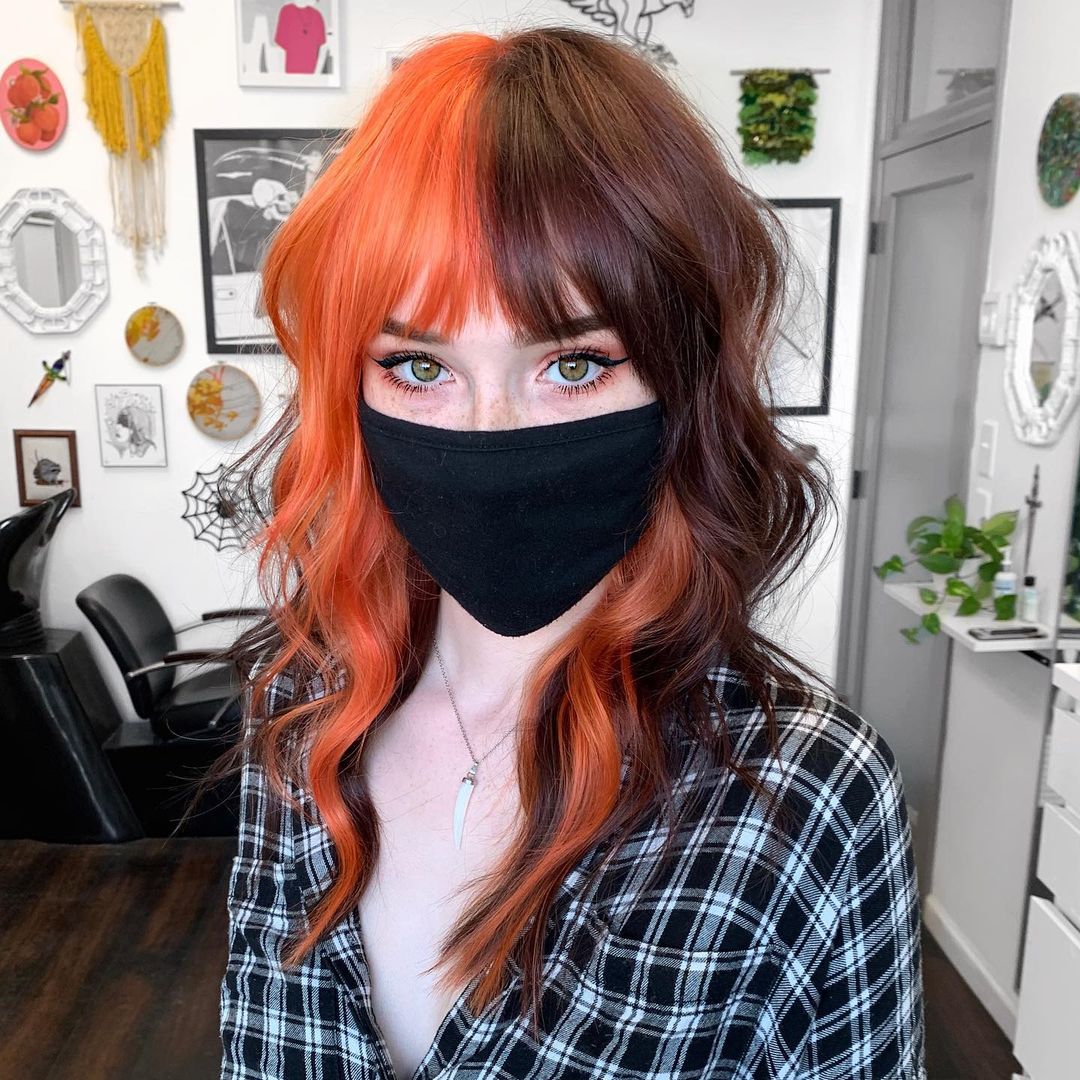 10 Stylish Long Hairstyles & Colors to Bring Your Hair Up-to-Date
Fashion changes quickly these days and it's easy to get left behind, if you don't take an interest in the latest stylish long hairstyles and colors. Of course, the main idea of all these option is to find a style and color that brings out your natural beauty, not just to wear the new fashions for the sake of looking trendy. So take a look at this gallery of the most popular new trends and colors for long hairstyles and find out what's going to be your new and flattering look!
1. Ash-blonde with shadow roots and a hint of pink – stylish long hairstyles & colors
Still one of the most popular colors for long hair this season is ash-blonde with a subtle touch of pink and shadow roots. This extra-long hairstyle has shadow roots, instead of stark, dark roots, and pink tones in the middle section. But it also has the new underlights, which are bright-white blonde sections, underneath the side sections. This adds the illusion of thicker hair and contrasts nicely with the pinky-blonde above!
2. Copper roots and mid-copper-blonde ombré – stylish long hairstyles & colors
If you're not sure which shade of orange or copper is going to suit you best, take a look at the eye-color of the model on the box hair-dye. Models with blue and green eyes are mostly shown on light and medium copper shades and this tells you that they suit women with cool/neutral skin undertones best. Of course, if you want a big change to copper, or an ombré, you should always have it done by your salon's expert colorist first to ensure you get the perfect colors. This gorgeous copper really accentuates blue eyes in a very attractive way!
3. Yellow roots, copper-orange & black – stylish long hairstyles & colors
This hair color design is projecting its own message to the viewer and that message is 'bold, trend-setting and confident'! This fantastic and vivid look needs to be done by an expert colorist, so definitely, 'don't try this at home'! The model's natural color is brunette, so the Canary yellow top has been bleached several levels to get it light enough for yellow and flaming orange. And there's a blue tone and brown balayage in the lower lengths. It's a stunning look that will certainly show your individual style!
4. Medium-long bob in pink and beige ash-blonde – stylish long hairstyles & colors
Pale-pink ash-blonde has become incredibly popular amongst all of the new blonde shades. It's very soft and feminine, creating a romantic look. This length is very good for fine hair as it just rests on the shoulders and is short enough to puff-out with waves and tousled texure, if you need more volume. In addition to the ash and pink tones, there's a cute highlight of beige-blonde in there, too. So this hairstyle follows the strong trend for mixing cool (ash and pink) colors, with warm (golden-beige) color, which creates a super-attractive long hairstyle!
5. Warm brown & orange dual color with waves
Half-and-half color hairstyles have become a popular new trend for brunettes recently. And you can use natural colors or fantasy, rainbow shades to create your own special look. This model has hazel-colored eyes and freckles, which suggest that although her skin looks quite fair, she actually has warm undertones. And that's why the warm colors in her hair look great against her natural coloring. The style is casual and youthful, with lightly tousled waves and a cute dual-color fringe!
6. Brown & copper with beige-blonde half 'n' half fringe and balayage
This lovely long hairstyle has many contemporary features in it, which turn any long boring hairstyle into a well-shaped and attractive haircut with a trend-setting color design. The top section features a lovely beige-blonde and warm brown half 'n' half fringe, cut with an asymmetrical sloped edge and separated strands to soften the line. And you can see how well the two face-framing colors match and accentuate her super, blue eye color. The rich copper ombré is a new shade of mid-copper, and the beige-blonde balayage down to the tapered tips completes a fabulous, high-fashion look!
7. Center-part brunette long bob with face-framing blonde highlights
This center-part long bob hairstyle is great for anyone with medium or fine hair, as it's not too long. Long, fine hair can look thin and straggly, so remember to keep it about this length or slightly shorter to get the best proportions. A center-part is perfect for showing the lovely shape of an oval face and face-framing waves are very appealing. But when you highlight the sections next to the face, you can achieve a very flattering look with light-reflecting blonde balayage on an otherwise natural look!
8. Vivid copper-orange with subtle blonde balayage
It's so great to see how popular orange-copper-auburn hair color has become these last couple of seasons. It's a very attractive and bright color, that's also the rarest hair color in nature. Many children have been bullied at school for being different, just for having natural, 'ginger hair', as it used to be called. This gorgeous look is  unashamedly orange and has pretty, light-copper blonde balayage – highlighting the soft waves and framing the face with light-reflecting highlights. And this makes a really head-turning and alluring hair-color for a long hairstyle!
9. Mid ash-blonde with white highlights & sections
This ash-blonde and white long hairstyle is another head-turning look you can achieve if your natural hair is blonde or fair. The ash-blonde, gray base color is given lots of texture and movement with fine vertical white highlights. And the eye-catching knot at the back of this fabulous half-up style is made from a white-blonde section at the back. The back is cut into a softly graduated U-shape and the face-framing strands are also white-blonde to finish off this sophisticated look!
10. Splendid copper balayage on brunette waves
Here's how to add lots of fashion style to brunette hair and still keep your look fairly natural. The luxuriant, thick hair is left without layers and styled into deep, loose waves. Then a lighter balayage design has been added by a talented colorist in a gorgeous, metallic-copper shade. The hair is in excellent condition, so it reflects lots of light from the tousled waves and has loads of texture and movement!