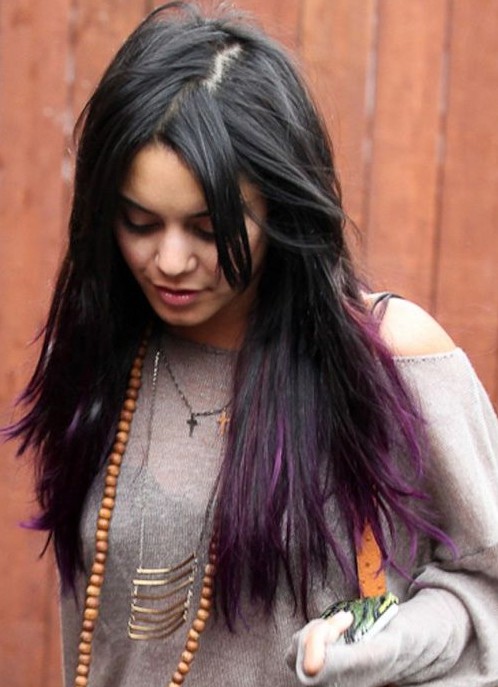 10+ Vanessa Hudgens Hairstyles
Vanessa Anne Hudgen,American actress and singer, enjoys a world-wide popularity.  Her sassy and intriguing look acting Gabriella Montez in the series High School Musical makes her a household name. Her song "Breaking Free" for the High School Musical trilogy peaks inside the Top 10 of the Billboard Hot 100. Thus, she becomes a superstar.
Currently, Vanessa Hudgens's various hairstyles have been a heated topic for people who want to follow fashion and trend.
Her long curly hairstyles look popular and romantic. Her long straight hairstyles look neat and waterfall-like. Some brilliant highlights also add more wow factors. Her short hairstyles look cool and modern.
You can pick out the suitable one for your personality and hair length. It is certain that Vanessa Hudgens's hairstyles can also created ideally on your look, and earn you many head-turns.
Here, we list some her splendid and gorgeous hairstyles. Let's check them one by one.
Vanessa Hudgens' Long Hairstyles: Ombre Wavy Hair Style
This long wavy hairstyle features softness and romance. The luscious bouncy hairstyle is dressed over her shoulders showing off the loose curls added to the mid-lengths to ends. The various layers with natural movement and casual flow in the ends soften her charming face. The double-toned long curly hairstyle makes the whole look more stylish.
Vanessa Hudgens' Hair Styles: Ombre Long Curly Hairstyles
A brilliant rich sheen and bouncy spiral curls make Vanessa Hudgens' lengthy hair super cool and sexy. The tight curls bring it a lot of bounce and movement. The lovely stunning double-toned hairstyle is great for formal and informal events.
Vanessa Hudgens Hair Styles: Long Curly Braided Hairstyle
Vanessa Hudgens's long hairstyle features pushed-over bangs and soft waves flutter. The various layers balance the volume. The soft curls at the ends of the hair enhance the sensual look. And the loose and causal braid adds more softness and romance. The long curly braided hairstyle makes her face more charming.
Vanessa Hudgens Hair Styles: Long Straight Hairstyle
Vanessa Hudgens goes for a long smooth black hairstyle with purple highlights. The bangs are skillfully textured in a flattering way. This long flowing hairstyle is full of style and charm. The chic tones create the long flowing hairstyle a more ravishing effect. The causal long hairstyle can suit many events.
Vanessa Hudgens Hairstyles: Bouncy and Soft Waves
Bouncy and soft waves make Vanessa Hudgens's lengthy hair look super seductive, stylish and interesting. The choppy layers and voluminous waves are full of flow and motion that make the charming long hairstyle more natural. The magnificent hairstyle is placed over the shoulders to create the gorgeous hairstyle a charming lovely look.
Vanessa Hudgens Hairstyles: Easy Updos for Prom
Vanessa Hudgens add super cool richness to her lengthy dark hair by creating her layered hairstyle into a cool loose curly up-do. The charming long hair is combed back to soften the severe look and add much lightness and energy to the long hairstyle. The formal and fun hairstyle is certain to earn some envy glances.
Vanessa Hudgens Hairstyles: Braided Updo Hairstyle
Vanessa Hudgens creates her long hair into a charming braided hairstyle. The luscious loose rope braid is drawn across the top of the head in an 'Alice band' effect. The splendid subtle yet sophisticated hairstyle exposes her sexy neck. Several flicks and strands soften the charming face. The stunning braided hairstyle incorporating the rope braid as a coronet across the top of the head looks charming and is great for formal and informal stoical events.
Vanessa Hudgens Medium Hairstyles: Wavy Hairstyle with Black Hair
The fabulous and stunning shoulder-length dark hair with wavy layers enhances Vanessa Hudgens in a flattering way. The sexy curls added throughout the mid-lengths to ends bring it a bouncy and stylish look. Some styling cream can help maintain it shine longer.
Vanessa Hudgens Medium Hairstyles: Layered Wavy Haircut
Vanessa Hudgens rocks a shoulder-length brunette hairstyle with natural-looking waves. This side parted hairstyle is featured by its various layers and waves which contour her face charmingly. The hair becomes to swell from the forehead and curve softly into alluring curls along the bottom edges.
Vanessa Hudgens Short Hairstyles: Wavy Bob Haircut
Bouncy and soft curls are styled in the neck-length hairstyle. A side part adds sophistication to the splendid soft hairstyle and exposes her face shape greatly. The big alluring waves frame the face charmingly and make the whole look full of vigor.
Vanessa Hudgens Short Hairstyles: Cute Easy Pixie Haircut
The splendid short hairstyle frames her face perfectly, and creates a modern and cool look. Various layers and face-framing textures make the stylish short hairstyle luscious. The crafted roundness adds some cool factors to the short hairstyle, too. The front layers and neat bangs are kept longer and thinned just caressing her eyebrow and draw people's attention to her big eyes.
Vanessa Hudgens Short Hairstyles: Bob Haircut with Bangs
Vanessa Hudgens hairstyles a smooth bob with long side bangs. The silky and sleek textured bob is parted to one side framing her face greatly and add softness. The excellent neat bangs are side swept to contour her face.
The fabulous layered hairstyle makes her stand out in a crowd. In addition, it can flatter many face shapes and suits day or night occasion.