20 Gourgeous Mahogany Hairstyles: Hair Color Ideas
Mahogany hair has to be one of the most enticing, alluring hair colors out there. It's that perfect shade of brownish-red that's downright tantalizing- as is anything with hints of red throughout. You can also choose different shades of mahogany, from lighter tones to deep, purpley undertones that are rich and inviting.
If you're looking for your next mahogany hair color choice or simply want a new way to spruce up your mahogany locks, take a peek at these gorgeous mahogany hairstyles you'll want to try ASAP.
Violet Mahogany Asymmetrical Bob: Straight Short Haircut for Women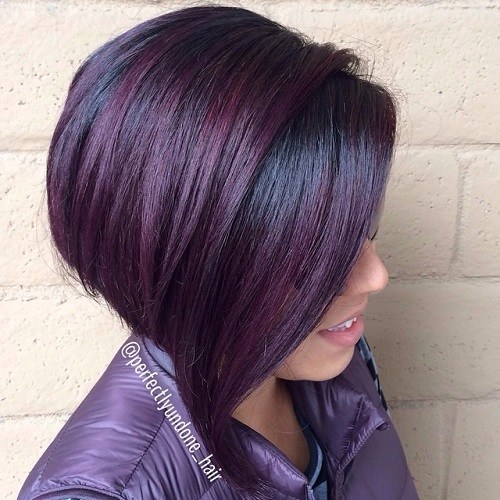 A ravishing blend of black and violet mahogany ensures this look is rich and warm, perfect for the strong gal who isn't going to let anything stand in her way. It's the perfect hue on this precise asymmetrical bob, with rigid ends and a subtle angle.
Purple-Red Ombre Hairstyles for Medium Thick Hair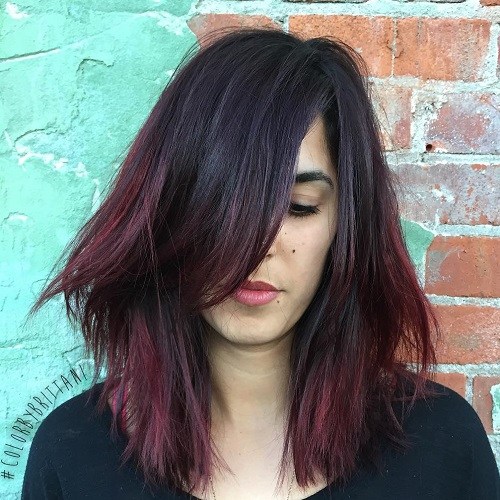 Indulgent dark mahogany on the top, and purple-red tips on the bottom; it's an ombre hair color technique that's sure to turn heads. She tousles up her look heavily for that casual feel, but that color contrast is definitely going to turn heads.
Subtle Mahogany Balayage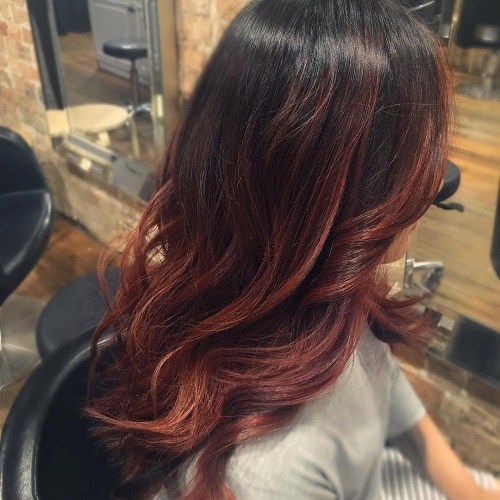 This particular mahogany hairstyle idea may seem subdued, but it's perfectly crafted to create a striking, natural look. The subtle transition from a luscious black shade gets a reddish makeover with beautiful red-mahogany ombre.
Red Mahogany Waves: Layered,Curly Long Hair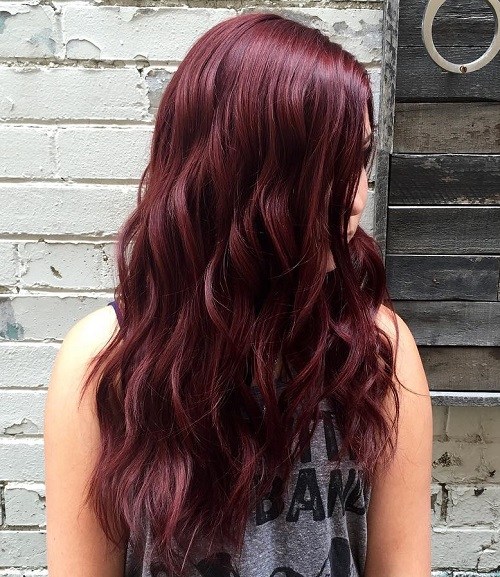 Everything looks more glamorous with waves; it's a fact! This wavy mahogany hairstyle lets those gorgeous reddish hues flaunt in a way that's oh-so-feminine and pleasing to the eye. Dress it down for school or dress it up for fancy nights.
Light Mahogany Brown Waves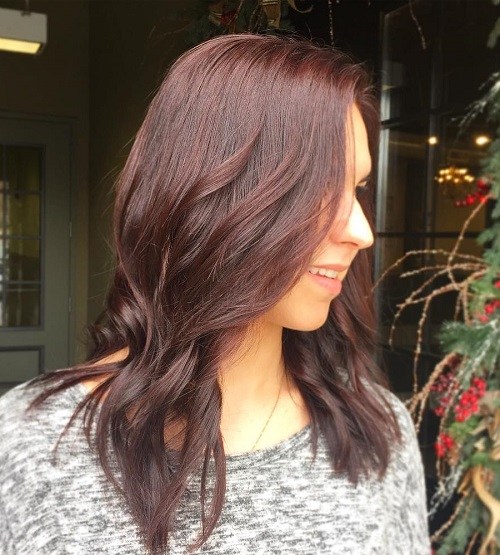 This look is oozing with femininity and class, with a medium-length hairstyle doused in a creamy, delightful light mahogany brown hue. It's the subdued version of mahogany which can easily cast off light in the sunshine, those waves bringing a sense of daintiness that's immensely stylish.
Mahogany Chestnut Ombre Curls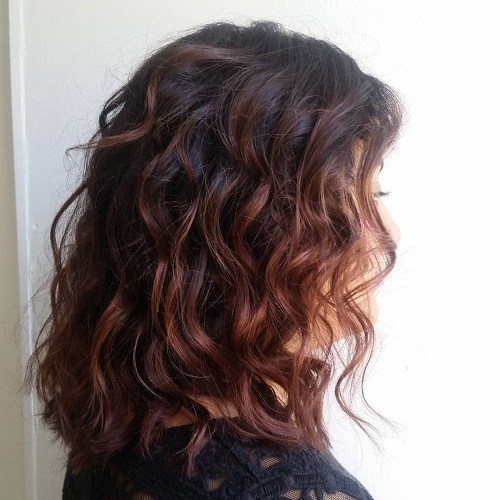 Indulging in the ombre hair technique doesn't mean you have to go for crazy, bold colors or contrast. Your ombre can be delicate and enchanting, with two colors meddling fluently together for a feminine finish- which is exactly what you see in this luscious deep mahogany to chestnut ombre. Make it lively and full with some messy loose curls.
Deep Purple Mahogany Voluminous Waves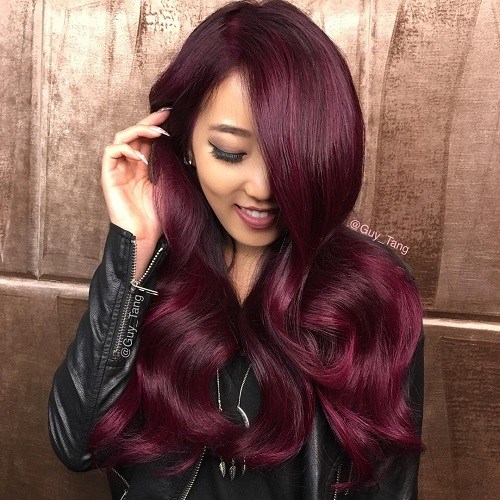 Give your mahogany hairstyle the royal treatment and toss in some incredibly voluminous waves. The end result? A look that's oozing with sex appeal, those heavily volumized waves adding a sense of luxurious and enticing bulk that's certainly divine on this purple-tinted mahogany shade.
Wine Mahogany Ringlets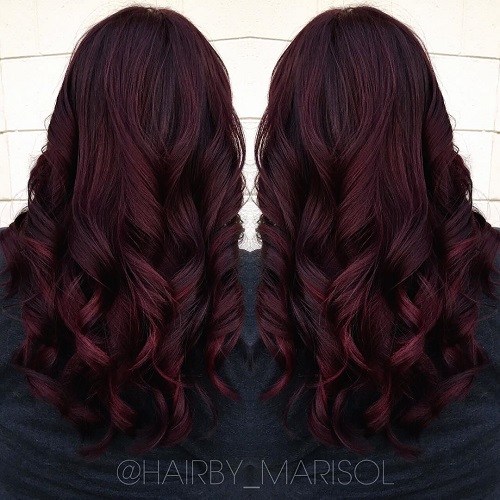 There is certainly something incredibly tantalizing about this hairstyle. Is it the color? Is it those polished ringlets? Perhaps it is both? You nailed it. This look is oozing with sex appeal and sophistication, leaving those ringlets untouched for a posh finish that's chic and put-together.
Lighty Mahogany Body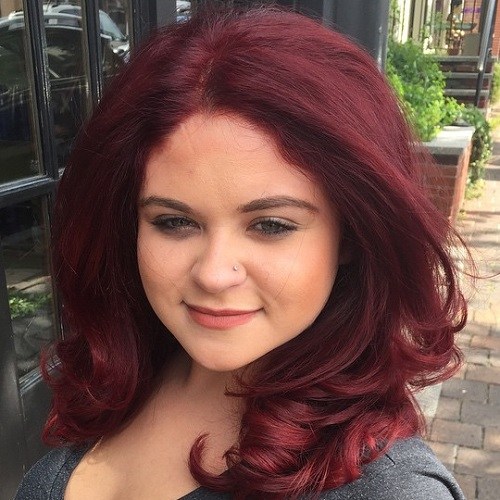 Want some serious body? You know what to do: tease, tease, tease! Tease the crown, tease the sides, tease your bangs- tease everything for that wild, intense body; and don't forget to finish off with some lovely curls on the ends for an extra boost of volume. This much volume is PERFECT for those sexy light mahogany strands!
Grape Mahogany Tight Waves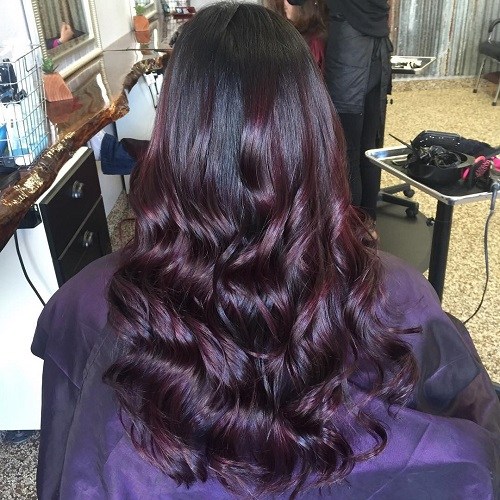 Love grapes? Sure you do! Wine is made from grapes; and what lady doesn't love wine. That's only one reason to adore this lush hair color– it's deep, grape shade reminds us of the most sophisticated wines on the planet, while tight waves cause a beautiful effect that's filled with depth and luxury.
Dimensional Mahogany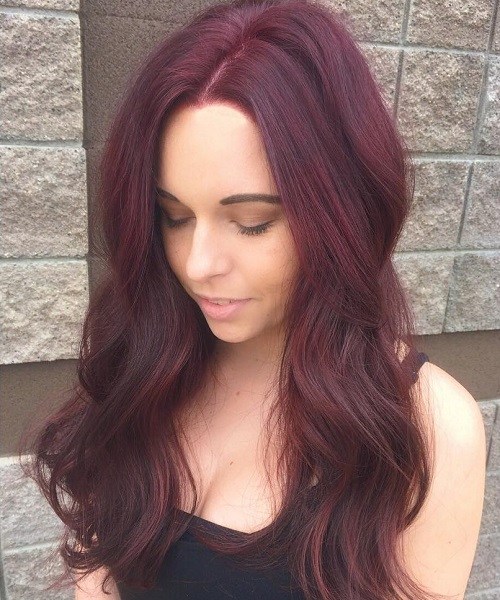 Highlights and lowlights aren't reserved for only 'natural' hair colors; mahogany shades can also get their fair share of dimension by adding in a few highlights and lowlights of their own. Love this amazing color, and those loose, voluminous waves are truly icing on the mahogany cake.
Highlighted Mahogany Brown Curls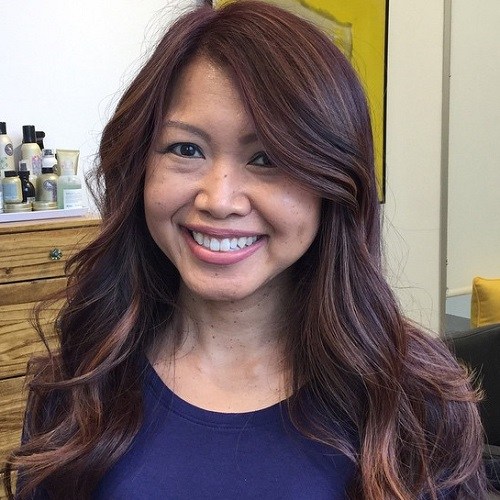 Mahogany doesn't have to be striking or bold; in fact, it can be subdued and incredibly natural looking. She starts off with a mousy brown hue, enhancing it with a twinge of mahogany throughout. To ensure her locks are summer-ready, she pieces in some lovely lighter highlights to showcase a sunkissed look.
Wine Red Mahogany: Balayage, Straight Hairstyles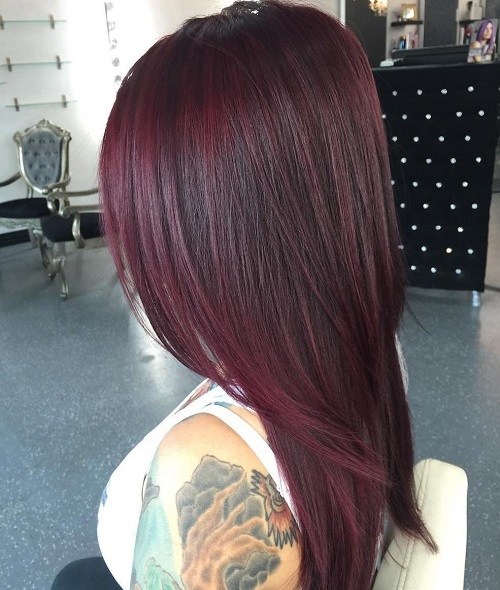 Here we go again with the WINE! It's apparent that the majority of females love wine, whether it's served with dinner or doused on our locks. This luscious wine red mahogany hue would look good on just about anyone, those darker pieces underneath causing a dramatic contrast that's verging on vampirific.
Hints of Deep Blue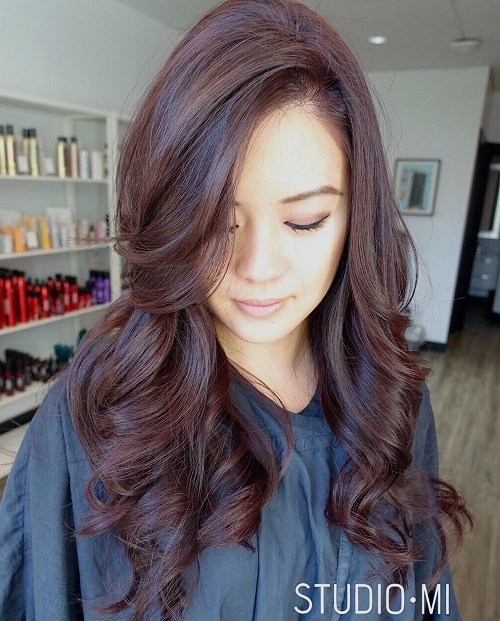 At first glance, you may only see the luscious chocolate brown hair being rolled into some glamorous Victoria Secret inspired curls; but taking a closer look, you'll catch those striking deep blue undertones, which truly set this hairstyle apart from the rest.
Everyday Mahogany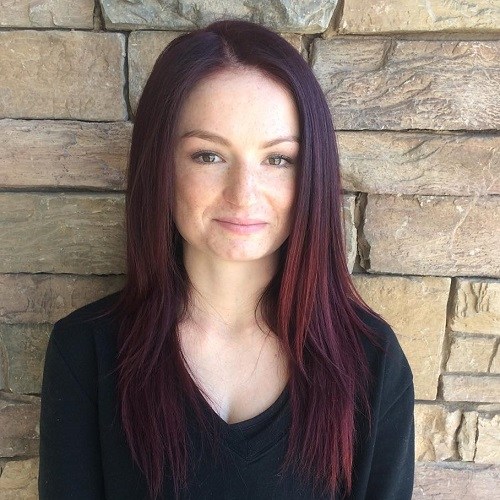 Mahogany hair looks grand when tossed into some ringlets, curls, or waves, but this hue also looks fabulous when left straight and natural! Her everyday style works anywhere, as she lets her color do the talking rather than styling. Looking good!
Medium Mahogany Lob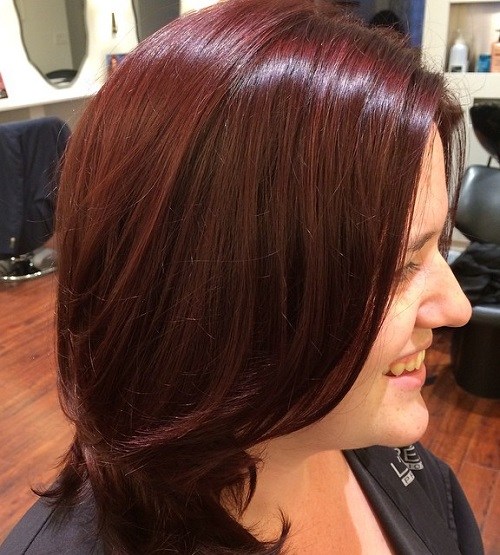 Mahogany hair can quickly become work-friendly with a sophisticated lob haircut like this. Her mahogany tresses verge on auburn, with hues of dark red infiltrated for a very sassy and stylish finish.
Red Violet Mahogany Loose Curls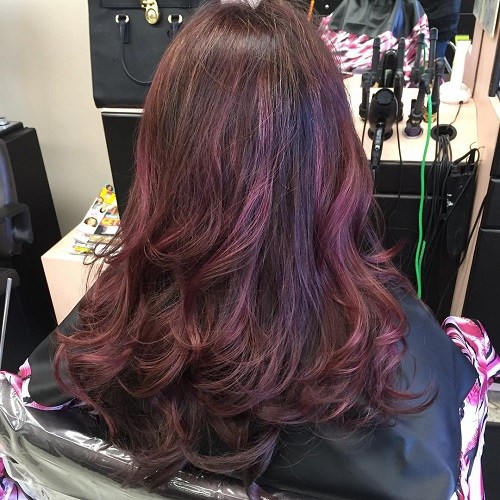 It is certainly the best of both worlds: a hint of red, and a touch of violet; beautiful! For the gals who can't settle on red or violet undertones, why not get both? Finish off with some dazzling loose curls that can easily be worn anywhere.
Purple Mahogany Texture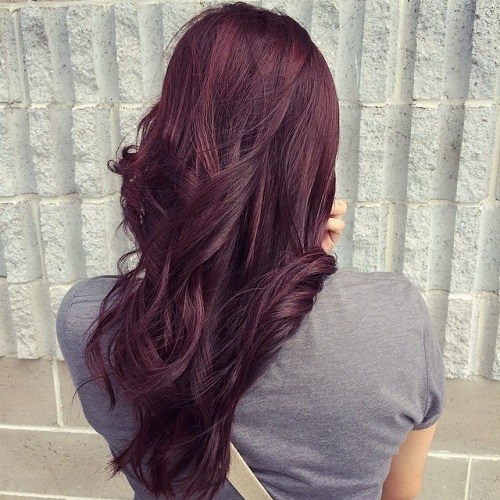 Everyday looks are as easy as texturizing just a pinch- just as you see in this picture. Her purple mahogany hair is fabulous on its own, but for a little bit of body she simply puts some product in her hair before blowdrying, adding in a few finger-pulled waves, and finishing off by tousling.
Deep Brown Waves: Shoulder Length Hairstyles
Looking for that sweet, innocent hairstyle that's subdued and effortlessly trendy? Look no further! This luscious lob is filled with bouncy waves that are rich and beautiful, thanks to a deep brown coloring with subtle mahogany highlights softly blended through.
Red Highlighted Mahogany Curls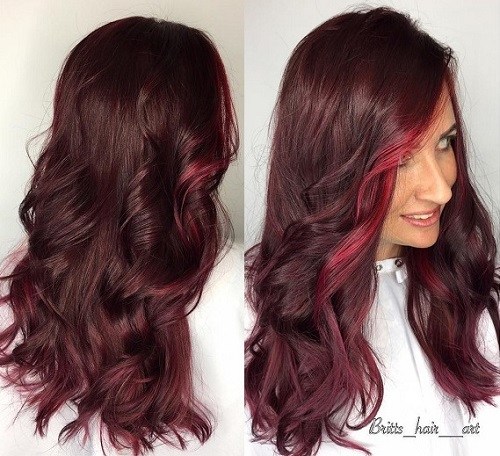 Sure, mahogany red is effortless and majorly appealing; but what about good old-fashioned fire engine red? To make your mahogany red more standout and bold, simply add in a bright red streak around the face. It takes your look from great to WOW! and also adds some light around the face, brightening your complexion. Don't forget sexy curls!