22 Trendy Short Haircut Ideas for 2021: Straight, Curly Hair
If you're thinking about chopping your locks, now is the perfect time to do it! Super short haircuts are definitely a style trend for this year, and that includes everything from shaved sides to a-line bobs. We've come up with an extensive list of 22 awesome short haircut ideas– you're sure to find a cut that suits your specific style.
Pixie Haircut with Lengthy Layers
The pixie haircut has risen in popularity throughout the last few years, and this beloved 'do will continue to soar in popularity! We especially love with extra lengthy pixie haircut with tons of layers. The length frames the face beautifully, highlighting the cheek bones and skimming above the eye for a trendy finish. Oh, and of COURSE we're loving that red hot hair color; beyond sexy and eye-catching!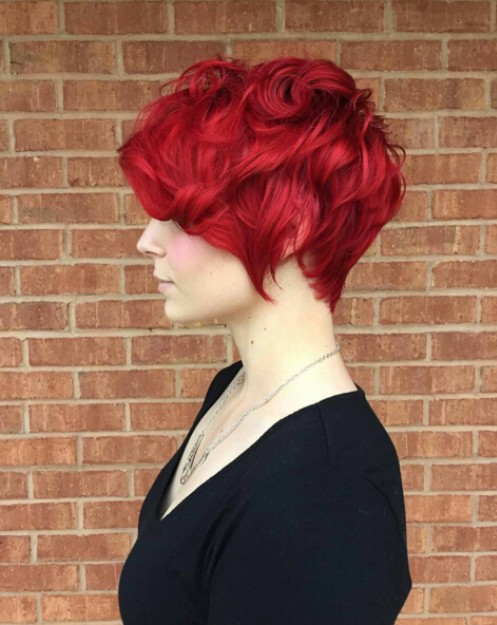 Super Short Buzz with Little Layers
Even when your hair is chopped shut, it doesn't mean you have to miss out on layers! With the haircut being SO incredibly short, the layers create an instant burst of funky vibrancy and plenty of wild volume. This lovely hairstyle is great for the gal who loves to live life on the edge and sport a super funky style that works anywhere. And of course, super short hair means 0 hassle when it comes to styling- added bonus!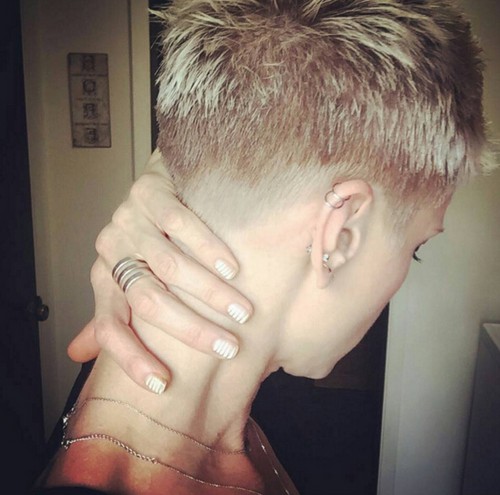 Pixie Cut with Lengthy Top Layers
There is something about the pixie haircut with plenty of length only on the top that is so youthful and stylish! Here the hair is cut extra short in the back, which means you only have to worry about dealing with the length up top. We love how the layers hang gracefully down towards the front of her face, creating a youthful and bright appearance. A great choice for older women, especially women over 50!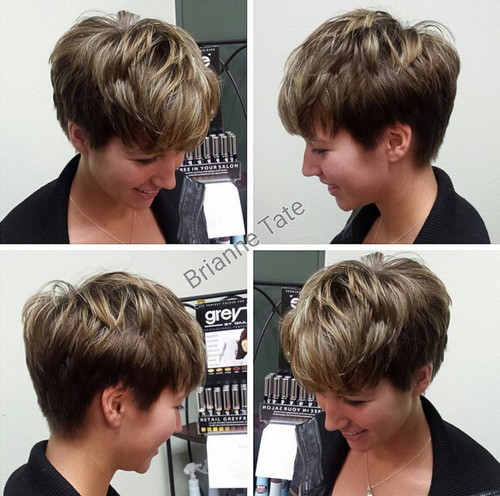 Super Sleek Asymmetrical Pixie
Modern and posh, there's no denying how sophisticated this particular pixie haircut is. She starts off with an asymmetrical cut, leaving one side cut above the ear while the other side drapes delicately towards her jaw. The look frames the face, making it a wonderful option for girls with square faces that want to soften while highlighting their beautiful features. A very trendy look that NEVER gets old!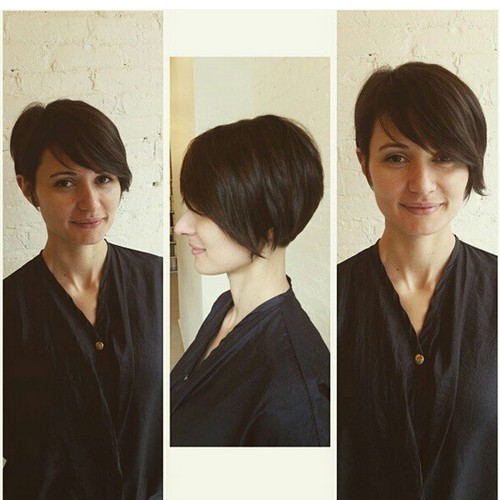 Lengthy Pixie with Choppy Layers
For girls who love a haircut that's untamed, wild, and absolutely free, this is an excellent option! The cut starts off with a super lengthy pixie, then choppy layers are added throughout for a rigid and edgy finish. She adds to her edgy appearance by splashing some blue on her side bangs (blue being one of the most popular hair colors for 2018!), leaving the rest of her mane with a lovely sandy blonde shade with hints of brown underneath.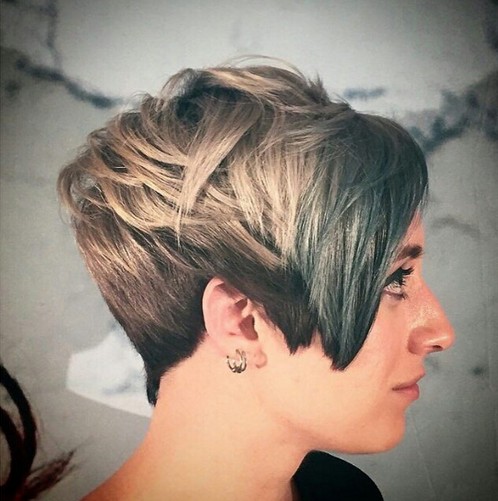 Under-Shave with Long Top
Want an easy hairstyle that looks fabulous the moment you wake up? Then consider this super stylish and flirty cut! The top of the mane s kept long and fabulous so you can still switch it up from straight to curly with ease while the underneath is shaved, adding some serious edgy dimension to the overall look.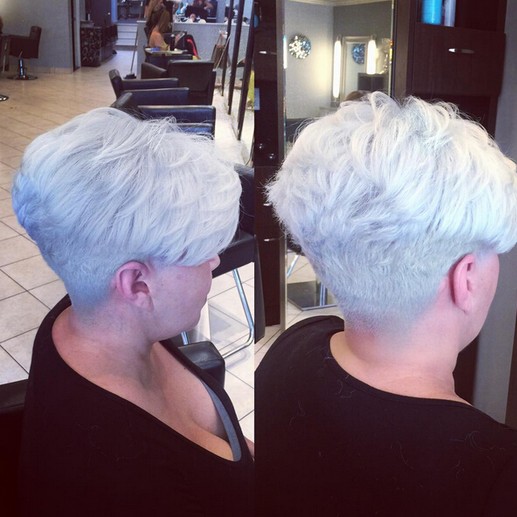 Choppy Side Shave with Lengthy Side
There's no denying it: this girls look is FIERCE; and we couldn't be any more in love with it. She starts off by dying her hair to a tantalizing platinum blonde, leaving hints of black throughout for a bit of clever depth. Next, she shaves a single side of her head in a choppy, cascading way, bringing a divine style that's edgy and fresh. The rest of the locks are left extra lengthy, and we love how she sweeps it over to the side with lots of alluring and seductive volume.
Under-Shave with Short Top and Curls
Some women are afraid to rock a short haircut out of fear they'll miss out on the curls; but this look proves that curls are still strong and simple in the short hair world! Here we see this lovely lady sporting an under-shave cut, leaving just enough length up top to roll her hair into some seriously fabulous curls. This is a great haircut and hairstyle for women of all ages!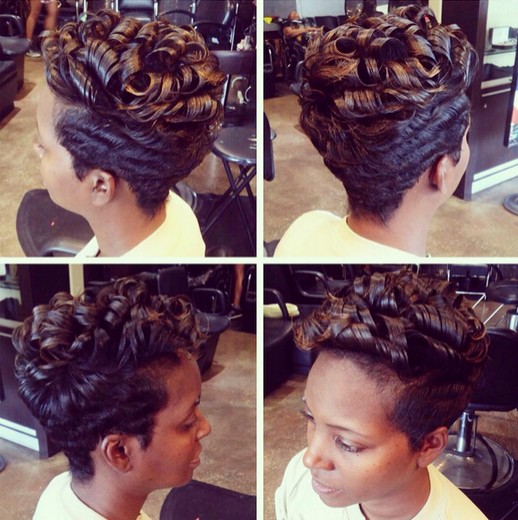 Pixie Faux Hawk
Innovative and original, the pixie faux hawk is reserved for girls who love an edgy look that's sure to turn heads. The majority of her mane is shaved extremely short to the head, leaving just a bit of height at the top to slick back into an edgy faux hawk.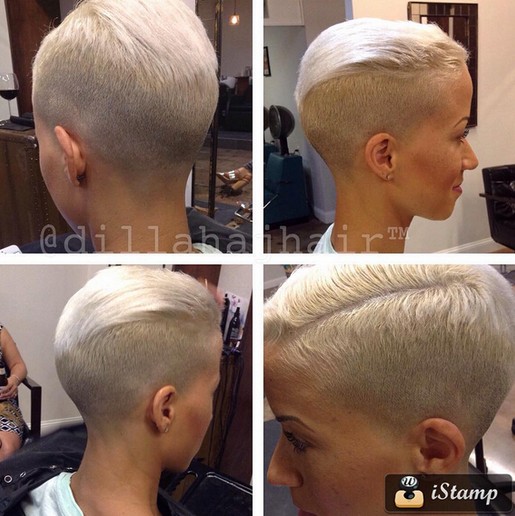 Shaved Side with Cascading Short Cut
Depth is key to creating a unique and fashionable hairstyle, and this is what this flashy 'do is all about. Starting off with a heavily trendy side shave, she leads the cut back with a short blunt cut that cascades to the back of the neck. The rest of her hair is left incredibly long and tossed to the side, creating a very fashion-forward and trendy haircut we love. And we can't forget to mention her swank hair color- violet and gray are two other must-try colors for 2018!
Bowl Cut with Under-Shaved Sides
At this point it's safe to say that the bowl haircut is no longer a fashion 'DON'T'. We're seeing bowl cuts all over the fashion world from runways to New York city sidewalks, and we couldn't be any more intrigued. This particular haircut is extra modern, featuring an under-shave on the sides.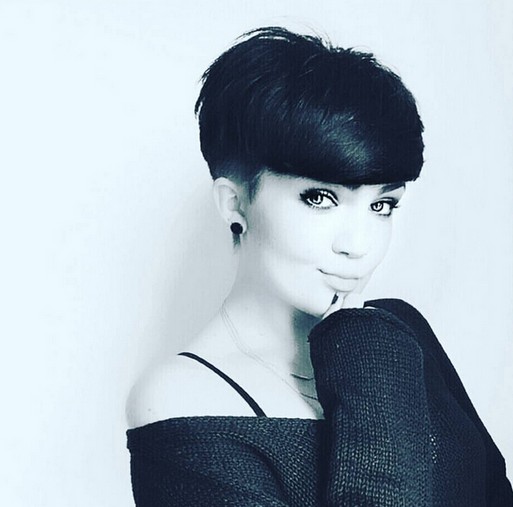 Artsy Shave
Want to know one of the hottest hairstyle trends for 2018? Artsy shaves! Forget the boring, dull, and totally lifeless shaved haircuts. If you're looking for something with a little bit more dimensional and life, consider an artsy shaved hairstyle. This wonderful woman decides to add stripes to her mane while keeping plenty of length up top so there's wiggle room for styling!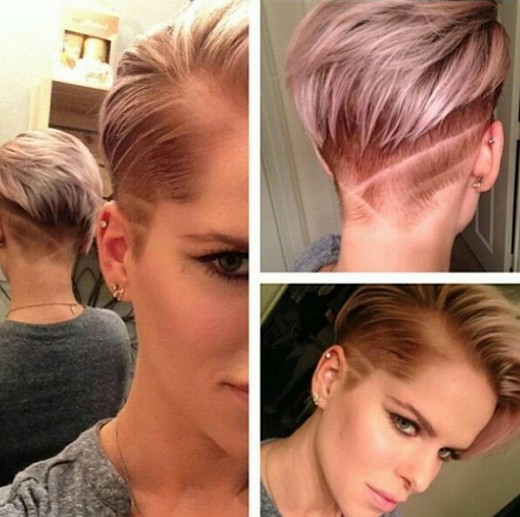 Cascading Shaved Side with Lengthy Layers
This haircut has it all: from the cascading shaved side to the complimenting short cut leading back to the nape of the neck, to the lengthy pixie haircut up top followed by tons of voluminous long layers. She finishes off her modern style with gray and violet locks, the hottest hair color trend for 2018.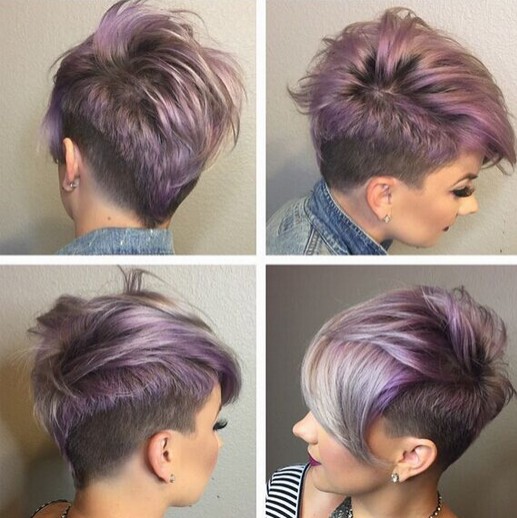 Chin-Skimming Bob
Perky and flirty, this chin-skimming bob is an excellent choice for a lady who loves some bounce to her mane! The ends are chopped a bit with some layers of all shapes and sizes, leaving the back of the hair a bit shorter than in the front. The lengthy front softens her look and is an excellent choice for women with round faces. She adds an extra dose of flirty attitude with a pinch of red and pink highlighting her light blonde locks.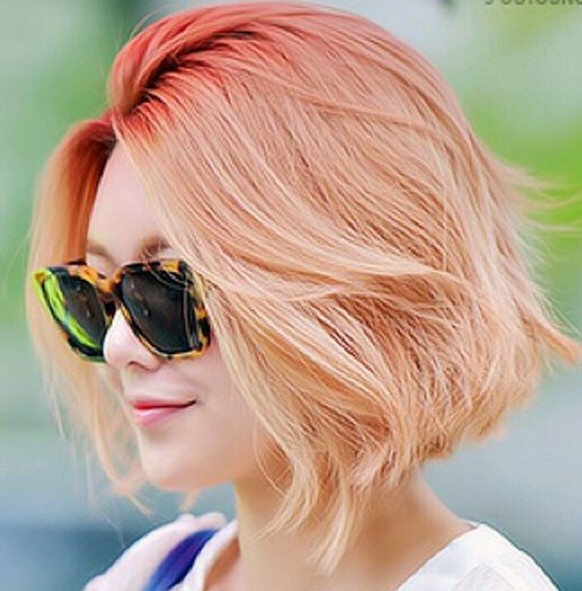 Long Pixie
Truly a classic haircut, this long pixie 'do is an excellent option for a lady who wants to keep things simple yet trendy. It's a great option for women of all ages, and can be easily styled from straight and slicked back to curly and sexy. The hints of red in her dark brown mane adds a splash of vibrant expression and really polishes off her modern appearance.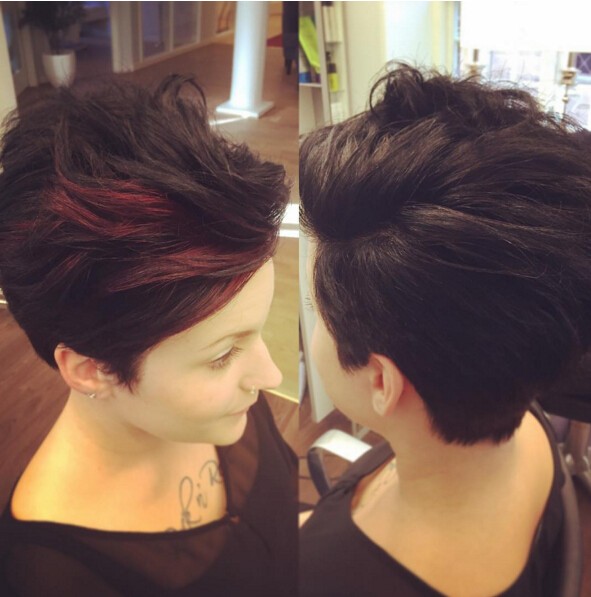 Super Short Bob
Light blonde highlights accented against super dark roots- LOVE. Dazzling loose romantic curls that are casual enough for the beach yet classy enough for the office party- LOVE. The beautiful haircut that dangles just below the chin- LOVE. Can you tell we love everything about this look?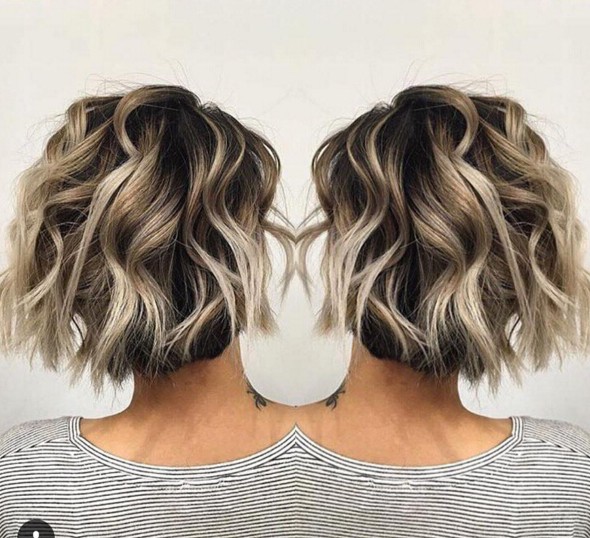 Graduated Lengthy Bob
Stacked in the back, extra long in the front; this graduated lengthy bob is absolutely stunning. A haircut that's perfect for girls with square faces, the chin-skimming haircut leaves the hair dangling gorgeously towards the front of the face, which adds some serious softness and youth to your appearance. A classic look for someone who's craving shortness while still wanting to keep plenty of length.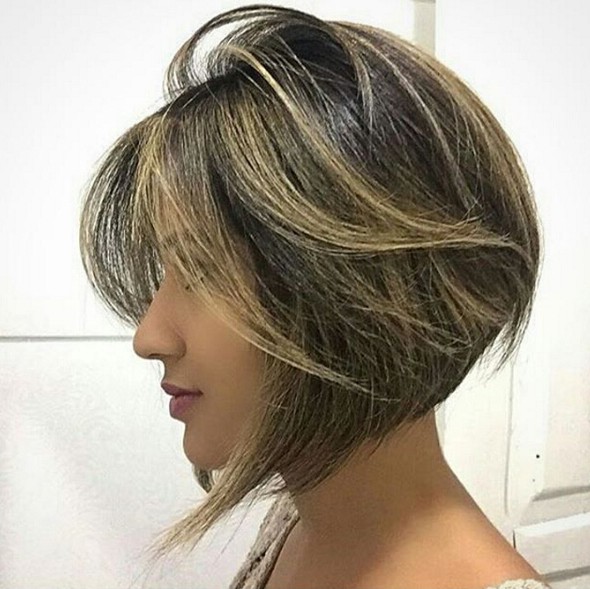 Cut-Short Back with Extra Lengthy Front
Short in the back, long in the front- this haircut is great for women who want the best of both worlds! We love how she leaves the short pieces dark brown while the rest of her mane is brightened up with a super light shade of blonde, making a really cool finish that's great for summer.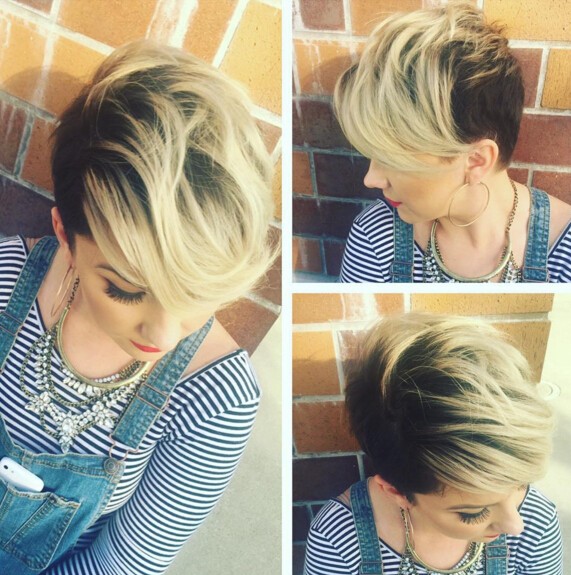 Choppy Short Bob
There's something just oh-so-cute yet oh-so-simple about this easy choppy short bob. It frames her face naturally and beautifully, letting her gorgeous facial features do ALL the talking. It's a haircut that reminds us of our simpler days in high school, and is a great option for girls with round or oval faces.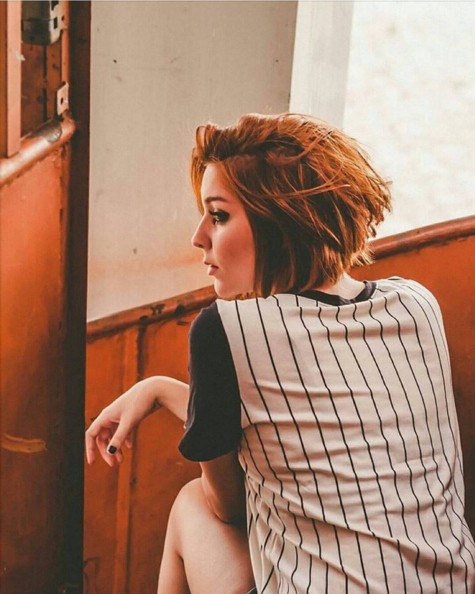 Shaved Back with Lengthy Side Bangs
Side bangs are incredibly stylish and seem to never go out of style- but hey, we aren't complaining! We love side bangs, especially when they're extra long and skim over the eye like you see in this picture. She gives her mane an edgy makeover with an entirely shaved back and hints of violet and pink throughout.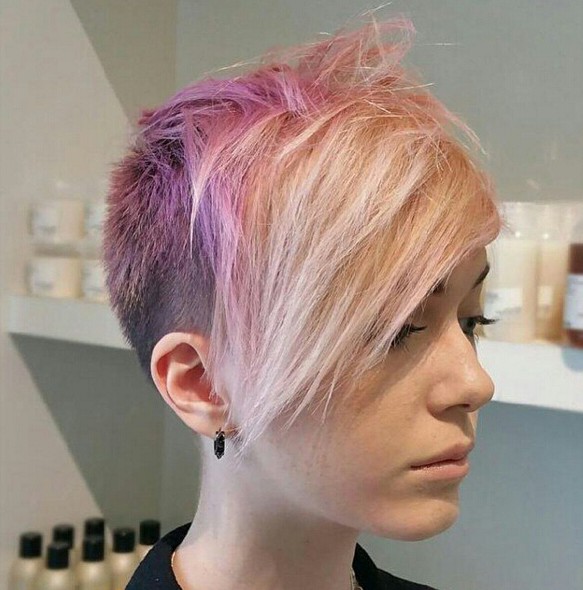 Above-the-Chin Bob
With the words 'cute' written ALL over it, this adorable bob is chopped just above the chin, making it a wonderful choice for women with round faces who want to add some length. She tosses her hair way over to one side, letting her trendy side bangs hang gracefully just above the eye. Tousled up with some coquettish waves, this hairstyle goes from day to night with ease.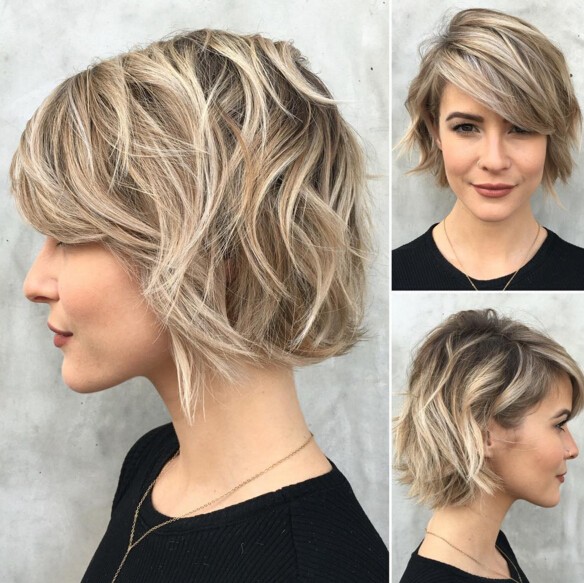 Shaved Side
For girls who aren't afraid to live on the wild side, this haircut is for YOU! Shaved sides became such a huge hit in 2015, and we're still seeing them everywhere for the year 20168 as well. She takes her edgy style sense to the next level by coating her lips in a dark wine shade, another top style trend we can't get enough of. The rest of her mane is left extra long for some serious contrast that's eye-catching and fun.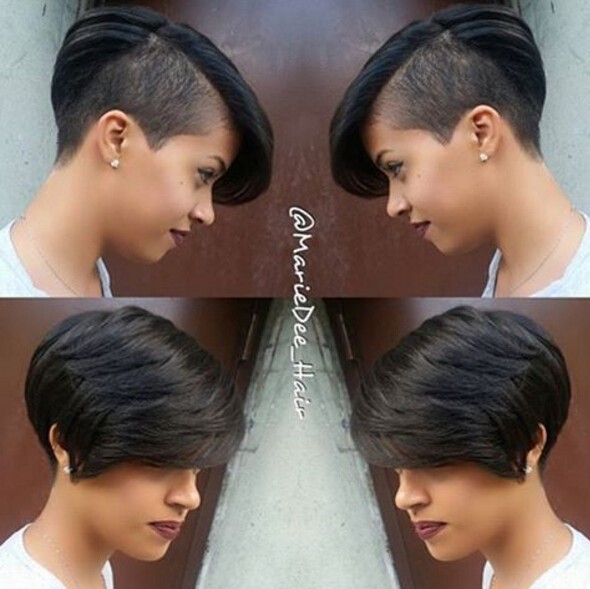 From flirty bob haircuts to super wild shaved cuts, there's so many short haircuts to choose from. Pophaircuts.com which is your short haircut of choice for 2018?