20 Cute Pixie Haircuts for a New Style
Pixie haircuts are an undeniable trend that won't lose steam anytime soon. They allow women to indulge in an effortless look that takes minimal care. And while pixie haircuts are great for any season and look magnificent on literally any lady, they're especially popular during warmer seasons when feeling burdened and hot with long strands is an absolute NO.
If you're thinking about trying out a pixie haircut or simply just want to switch up your short look, you need to see this cute pixie hairstyle designs. We have pixie hairstyles for kinky curls, pixie side swept hairstyles, even pixie faux hawk ideas- and so much more!
Buzzed Down Natural Curls: Very Short Haircuts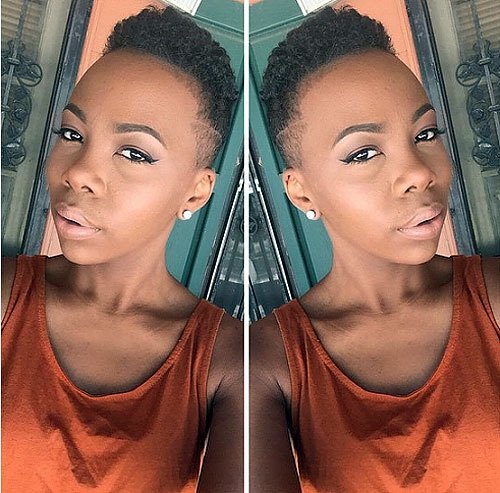 Thick hair with naturally kinky curls can be heavy and unmanageable, so ditch the weight and crazy tresses and buzz it down short. This buzzed down pixie haircut is extremely short and works well on faces with high cheek bones and distinct features.
Light Blonde Long Pixie with Buzzed Sides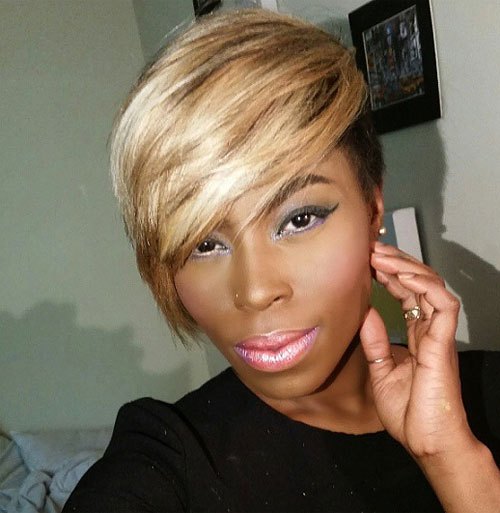 When you leave a bulk of your tresses extra lengthy up top, it's the perfect reason to toss your hair seductively over one eye. Buzzing the sides draws even more attention to the longer strands, giving you the best opportunity to style up with some luscious light blonde coloring. It really brightens her complexion, especially when paired with light pink lips and stunning bright eye makeup.
Red Hot Pixie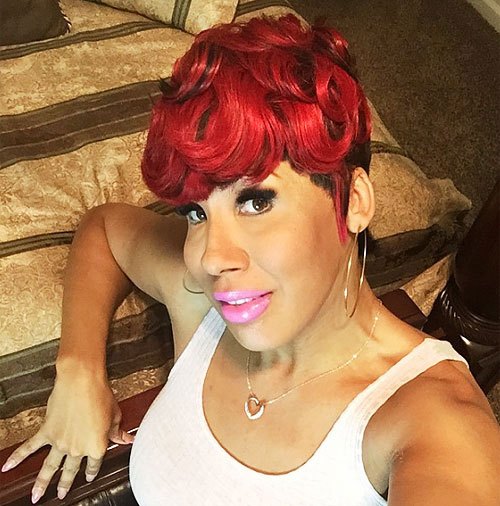 This woman is truly ready to make a statement wherever she goes! Turn your pixie from boring and drab to flawless and regal by dousing your pixie in some deep red coloring. Looks great on any haircut and you can mix and match with makeup for a very standout appearance.
Highlighted Pixie Waves: African American Women Short Hair Styles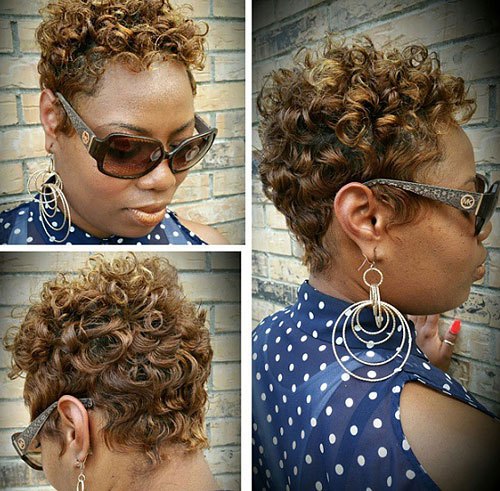 Short brown pixie cuts can lack luster, so ensure your hairstyle is Red Carpet-ready by tossing in a perm with big rods for fabulous waves and a flurry of highlights to make sure they glow. Sassy and sweet, this look doubles as a work-friendly 'do as well as a sexy, classy style for a wedding.
Quirky Layers: Cute, Easy Short Pixie Hairstyles with Black Hair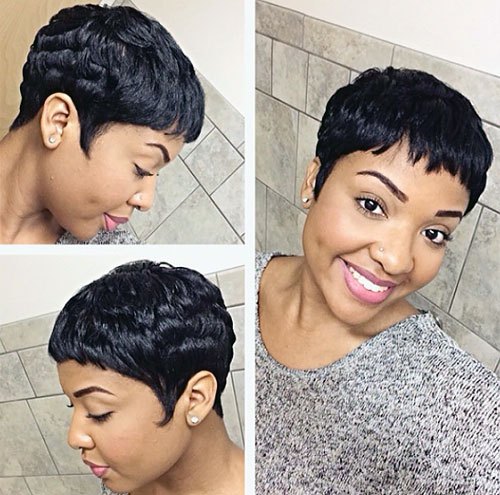 Add some spice into your style by asking your stylist to give you a unique mixup of layers! The quirky layers all throughout this mane add some diversity and lively personality to her mane, but what really catches our attention are those spunky asymmetrical fringes that are downright fun.
Lengthy Side Sweep with Buzzed Side: Asymmetrical Short Hairstyles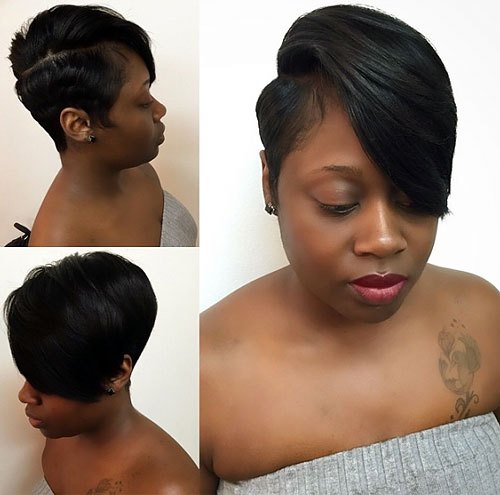 The pure elegance found in this look is unmatched by any other pixie hairstyle. This glamorous pixie cut is buzzed down on one side, the other side drawing attention with its length and luscious appeal. Tease the crown for extra height and run a straightener down your longer side swept part for hair that glistens and shines.
Exotically Colored Spiky Layered Pixie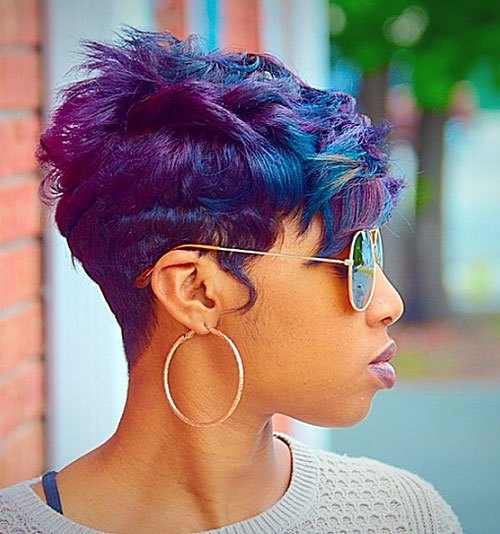 There is no denying it- there is a LOT of edgy but super-trendy appeals going on in this look, from the crazy layers tossed this way and that to the funky spikes at the back of the crown. An avant-grade look as this is the ideal platform for outrageous colors, and this on-trend blend of vibrant purple and exotic dark blue is a great choice.
Shaved Undercut with Wavy Top: Chic Curly Pixie Hairstyle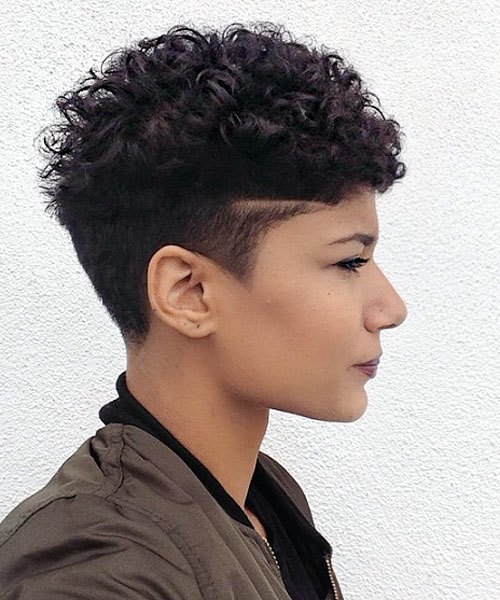 Setting yourself apart in a world of pixie hairstyles may be hard, but it's a cinch when you pull off a fashionable and face-framing look like this. A shaved undercut is precisely cut down the middle, leaving the top half fuller with some charming waves. An artsy, fashion-forward hairstyle that works best with warm makeup tones.
Highlighted Kinky Curled Pixie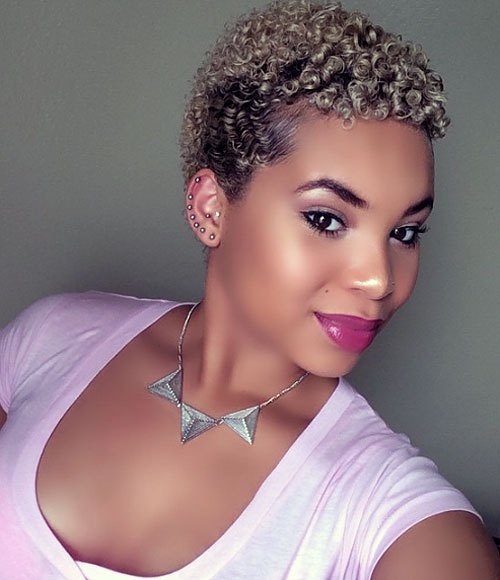 Pixie haircuts are great for any lady who's looking to get rid of some of that extra weight and indulge in something effortless and classy. This look features her all natural, lovely kinky curls in a way that's effortless and free. The highlights on top give extra dimension to her tight ringlets while also brightening her overall complexion.
Swept Over Pixie: Simple Short Hairstyles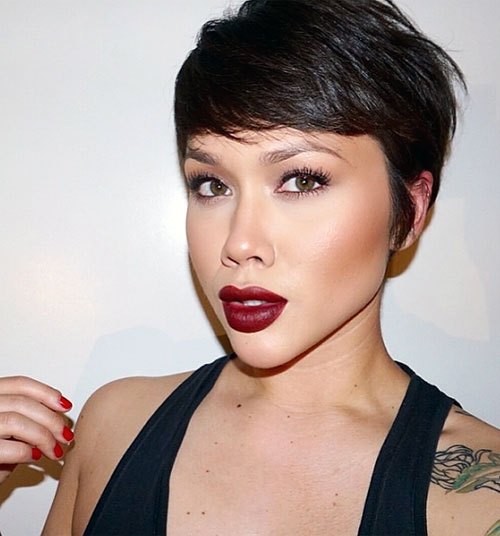 Creating BULK in a way that's enticing and sultry is a cinch when you have a long pixie haircut such as this. Her luscious deep brunette tresses are swept completely over to one side, lightly textured for that 'come-hither' finish. Create even more sex appeal with deep wine colored lips and sexy dark eyes.
Long Curly Pixie
Embrace your natural beauty and let it shine bright, simply by cutting it shorter but leaving just enough length to let your ringlets talk.
Razored Layers and Finger Waves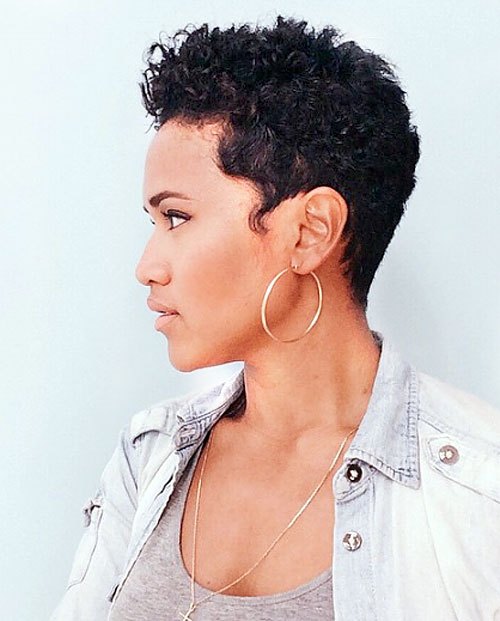 Razoring your layers extra short gives them plenty of height and charming personality in an instant, but to tame these layers and give them some feminine life, toss your fingers through while blow-drying for delightful finger waves.
Diva Faux Hawk Pixie Hair Cuts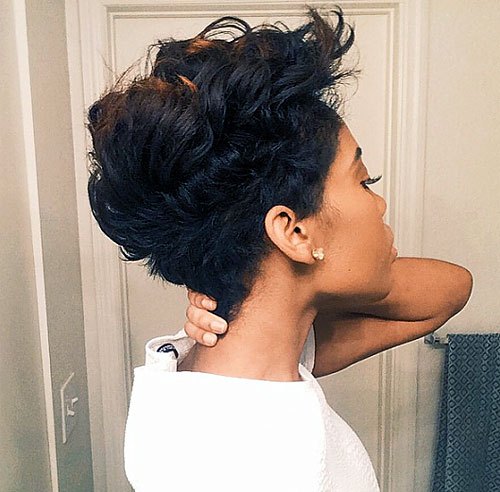 This diva certainly knows how to be the talk of the party! Her sexy hairstyle leaves the undercut shorter than the bulkier long top half, styled perfectly into an extremely elegant and sophisticated faux hawk. Ladies, a faux hawk CAN be extravagant and feminine; clearly shown in this style.
Tossed Forward Pixie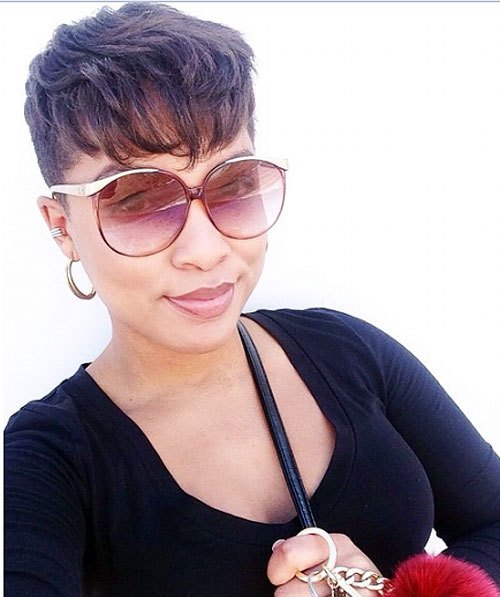 We've seen plenty of pixie hairstyles that are tossed to the side, but what about being tossed to the front? This is an awesome idea for ladies with longer faces or larger foreheads who want to cover it up a bit, and it's a really cute and funky way to style your pixie locks.
Wavy Blonde Pixie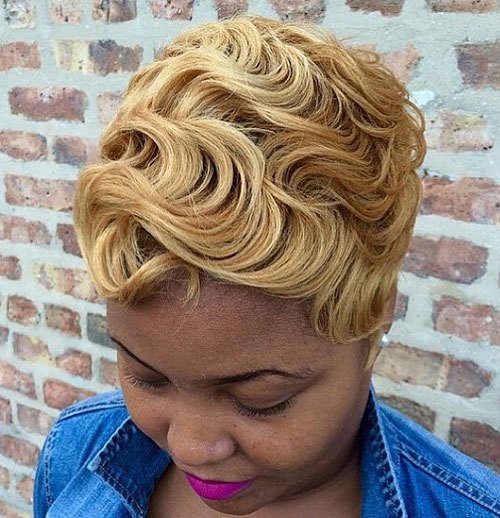 This honey blonde color is certainly daring, but you can't say it doesn't look flawless against her darker skin tone. For this look, she leaves some length to her pixie so she can wave it up. It's simply stunning and the perfect idea for summer!
Heightened Natural Curls Pixie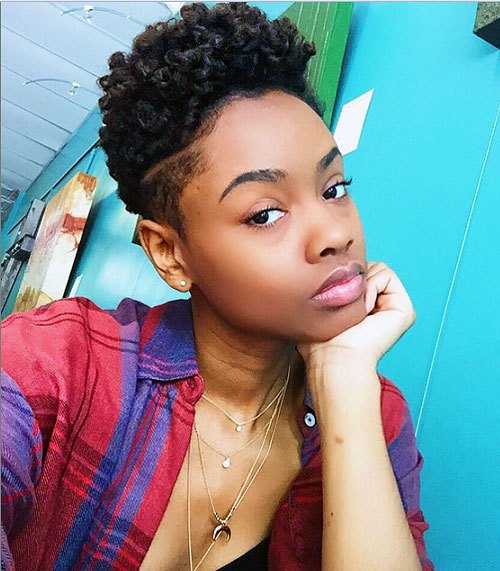 Love your natural tight curls? Make them the star of your look by shaving off the sides and leaving plenty of height up top. This look is as easy as getting up and walking out the door- how simple is that!?
Straight Pixie Haircut with Side Bangs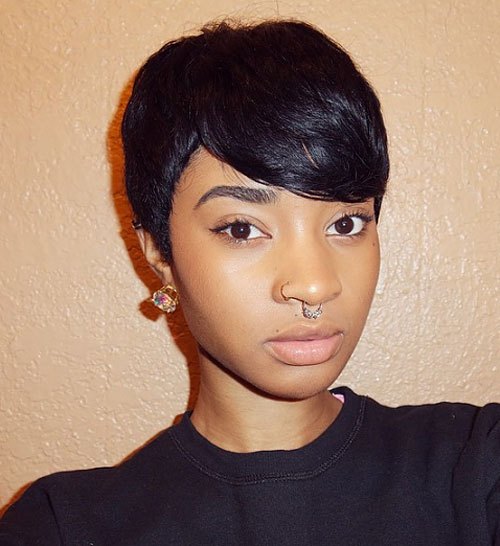 We are huge lovers of side bangs, especially when they're tossed ever-so-gracefully across one eyebrow. The look is subtle, but holds a lot of elegance and grace to it. It's easy to put together and for that lovely glow, toss on some hair product and run a straightener through your strands.
Textured Maroon Long Pixie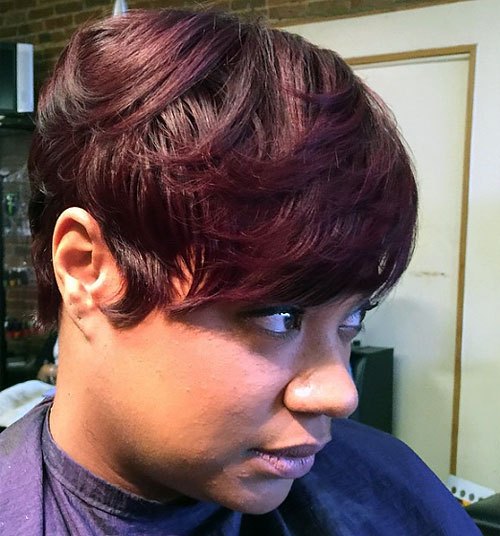 Leaving a little extra length on your pixie haircut gives you extra room to STYLE! Throw in some product to your locks and tousle it up with your fingers while blow drying. You'll achieve an effortless, carefree style that's fun and full of life. Consider a maroon tone on top of black roots for a subtle lightening that's trendy and warm.
Minimalistic Pixie: Cute, Easy Short Hair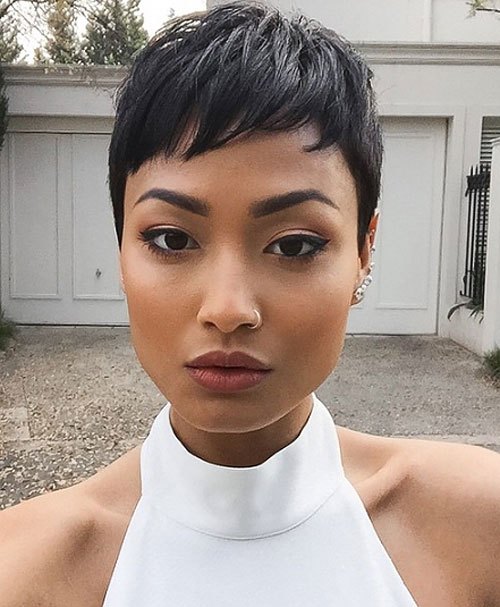 Minimalistic, but oh-so-chic. This dazzling woman opt for a face-framing pixie with side swept fringes, the epitome of ease of styling thanks to its short length. Keep the modelesque feel of this haircut by choosing smoky eye makeup, dark lips, and of course eyebrows on point.
Edgy Lavender-Grey Cut: Layered Pixie Hairstyle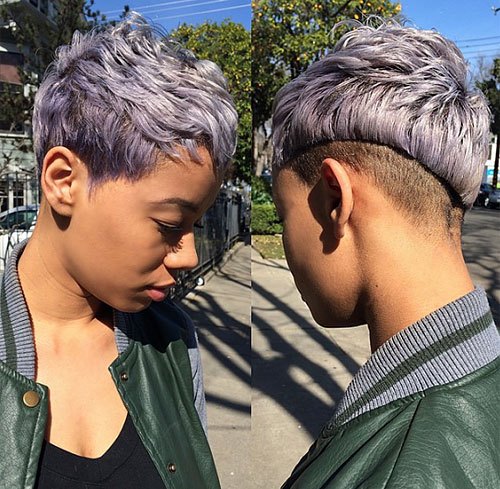 The edginess in this look is not for the faint of heart. If you're a gal that loves to live life on the edge and indulge in the wild side, you will definitely appreciate this hairstyle. Loads of layers adds a unique and lively dimension all around, while a shaved undercut enhances the wildness. But what is really striking about this hot and trendy 'do is that lavender-grey blended hue- AWESOME!