10 Edgy Pixie Cuts with Cute Color Twists
Looking for something different, why not browse these edgy pixie cuts which will surprise and delight you! Dual color, half and half hairstyles are here – with a classy, new twist. And all of the new season's edgy pixie cuts are fantastic, so if you're ready to look fabulous read on and be inspired!
Black & ash-blonde dual color – edgy pixie cuts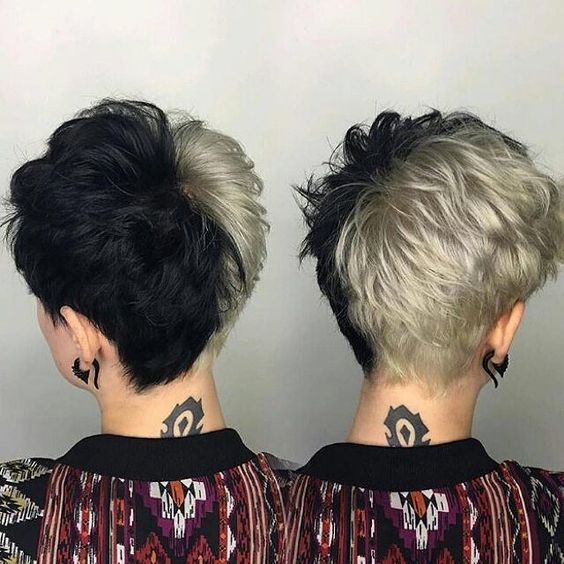 This is a super-trendy hair-color combination, I've definitely never seen before.  So if you like to be at the spearhead of new trends, this could be your amazing new look! It's smart and sassy, with a very modern twist from soft beige ash-blonde contrasted with carbon-black. This is a really eye-catching short hairstyle that's also tasteful and a great way to wear fine hair.
Short layered hairstyle in grey & pink tones – edgy pixie cuts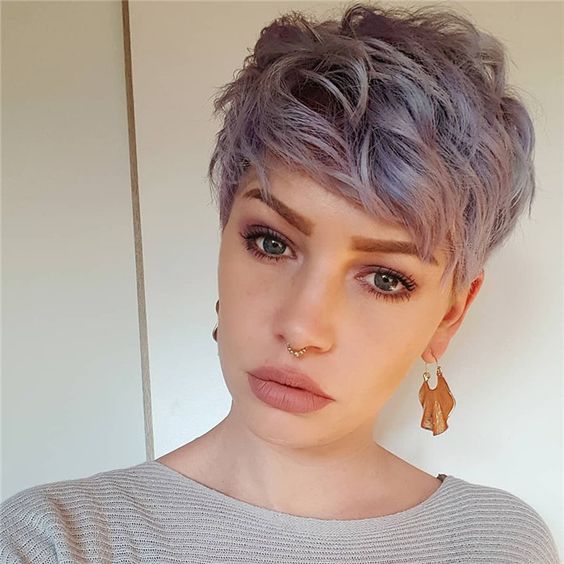 Think about your eye-color to choose the best high fashion hair colors for your natural coloring. This model has lovely gray-green eyes, which the colorist has matched perfectly in the pale gray-blonde hair color design. Because if you look closely, you'll see there are tones of pink and green nestling in the soft wavy texture! And the asymmetric, swept-across bangs are cut to show off shapely eye-brows and those lovely eyes.
Arctic white-blonde short bob haircut with V-back – edgy pixie cuts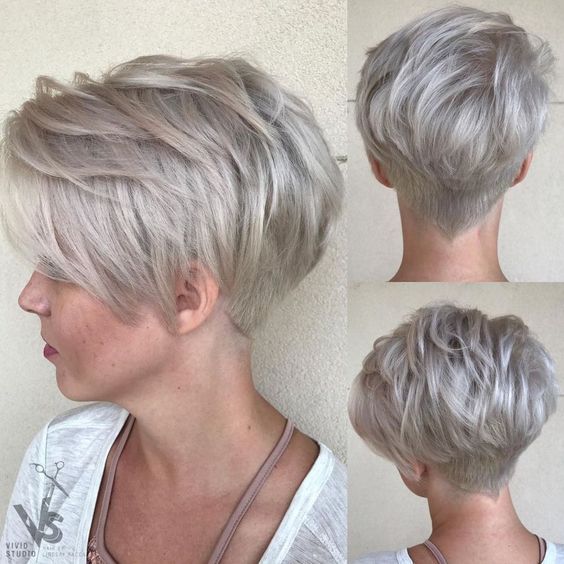 This cool hair color design is suitable for complexions with cool undertones. So that would normally include women with blue or green eye color, with naturally light blonde hair. The V-back makes a cute decoration at the nape and is especially nice if you happen to have a neck tattoo under the nape. And the asymmetric front creates a long, side-swept fringe that suits round, long, heart-shaped and oval faces depending on how you style the bangs. Pink toner and silver balayage complete a fabulous snow-queen look!
Brunette short cut for thick hair – edgy pixie cuts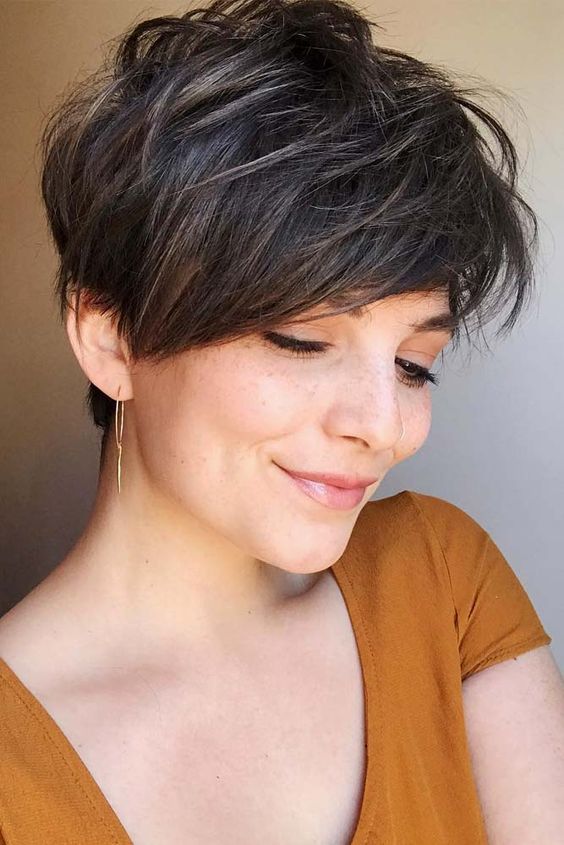 For a more natural look, that still uses the latest balayage techniques to add texture and depth to brunette hair, take a look a subtle blonde highlights.  The aim is to mimic the look of light bouncing off super-shiny hair, making it appear healthy and attractive. From a distance you can hardly tell there are fine, blonde accents added to brunette hair. And it helps cover any early gray hairs, too!
Spicy cinnamon short-back bob with long bangs
I really love this new hair color for its subtle blend of beige and copper making a soft, cinnamon shade.  And this hairstyle suits most hair textures, including straight, fine hair. The back is cut into a cute rounded shape that finishes high above the nape. So this makes a strong length contrast with the sides which curve in nicely at the jaw-line. Chin-length bobs suit just about every face shape and this modern version has lovely texture and a classy vibe!
Hi-fashion swept forward straight short gray haircut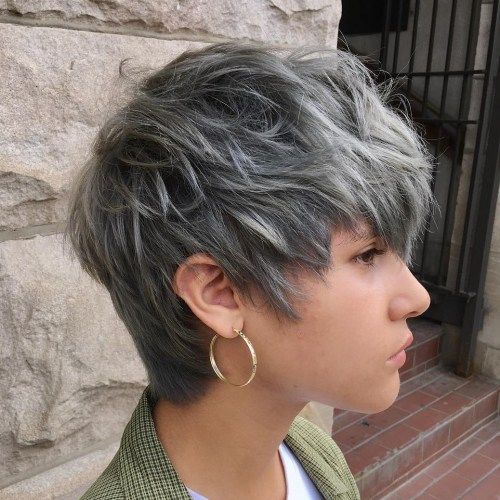 A straight, shaggy, gray short hairstyle may sound less than attractive – but when you see it on a pretty face, it really accentuates the model's cute, dainty features! And the shade of gray, with soft blonde balayage and subtle blue toner really complements this model's deep-brown eyes. The windswept styling copies the natural effect of a howling gale, to create a super-trendy look full of texture and movement!
Flat surface waves on asymmetrical short bob hairstyle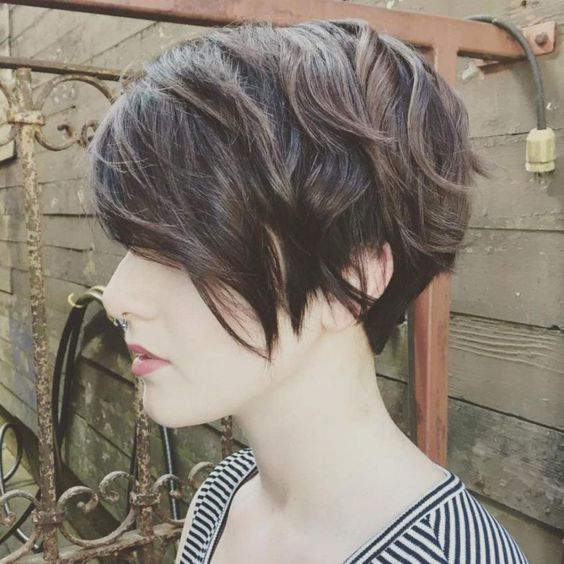 Here's a long pixie hairstyle that's suitable for most straight hair textures. It's a classy, easy-care hairstyle that contrasts an uneven graduated line at the sides, with gentle flat waves around the top of the head.  And this mix of textures gives an exciting contemporary twist to a flattering short haircut with long, side-swept bangs. This is a good style for long, heart, oval and round faces, which you can style in a couple of minutes in the morning!
Undercut short hairstyle on coffee-brown hair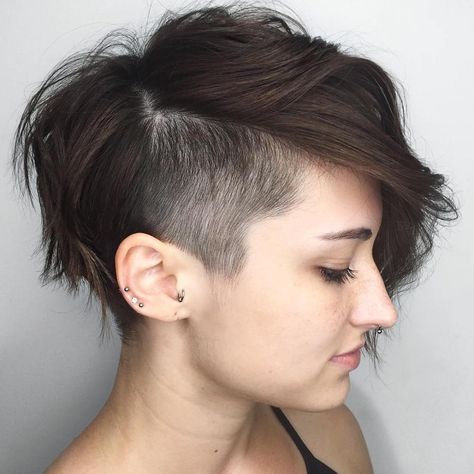 The undercut hairstyles are still popular with hair fashion fans and this asymmetric bob shows how to create a stand-out style on brunette hair. The pale skin color of the model beneath the short, buzzed side adds the look of lighter hair on one side. And the deep side parting with a swept across long fringe is perfect for a long, heart or round face shape. The back is styled in 'untidy' layers to form a round shape with a broken outline. So with a super-short side point, this look is packed with varied shapes and textures!
Sophisticated boy-cut with sliced layers & blonde highlights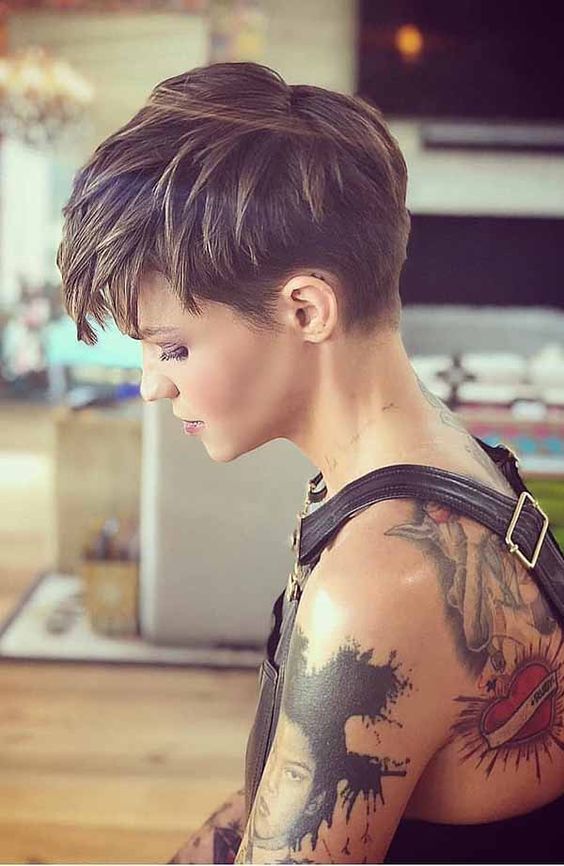 A well-cut boyish hairstyle is perfect for showing of dainty features and an attractive bone-structure. And the contrast between short hair and a delicate face accentuates your overall femininity! This classy look uses sliced layers to create those fabulous 'triangular' shapes arranged in defined sections for a completely new texture! Fine vertical highlights accentuate the superb, geometric shapes that are overlapped for a casual finish!
Natural blonde highlights on dark-blonde short bob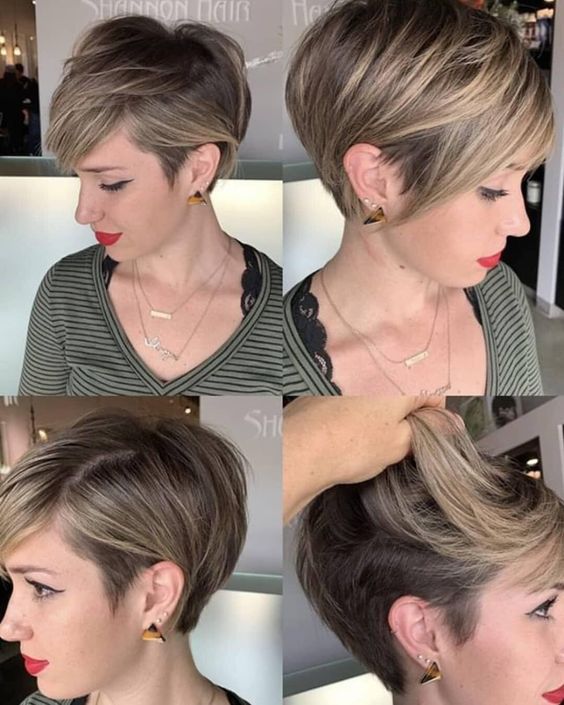 This new spin on the classic asymmetrical short bob shows how to use fine – broad, blonde highlights to add color depth and thickness to fine hair. Dark-blonde and mousey-brown hair color are perfect for getting a 3-D color contrast, without having to color the whole head. And the effect is very soft and natural looking. The long, asymmetrical bangs are great for breaking-up round faces, covering a broad forehead, and 'shortening' a long face. No wonder this flattering short haircut remains  so popular!
Whether you're looking for a stand-out, edgy pixie cut or a pretty short hairstyle you can wear with ease every day, follow these new ideas and get your best ever hair cut and color!