20 Chic Everyday Hairstyles for Medium Length Hair
When it comes to posts about hairstyles, long hair and short hair are always the styles which get the most attention. From bobs to lovely long locks – these are the styles which dominate hair styling websites everywhere. However, we think medium hairstyles can be every bit as gorgeous as longer or shorter styles, which is why we've chosen to gather some of our favourite medium length hairstyles in one gorgeous post to show off how you can liven up your medium length hair to perfection. Let us know which ones are your favourite!
If your hair is mid-length or medium length, then it occasionally be difficult to know exactly what to do with it. It's not quite short enough for a low maintenance bob look, but not quite long enough for some of the more elaborate braided hairstyles which have been so popular over the past few seasons. However, the PoPular Haircuts team are here to prove that mid-length hair is the way to go, providing a versatile platform for some seriously amazing hair looks. Here's our pick of the top medium length hairstyles around.
#1. Tousled and Textured Brown Balayage: Women Shoulder Length Haircut Ideas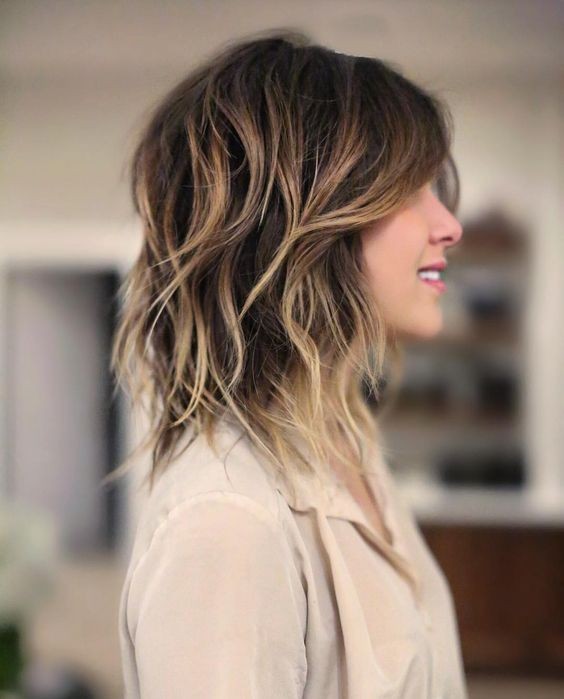 This brown to blonde balayage medium length hairstyle is the perfect look to start our gallery off with. This lovely lady's stunning locks fall around the shoulder length, and are full of lots of lovely shorter layers throughout for a feathered finished. She's created a textured and tousled style for an edgy finish which will take you from day to night with ease.
#2. Beachy Blonde Waves: Balayage, Layered Medium Hairstyle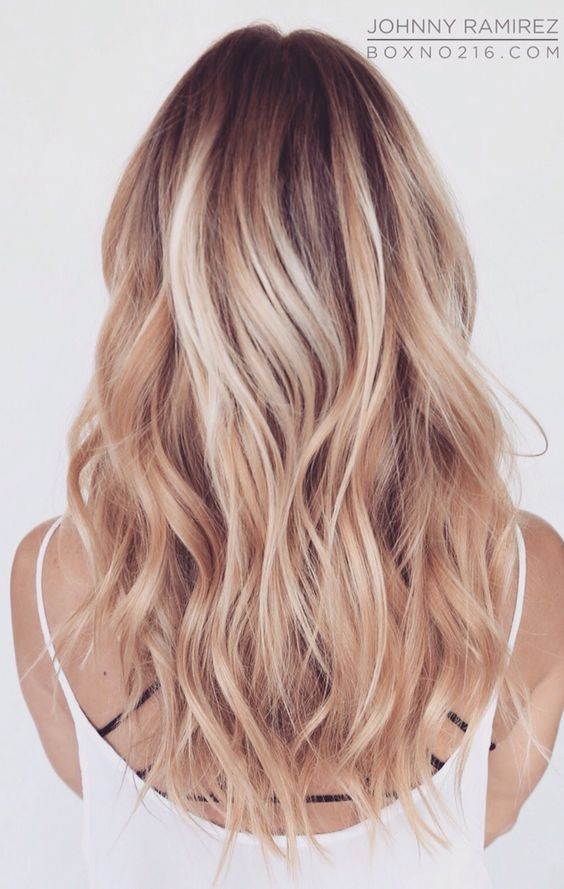 To recreate this beach-style hair look it's all about the curls. Opting for a loose curl from the root to the tip and using your fingers to tousle it softly will create the perfect beach waves, as displayed perfectly thanks to the lovely lady pictured above. Her beautiful hair is a gorgeous golden blonde which tops the look off in style.
#3. Golden Locks with Centre Parting: Medium Hairstyle for Thick Hair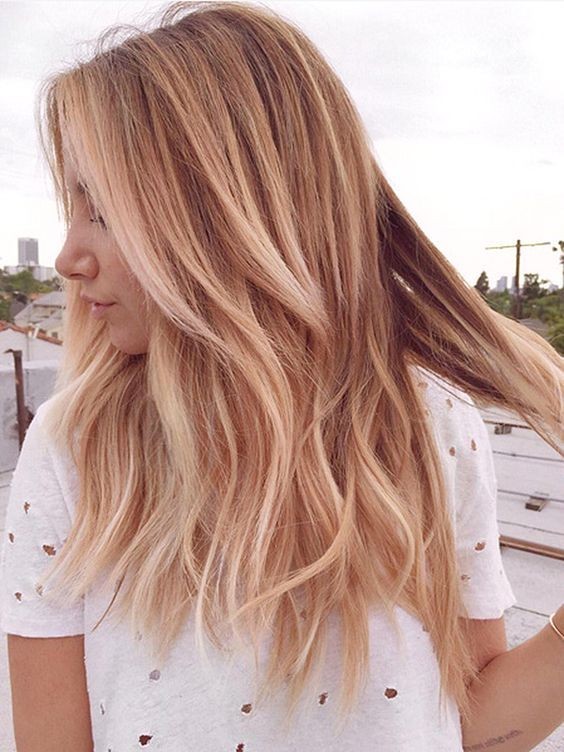 Golden blonde hair is simply timeless, regardless of the season or the time of year, it always looks beautiful. This lovely lady has medium length hair which has been parted in the centre, with shorter sections towards the front of the face. She's got a range of golden and bleached highlights which add a stunning glow to her luscious locks.
#4. Gorgeous Grey Bob with Curled Ends – Ombre Hairstyle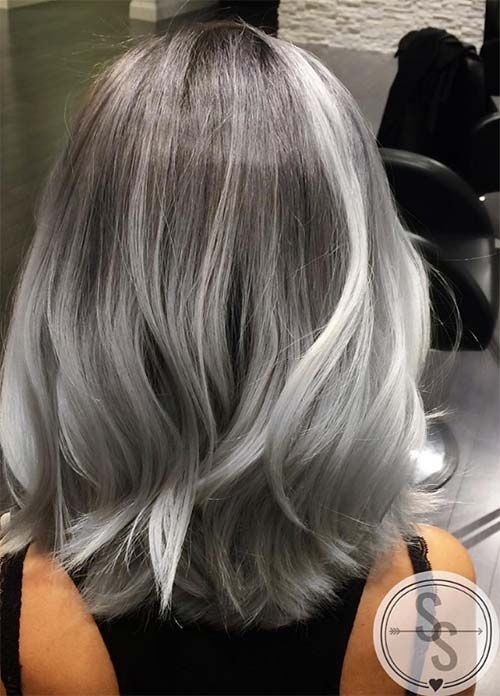 Grey is taking the hair scene by storm, acting as the latest trend which is continuously growing in popularity. This stylish lady has opted for a stunning silver sheen for her medium length bob, which is absolutely packed fll of volume and worked with soft curls at the ends of the hair for a fabulous flicked finish. What do you think?
#5. Purple and Pink Ombre Blend: Straight Shoulder Length Hair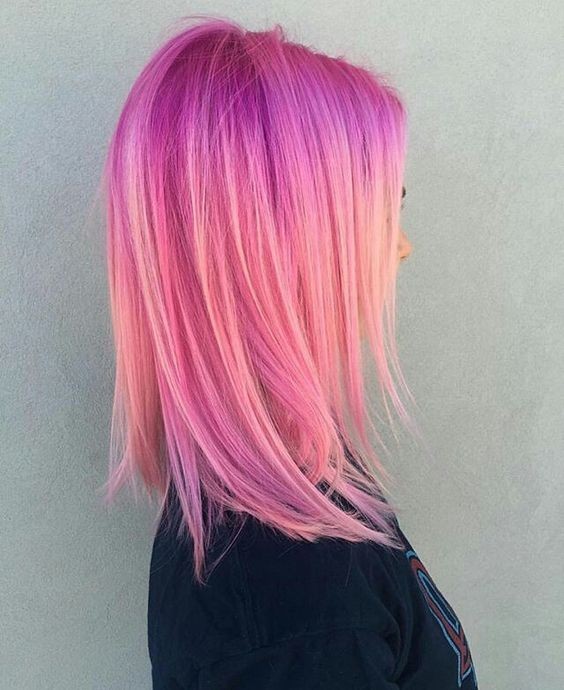 Pastel shades are all the rage for 2017, and after taking one glimpse at this absolutely beautiful hairstyle it's really not difficult to see why. This stunning lady has worked two pastel shades into her mid-length locks, from a purple at the root blending into a bubblegum pink. She's kept her hair straight and sleek to show off the colour transition!
#6. Silver to Peach Curly Lob – Ombre Lob Hair Styles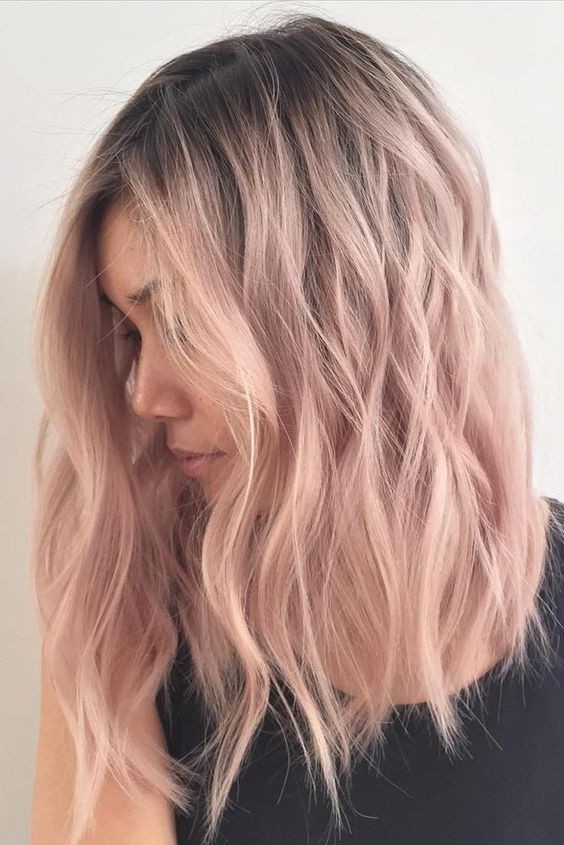 A graduated bob is one of our favourite ways to style medium length hair. With longer strands towards the front of the face and shorter layers at the back of the head, there's a graduated line along the ends which creates a stunning silhouette. Her hair blends from grey to a pretty pastel beach, and has been loosely curled for this relaxed silhouette.
#7. White Blonde Romantic Ringlets: Ombre, Balayage Hairstyles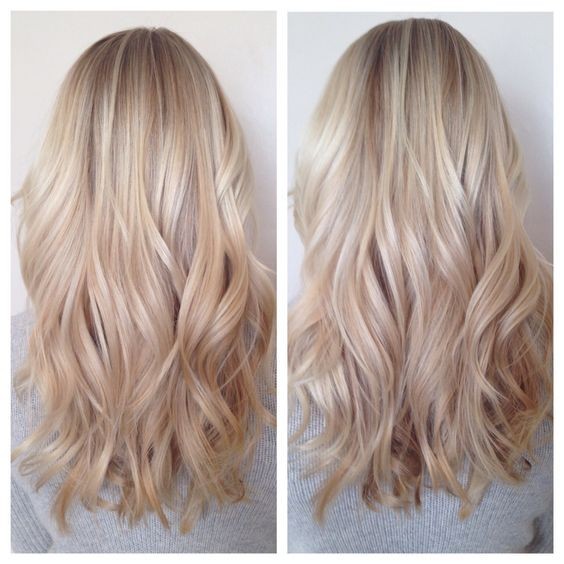 Highlights add a natural light and glow to hair, and this fashionable female's golden blonde ones are second to none. Her stunning medium length hair is full of golden and white blonde highlights which creates the most beautiful golden glow around her hair, and the romantic ringlets she's styled from root to tip show off the blonde hues at their best.
#8. Dark Grey to Silver Textured Bob – Straight Bob Haircut for Thick Hair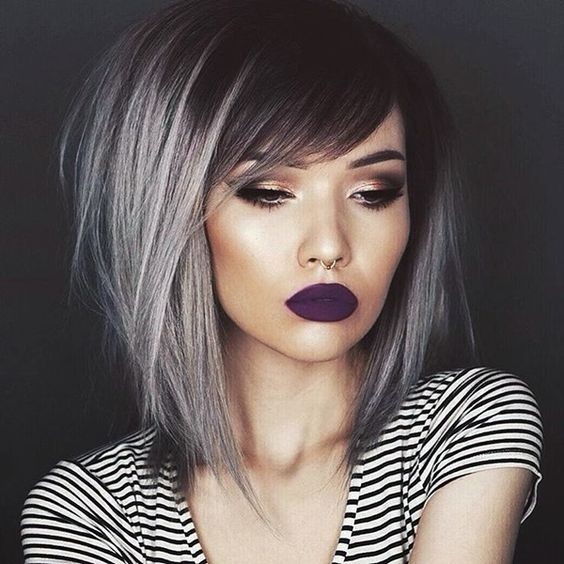 Shiny silver hair is definitely the way forward – but who says you have to stick to one shade? This beautiful lady works two grey hues into one look through a stunning ombre blend which we cannot get enough of. Her stunning mid length bob has a sweeping fringe and lots of choppy layers, creating this incredible textured finish.
#9. Tousled and Twisted Long Bob: Balayage Medium Hairstyle Ideas for Women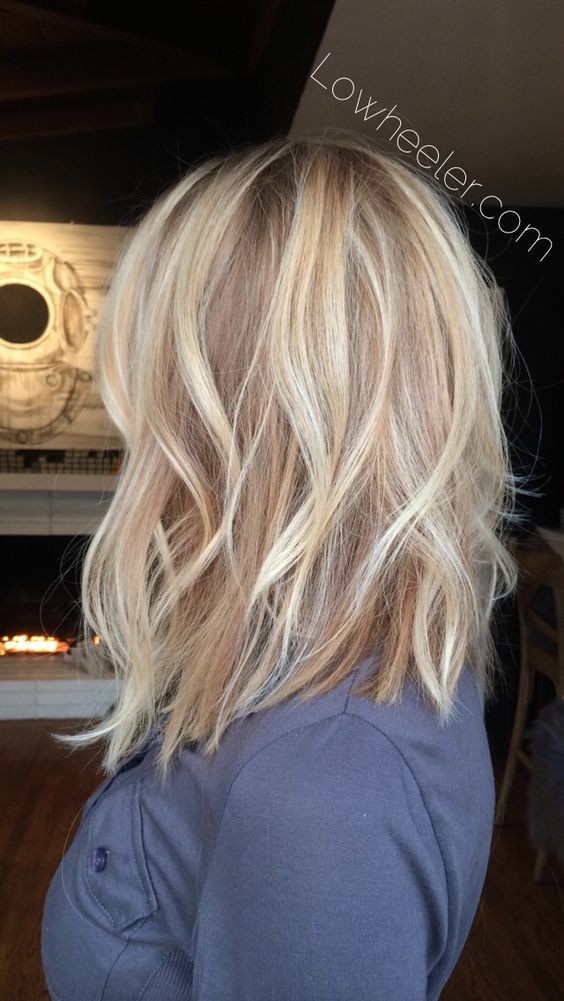 Starting with a slightly longer length towards the front of the face and finishing shorter at the back of the head, this graduated long bob is absolutely full of beautiful blonde shades. With a darker blonde layer at the bottom of the hair, then full of light blonde highlights throughout the top layer, this tousled and textured lob creates the perfect blonde bombshell look.
#10. Golden Blonde and Brown Curly Bob: Women Thick Hairstyle Ideas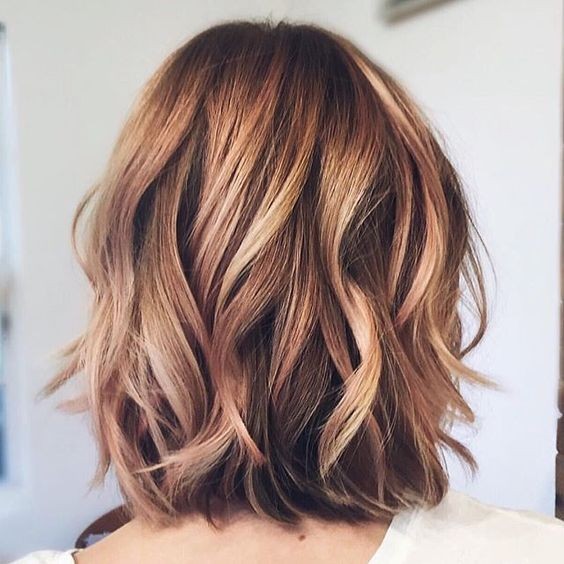 The impeccable picture above shows a balayage colour blend at its finest, with a light brown shade at the root which blends into a stunning golden blonde colour which adds the most impeccable light and lift to the textured bob. She's scattered ringlets throughout the hair to create a beautiful and bouncy silhouette which we just adore.
#11. Caramel and Blonde Balayage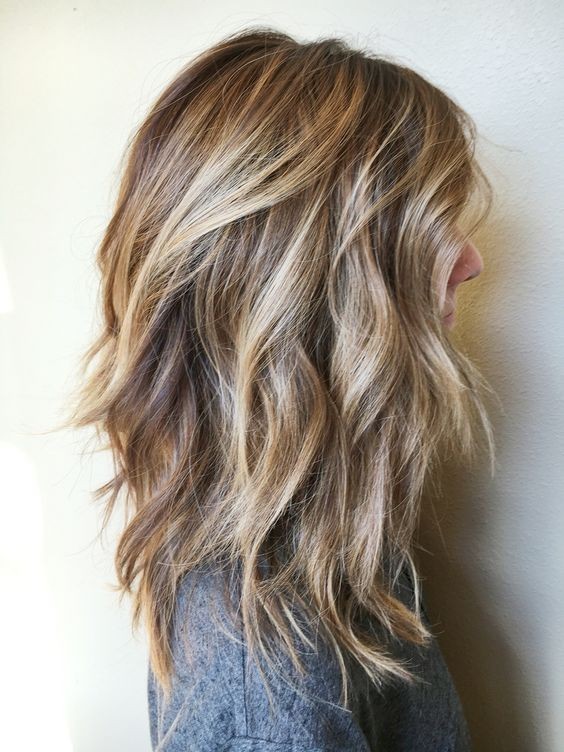 We cannot stop swooning over this absolutely stunning medium length hair! With a longer, choppy layer falling around the shoulders, working with shorter layers throughout the top of the hair, this stylish lady has opted for a fantastic and textured loose curl throughout to add bounce and body. The colour is a stunning caramel which blends into a white blonde through a striking balayage technique.
#12. White Blonde Highlighted Style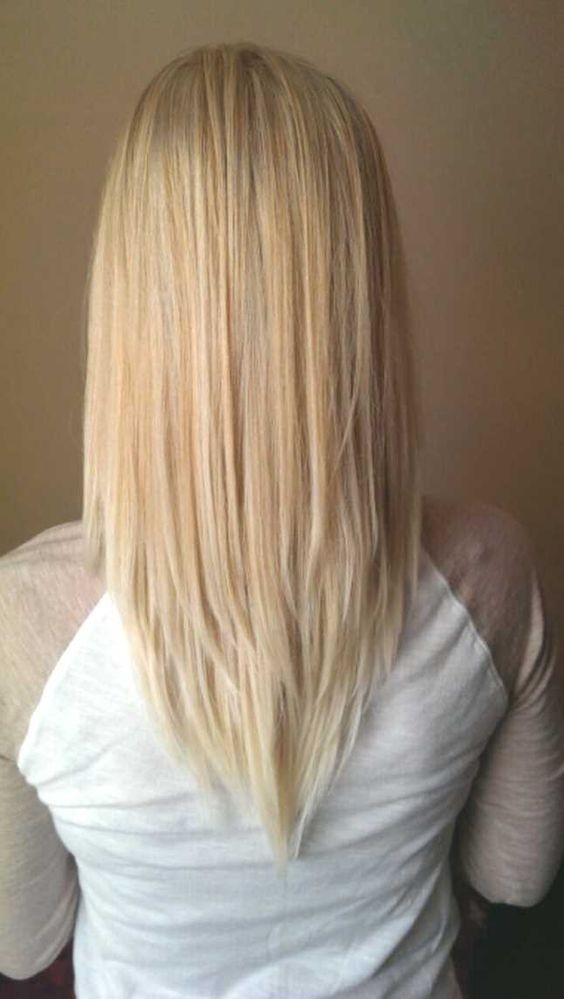 This lady's stunning medium length hair falls down her back in gorgeous layers to create a really striking silhouette. She's kept her hair straight, sleek and glossy to show off this incredible style, and has opted for a selection of beautiful white blonde highlights to add lift to the look. We think this style would be stunning when curled too.
#13. Brown and Blonde Balayage Blend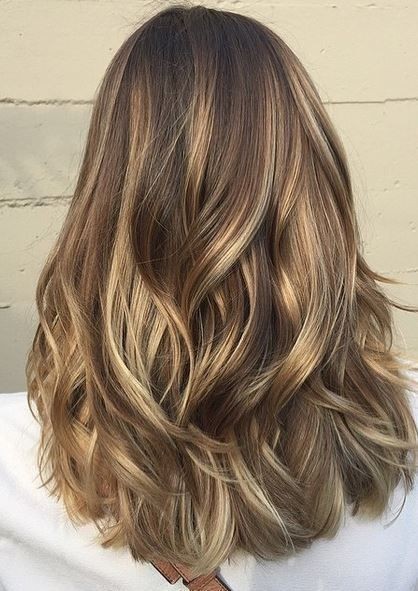 This stunning medium hairstyle might just be our favourite of the bunch! This gorgeous and thick hair is so striking, and curled to perfection, as we're sure you'll agree. Starting with a lovely and deep brown at the root, this lady has opted for a range of beautiful blonde shades to work with a balayage transition into her hair, and finish the style off perfectly.
#14. White Blonde Straight Locks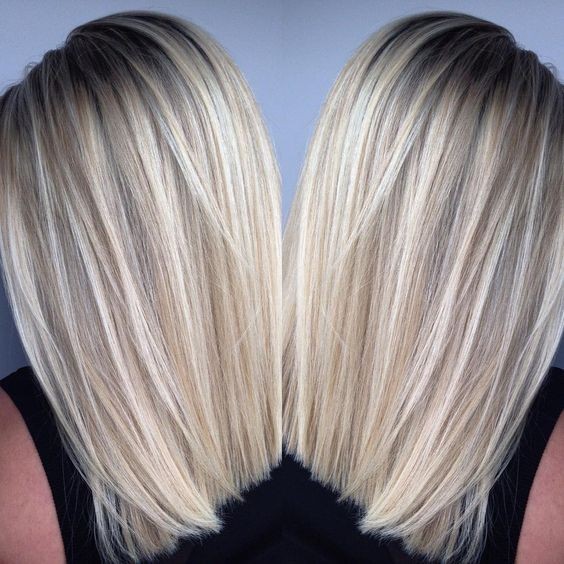 This incredible medium length style is finished with a straight and sharp edge and falls in one long layer below the shoulders. This striking lady has the most gorgeous white blonde shade working its way from root to tip, and she's showed off the ice and glossy shade with a super straight and sleek style that is blunt and beautiful. We love this look!
#15. Brown and White Blonde Ombre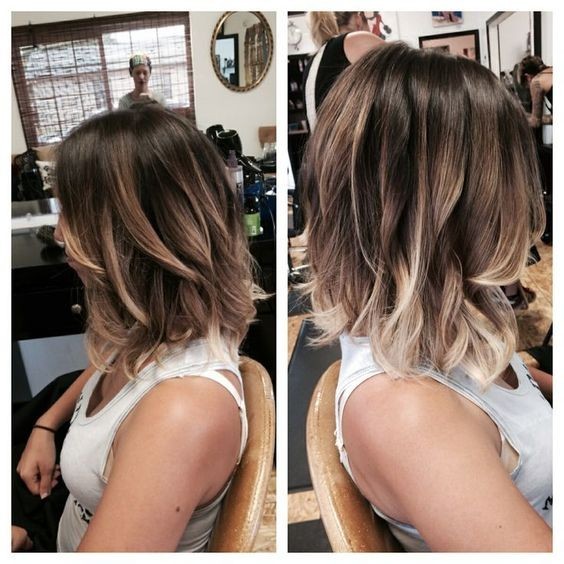 This utterly gorgeous medium length bob falls just above the shoulder and works from a rich chocolate brown at the root right down to a striking blonde at the tip using a stunning ombre transition. This fashionable female has added some loose curls throughout the length of the hair to add some bounce and body to the style and show off those colours.
#16. Red-Brown Loose Curls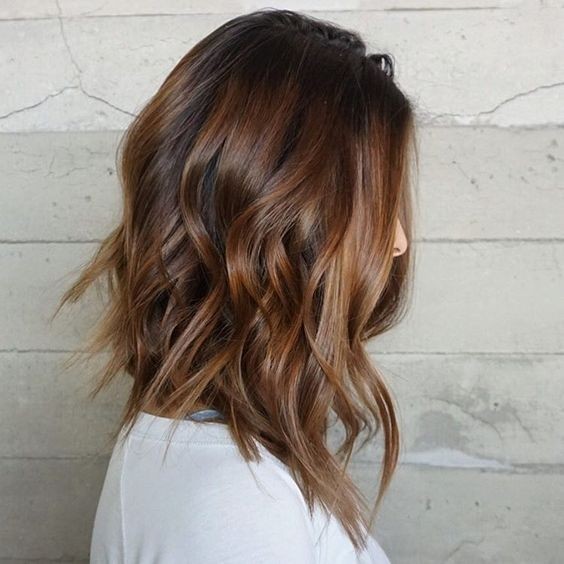 This absolutely gorgeous and graduated medium length bob has stolen the hearts of the Pop Haircuts office! Working from a shorter level at the back to a slightly longer section which falls around the front of the face, this lady has an utterly amazing red-toned brown colouring which looks absolutely perfect with the loose curls she's added to the style.
#17. Black to Grey Ombre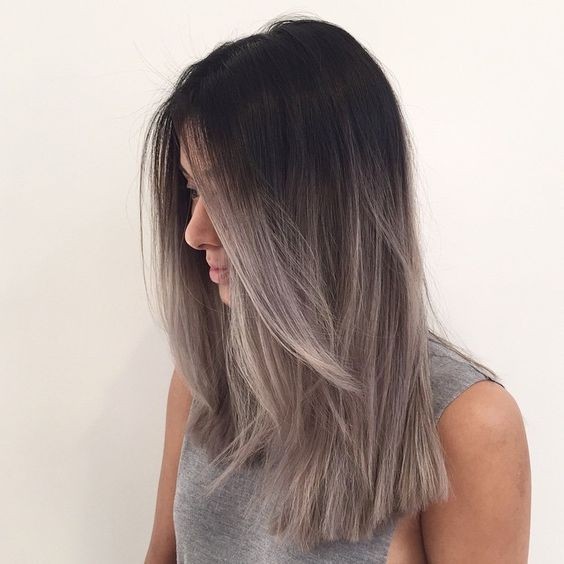 These luscious medium locks are parted in the centre and fall into an incredible medium length style which falls around below the shoulder length. Her roots are a lovely black colour which melts seamlessly into a gorgeous grey shade at the tip. She's left the hair straight but has added a slight wave to the front sections to create this relaxed and flicked style that we love.
#18. Pastel Balayage Bob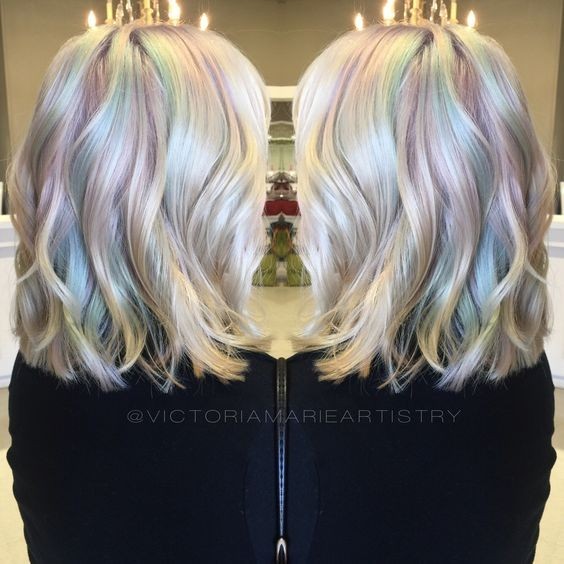 This beautiful bob falls in a straight edge right across the shoulder length which is perfect for a medium length style. As if this lovely bob style weren't quite striking enough, this lady has opted for a fantastic pastel rainbow colour palette to show off this hairstyle. Pinks, blues and pastel yellows blend together to show off this amazing curly cut.
#19. Dark to Light Brown Balayage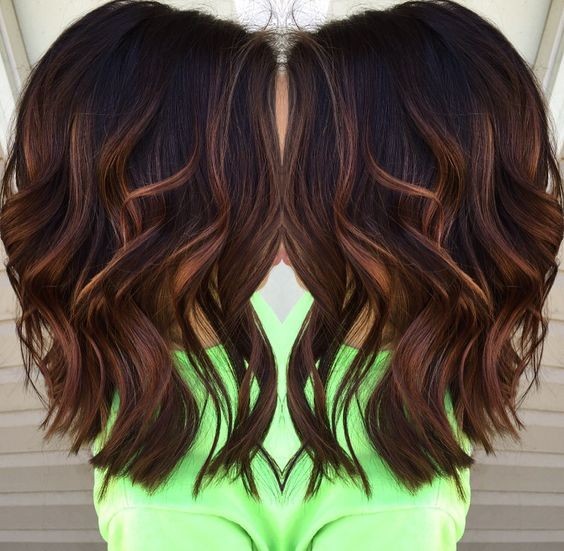 If you've got fantastic medium length locks then why not add a graduated long bob style to the cut to create body like this gorgeous woman has done! Her hair starts as a stunning and deep, rich brown shade and works via balayage transition to a lovely lighter brown at the ends. She's added tight curls from top to bottom to create this fabulous look.
#20. Subtle Brown Balayage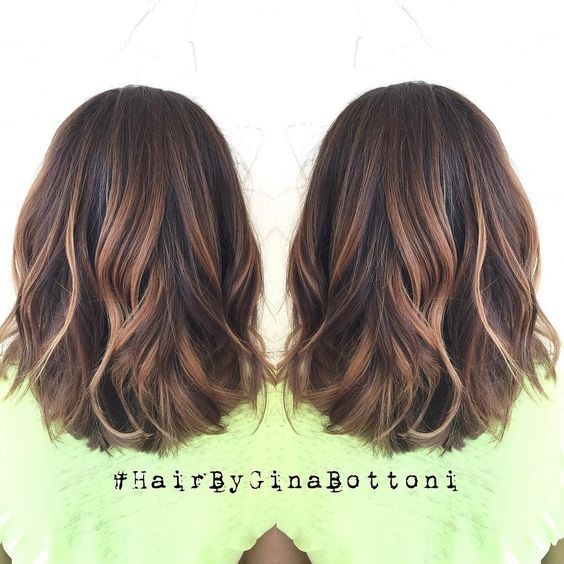 This absolutely gorgeous bob has been curled from around the ear length down to create a gorgeous bounce at the ends of the hair. This beautiful style has a gorgeous colour transition, from a dark to light brown using the ever so popular balayage transition. We think this style would be equally special when straight, too!
Each of these pictures shows a stunning example of an amazing medium length hairstyle, which proves that you don't need to stick to short or long hair to have a beautiful style which will turn heads! Let us know which type of looks you'd like us to explore next for your inspiration.
This gorgeous collection of medium hairstyles are simply stunning – each with a different range of colours and finishes! Let Pophaircuts.com know which one is your favourite – we're finding it very difficult to choose.