10 Colorful & Stylish Easy Pixie Haircut Ideas
Currently, the most stylish, easy pixie haircut ideas are veering between soft, subtle colors and edgy, neutral blonde shades! But there are plenty of ideas for dainty balayage on brunette short hairstyles, too. And anyone who loves fashion, but hates faffing for hours with tricky hairdo's, should consider switching to an easy pixie haircut. Short cuts really emphasise your eyes – and your femininity – in a very appealing way!
Chic light pinky-brown – stylish easy pixie haircut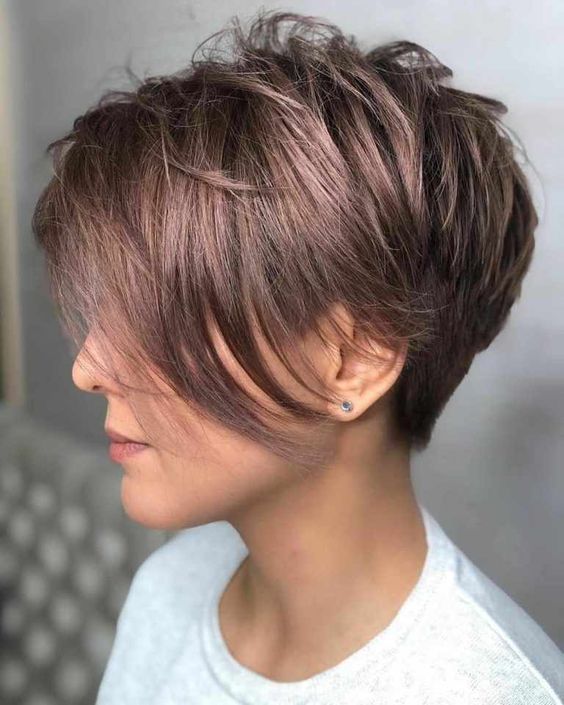 Light brown has come right back into fashion recently, so if you like to get ahead of the trends, this is a great new idea. And this gorgeous, light brown with a pink toner is perfect for skin with neutral or warm undertones. It will harmonise well with brown or hazel eyes, too. This is the perfect way to liven up dirty-blonde or mousey-brown hair, without going 'blonde'. It's a soft, natural look on layered medium/fine hair, with a lot of class!
Edgy silver blonde & black stylish easy pixie haircut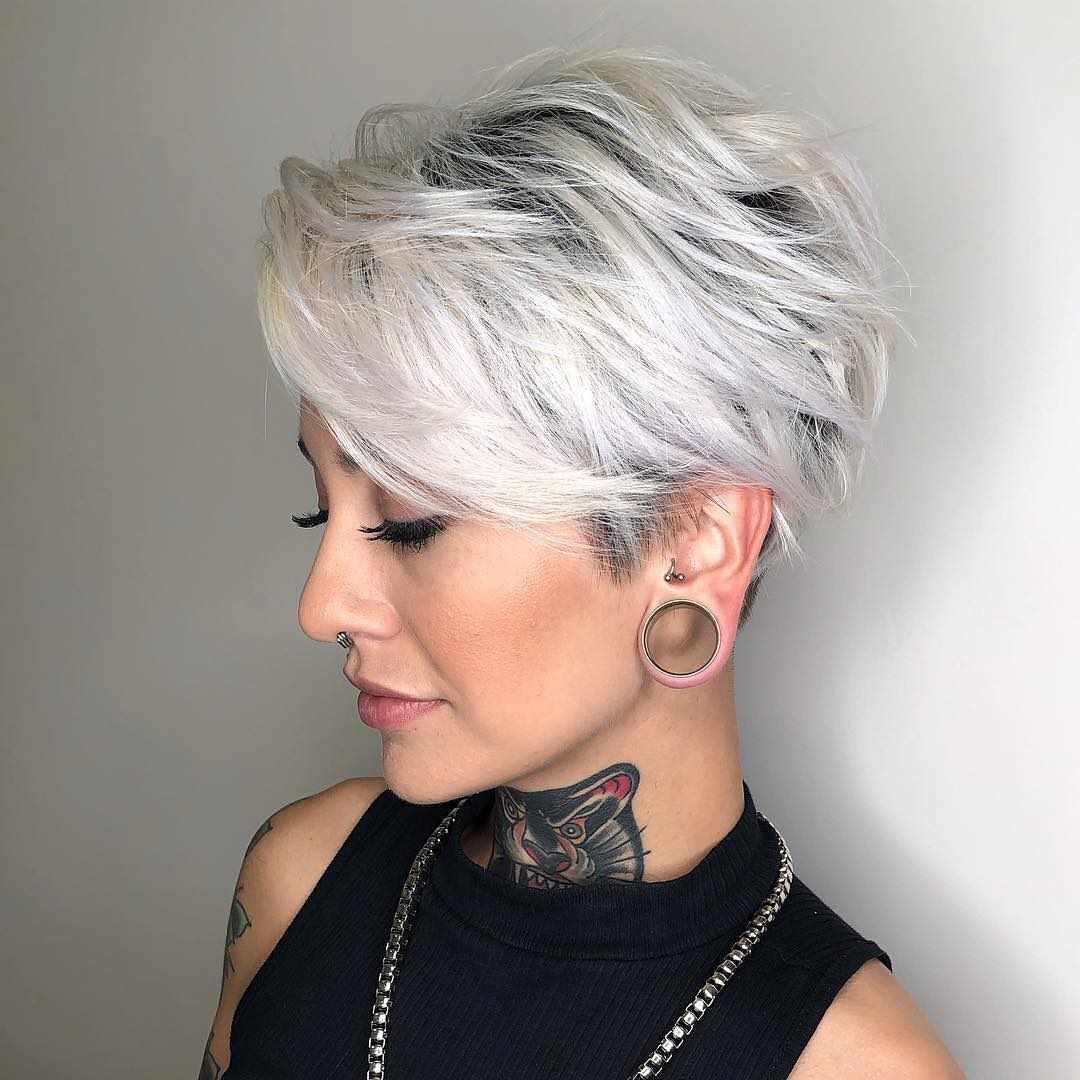 If you love attention, why not try this edgy silver and black long pixie cut? The black roots harmonise with the model's black-cat, tattoo and the black rim of flesh-tunnel, ear-rings. And gorgeous silver blonde shades catch and reflect lots of light, wherever you are. This is a good pixie haircut for medium or fine hair, as there's a strong 3-D effect from the black and white contrast. This makes hair appear thicker and the long, tousled layers also add volume, texture and movement!
Hi fashion beige-white & black basin cut – stylish easy pixie haircut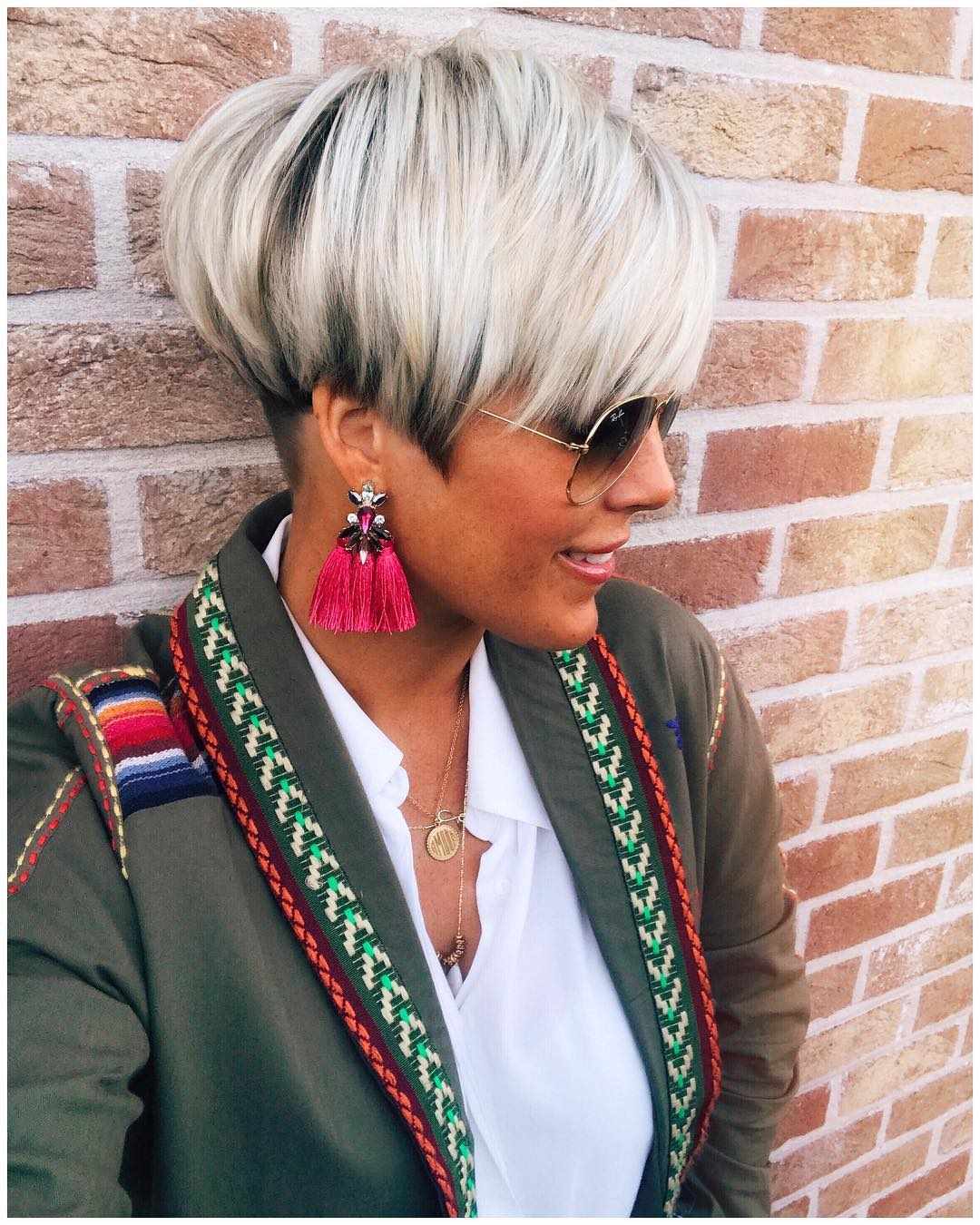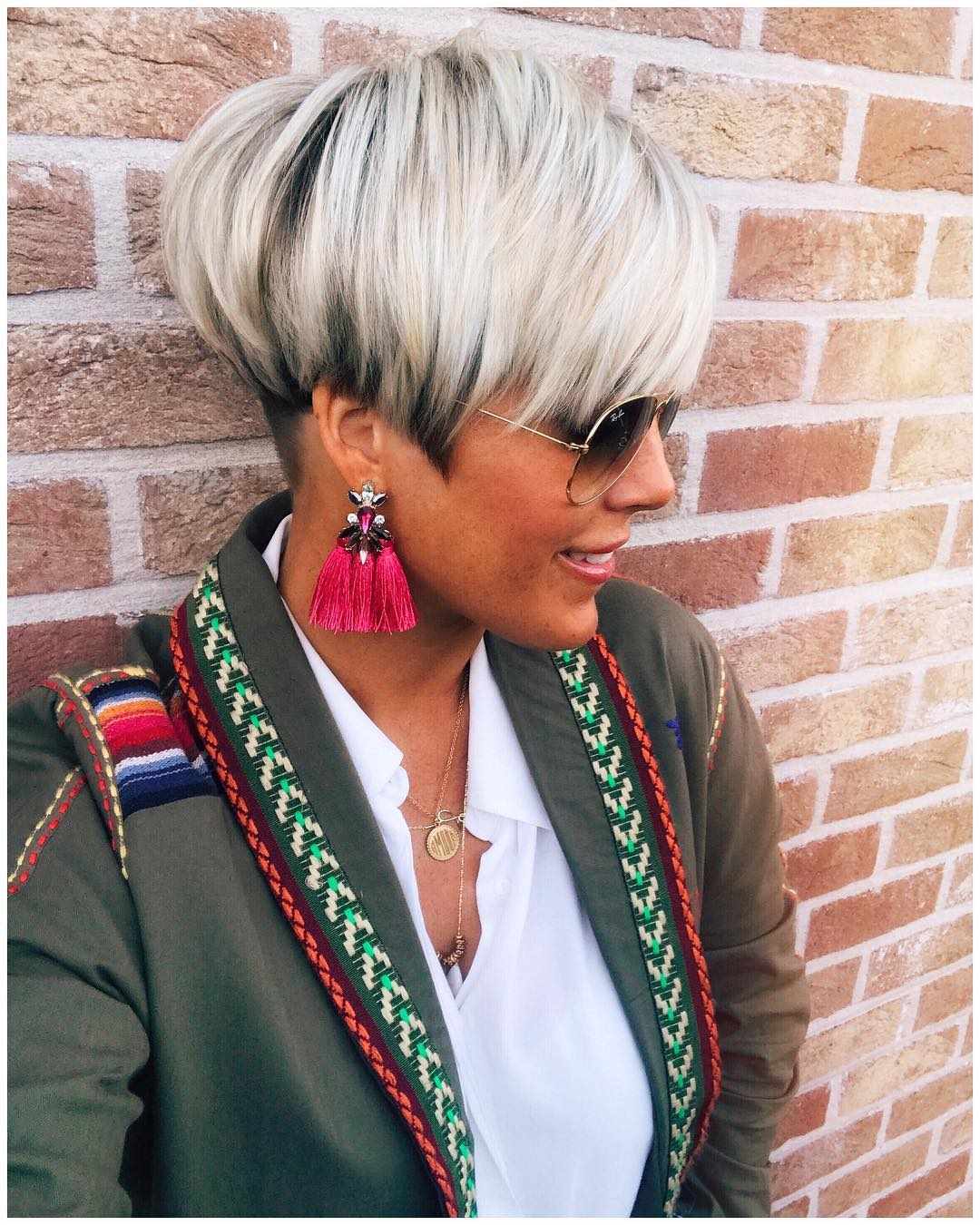 This basin cut is a modern twist on the vintage Mary Quant cut with long, pointed sides. It's a look that's perfect for styling thick hair easily after washing. And that's because it relies on the natural volume of dense hair for it's appealing curved shape. The shaved nape adds texture contrast and emphasises the bouffant curve at the back. So with an edgy blonde top and beige balayage, over black roots, you get a super-trendy new look!
Cute wavy texture on straight beige-blonde stylish easy pixie haircut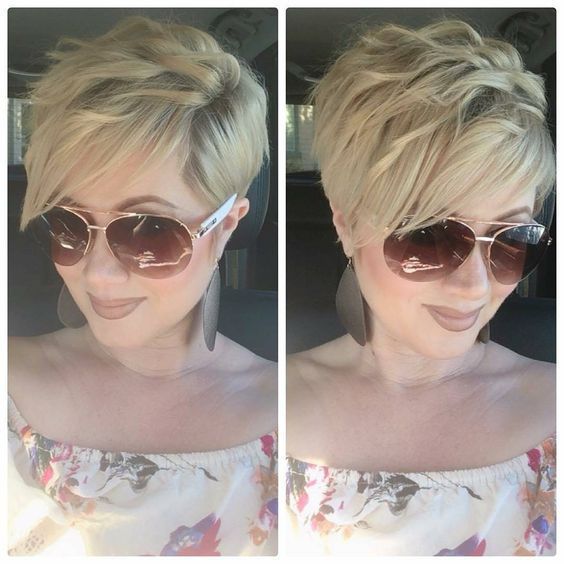 These choppy, wiggly waves add flattering height to a soft, blonde short haircut on fine hair. And if you struggle to get curls that stay in place in fine hair, long layers in a tight spiral do stay in place better than bouncy waves. The combination of wavy top and straight sides and bangs creates interesting texture and lots of lively movement. Finished off with soft, neutral blonde completes a soft and feminine summer-time look!
Spiky geometric brunette short hairstyle with blonde balayage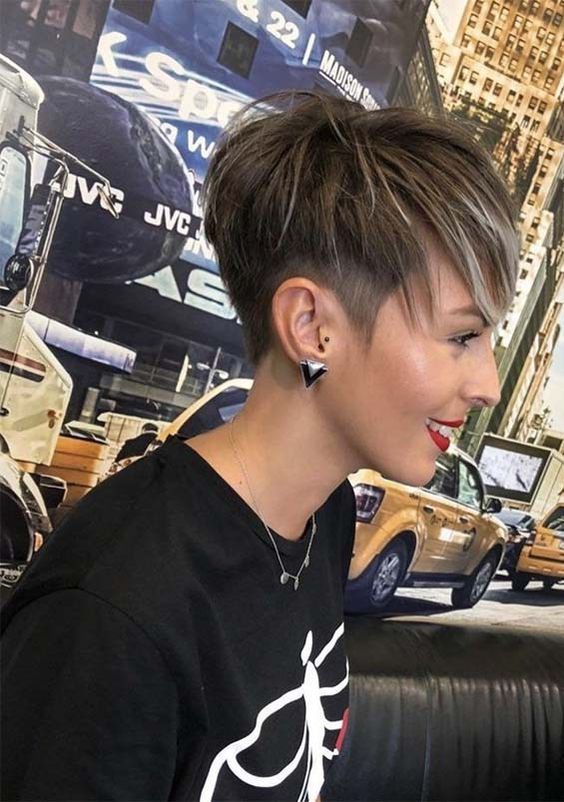 This geometric pixie haircut plays around with different lengths, shapes and textures to create a fun, youthful look! The stylist has clipped the sides and back very short to create a strong hairline, especially in the sharp side-points. These have been emphasised with triangular ear-rings for extra style impact. The top is styled forwards in long layers draping down to cover the brows, which is a good way to 'shorten' a long face. And fine ash-blonde balayage adds extra color depth and texture to this sassy, short cut!
Glam light-brown short layered haircut for fine hair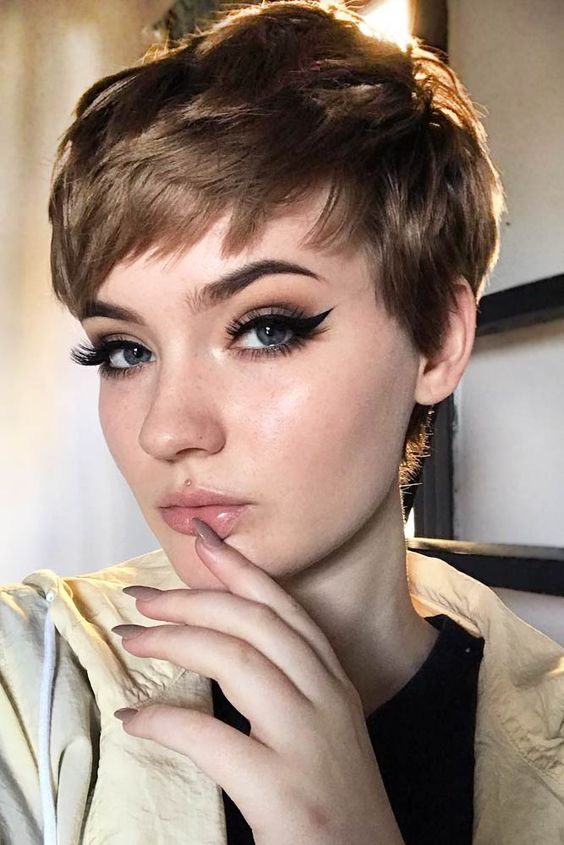 Fine, silky hair has a habit of lying flat and close to the head, but you can add attractive volume and texture with this easy pixie hairstyle. The stylist has cut lots of layers, with blunt-cut ends. And that keeps the density right to the tips and lets you fluff up the hair to create pretty volume. And the side-swept texture in this neutral mid-beige hair color idea is full of light and shade. This 3-D look appears completely natural, but it's the result of a clever colorist adding subtle, darker and lighter balayage!
Classic wheat-blonde short bob haircut with long bangs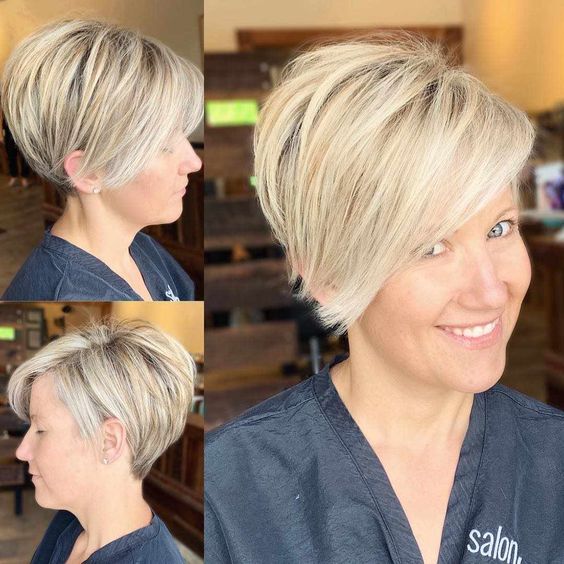 Medium to thick hair can be beautifully shaped with long, sliced layers. And this short bob haircut has attractive curves when viewed in profile and from the front. The rounded crown is creatively contrasted by the diagonal line cutting across the face to form flattering long bangs. The deep side parting is a great way to cover a broad forehead on a heart face. And it also reduces roundness of a full face, and 'shortens' a long face shape. Brown roots and dual beige-blonde shades blend attractively, for good 3-D color depth!
Sassy brunette short haircut with square nape & bangs for thick hair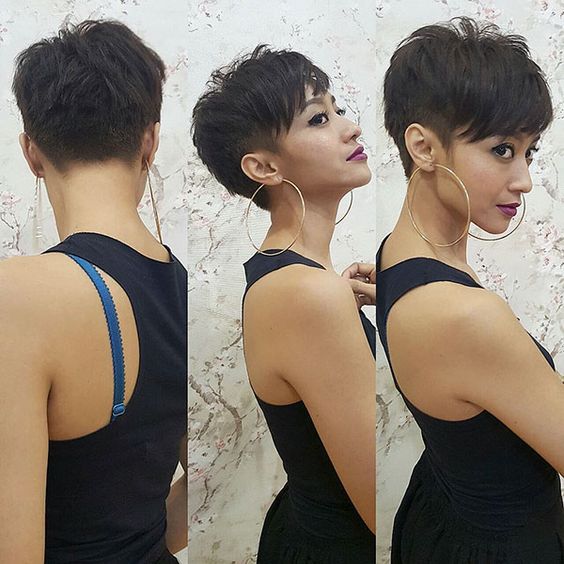 If you spend a lot of time in dance-clubs, live in a hot climate, or just love the clean lines of a trendy pixie haircut you'll love this easy care pixie. It's an excellent way to get total control of thick, dark hair so it never flops or drops in humid weather. The back and sides are short and neat, with a decorative straight line and mini-points at the nape. And the front is cut into contrasting, long, foward-styled bangs that just brush the brows!
Super-stylish jet black glossy pixie haircut with tousled layers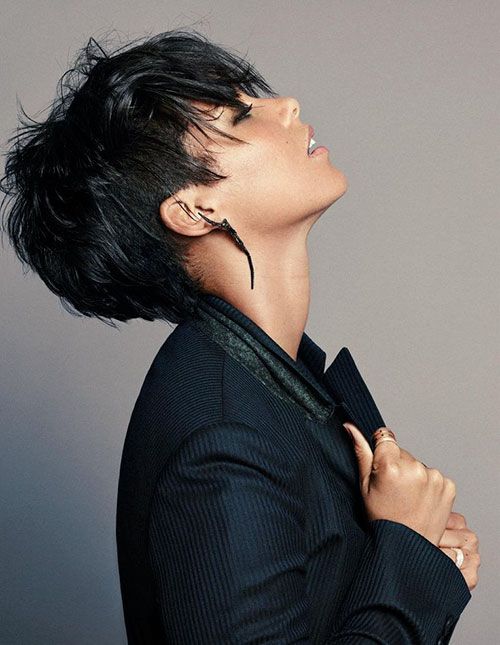 Seeing the glossy finish on this stylish short haircut in jet black reminds me how easily black hair can become dull. Natural black hair is often thick and wiry and lacks the silky, shine of fine hair types. So to get the best out of a black haircut remember to keep it well-conditioned, so you get lots of shiny light reflections adding texture and movement. This long pixie hairstyle has long side points and a long layered back covering the nape. Long bangs drape over the eyes and a windswept finish adds a touch of drama to a highly stylish look!
Grungy beige, gray and blue hair color on trendy makeover haircut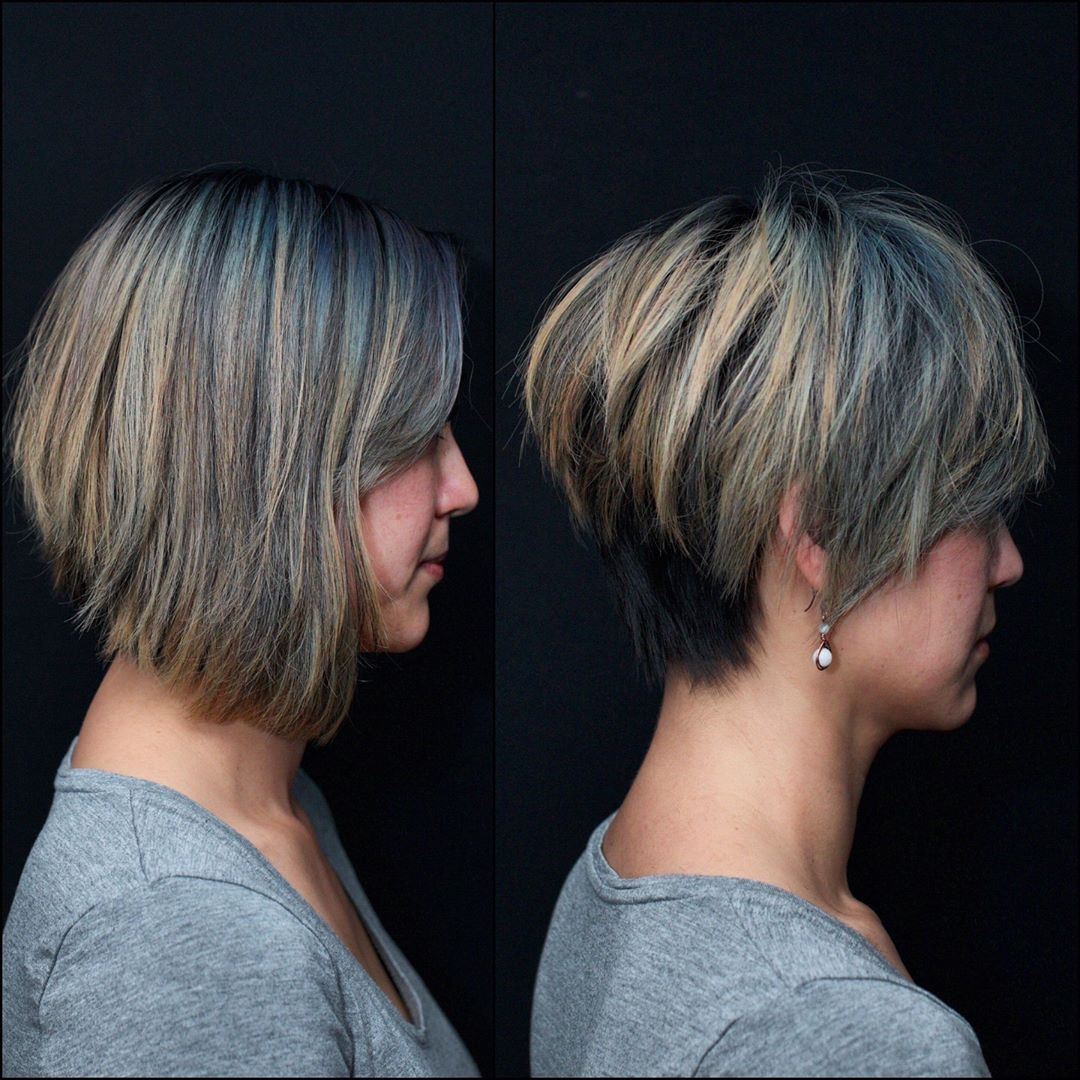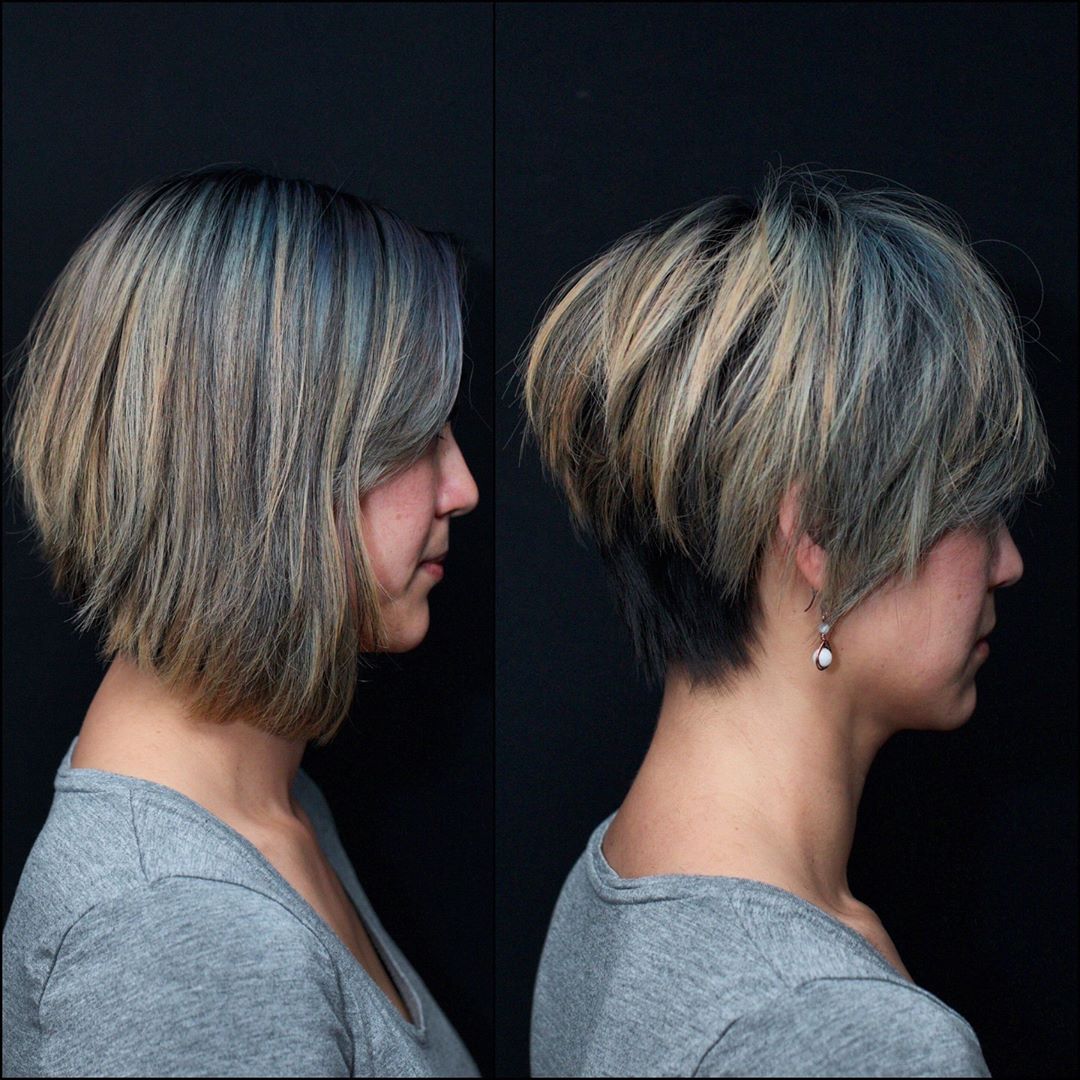 If you're a fan of downbeat colors like gray, tope and beige, why not go the whole hog and have your hair color designed to match your favorite clothes? This makeover model already has a fabulous grungy hair color of delicately blended colors and blue balayage. And it's even more stylish when worn in a shorter, more youthful long pixie cut!