20 Stylish Pink Ombre Hairstyles
Pink ombre is a hot topic among the fashion industry, especially among the younger crowds. But pink ombre doesn't have to be just two toned- there's plenty of ways to switch up this style from hot pink hues to soft baby pink highlights, and everything in between. If you want something natural, you'll find it here. If you want hair colors that will shock the nation, you'll find it here. Fall in love with these unique pink ombre ideas!
Hot Pink Straight Ombré: Straight Long Hair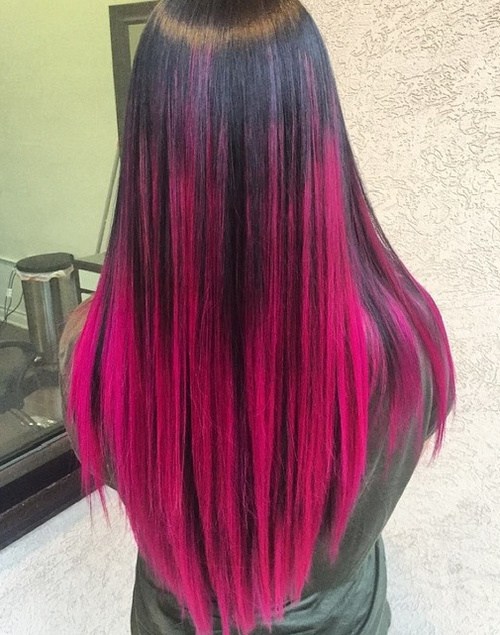 If you want to make a HOT statement wherever you go, there's only ONE color that should accompany your jet black base: hot pink! The contrast is daring but sexy. Leave your lengthy locks slick straight to showcase the extreme switch of hues!
Hot Pink Bangs and Tips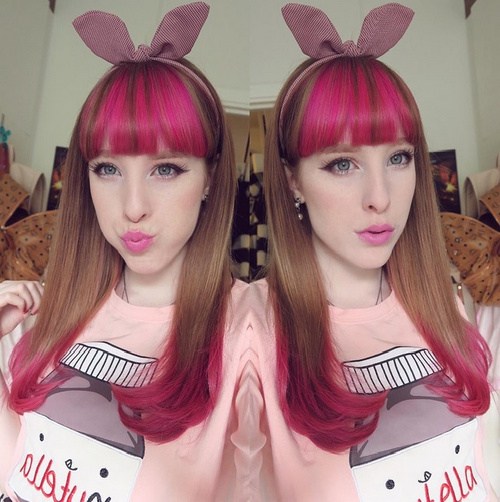 Most ombre hair will correlate the bangs in with the rest of the color on the upper half, but this look is different; it's unique, funky, and super refreshing! Her bold fringes are made even more chic and edgy with some hot pink coloring, matching her bold pink tips. The pink shade is a wonderful accent for a rather dim brunette base.
Trio Bold Curled Colors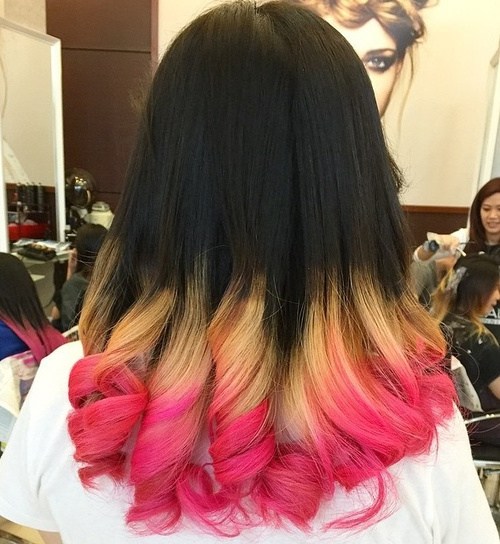 For some, two tones of color may be enough; but for others, they want a really standout shade with three exotically different hues! Her jet black mane is highlighted magnificently with a bright hue of honey blonde, finished off with some hot pink tips to really exaggerate her look. Curling the ends makes these trio colors combine beautifully!
Super Soft Pink and White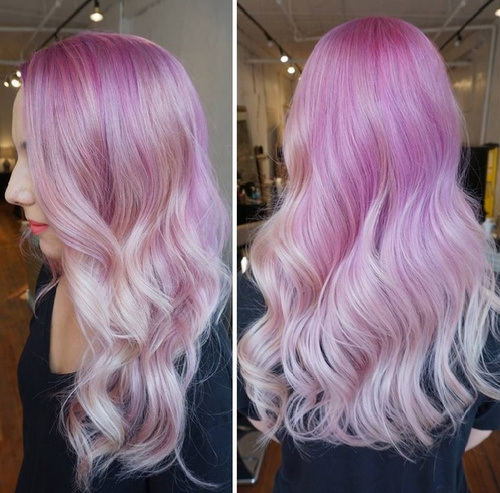 Charming and light, this soft pink ombre hairstyle is suggested for the daintier females that want a lovely soft pink cast throughout their long wavy white locks. The subtle pink on top is also submerged throughout the rest of her mane delicately for a striking finish that isn't overly colorful or bold.
Pink/Purple with Head Piece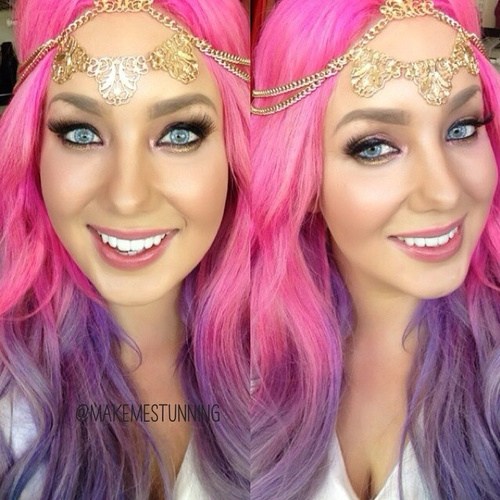 Pretty as a flower, charming as a princess; there's so much fabulous femininity going on in this hairstyle it's almost unbelievable. Her pink and purple blend is an unnatural but delicate way to color your mane, while subtle waves and an accenting head piece creates a princess-like finish that should be worn to the most dazzling of events.
Soft Pinks and Blondes with Floral Head Piece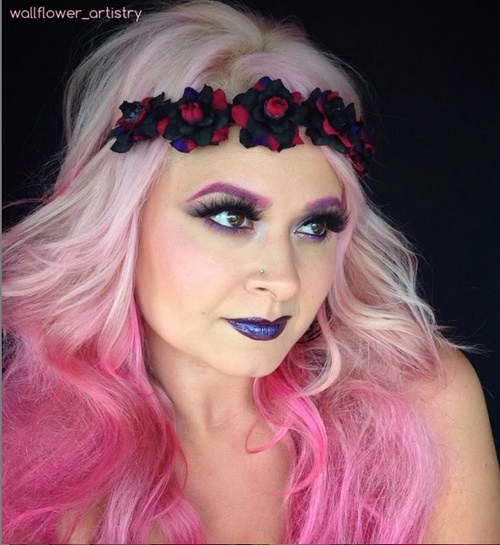 Pink ombre doesn't have to shock you; they can be as delicate and soft as you please, and you can clearly see in this feminine pink ombre. The soft hints of pink throughout her blonde upper half are blended gracefully by a soft hot pink below, made extra dainty with a floral head piece and voluminous waves.
Purpley-Pink Waves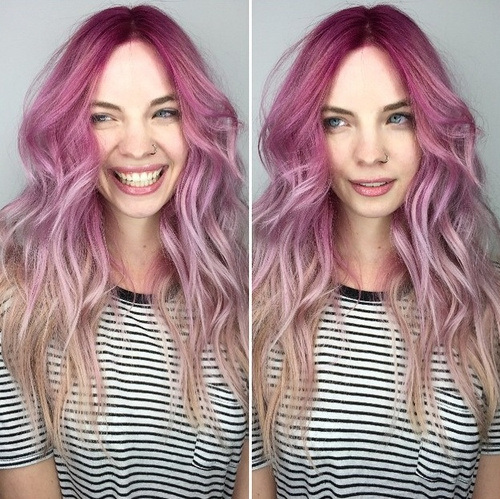 Here, pinks and purples correlate magnificently to create a very rockin' finish. The neon shade of purple up top is softened with a dull lavender/pink shade below, combined with a gray cast to really soften the style. Her waves are sexy and seductive, yet casual enough for a family affair.
Natural Blonde with Soft Pink Braid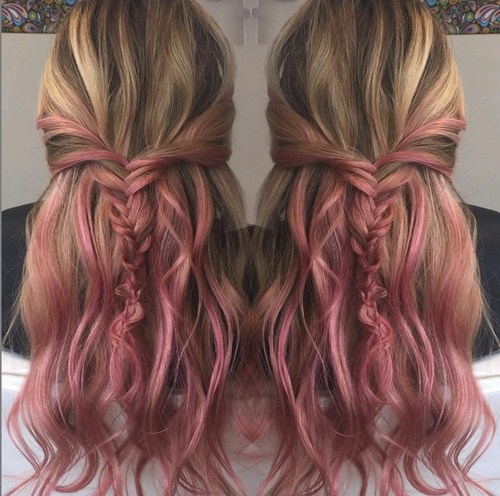 For the girls out there who want a more natural and subdued style with pink infiltrated in their mane, this is a great way to do it. Naturally blonde hair is darker than the bleached version, and with hints of soft pink on the lower half it is tame and subtle. The lovely braid down the middle adds to the overall girly attitude of this soft look.
Fuchsia and Coral Waves
Stand out from the crowd and indulge in some unfamiliar shades of pink, like this warm fuchsia shade with a lovely coral down below.
Black and Coral Pink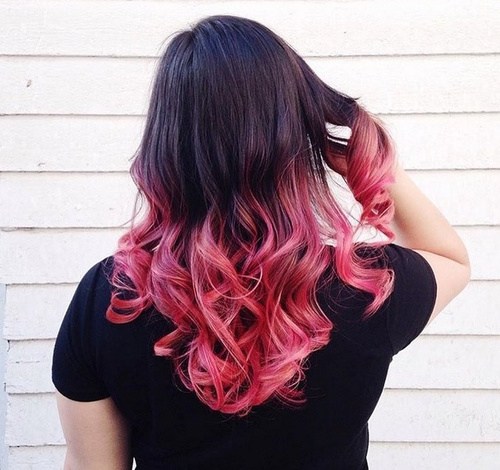 Black and pink ALWAYS look hot together, but don't settle for the typical shade of pink. Make this style 'yours' by choosing a less-popular (but incredibly sexy) shade of pink, like this dark coral hue. The hints of red throughout this pink shade is striking, illuminating a rather dull and dreary base of jet black roots.
Sweet Pink and Purple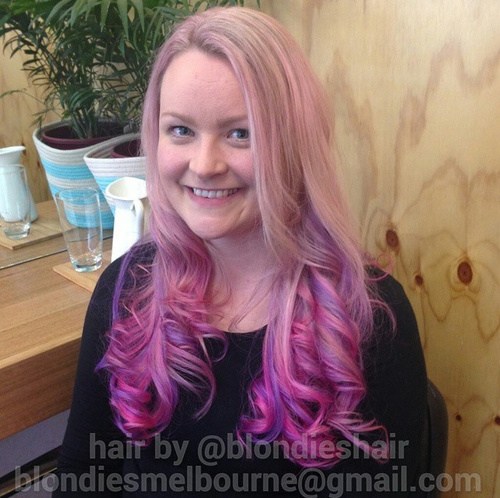 A pink/purple ombre is definitely a top choice for 2017, but if you want to make this look a tad more 'natural' looking, then settle for some loose baby pink highlights in your blonde upper half. Douse the lower half in an exotic purple shade to make things POP.
Fuchsia/Purple Curls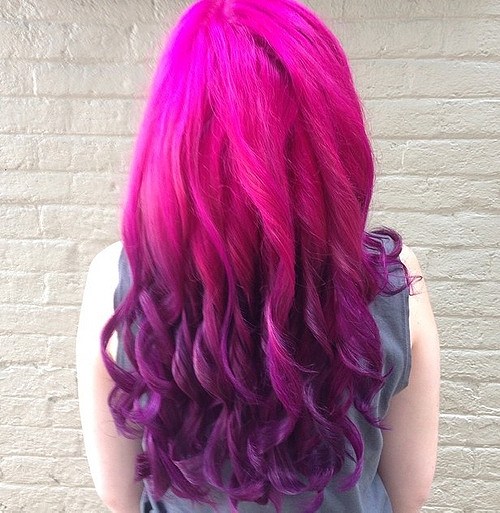 Creating a hairstyle that oozes magnificence with a starlet appeal is as easy as drenching your locks with some charming fuchsia and striking neon purple. The look is unbelievably cool and inspirational, and with those precise curls, her style gets plenty of dropdead gorgeous body.
Mermaid Blonde/Pink Ombre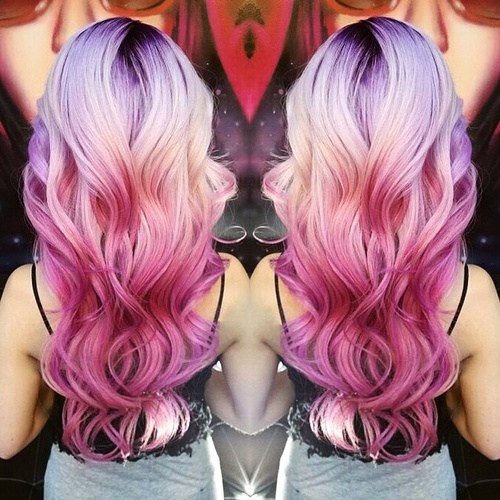 Mermaid hair is very trendy right now, creating a look that's illuminating and feminine all at the same time. Her luscious, voluminous locks are blended with a beautiful platinum blonde and soft pink ombre, but to add an extra dose of vibrant color she tosses some neon purple at the roots to shake things up a bit.
Blonde and Fuchsia: Hair Color Ideas for Long Hair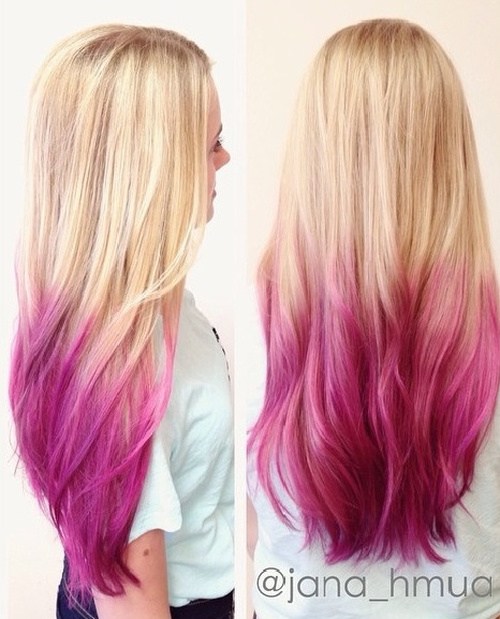 This is the ideal style for gals with long hair who really want to showcase a divine pink ombre. Fuchsia is a delicate, yet striking shade of pink that has hues of purple blended naturally inside. It's a perfect match for a light blonde top, creating a glorious contrast that can clearly be shown on these loosely waved locks.
Blonde with Neon Duo
Blonde with hot pink or neon purple is stunning, but why settle for just one striking shade when you can have TWO!? This wild style features basic blonde up top, followed up by a stunning collection of deep pinks and purples. Such a fascinating style that really makes her stand out from the crowd.
Blonde and Baby Pink Ringlets
Hot pinks and deep purples may not be your thing. If you're looking for a hairstyle that's bright, feminine, and youthful, then this is it. Her baby pink ombre is as dazzling as it gets, a super light and beautiful combination that brightens her overall skintone. Luscious, volumized ringlets are tousled for a full and flirty finish.
Black, Midnight Purple and Fuchsia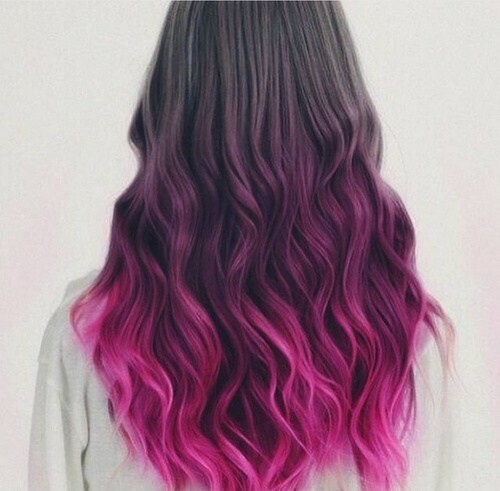 Going from black to fuchsia may be too bold of a contrast for you. If that's the case, then consider a more subtle transition with a midnight purple hue cast in the middle of these two contrasting colors. It's appealing to the eye and has a sensuality that can't be ignored.
Pink and Blonde Curly Bob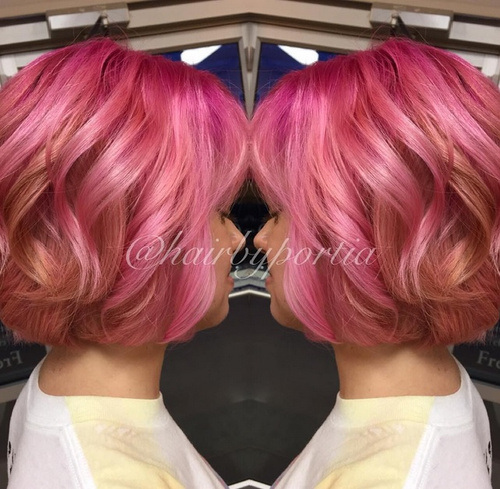 Girly girls everywhere will fall off their chairs when they see THIS fab 'do! It's as flirty as it could possibly be, with a pink base that's lightly highlighted by a deep shade of blonde. The blunt bob style is bouncy and cute, and with the addition of some lovely curls it's a feminine knockout style that works best for the girliest females!
Neon Pink/Purple Ombre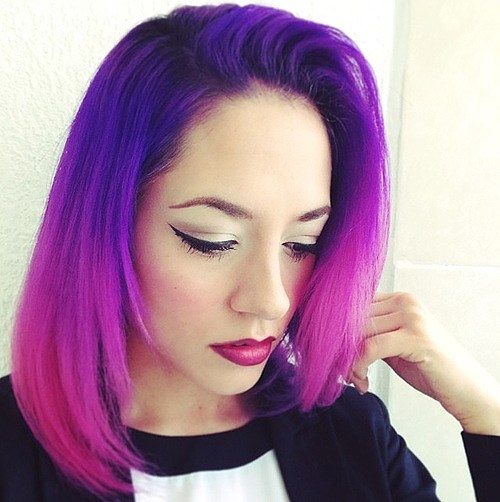 It really doesn't get any edgier than this! From the neon violet hue up top to the luscious, vibrant pink hue below, she tosses her eye-catching mane off to an extreme side part to enhance the avant-garde appearance.
Rooted Pink with Pink Ombre Waves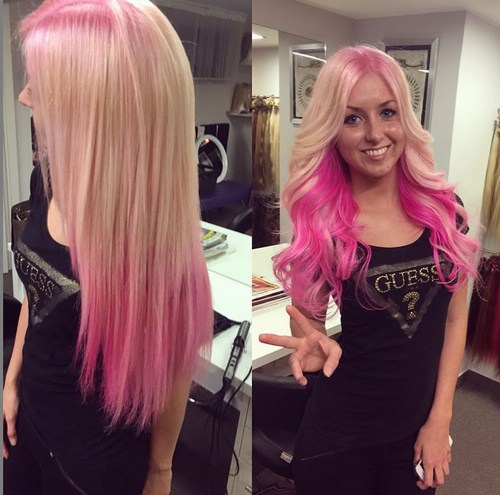 Ombre typically showcases one color on top and another color on the bottom, but this style showcases a bit more color pizazz. She correlates some pink at the roots and some babylights throughout her platinum blonde locks to really make that pink come to life. Curling her hair and flipping it away from face allows her to show off those dazzling facial features while also making the hot pink undercolor shine bright.