10 Beauty Medium Length Hair Cuts – Medium Hair Trends for Women
Hair inspiration websites traditionally focus on long or short hairstyles. Here at Pophaircuts.com, we like to do things a little differently. We think it's about time we showed some love to medium length hairstyles. Medium length hair offers versatility and excitement when it comes to different styles. You can work a variety of up dos into your look, or transform your hair when it's down. We've scoured the internet to collect some of our favourite pretty medium length hairstyles in one place.
Brown to Blonde Balayage Ringlets – Curly Medium Hairstyles for Thick Hair
Balayage is a colour transition which blends one shade into the other. In this case, it's dark brown to a beautiful caramel shade of blonde. Copy this style by cutting your hair into a mid length lob. This should fall an inch or so below the shoulder length. Keep the ends cut in a blunt edge. Part your hair in the centre and add ringlets from the ear level down.
Medium Copper Lob with Loose Curls – Stylish Hair Color Ideas for Women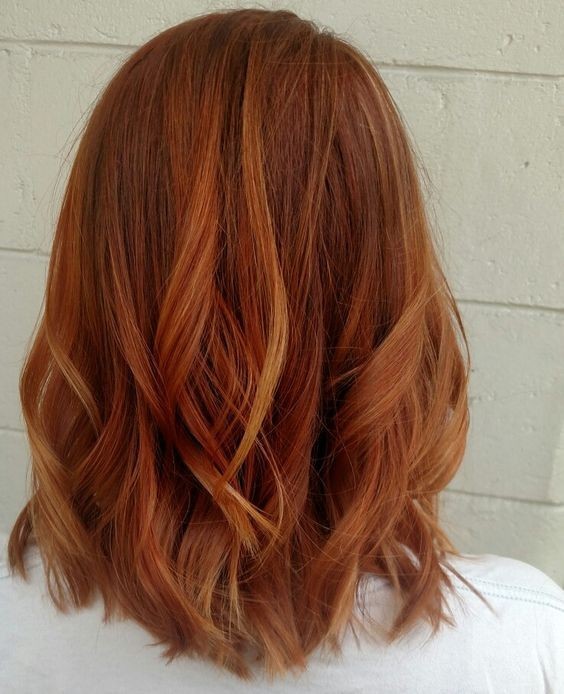 Copper is such a gorgeous shade for mid-length hair! Add a bright red shade into your look for a fiery finish. Cut into a medium bob which falls around the shoulder length. Loosely curl the ends of your hair using straighteners or curling tongs. This will add a light bouncy finish for your hair. This style would be just as gorgeous left straight too!
Baby Pink Textured Lob Cut – Balayage, Wavy Medium Hairstyle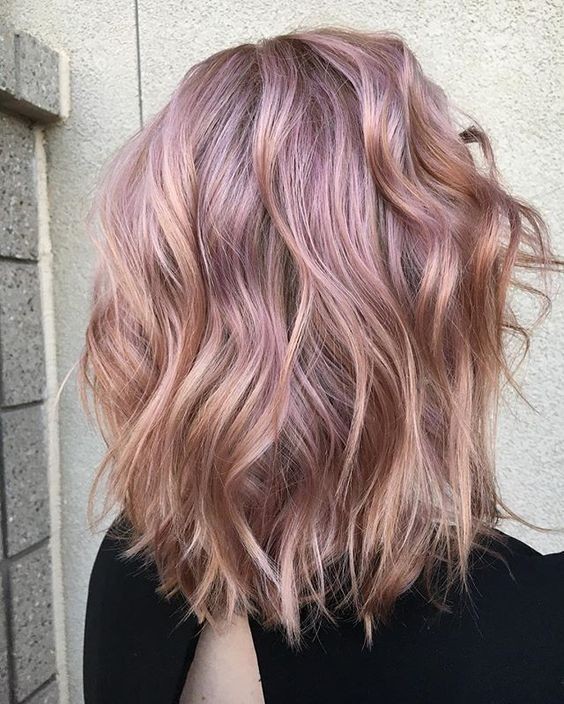 Baby pink is such an on trend hair colour! It's a subtle way to incorporate something a little different. Choose your favourite shade of pink and add it all over your hair. Ask your hairdresser to add edgy layers to your mid-length bob. Ensure the ends of the hair are bluntly cut for a contemporary style. Work loose curls from root to tip and tousle with your fingers for this fabulous finish!
Romantic Caramel Curls – Layered, Curly Shoulder Length Hairstyles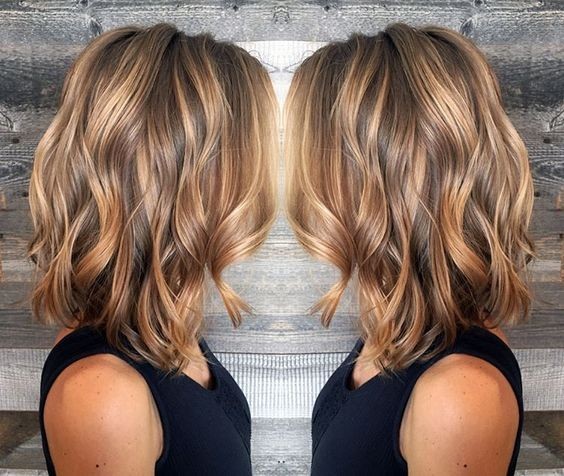 Another balayage blend to add to the collection! Copy this look by dying your hair a light brown colour. Blend this colour into a vibrant and glossy caramel shade. Cut your hair so that it falls in a graduated layer. Longer at the front of the hair and shorter at the back. Be sure to cut the hair shorter at the front of the face for a fringe section. Add romantic curls from top to bottom for a night out style to die for!
Black to Red Balayage Barrel Curls – Dark Hair Color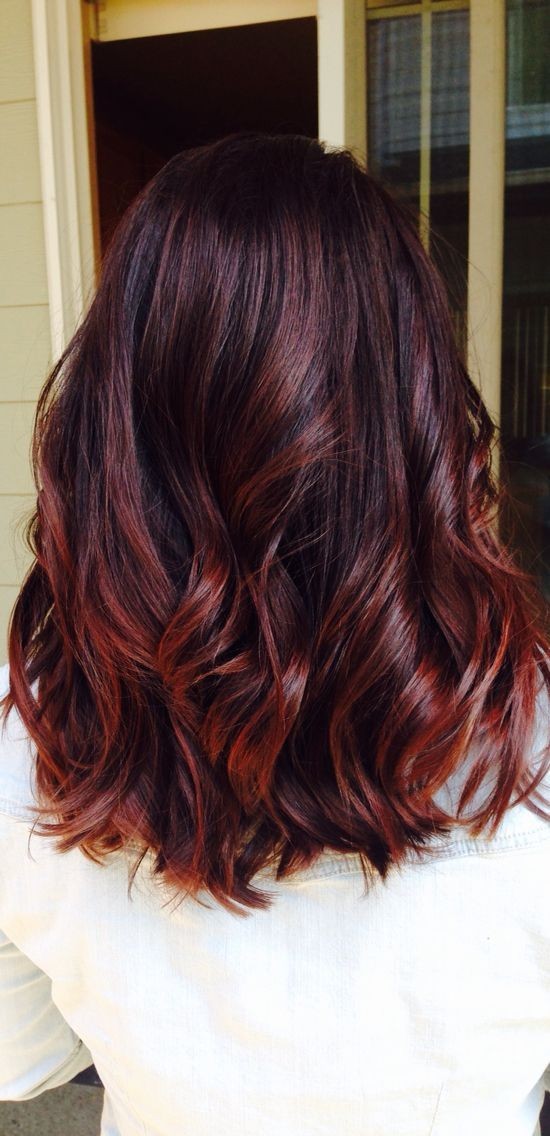 Black and red create a classic combination. They never stop working together! Dye your hair black at the root, and using a balayage technique blend into a deep and vibrant shade of red. Sweep the hair backwards and add thick barrel curls from the mid section of hair down. Make sure the curls are bouncy for this ultra glam silhouette!
Swept Back Tousled Lob Hair Styles with Highlights – Balayage Hairstyle Ideas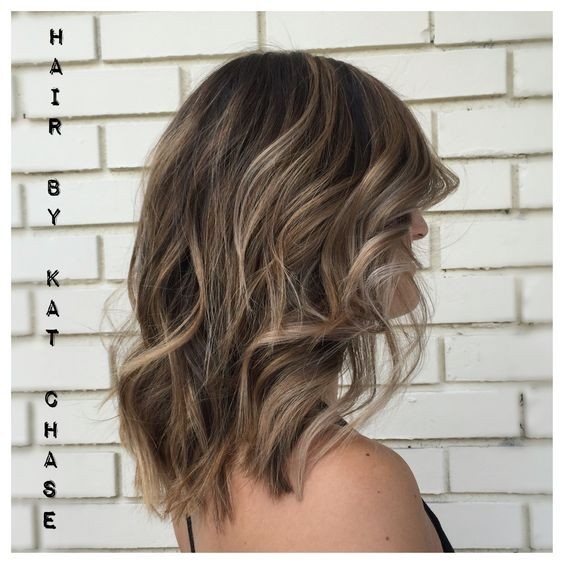 Sweeping back the front of your hair creates the most cool and casual look. With your medium length lob, cut a shorter layer at the top which falls around ear length. Add golden highlights throughout for a sun-kissed look. Curl your hair backwards from your face for this amazing swept back style. Run your fingers throughout for a stunning end result.
Textured Messy Hairstyle – Balayage, Layered Medium Hair Cuts
Texture is the best way to add body to your medium length hairstyle! Cut your hair so that it falls a few inches below shoulder level. Blend from a dark caramel blonde to a white blonde shade at the tips. Loosely curl the hair from root to tip. Using a brush, back comb the ends of the hair to add volume and texture. This is the best day to night look – so edgy and incredible!
Blonde Ombre Ringlets – Curly Medium Hair Cuts
Ringlets will bring a mid-length hairstyle to life – especially with a colour transition like this. Blend your hair from a dark, neutral blonde to a vibrant and glossy white blonde at the ends. Using tongs or hair straighteners, curl the hair backwards from root to tip. Make sure the curls are tight for the ringlet effect. Add product to ensure the style stays all day!
Medium Graduated Hairstyle – Straight Hair Cut Ideas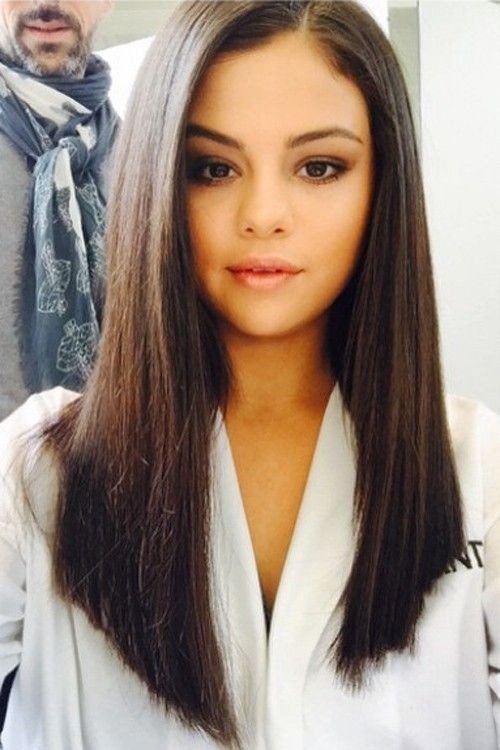 Selena Gomez provides us with the ultimate hair inspiration in the above look! Steal her style by opting for a super blunt graduated hairstyle. Leave the hair longer at the front of the face and cut it gradually shorter towards the back. Opt for a deep side parting. Keep your hair a glossy shade of rich brown. Make your hair deadly straight to show off the blunt graduated ends.
Blonde Balayage Beach Waves – Curly Medium Hair Style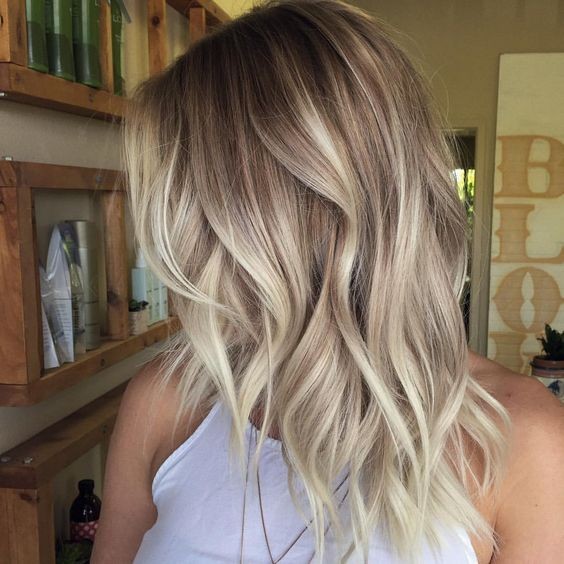 Beach waves are our favourite day to night style. They look beautiful enough for an evening occasion, but cute and causal for daytime too. Steal this style by opting for a mid length bob. Ensure the cut falls around the shoulder length. Cut shorter sections around the face to frame your gorgeous features. Add loose waves throughout for the beach style. This stunning lady has gone for caramel to white blonde balayage, but this style would be beautiful with any colour.
No matter what colour your hair is, or indeed what style, medium length hair can be versatile. We love each of these stunning hairstyles which are perfect for mid-length hair. Copy these looks for a trendy medium style that will be the talk of the town!