20 Lovely Hairstyle Ideas for Girls
Fancy occasions and big events need a hairstyle to match the night; but it can be hard to choose when there's so many options out there! We're here to make things easy for you. We've put together a list of some of the most romantic hairstyles there are, everything from subtle braids to gorgeous updos.
There's plenty of hairstyles to choose from this list, all of which will look absolutely splendid when paired up with your finest attire. Whether your hair is long or short, fine or thick, whether you're going to the horse races or a wedding, you will definitely find what you're after.
Upside-down Braided Updo with Feathers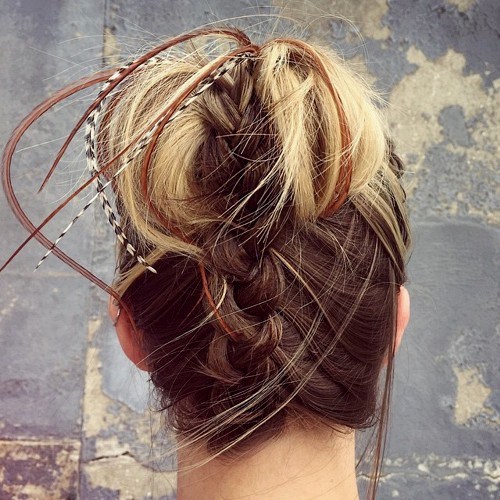 A little bohemian never hurt anyone; in fact, it's one easy way to amplify your hairstyle with romantic and elegant appeal. Her simple upside-down braid leads up to an updo that's accented with some chic, feminine feathers, for a rather simple hairstyle that's still got plenty romanticism.
Braided Half Faux Hawk with Curls: Ombre, Wavy Shoulder Length Hairstyles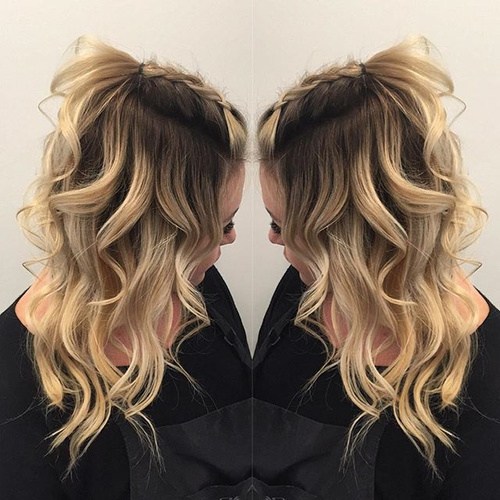 The perfect combination of sweet and sassy is locked into THIS romantic hairstyle! Her lovely tresses are tossed into a saucy half faux hawk braid up top, leading back to a half updo with curls all around. Bouncy and refreshing, filled with attitude!
Corn Rows to Faux Hawk: Braids with Curls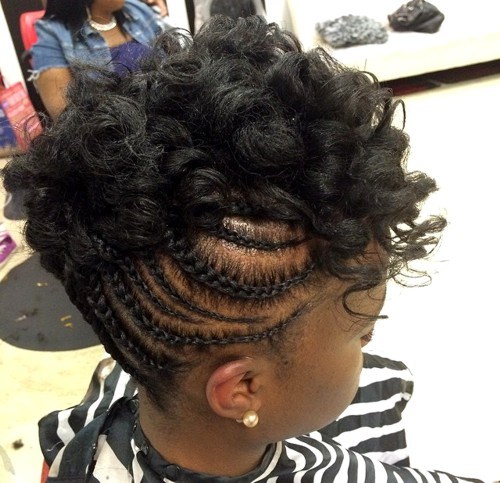 Letting your natural beauty be the star of your style is one easy way to ensure you're looking feminine and beautiful. She tosses in some corn rows on the sides and back of the crown, leading up to a faux hawk hairstyle that showcases her lovely, all-natural curls. Such a stunning style.
Braided Off to One Side: Balayage Hairstyle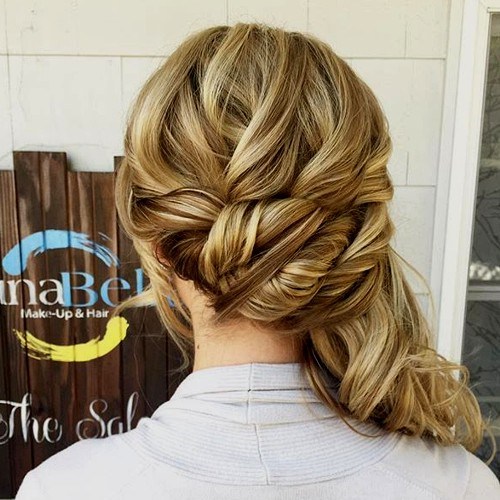 A lovely combination of thick braids is swept off to the side, with a stunning side ponytail softly waved for a very enchanting, womanly finish. This look has a soft appeal that works well with lacy dresses.
Fishtail & Double French Braids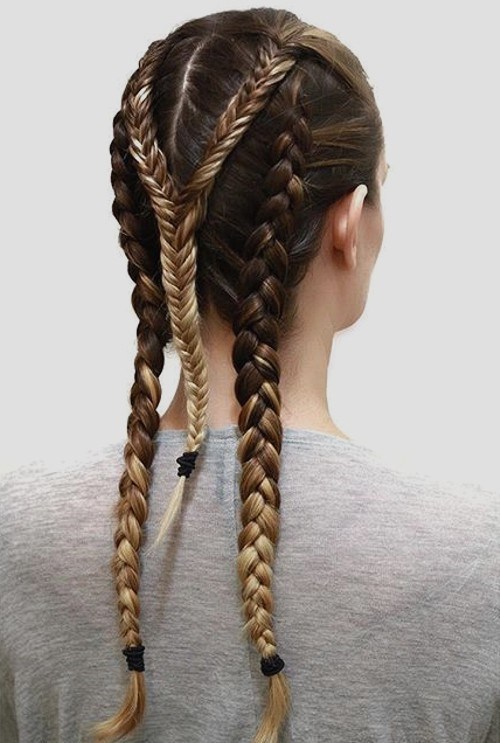 One braid is great; two braids are better; but what is best? THREE braids! This awesome hairstyle is definitely unlike any other braided 'do you've seen out there. It is still on the subtle side, with a trio of magnificent braids coming together for an awesome 'do, but all those twists and plaits are really rather exquisite together.
Fishtail Halo: Summer Hair Style Ideas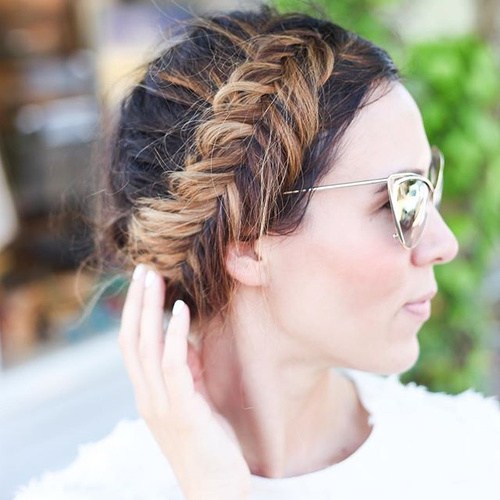 Halo updos are certainly popular right now, creating a very romantic and regal appearance. But even with a halo you can stand out from the masses by choosing a trendy fishtail rather than three strand braid (which of course is still VERY charming!).
Voluminous Side Braid with Hat: Cute Holiday Hairstyle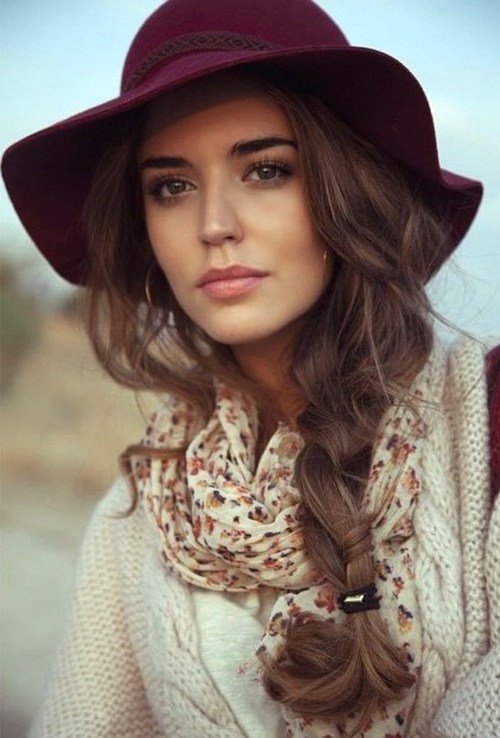 If you have luscious, voluminous long locks like these, you want to try on this messy side braid. It's thick and sensuous, especially when the top of your mane is tousled up for a loose, classy, and very sexy finish. Top it off with a cute, fashionable hat and a pair of earrings for a look that has you horse race-ready.
Messy Pony + Braid for Medium, Long Hair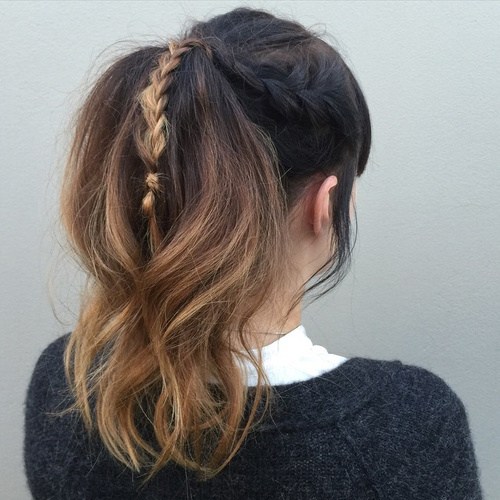 There is something oh-so-sexy about a messy ponytail, but when you toss in a side braid that leads down the ponytail, it gets a glamorous effect that's super sensual. This look pairs well with soft makeup and dresses with frills and lace.
Loosely Curled Braided Half Updo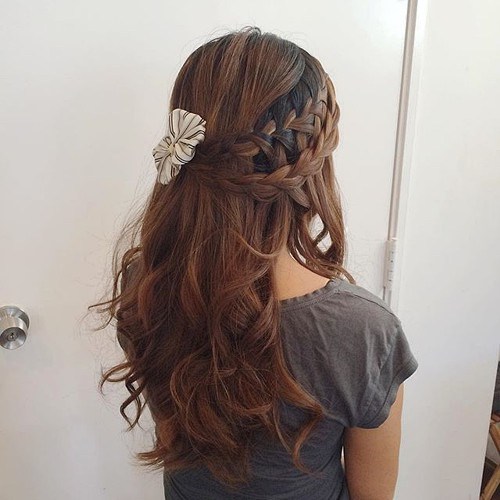 If you're looking for a romantic hairstyle with unmatched feminine appeal, then this is the style for you. This look is undeniably sweet and sexy, the perfect blend of womanly attitude and innocent girl feel. Two side braids are brought back to a lovely half updo, the rest of the locks loosely curled for a glorious finish.
Double Dutch Crown Braid with High Bun Updos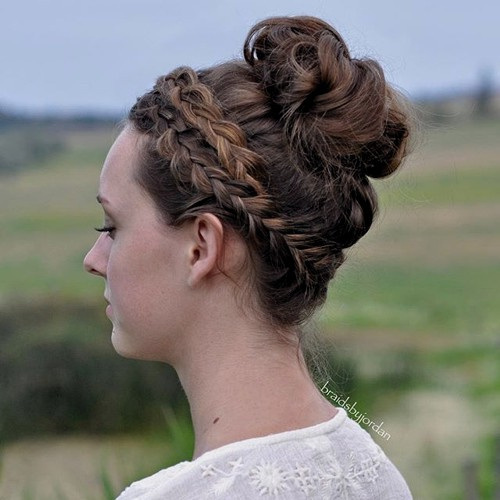 Buns are the go-to for busy mornings, but they can also double as your best friend for fancy events. By simply doing a double dutch crown braid before pinning your hair into a high bun, you create a very dainty and charming hairstyle to go with your favorite dress.
Flower Braid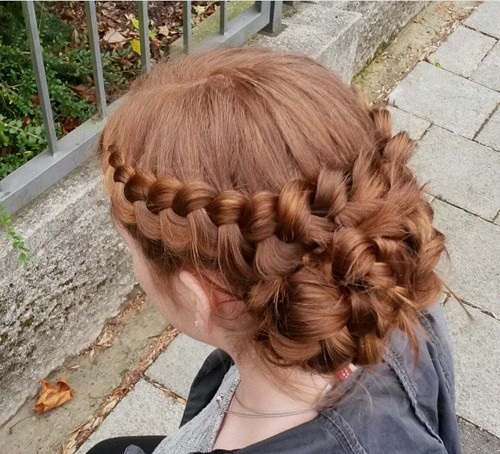 Flowers- so beautiful, so dainty, so lovely; and this hairstyle reminds us of the beauty of the flowers around us. Quite a stunning site, this hairstyle is well worth the extra time required to curl and wrap up your 'do. Great for country style fancy events like weddings or proms.
Circle Braid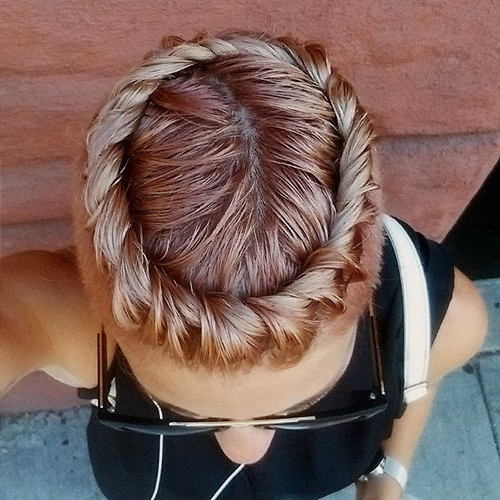 Being edgy and romantic at the same time can be quite a challenge; except when you do a hairstyle like THIS. Her rockin' circle braid wraps around the top of her crown, quite a site!
Looped Waterfall to Braided Low Bun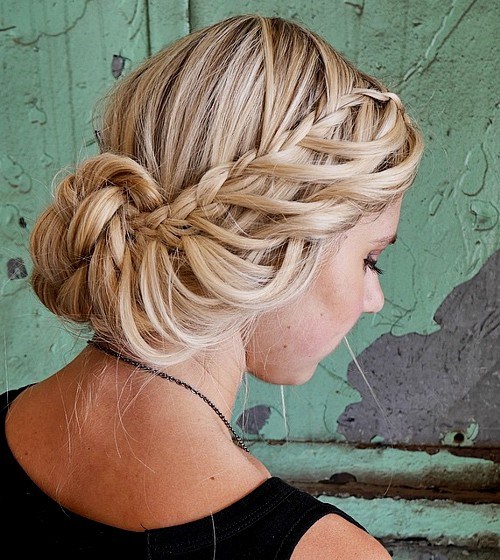 The beauty and divine sensuality of a waterfall braid is truly unmatched by any other braided hairstyle, but you can enhance this look even further by adding some soft loops into the mix. It creates even more regal flow, and hold this look steady with a stunning low bun that's fit for a queen.
Fall Crown Updo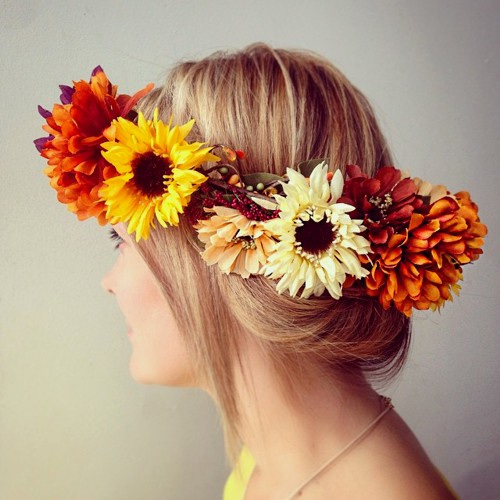 For the fall wedding, this is the ideal hairstyle. Pin up your hair so it's not too fancy or over-the-top; you want your head piece to be the star of your look! Place a gorgeous fall-inspired crown around your head to pair up with your fall wedding apparel and you'll becoming the best-looking floral lady there.
Double Side Braid Updo Hairstyles for Short Hair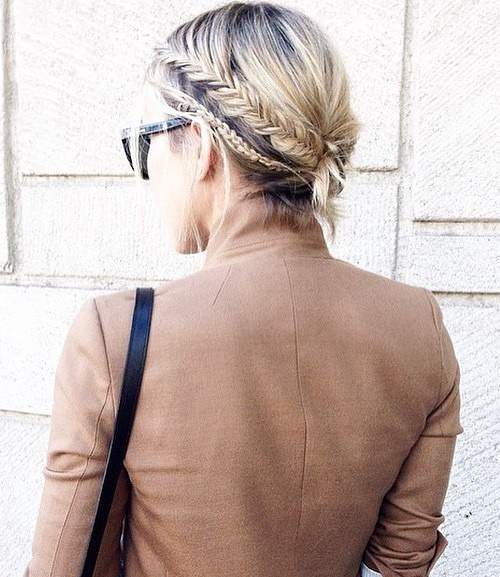 Take it to school, take it to work, take it out to that fancy dinner! This versatile, super sexy hairstyle can go from day to night with ease- it all depends on your outfit! Two braids of different sizes lead back to a side updo for a very chic and sexy finish.
Topknot with Accenting Bow: Easy Everyday Hairstyle for Medium, Long Hair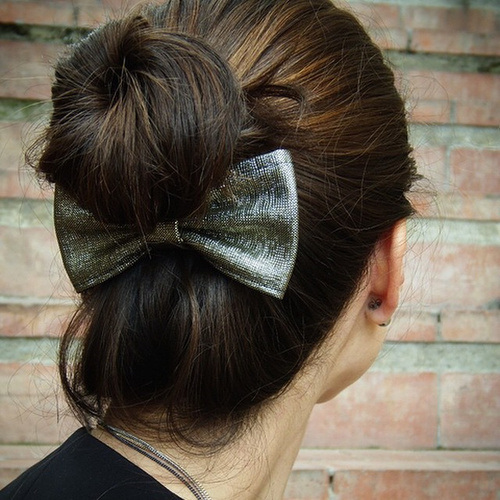 There is truly nothing more girly than an adorable bow, right? You can add bows to a ton of hairstyles, but this particular choice is incredibly trendy. Enhance your topknot and give it some girly attitude with a glamorous, glittery bow underneath.
Fishtail Topknot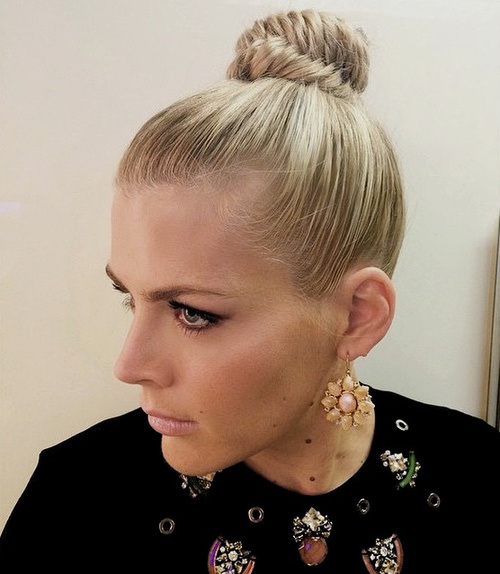 Topknots are undeniably chic and on-trend for 2017, but step out from the pack of topknots and do something extra flashy by doing a fishtail braid before wrapping up your 'do. Ensure the fierce attitude with dark makeup and light pink lips.
Waterfall Braid: Ombre, Balayage Hairstyle with Straight Long Hair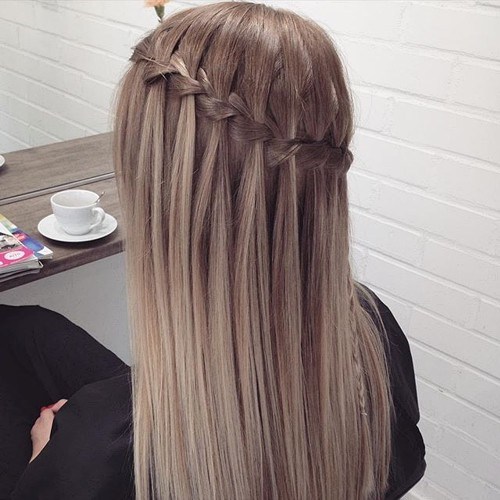 Sometimes simplicity is key, especially when achieving a romantic hairstyle that is dainty and soft. Her waterfall braid is placed strategically on long, stick straight strands, for a lovely finish that reminds us of the beauty of the flowing waters.
Three Strand Braid over Loop Braid Updo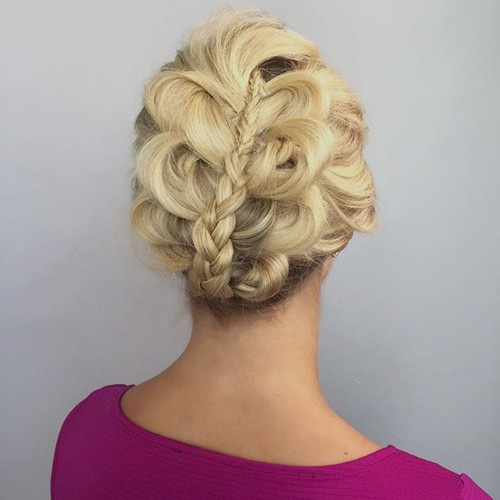 Creating that 'Wow' factor without doing anything extreme is easy when you opt for a 'do such as this. This GORGEOUS, breathtaking updo is definitely unlike other updos you've seen. A loop braid starts off this style, finished with a cool three-strand braid over the top to tie it altogether wonderfully. Fascinating style!