22 Stylish Lob Haircuts for a New Style
A Bob doesn't have to be cut super short to be trendy and cute; and these looks prove it. Leave a little extra length in your locks for easy styling and indulge in one of these pretty mid-length bobs.
Highlighted Undercut with Straight Lob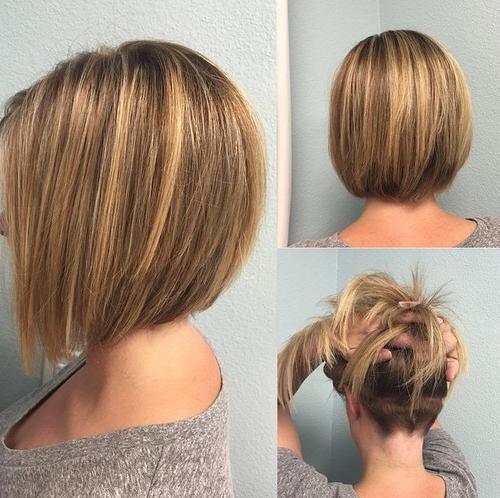 Dealing with pesky, unmanageably thick hair? Instantly cut back on the bulk by indulging in an undercut. It's an unbelievably hot trend for 2017 and gives your bob a bit of edge.
Lightly Curled Layered Bob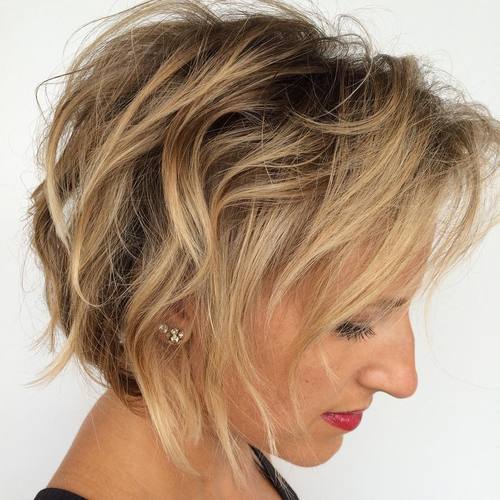 Short hair is a great choice for older women as well as younger, but this particular look is great for the professional woman who wants to arrive looking trendy yet sophisticated. Her lightly curled Bob adds some elegant depth to those disheveled layers for one very confident look.
Layered Ombré, Balayage Lob Hair Styles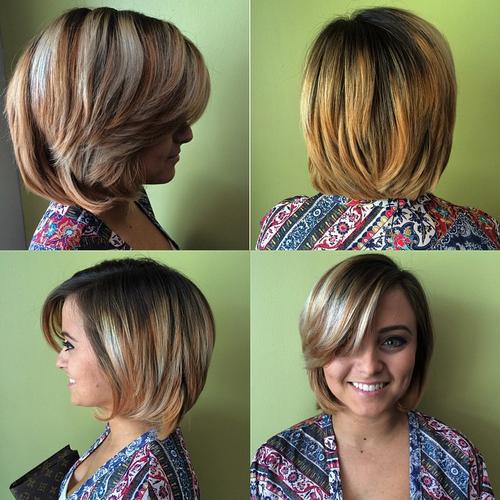 Bouncy long layers, a charming brown and blonde melted ombré, and some short side swept bangs flipped under- does it get any cuter than this? For my ladies out there who love a charming, ultra-girly style, this look is it.
Blunt Cut Graduated Bob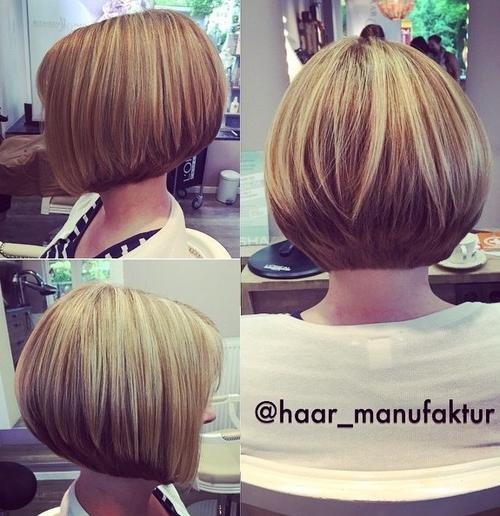 Blessed with thick hair and really want to showcase those lustrous tresses? Consider a blunt cut graduated bob. The rigid ends instantly enhance volume and bulk, while blonde highlights on top create illuminate depth.
Creative Color Contrast Inverted Bob for Women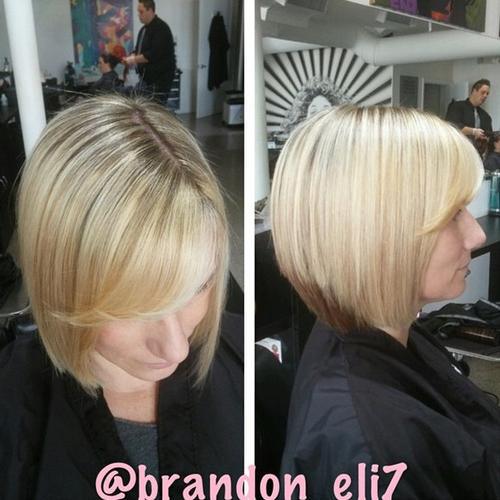 Inverted bobs are ultimately cool, with an edgy angle that leaves length around the face and shorter strands in the back. Both is particular look gives the illusion of an even angular cut by using contrasts of color- a bright blonde on top with just a hint of chocolate brown underneath. So cool!
Caramel Highlighted Layered Lob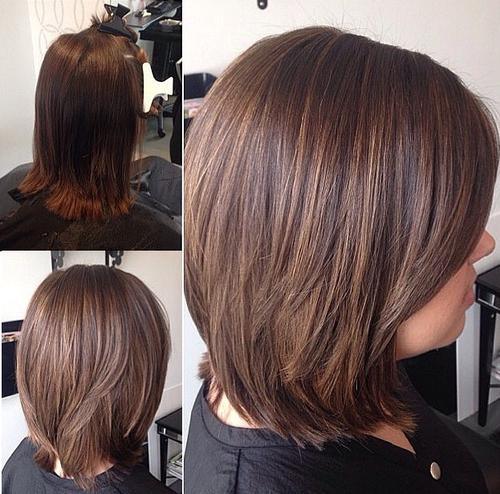 If you're all about depth and dimension in your mane, this lob is for you. She brightens her gorgeous warm brown tresses with just a hint of natural-looking caramel highlights. Plenty of layers give this mane a flirty bounce that's bursting with lively dimension.
Fuschia Highlights with Straight Bob Hairstyle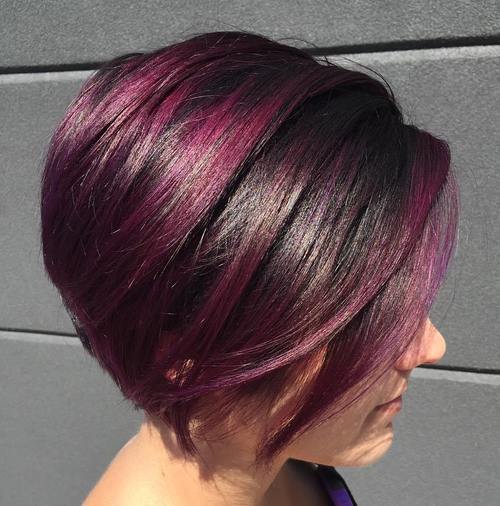 Deep brown tresses can be a little one-noted, so amp up your look and create some stylish dimension by fusing in some glorious fuschia highlights. Fuschia is a vivid purple tone that blends majestically with dark brown locks for a very sultry finish.
Tousled Highlighted Box Bob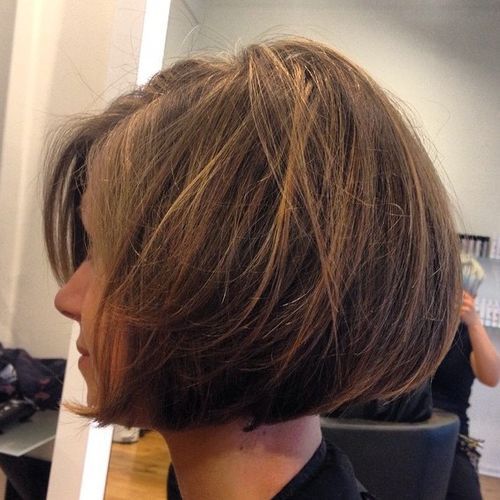 A box Bob cut just at jaw length is the perfect choice for framing the face, Working particularly well on diamond and heart shaped faces. Some subtle blonde highlights brighten this box Bob, while tousling it up a bit adds some casual body that can be worn anywhere.
Textured Graduated Bob with Slight Coloring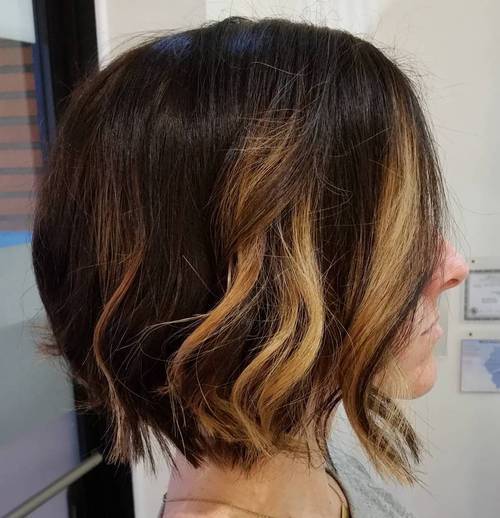 A subtly cut graduated Bob needs a little something to make it stand out and come to life. By simply throwing in a few highlighted pieces around the face, she brightens her entire style to match her complexion beautifully while subtle curled texture creates a definitive amount of femininity.
Shaggy Bobs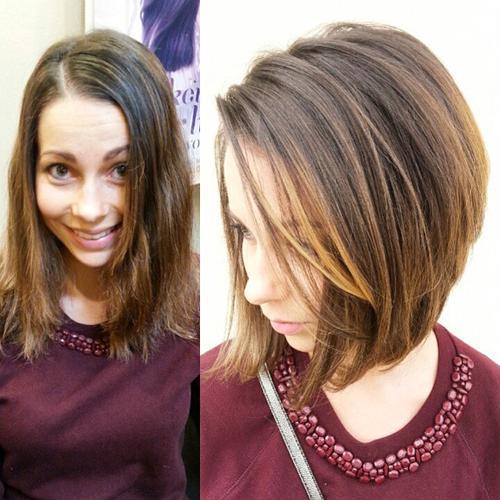 Free-spirited women can certainly benefit from sporting a shaggy Bob, letting their carefree personality come to life through their hair.
Chic Wavy Lob Haircut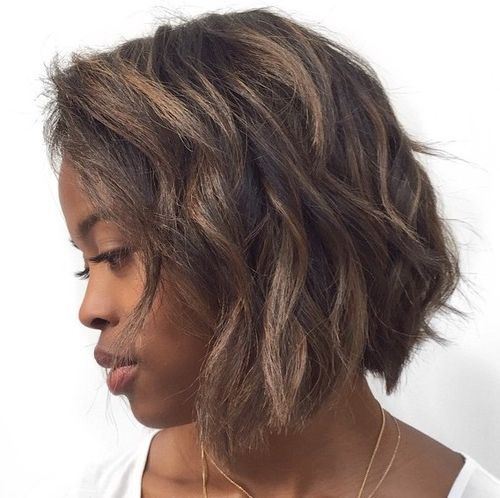 Extra length to your Bob can only mean one thing: extra room to style! Loose waves are super casual while adding a succulent amount of body, the perfect combination for school, work, or play. Keep makeup to a minimal to enhance the natural beauty of this style.
Straight Razored Ends: Stylish, Easy Straight Lob Hair Style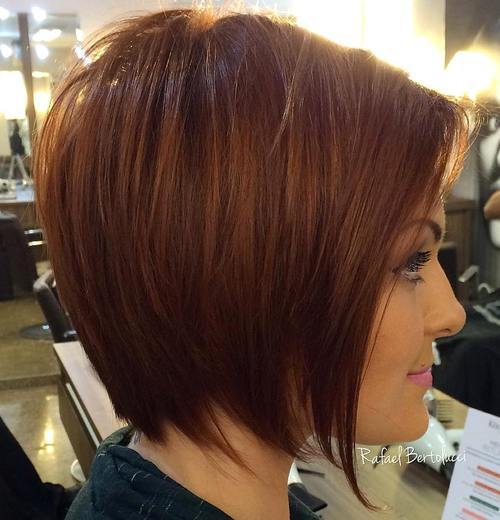 This look is all about remaining chic and sexy with a modelesque feel that can't be ignored. Leaving her hair all one color but glossing it up with some product ensures her mane is smooth and sultry, while razored ends adds some serious saucy attitude.
Natural Blonde Beach Waves Lob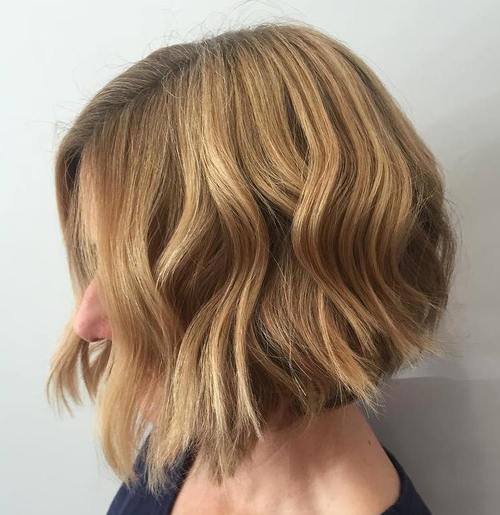 Sunny days crave a sunny style to match- and that's exactly what this look achieves. A natural blonde hue gives you that "fun in the sun" natural highlighting while beach waves look as though you've just stepped out of the ocean.
Strict A-Line Lob Haircuts with Highlights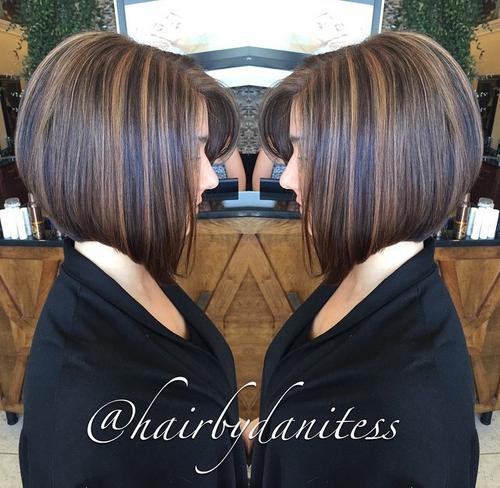 This look has only one thing on its mind: precision. From the perfectly cut angles to the strategically placed highlights, this structured style is ideal for the woman with a rigid lifestyle that requires things to be 'just so'.
Curled Balayage Lob Hairstyles: Women Shoulder Length Haircut Ideas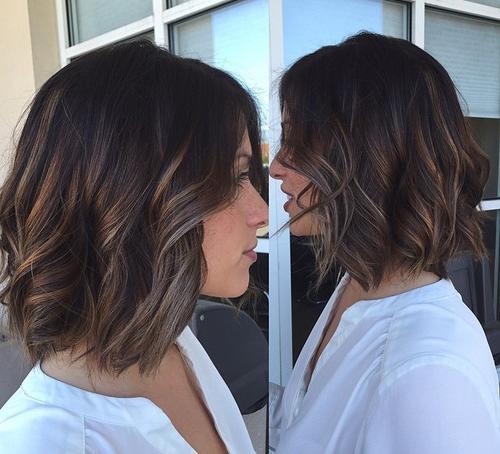 With nothing but elegance in mind, this rich brunette hair with subtle blonde balayage highlights is gently curled for a glamorous finish that could easily suit the finest affairs.
Messy Textured Bob for Thick Hair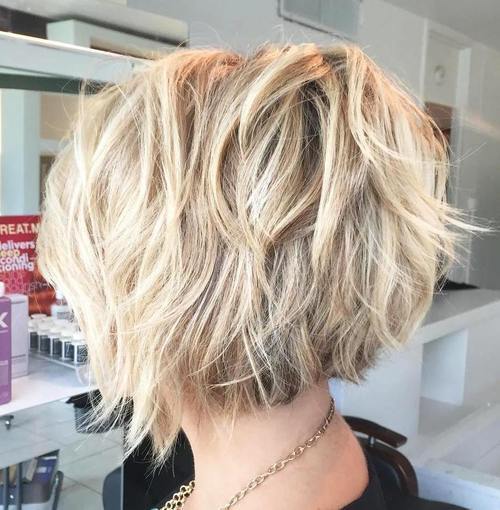 Let out your inner punk-rock with this voluminous little number! Plenty of product and tousling achieved a messy, playful finish that's great for a concert or a date- it all depends on the accompanying outfit!
Piecey Layers: Balayage Lob Hair Cuts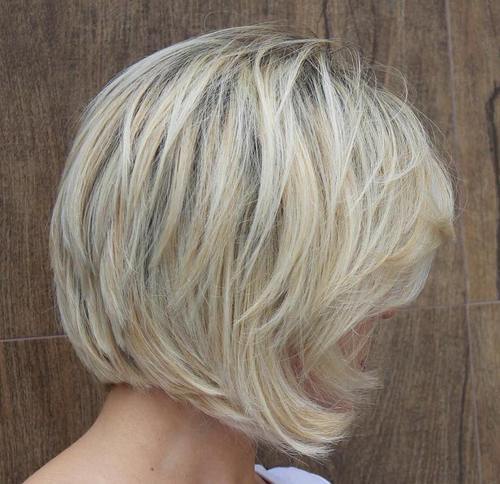 A funky take on things, this medium length Bob is filled with spunky piecey layers that add some unique and playful depth.
Balayage Textured Blunt Bob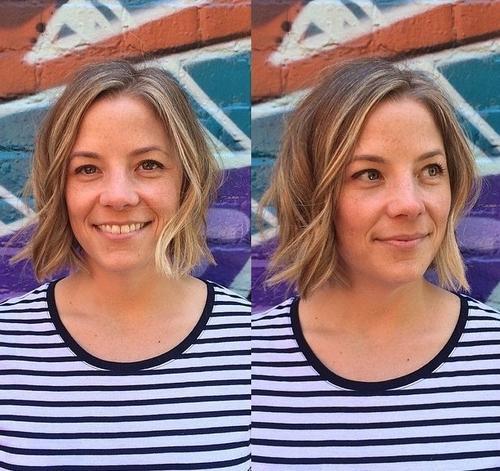 Blunt bobs tend to be on the strict side, but texturing it up with some waves breaks up the rigidity and creates some casual body that's great for everyday wear.
Classic Bob Hairstyle for Straight Hair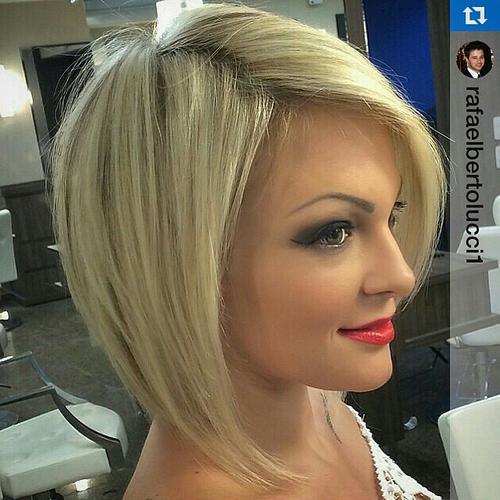 Keeping things classy and feminine is as simple as choosing a lengthy classic Bob haircut. The locks are kept on the longer side, delicately sweeping just above the shoulders with the back cut short for some flirty asymmetry.
Soft Layered Box Bob with Blunt Bangs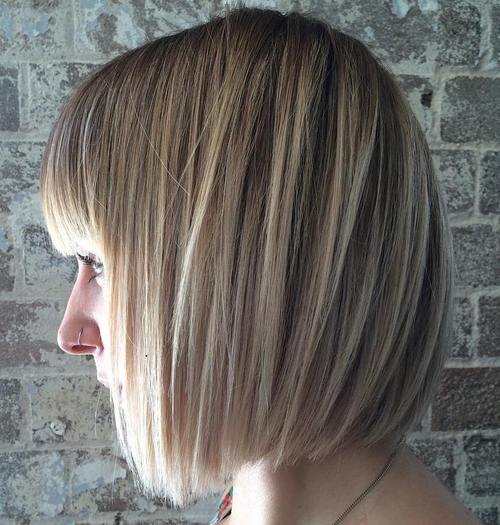 Box bobs are seen everywhere from celebrities to schoolgirls, but you can switch it up and make it your own style by adding in some soft layers of all shapes and sizes. And for an extra dose of chic style, try out some blunt bangs-especially perfect for long face shapes as these bangs will draw attention away from a larger forehead and create a rounder appearance instantly.
Unique Layers: Asymmetrical, Straight Lob Hairstyle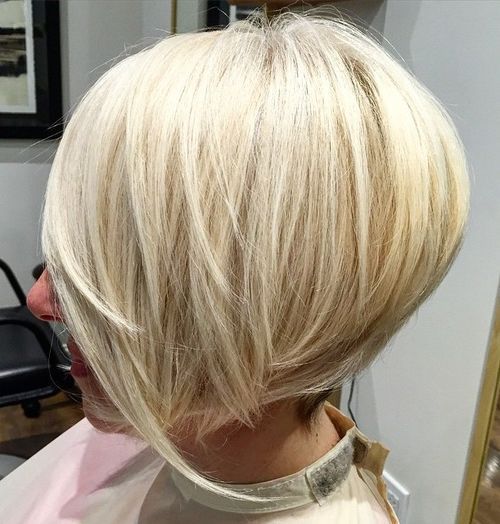 It may seem difficult to stand out from the crowd with a Bob, but with a touch of your own personality infiltrated into your mane it's easy to branch out! Try out some playful layers of all different sizes. We especially love the extra lengthy piece up front, a total change from the 'norm' that will have everyone talking.
Summer Hairstyle Ideas: Blonde Bob Haircut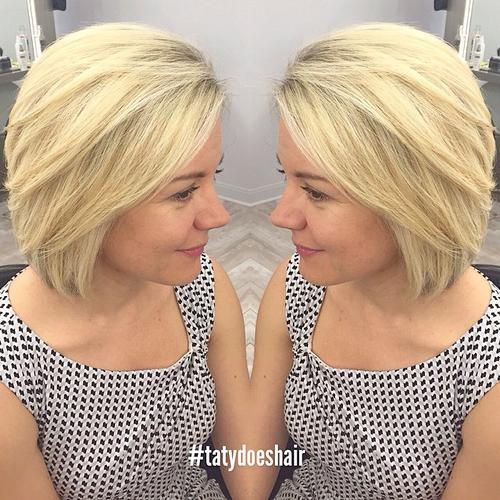 Summer is all about bright, perky colors, and spending less time inside styling hair and more time hanging outside having fun in to sun! This style is the epitome of carefree summer styling, with a lovely and light shade of blonde, doused on a medium-length Bob that's simple and sweet.